The marriage between the automotive world and the tech industry grows stronger every year. Autonomy and infotainment are now as critical as engines and suspensions; artificial intelligence and augmented reality as fawned over as horsepower and torque; and Google, Uber, NVIDIA, and Intel are as central to the future of driving—sorry, "mobility"—as the manufacturers of the rolling hardware that will enable their visions. 
So it makes sense that the 2018 edition of CES, the annual tech orgy in Las Vegas, would be equally overrun by vehicular technology. Whereas once carmakers limited their peacocking to the car shows, they now command significant real estate on the show floor in Vegas—280,000 square feet, to be precise, among 300 vehicle-technology exhibitors—with live demos of their latest systems cycling in and out of the adjacent parking lots.
This year's show runs through most of next week, but here's a preview of what kind of mobility buzz the automakers and tech firms hope to stir up amid the avalanche of televisions, home-audio gear, cameras, and smartphones.
Ford delivers the keynote for the CES 2018 show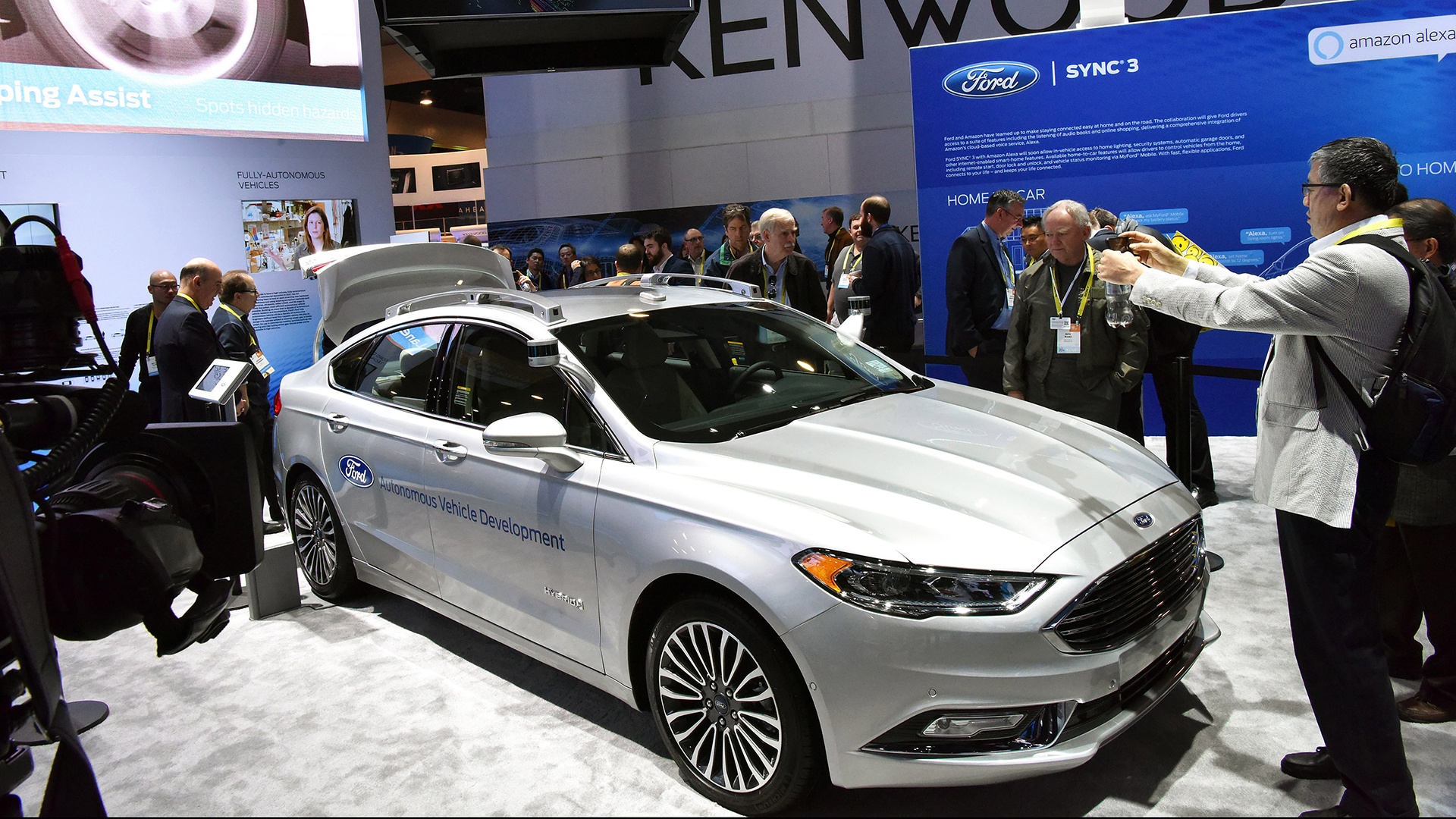 Ford's 2017 CES booth, Ford
Perhaps nothing is more indicative of the surging automotive presence at CES than the fact that the event's opening keynote address on Tuesday will be delivered by Ford president and CEO Jim Hackett. (Hackett is the former chairman of Ford Smart Mobility, so he knows his stuff.) His speech will address mobility solutions and the need for smarter cities to accommodate them. In previous years at CES, the company has demonstrated everything from autonomous drive to multi-modal vehicle systems that included electric scooters buried in dedicated trunk compartments to help with last-mile commuting, but this year, the focus will be on connectivity—both with infrastructure and between vehicles—specifically towards the goal of making vehicles safer and traffic flow more smoothly. The Consumer Technology Association estimates that there will be 88 so-called "smart cities" by 2025, with $34 billion in global spending on related technology by 2020. 
Mercedes-Benz brandishes entry-level infotainment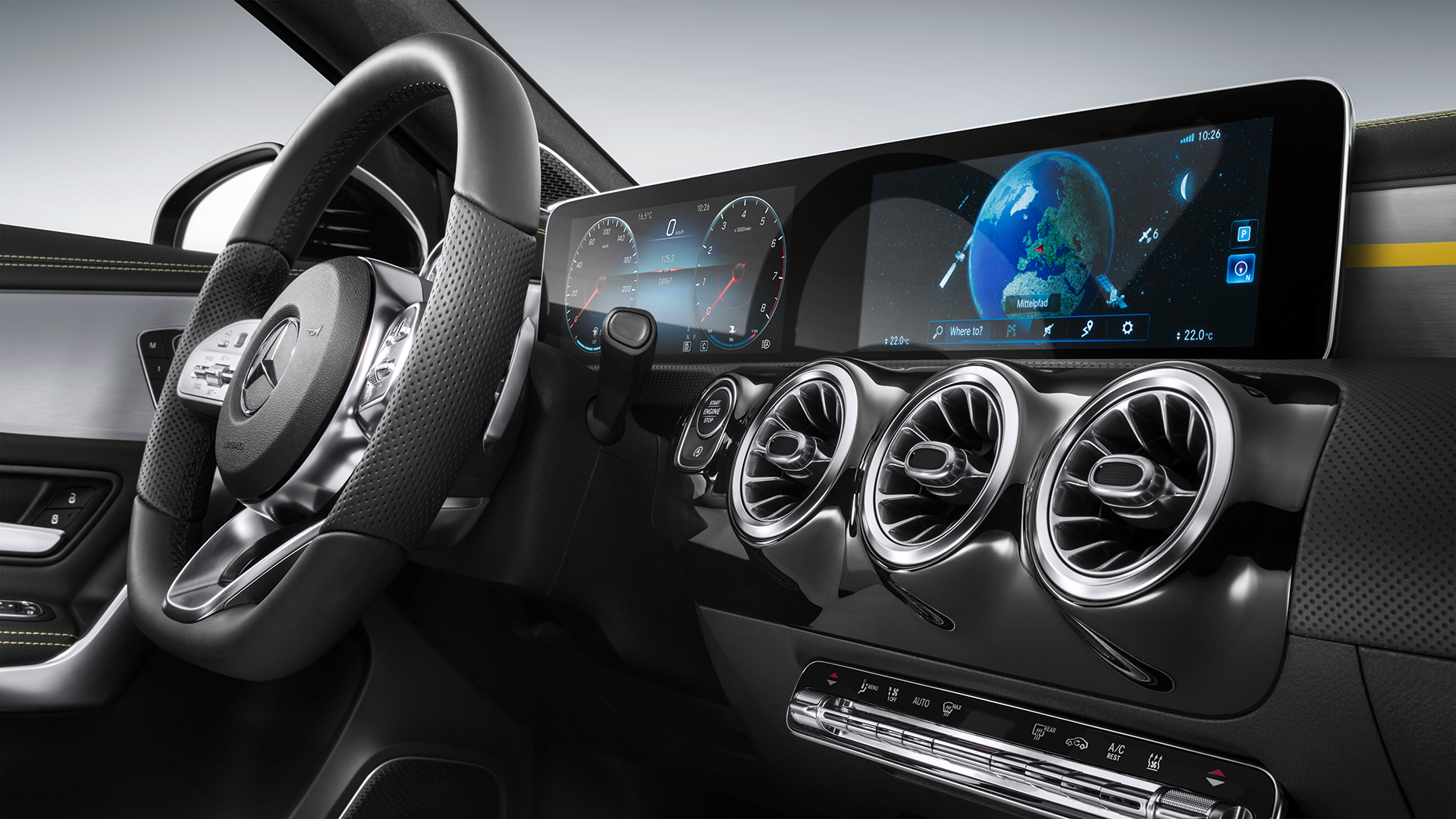 The MBUX system, Daimler
The German carmaker will unveil its new infotainment system dubbed MBUX ("Mercedes-Benz User Experience") at CES 2018. The company delivered a sneak-peak via its unveil of its new A-Class in November, showing off widescreen panels and dynamic new graphics. The big questions are whether it will support Apple CarPlay and Android Auto, and how much of an improvement it will really be over the current system, which is stymied by confusing displays and clunky, outdated graphics. Mercedes will also show off the Mercedes-AMG Project ONE and discuss the company's "Intelligent World Drive," a rolling R&D program that tested autonomous drive systems on five continents that culminates in Vegas.
Electra Meccanica goes Solo
This Canadian automaker will debut its electric-one seater on January 9th. The small, fully-enclosed three-wheeler will cost just $15,500 but will reportedly provide 100 miles of range, three-hour charging, and a top speed of 85 miles per hour. This is the latest in a long line of proposed electric single-seat vehicles, and their lack of (metaphorical) traction suggests there are plenty of questions about whether drivers are truly keen on such small machines. It will be interesting to see what Electra has to say about consumer interest.
iDAR focuses its laser scanning
Robotic vision company AEye will unveil its iDAR environment-scanning technology for autonomous cars. The system, a variant of the laser-based LiDAR technology being deployed in self-driving cars, uses a faster and more precise scanning algorithm than conventional LiDAR systems. Most importantly, it prevents the laser from collecting unnecessary data, such as in the sky and in trees, while prioritizing relevant data such as roads and vehicles. The company says it will be longer range, more accurate, and more intelligent, thanks to its embedded artificial intelligence that will ensure the system focuses in the right places. It will also be the first system to provide detailed information on color and text without post-processing, allowing it to more easily and quickly interpret signage, traffic lights, and road markings.
Aptiv and Lyft roll out automated taxi service
Ride-hailing service Lyft will partner with autonomous-tech startup Aptiv—actually a spinoff of auto parts supplier Delphi—to debut a fully-autonomous taxi service during CES. Aptiv's tech will integrate with Lyft's dispatching system to shuffle attendees to 20 or so destinations in Vegas—along pre-programmed routes—departing from the convention center. A safety driver will be present as a backup should anything go sideways while an in-car host discusses the tech. Along the way the cars will manage highway merges, maneuvering around pedestrians and cyclists, and dipping into tunnels. Aptiv says its tech will be ready for production by next year. Lyft co-founder John Zimmer will also address the Leaders in Technology dinner during CES to discuss how autonomy will change vehicle ownership patterns as well as lifestyles and urban development.
Honda unleashes its bot army
Instead of playing the autonomy card, Honda's tech focus this year is on robotics. The company will unveil on January 9 its new 3E Robotics Concept. The three Es stand for "empower, experience, empathy," which make sense; the little robo-tikes are engineered to assist people in disaster recovery, recreation, and learning, with improved human interfaces that will make for more natural exchanges. The models include companion robots, a seated mobility aid, and an ATV-like concept intended to serve in a supporting role for industrial and commercial applications in a variety of environments. Honda will also show off its Mobile Power Pack World—battery tech designed to be swappable between electric vehicles and home use.
Toyota learns to share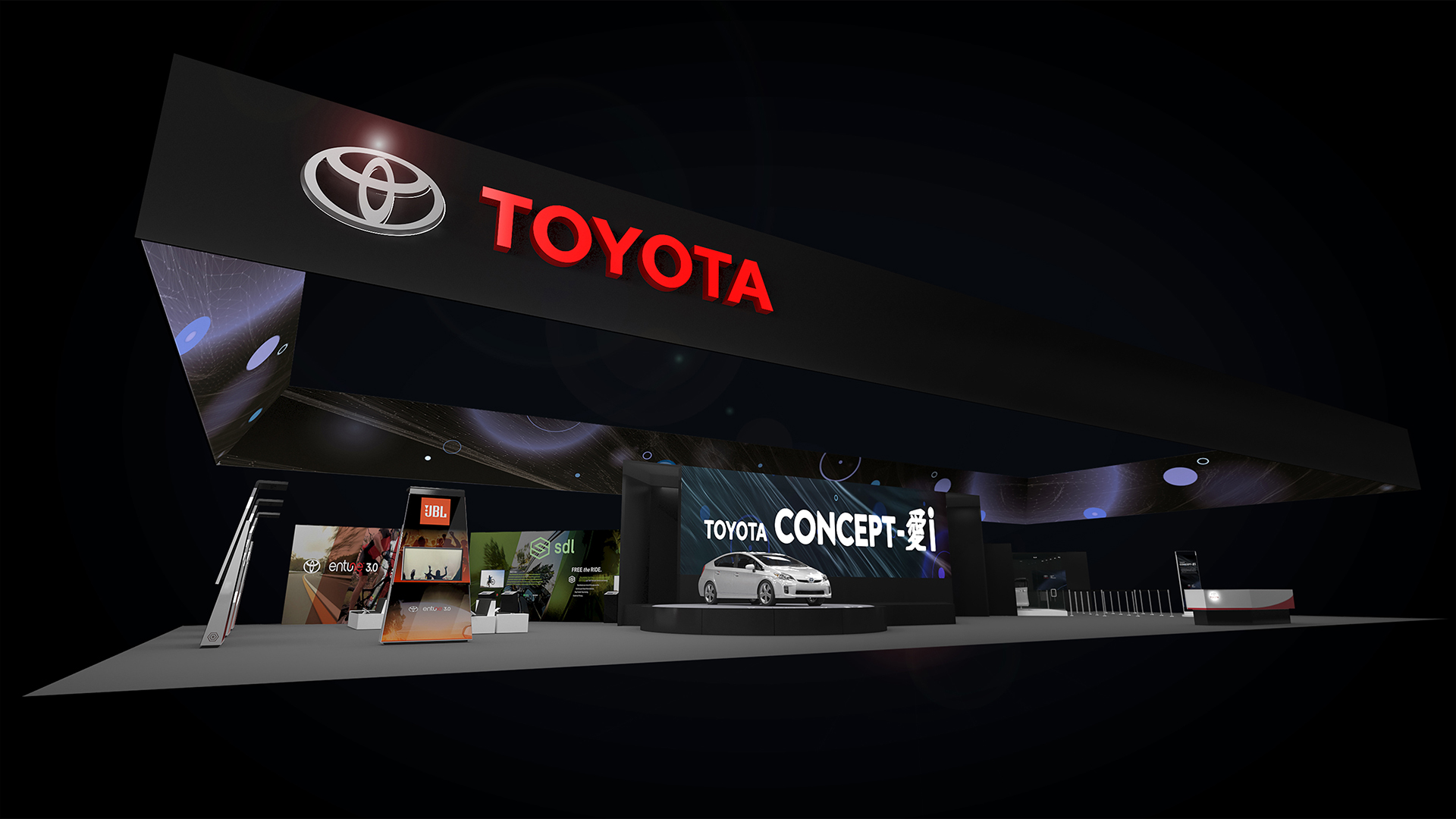 Toyota's 2017 CES booth, Toyota
Responding to the surge in interest in car-sharing and other mobility services, Toyota initiated a collaboration with Getaround last year to facilitate the system. Its Mobility Services Platform and Smart Key Box allow vehicle owners to provide access to the car via a smartphone app, and for the platform to manage other car-sharing functions. After a pilot program last year, Toyota will reportedly announce more widespread availability of the system to increase the number of vehicles available to mobility providers.
Byton replaces "utility" with "intuition"
This Chinese carmaker—with design and engineering offices in Germany and California—will roll out its new electric SIV at CES. That stands for "smart intuitive vehicle," though it's really an SUV. Regardless, the company claims the vehicle will be persistently aware of its occupants needs and able to seamlessly provide for them. What's that mean? Apparently, lots of gesture, voice, and facial recognition, and intense connectivity—to the outside world and between occupants. With wireless bandwidth of up to 1000 Mb/s—five times higher than a conventional connectivity system, the company says—it will allow high-quality video streaming and gaming, video chat, and work access. It'll reportedly also have Level 4 (fully hands-off) autonomous-driving capability right out of the box, with enhanced environmental awareness thanks to its "unique sensor configuration, advanced image processing, integrated data management, and cutting-edge connectivity." As an EV, the company claims it will manage more than 300 miles of range, and full recharging in the time it takes "to enjoy a cup of coffee."
Nissan taps into your brain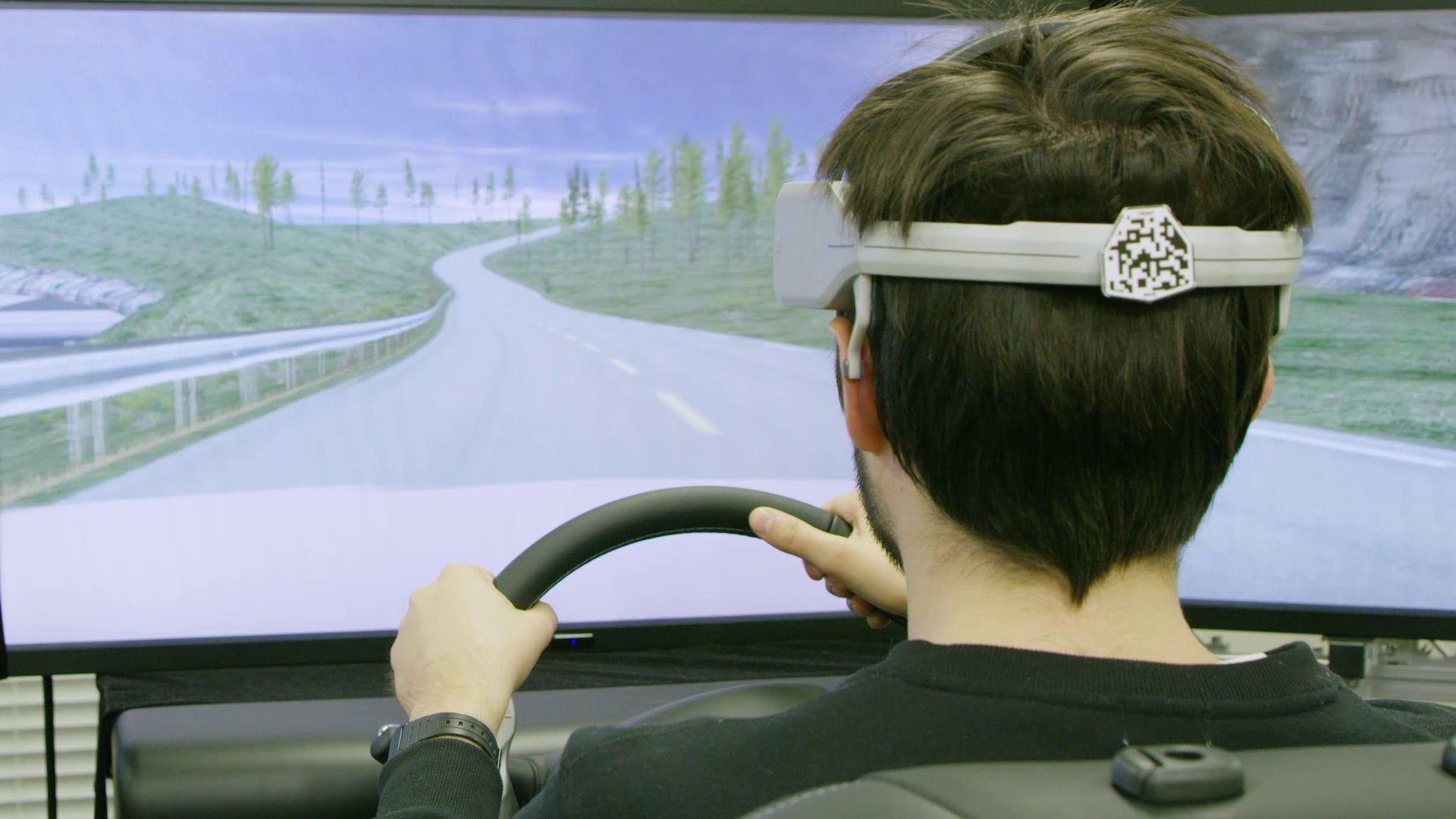 Nissan's Brain-to-Vehicle tech in testing, Nissan
Nissan's brainiacs will show off its new technology that the company says will be able to interpret signals from the driver's own noggin for more immediate response times. It calls this Brain-to-Vehicle, or B2V, technology, something it promises will speed up reaction times for drivers. This means the system will be able to detect signals about impending driver action, such as turning, accelerating, or braking, and begin the action more quickly. It can also detect driver discomfort and then make changes to the interior environment or, when in autonomous mode, the driving style. So presumably if you're scared by your robo-car's driving, it'll slow down for you. How thoughtful.