A bike rack which is also called a bike carrier is a device that is attached to a car or bus. A bike rack is used to transport bicycles. You can mount the bikes in the carriers by fastening both wheels and supplying some additional support.
Hitch rack, on the other hand, is a type of bike rack which glides into the receiver of a trailer hitch on a car or truck for fastening. Apart from bikes, it may contain other things.
Main Benefits of Bike Racks
Easy to use: It is super easy to mount your bike to the rack. You can take it anywhere with you while traveling. There is no need to disassemble your bikes for compact and easier storage.
Saves space inside the car: You can use either the trailer hitch or the rooftop to take along your bike rack wherever you go thus creating enough space inside the car for another person or accommodating essentials. Carrying your bike to your favorite vacation spot, camping site, picnic spots, beaches, and other outdoor space has never been easier.
Different Types of Bike Racks
The bike racks can be classified into three different types as: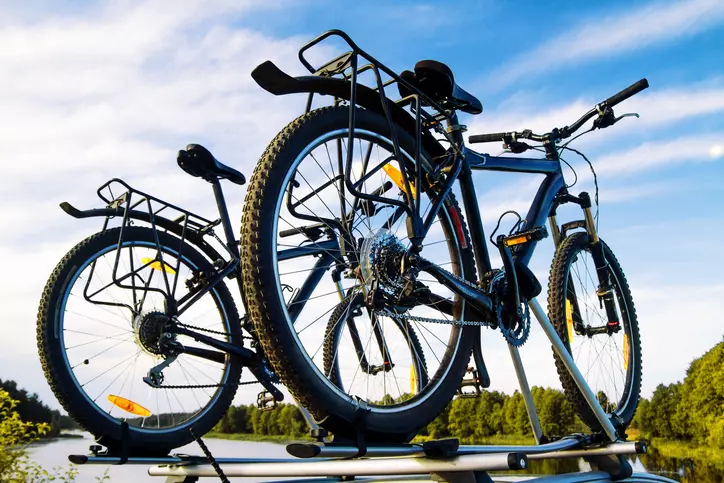 Roof mount bike rack
This type of bike rack is designed to mount the bike on the roof in a suspended upright position and it offers lockable mounting. It can allow sedans to carry four bikes and large vans to accommodate seven bikes. It is quite difficult to install roof mounts. However, with an additional storage case, additional cargo storage can be offered.
Roof-mounted bike racks can support different bikes depending on the rack design. Avoid roof racks if you are planning to travel in a low clearance area. Also, never use roof racks heavyweight bikes. Mounting bikes onto tall vehicles can be difficult and may cause damage to vehicles.
Pros:
It is versatile and allows you to carry other things like canoes, snowboard, or other kinds of gears.

It is transferable between different vehicles if you have a fit kit

It is a secure and stable bike rack

Roof mounts with locks are available

The driver's visual view is not obstructed
Cons:
It may not fit in low clearance areas.

It is not easy to install roof-mounted bikes, especially in tall vehicles

It reduces your vehicle's gas mileage more as compared to other racks due to the increased wind resistance

Noise caused by wind resistance creates noise pollution.

It is permanently attached to the vehicle
Hitch mount bike rack
This common type of bike rack needs a hitch for suspending the bike from the tail end of the car. The hitch mount bike racks are designed differently and it is easy to install one. The hanging style hitch mount is lighter and also costs lesser than the platform style hitch mount. You don't usually have to remove the wheels to mount the bike.
This style of hitch mounts usually needs additional tools to keep the bike stable while traveling. Hitch mounts can carry multiple bicycles with ease but they are quite expensive. Some intricately designed styles are difficult to install or remove from your automobiles.
The platform hitch mount bike racks are heavier and costlier but it offers additional benefits. This style ensures stability while traveling and it can transport varied styles of bikes all at once. To ensure the protection of the bike and lower the risk of damage, minimal contact with the frame of the bike is recommended. In some cases, you will have to drill holes in your vehicle's chassis for installing some hitches.
Class 1 hitches are suitable for most cars including SUVs and can carry up to 3 bikes. Class 3 hitches are found commonly on pickup trucks and trucks-based SUVs and cannot be adapted to most cars.
A trailer hitch will cause added expense if your vehicle doesn't have one already. Installing the rack might block access to the rear lift gate of your vehicle. It poses the risk of bike damage from backing into an object or getting hit from behind.
Pros:
Hitch racks are very easy to install. They usually come fully assembled and you have to insert it into the hitch of your vehicle

It is easy to secure the bikes in place and so you are less prone to property damage

It is easy to load and unload hitch racks

You can access low clearance area

Some models allow clear access to the rear door

It is not permanently attached to your vehicle
Cons:
It increases the overall length of your vehicle.

The basic models interfere with access to the trunk or rear cargo area

The bikes might sway

The racks which can carry 4 to 5 bikes are usually heavy

The bikes are more likely to obstruct rear view window, taillights, and license plate
Trunk mount bike rack
This is the most popular type of bike rack. It offers convenience while carrying different types of bikes. One carrier can fit many vehicles and it is easy to lift and hold the bike in place. It can also be stored away without any hassle while not in use.
The trunk-mount comes with straps and can usually carry one or two, and in some cases three bikes. The rack is designed for easy storage and it is the least expensive bike.
However, trunk mount bike rack poses more risk of vehicle damage as the weight rests on the body panels of the vehicle. It can block the driver's rear window view and the straps have chances of coming loose, wearing out, or snapping. It can get difficult while locking bikes to rack or car.
Pros:
It is lighter than other bike racks and more portable

You need only moderate lifting for attaching the bike

It is not attached to your vehicle permanently

It comes handy for short trips and occasional use
Cons:
Access to the trunk is blocked

Bikes may sway a little while transporting

It can get difficult to lock bikes to the rack

Bikes may obstruct taillights, rear window view, and license plate partially
What materials are used to design bike racks and hitch racks?
The materials used to design a bike rack and hitch rack include steel, aluminum, titanium, and alloy. The weight of the bike rack, capacity, price, and durability depends upon the type of materials used while designing.
Roof mount bike racks have added advantages over other types of bike racks as they provide the greatest capacity to transport multiple bikes for a given vehicle. The long crossbars are extended beyond the width of the vehicle making it possible to transport up to six bikes on the mounted roof.
Hitch mounted bike racks are quite expensive and usually heavier than other bike racks. They come in 30 to 50lb range. Even with the highest capacity models of hitch mounted bike racks, the overall capacity can be limited to four bikes. Access to the rear or trunk hatch is also limited in this hitch mount models.
Trunk mount bike racks are traditionally light weight and they are a convenient option for those vehicle owners who don't have a roof crossbar on their vehicle. It is also a great choice for those who don't want to put money into buying a hitch receiver. Trunk mount bike racks are designed to fit most kinds of vehicles.
What are the popular brands of bike racks?
There are many bike rack brands in the market today. Some bike racks can handle more weight capacity; some are more versatile, while others are more durable and adjustable. The most popular bike rack brands include Allen Sports, Thule, Yakima, Hollywood, Kuat, Saris, etc.
What is the average price of bike racks?
The price of bike racks depends on the type of bike rack, materials of the bike rack, and the number of bikes that the bike rack can carry. Usually, the lowest price starts from $25 and can go up to over $200.
How can you choose a good bike rack?
Keep in mind the following criteria while choosing a bike rack:
Versatility
A good bike rack is versatile in design. It is able to carry many different types of bikes and bicycle frame sizes and shapes. A bike rack that makes use of the bicycle frame as the main point of fastening is not a versatile bike rack. This type of rack cannot carry different bikes as there are a plethora of frames available on the market.
Bike racks manufactured by brands like Thule can hold varied frames and sizes securely. Another versatile bike rack brand in the market is Kuat. Both Kuat and Thule bike rack designs use a ratcheting arm to fasten the wheel in the front of the bike, no matter what size of wheel you have. It is the best option available if you want to transport heavy bikes. You will find straps to secure the rear wheel.
Capacity
Capacity is another determining factor of a good bike. If you wish to transport many bikes at a time, you should find a bike rack which is capable of it. Most vehicles' highest capacity is achieved by making use of a roof-mount set up with many individual roof racks. Though some bike racks designed by Kuat have the capacity to hold only one bike, the ability to put many units on the roof allows a high capacity alternative.
Ease of installation process
A good bike rack needs to have an easy installation process. Packaging, directions of use, and overall design all come under the installation unit. Once it is assembled, you should be able to attach it easily to your vehicle. Bike racks designed by Thule stands out for its ease of installation. Find a rack which has hex wrenches added to its features. It makes the assemblage easy.
Easy to install bike racks designed by Thule need no tools for assembling. Even the attachment process can be done with ease with the help of the Fit Dial feature.
Ease of use
You should be able to mount the bike on and off the vehicle without much hassle.
Roof racks: Roof racks do not qualify for ease of use though they are well designed. If your vehicle is tall, it becomes difficult to install roof racks. The presence of multiple latching points in roof racks, however, makes your bikes stable and secure.
Hitch racks: This type of rack is lower to the ground. Bike racks designed by Thule, Kuat, and Yakima does not need a high amount of lifting and has user-friendly attachment features. With this type of racks, you get a locking pivot with which you can swing down the rack for accessing the hitch.
Trunk racks: Among all, the trunk rack has the least loading height and it is easy to install this type of bike rack. However, the racks do not fit every vehicle model and so it is difficult to get into and out of the trunk with bikes on. The trunk racks, further, need straps for stabilizing.
Durability
Good bike racks are designed for durability. The durable bike rack features should include cable locks, ratcheting arms, and should have an anti-scratch powder coat finish. The RockyMounts and the Yakima are durable bike racks with a few moving parts. They are designed for simplicity and can last for many seasons.
Security
The most secure racks are the ones that make use of cable locks. Thule and the Kuat bike rack brands produce some of the best racks with cable locks. They have heavily built locking hitch pin and cable locks which draw out of the trays or ratcheting arms. Some Yakima racks have locks integrated into a fork clamp. However, the racks do not have long cables to thread through all the wheels and frames.
What kind of cars should use bike racks?
Almost all the cars can use bike racks including Sedan, hatchback, Van, SUV, and Truck. The kind of vehicle you drive can up to some extent determine the type of rack to be used. An SUV usually stands tall making it difficult to use roof racks. However, hitch racks and trunk racks are perfect for SUVs. The vehicle offers high ground clearance and can travel on rough roads.
Hatchbacks usually come without a stretched boot. It is much smaller in height as compared to an SUV, making it an ideal choice for installing trunk racks. Since sedans are just extended forms of hatchback cars with the rear boot, it is not hard to mount a bike in it.
If you are the owner of a sedan, hatchback, or SUV, transporting two to three bikes in trunk racks is an economical choice and they are light weight. The trunk racks tie up to rear decks through straps and hooks. They can be installed and removed without any hassle with a little practice. Also, trucks and vans make great vehicles for transporting multiple bikes as they are both sturdily built and can carry the heavy load.
What kinds of bikes can be racked?
Many kinds of bikes can be racked including the Mountain/full-suspension bikes, Road/carbon bikes, Urban/hybrid bikes, Kids' bikes, and Tandem/recumbent bikes among others.
Mountain bikes are great for traveling the long distance and it ensures comfort as it comes with a shock absorbing and rear system. This provides enough reason why you should rack a mountain bike and take it for your adventure trips. You can also find foldable full suspension bikes designed for easy transport and storage. Both front racks rear racks can be compatible with mountain bikes that come without rack eyelets.
Road bikes are light, stiff, and fast and designed to travel on paved roads. Touring bikes are most common among road bikes and a rack that attaches to the seat post of the bike works just fine. Most rear racks can be attached to the bike with the aid of P clips.
Urban bikes are great for novice cyclists, commuters, children, and for general use as they are stable. Using urban bikes can save a lot of fuel and parking space. Some innovatively designed racks offer a chain which is concealed inside the poles. You can use the chain to lock it to the frame lock which comes integrated. Some racks designed for urban bikes can park up to 10 bikes where only one car can be parked.
There are different kinds of Kids' bikes including balance bikes and basic small wheeling. Almost all the kids' bikes whose wheel size measure up to 24'' come in mountain bike design with horizontal handlebars and tires meant for grip. These kinds of bikes are excellent for everyday use. Kids' bikes can be racked with the help of an adapter bar. It fits well when attached to the handlebar and the seat post.
Tandem bikes are traditionally designed to be ridden by more than one person and promise lots of fun and fast cycling. Good quality tandems weigh twice as much less than a single bike and it is a good idea to rack them. You will find roof-mounted racks and hitch-mounted racks which are able to transport tandem bikes securely to your desired spot.
How many bikes should you attach?
The number of bikes you should attach depends on the number of hangers available on the bike racks. Some bike racks have more hangers and some have less. Usually, hitch bike racks are designed to hang up to 5 bikes per rack.
Hitch bikes can easily hang any type of bikes unlike other types of bike racks. Whenever you attach bikes to your vehicles you should consider the weight capacity of your car to avoid any kind of property damage.
How can you set up the bike rack on your car?
Depending on the kind of car you use, you should set up the right bike rack:
Setting up a trunk rack on the car
Lay the rack on the ground in such a way that the upper straps and hooks are laid above the rack. Allow the lower straps to drop below the rack. Don't keep any knots on the straps. Keep the levers on the body of the rack adjustable and not overly tight.
Next, open up the trunk to glide the upper hooks into the top of the trunk lid. Place the straps to the correct side, i.e., right strap to the right and vice versa. Slide the hooks away till they are no more your than four to six inches wider than the rack's body without tightening straps.
Keep the rack in place. The best position is the middle of the trunk as it allows an even distribution of weight to take place.
Hold of the bottom straps and place the hooks onto the bottom of the lid of the truck. The two straps must be in the middle of the rack for providing balance. Leave the straps only tight enough to permit some tension from the hooks.
Close the trunk while loosely holding the body of the rack in place. The lid of the trunk should be firmly held in place.
Hold the body of the rack in its final position. Begin tightening the straps one at a time once you position the rack and center. Don't fully tighten up the straps before you are sure the others are in place to get a balanced rack.
Setting up a hitch rack on a car
Prepare all the tools for installing the hitch rack bike. Ensure that the frame and wheels of your bike are compatible with the rack. The rack should also be compatible with the car. Swing-away racks offer easier access to the trunk, while platform racks can make loading and unloading easier.
Install the base parts of the hitch rack into the frame of the car. It can be attached with the aid of carriage bolts and steel blocks with square shaped (in case of Class 1 trailer hitch) holes. To ensure that it doesn't come loose, the carriage bolt should be inserted fully into the hole.
Hold the hitch in position by first getting everything to fit loosely and then tightening it. Connect the remaining parts of the hitch rack into the base parts.
Double check for making sure that you have installed it properly.
Setting up a roof rack on a car
Start by choosing the right roof rack for your bike. Thule roof mounting bike racks are lightweight and most of the parts come assembled. It is easy to install them and you can do it rather quickly.
Install the essential parts of the rack into the car's rooftop. To do it, first place and fasten the holder on the roof bars.
Fasten the lockers and straps of the wheel and place the bike on the holder before closing the lock in the center. After that, you can tighten the straps to lock the system.
Add other needful accessories for the rack.
Double check to ensure that you have installed it correctly.
How can you use a bike rack in the right way?
Follow these steps to use bike racks correctly:
If you are using a hitch bike rack, hang the bikes by using hangers. It will grab the wheels securely in place.
For trunk bike rack users, use many straps and cables to attach the bike. However, some high-end trunk bike racks use the mechanism like hitch racks.
If you are about to use roof racks, you will usually need to lock three points of a bike. Two points need to be locked on the base of the two wheels. The other point needs locking on the frame.
How can you maintain a bike rack and fix its problems?
It is essential to maintain your bike rack and have some ideas about how to fix them. Keeping yourself updated and informed will extend the life span of your bike rack as well as for enhancing its performance. Below are listed some 'how-to' to maintain your bike rack:
Check the bike racks timely for any damage: After each use, check whether there is any damage on the bike rack. Even if there is slight damage, it is better to mend early in order to save major damage from occurring in the future.
Clean the bike racks thoroughly: Make sure to clean the bike racks thoroughly including the contact points on the car after each use. It will increase the life span of the bike rack and maintain its performance.
Equip the bike rack with a lock: Equipping your bike racks with lockers is the securest way to safeguard your bike rack. It will deter thieves from trying to steal your bike racks. And also, by making use of locks your bike racks will not fall off from your vehicle and get damaged.
Our top 10 picks for the best bike rack
Swagman Standard Roof Rack
Yakima FrontLoader Rooftop Bike Rack
Thule Sidearm Universal Bike Mount
Allen Sports 2-Bike Trunk Mount Rack
TYGER Deluxe Black 3-Bike Trunk Mount Bicycle Carrier Rack
Hollywood Racks F4 Heavy Duty 4-Bike Trunk Mount Rack
Allen Sports Deluxe 4-Bike Hitch Mount Rack with 2-Inch Receiver
Swagman XC Cross-Country 2-Bike Hitch Mount Rack (1/1/4 and 2-Inch Receiver)
Yakima Products RidgeBack Hitch Bike Rack
Conclusion
Owning a bike rack is very beneficial. It can allow you to carry your bicycles anywhere you go with much ease. However, you have to ensure that the bike racks are of the best quality to guarantee easy setup and use. The kind of vehicle you are driving will determine which bike rack you are going to use.
Once you have them, make it a point to clean them after each use, check the bike racks regularly for any damage, and secure them with locks. There are many bike rack brands out there in the market today. Brands like Thule, Kuat, Yakima, Allen Sports, and Hollywood are among the top brands.