As a reaction to concerns about the effects of climate change, the future of the automobile lies in battery-powered cars, and legacy automakers are currently playing catch-up to electric vehicle (EV) startups. It seems like every other day a new startup has announced a grandiose plan, with a slick rendering or cool-looking design prototype. But, as alumni from our sister site The Drive have famously said, "Making cars is hard." Many of these startups struggle to get off the ground, despite literal billions of investor or state money thrown at them to get started and moving. Evergrande, a Chinese company that made headlines for its monetary issues this week, might just be the next victim in the sink-or-swim marketplace of a new electric car brand.
If you have a stock portfolio, you've probably been paying attention to, or maybe completely panicking over, Evergrande, a multi-billion-dollar Chinese real estate firm that builds apartments, offices, and shopping malls, among other ventures. According to the Associated Press, the firm recently admitted that it has a liquidity problem and might not have the cash to pay its $300 billion worth of debts. In an update on the situation, AP detailed that Evergrande will, "pay interest due Thursday to bondholders in China but gave no sign of plans to pay on a separate bond abroad." 
That news has global implications, with markets worldwide feeling the shock from a possible impending implosion of the real estate behemoth. Evergrande has its fingers in a lot of pots, but a not-so-insignificant part of its large valuation comes from its EV operation called Hengchi. Hengchi was valued at $87 billion back in April, but it hadn't produced a single car.
Crazy, right? Evergrande had built a huge market valuation of Hengchi based on a series of concept cars and a lot of talk. In 2019, Evergrande announced Hengchi and showed off a fleet of stylish contemporary EVs. The flashy concepts, the backing from a huge real estate mogul, and the big-picture plans were enough to rocket Hengchi's value way past legacy automakers like Ford and GM and reached a peak valuation in spring of this year. Now, it's lost a staggering 90% of its value, and it's unclear if Evergrande's Hengchi brand will ever produce a car.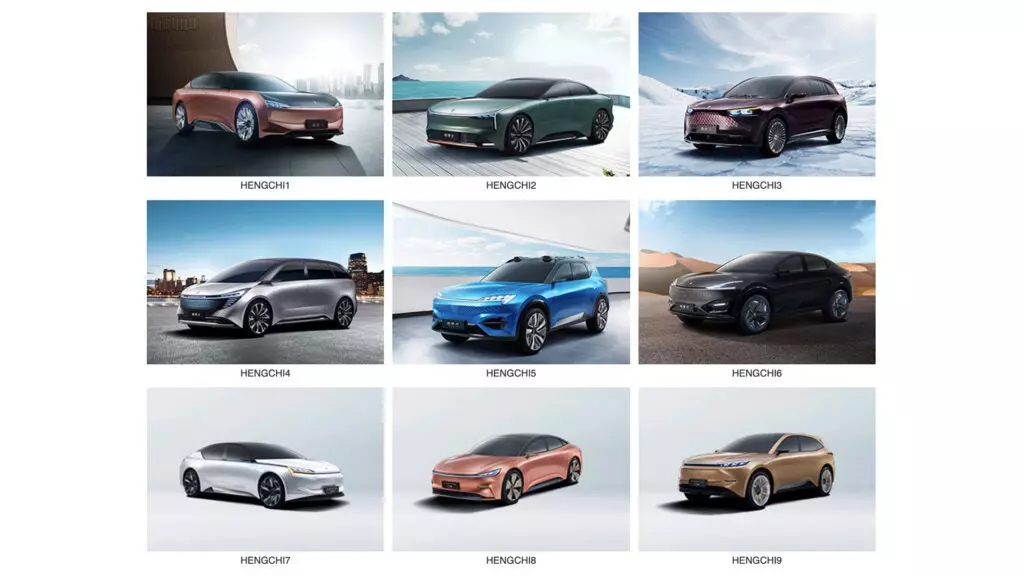 It wasn't for lack of trying, though. In recent weeks, Hengchi prototypes with more production-ready styling were spied around China, but it might be too little too late. According to roughly translated comments sections, Chinese internet denizens aren't too confident that Evergrande can put up the cash to make the Hengchi cars and offer after-sales support, too.
This isn't the first time a startup has seen a hyped-up valuation based on intangibles. It seems to be a trend to get an absolutely monumental amount of capital behind a new EV startup, but then the company burns through its cash before the project ever produces a single road-ready car. It happened with Byton, it happened with Faraday Future, and heck, even Tesla's pre-Model 3 financials were a roller coaster to watch.
If the Hengchi cars do see the light of day, they will look modern and stylish, if a bit derivative. Byton and Faraday Future might have happy endings, too, as larger companies have recently given them life by either injecting them with cash or offering to assume production of their projects.
With so much at stake, it's time for Evergrande to sink or swim. The prototypes hint that a deep level of development on Hengchi vehicles has already been done, but that's a story we've seen before to no avail. We'll soon see if they can get the coin to get the Hengchi project out the door and on the market.