There's probably nothing more pure or fun than just getting out there with your friends for a ride, especially now that spring is in full swing around the country. But say you want to stretch that afternoon adventure into a multi-day camping trip—is it even possible to do that with a motorcycle? The short answer is yes. The long answer is that as long as you stick to a few simple rules and embrace getting a little smelly, just about any motorcyclist can get out there and commune with nature.
As a professional motorcycle safety instructor, I'm always evangelizing about experiencing the world on a bike. And while I love to use my time in the saddle to perfect my riding skills on and off the beaten path, sometimes I just want to disconnect from the every day and wander around on two wheels in the wilderness for a while.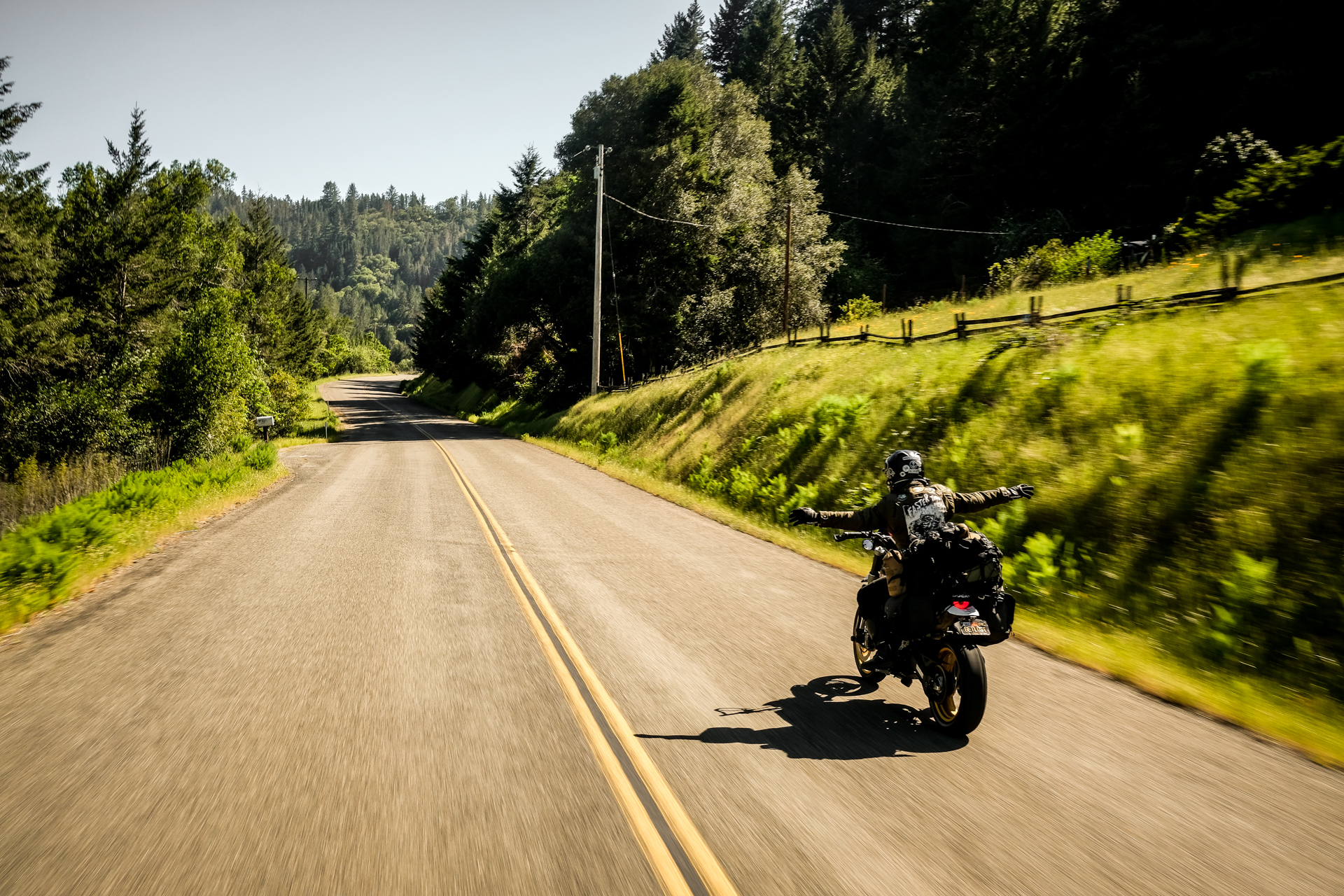 We all love to ride and the open road invigorates the soul, but what about when the day ends? Keep on reading. , Sam Bendall
Sure, cars are more comfortable modes of transportation, but they close you off to the world. Touring on a motorcycle is a unique way to experience your surroundings because it activates all of your senses. Having ridden various bikes to camp along the Pacific coast amongst the great Sequoias and Redwoods, or sleep under the stars in Joshua Tree, I know from experience that there's something special about taking a motorcycle into the wild.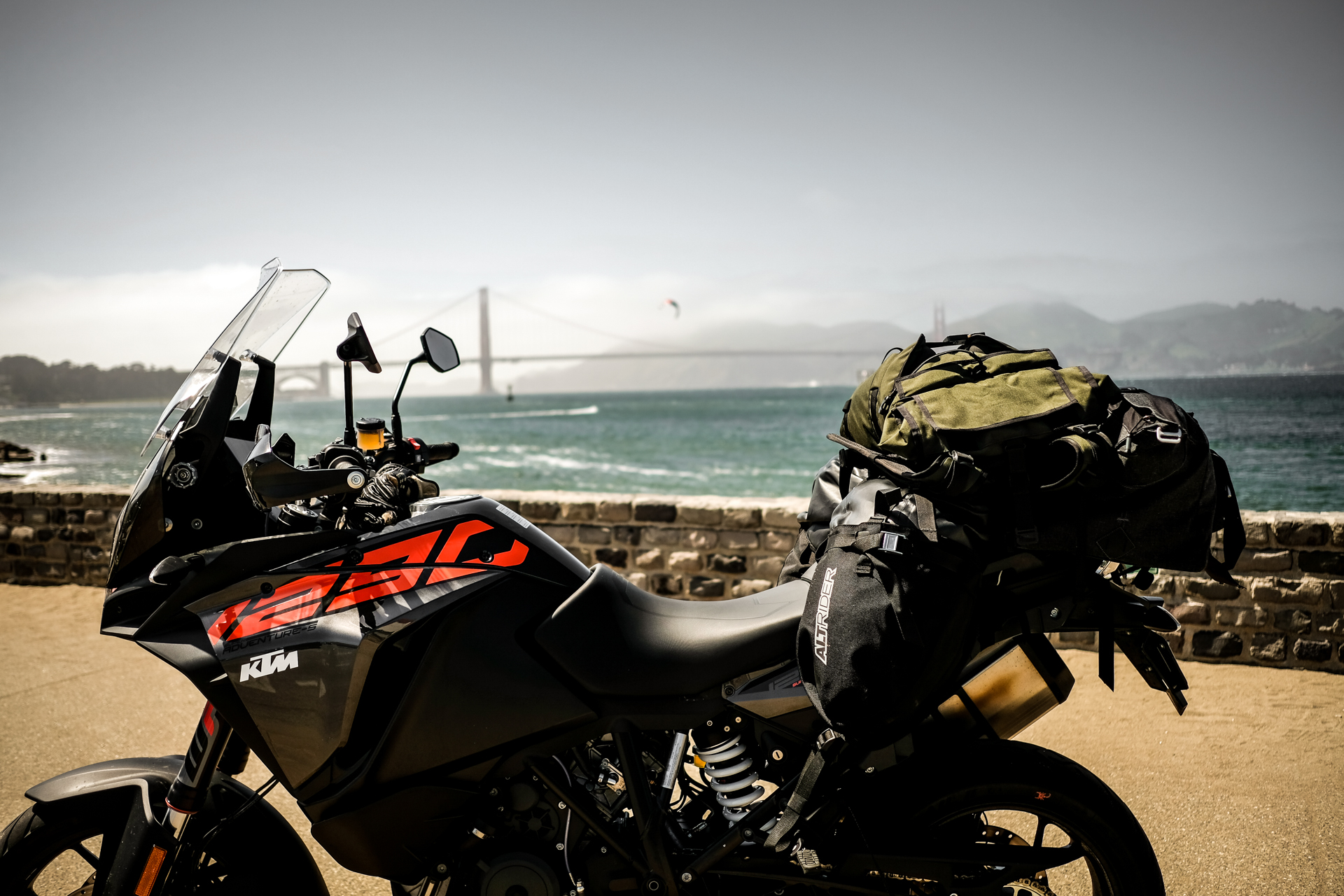 Sam Bendall
, Everything in these three bags could keep me on the road for up to a month. However, this particular trip only lasted 5 days. ,
And so you don't end up like the guy from Into the Wild, I'm going to lay out how to prepare for adventure safely with the limited space a motorcycle affords. Just about any bike can be repurposed for adventure, as long as you put yourself in a minimalist mindset; investing in quality gear and following the eternal KISS doctrine helps a lot. 
What to Wear
You are going to wear the same clothes for a few days, and you will be smelly and dirty by the end. Packing as few changes as possible will free up much-needed room for other essentials.
Staying comfortable on the road and at the campsite is all about layers, and it begins with a proper base like merino wool (the best) or synthetic fiber with aloe (a good runner-up) to keep you comfortable over a few days. These materials both are odor-resistant and help prevent itchiness.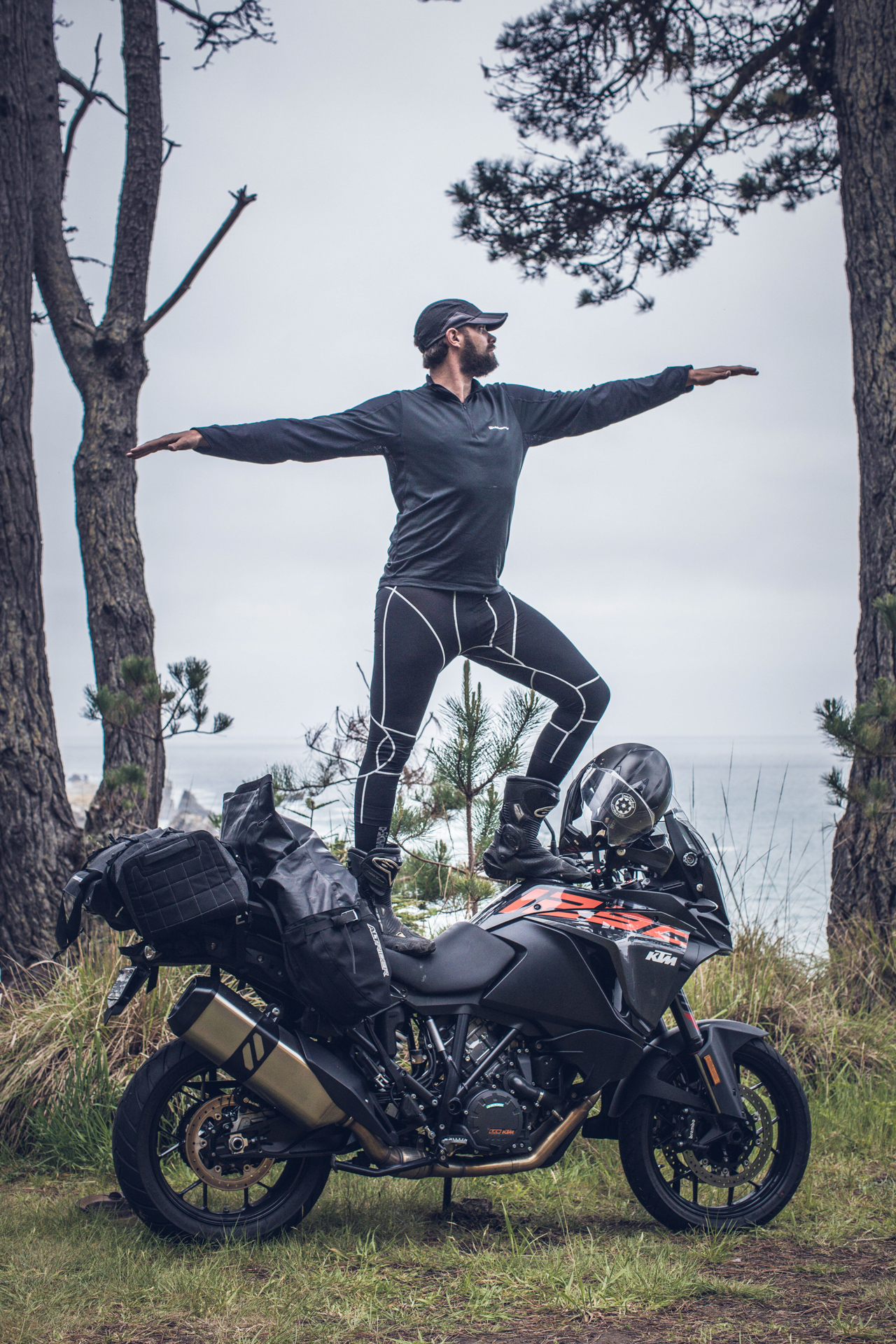 Erik Jutras
, I comfortably wore these Moto-Skivvies base layers for 5 days straight. My feet got a bit stinky but I experienced no itchiness or discomfort. Great base layers are worth every penny. ,
After that, a midlayer is useful to insulate body heat and can be removed if temperatures rise. It will also come in handy at the campsite when the sun goes down, no matter the weather. Trust me. On my most recent five-day moto camping trip up north with my bud Erik Jutras, I relied solely on a pair of Moto Skivvies base layers, an Aether Eclipse midlayer, and two pairs of compression socks. That's it.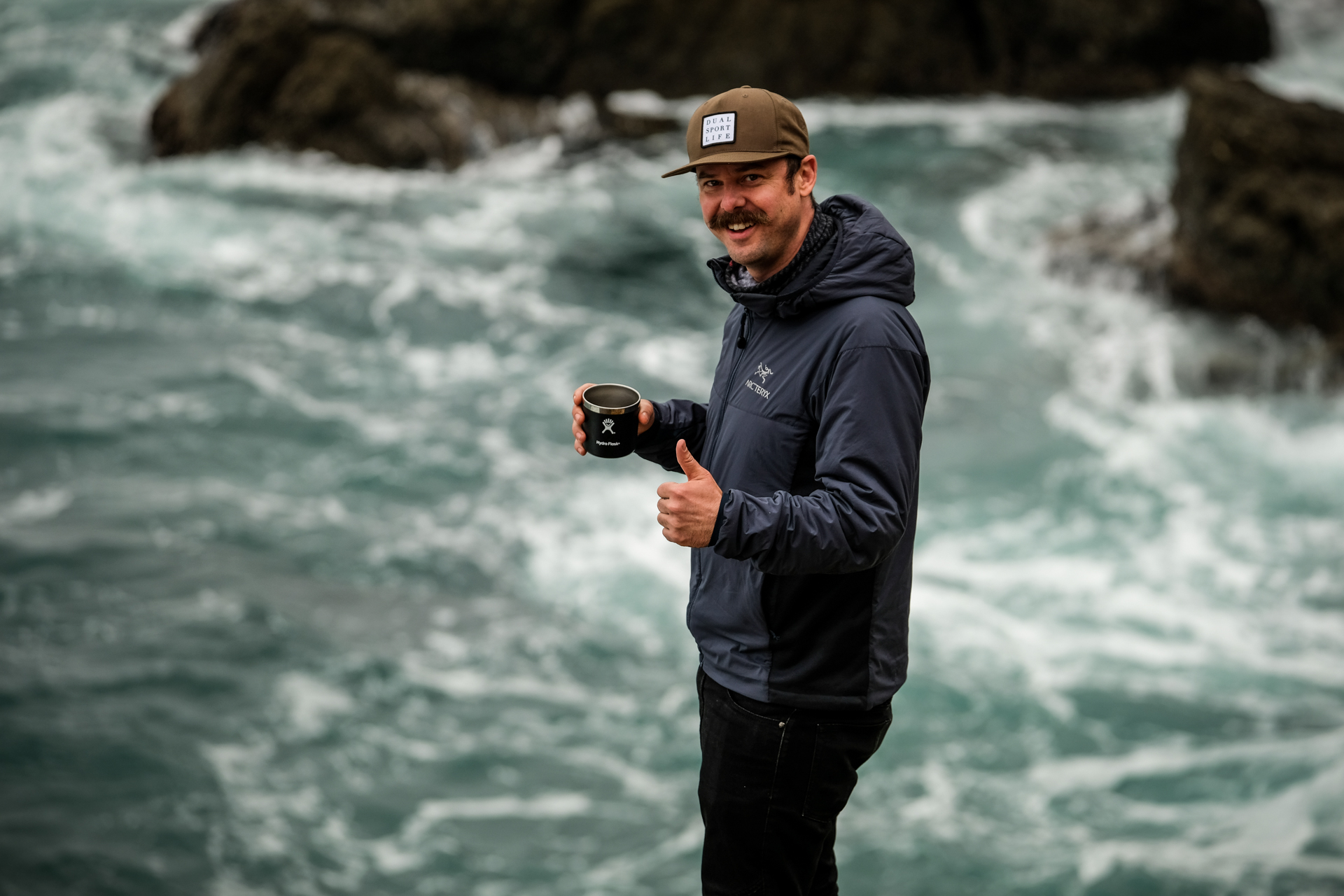 Sam Bendall
, Erik rocking his ArcTeryx midlayer on a brisk morning by the coast. A warm and cozy midlayer is such an important camping garment. They can also be compressed for packing so it's easy to bring a spare just in case. ,
A final external layer to consider would be a wind- and water-resistant shell. Coupled with the midlayer, an external layer will keep you dry in wet weather and aid in wind-blocking.
Last, proper riding gear is a must. Adventure motorcycle suits might make you look like an astronaut, but they keep you safe with abrasion and impact resistance in the event you go down on the road. Hopefully, that won't happen—but a good suit should also keep you comfortable when you have to get on and off the bike to get to items or perform tasks.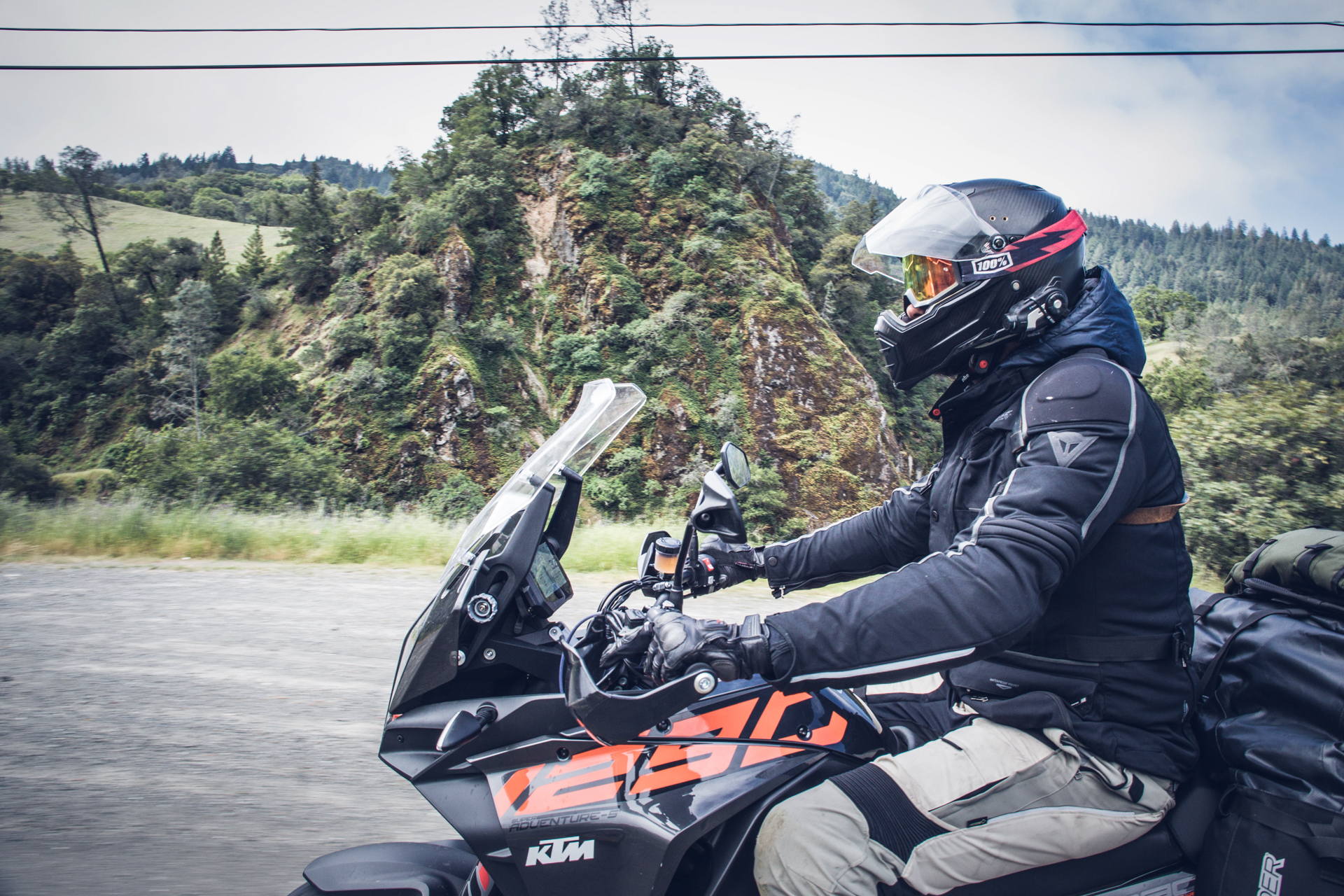 Erik Jutras
, The Dianese D-Explorer jacket and pant is one of the best adventure suits I've worn. It's a fantastic four-season suit. Great gear inspires confidence and also keeps you comfy.,
I was a lead photographer on one recent trip, so that meant hustling off the bike, getting into a shooting position, and hopping back on to leapfrog my subjects. The last thing you want is your attire hindering your experience. Adventure suits are also versatile in that they have removable liners that are used to vent the suit when it's hot and seal it up when it's cold. Many also come with waterproof liners that shield you from the rain. Whatever you choose, make sure it's something you can live in for days at a time.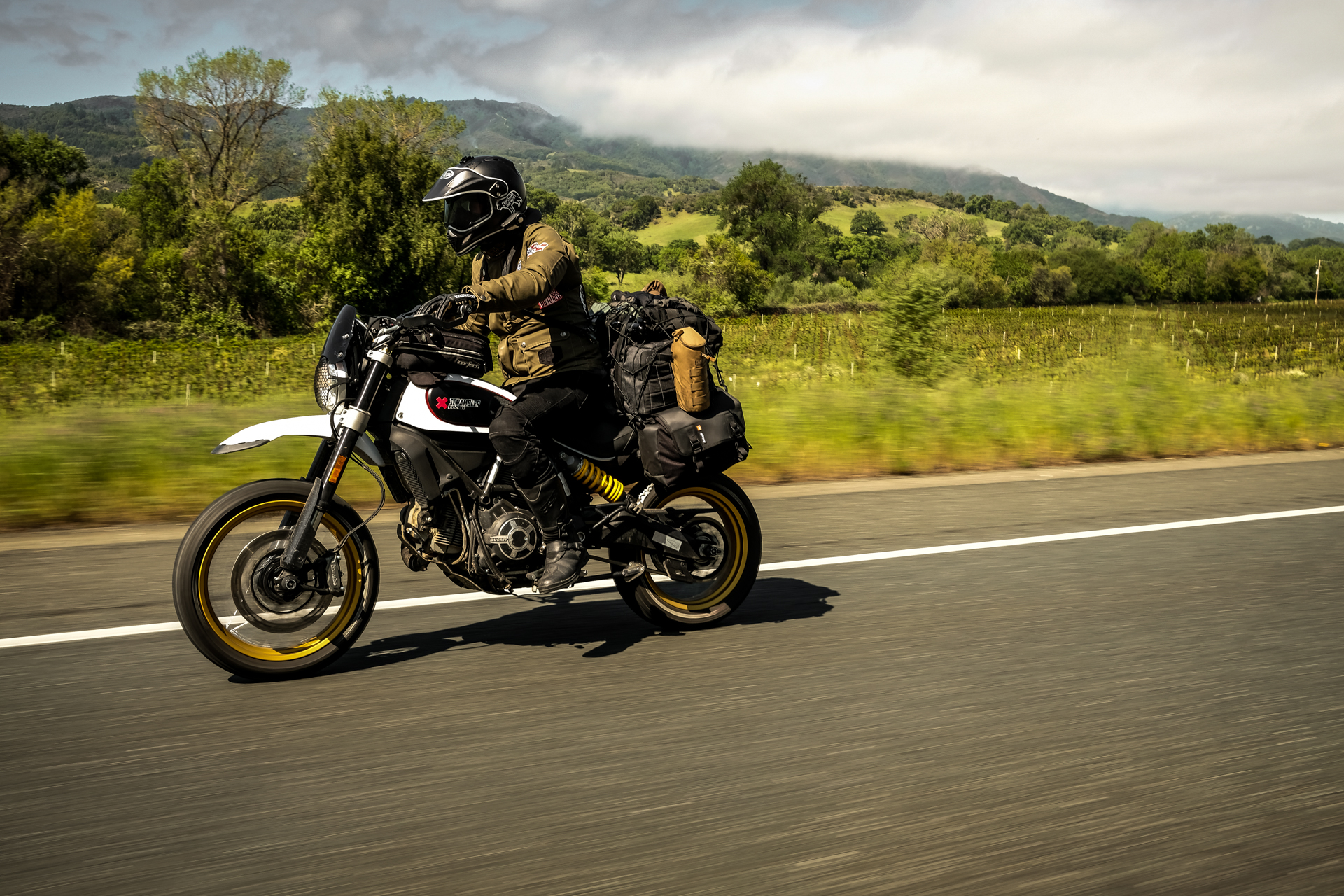 Sam Bendall
, Erik and I are dressed very differently but both our chosen fashion choices incorporate protective armor and abrasion-resistant fabrics. If you don't want to look like a nerd like me, and more cool and hip like Erik, check out Rev'it's Urban line of motorcycle gear. ,
I recommend packing one emergency change of clothes and a pair of lightweight shoes in case you fall into a mud pit or step off a curb into an ankle-deep puddle outside a 7-11 like I definitely have never done—but really, that's it. If Mother Nature decides to surprise you and throw her full force at you, remember, laundromats exist and make for funny selfies while you do a load and have a cup of coffee.
The Core Essentials
Humans need three basic things for survival: food, water, and shelter. It's up to you how best to find the first two—bring along non-perishables, or leave room for groceries—but it is always smart to carry extra water in a canteen in a bag on your bike. As for your traveling abode, a higher-quality tent should be light enough to carry without issue, while a sleeping bag and sleeping mat that can pack small are also essentials.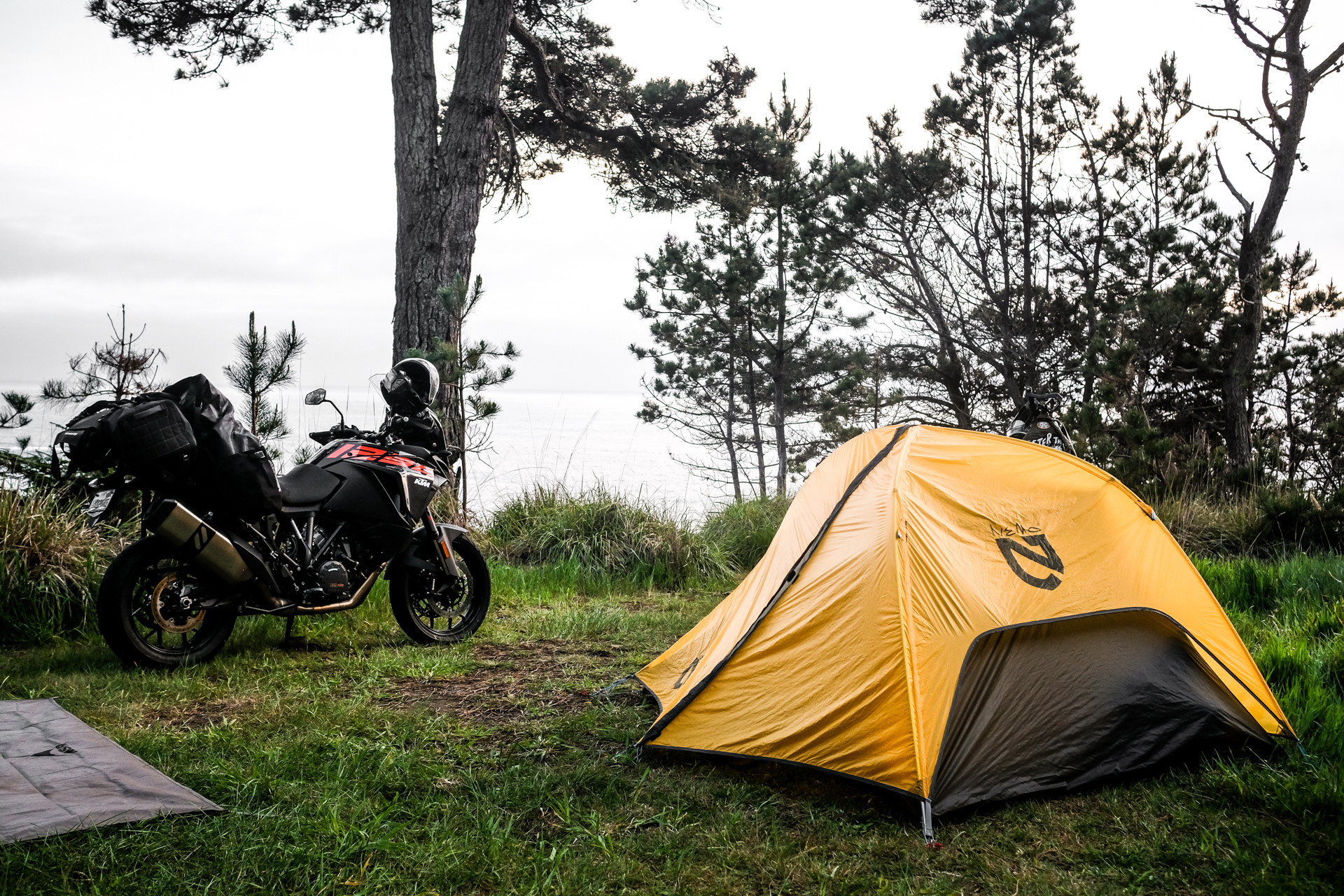 Sam Bendall
, My Nemo Hornet 2P Tent, containing my blow-up air mattress and sleeping bag. All pack easily onto my bike and provide me a comfortable place to sleep each night. ,
After a long day of riding, you're going to want to be able to set up a restful place where you can get some much-needed sleep away from creeping bugs and critters. And as with any outdoor excursion, you'll want a few choice comforts to really round out the experience. Maybe you need whiskey and snacks before bed; after riding all day, that's what I want around a campfire. Well, that and a filling meal.
Maybe you need a kickstart to your nervous system with an IV of coffee in the morning, something I require before throwing a leg over a bike for a multi-hour stint in the saddle. Small comforts like these are massively important out on the road, so be sure to leave room for your personal must-haves.
How to Pack a Motorcycle for Camping
Saddlebags and lockable hard cases are a great option, but they're also expensive. Softbags are versatile, less expensive, and can fit a multitude of bikes. However, if added security and peace of mind are your biggest concerns, opt for lockable hard cases when traveling.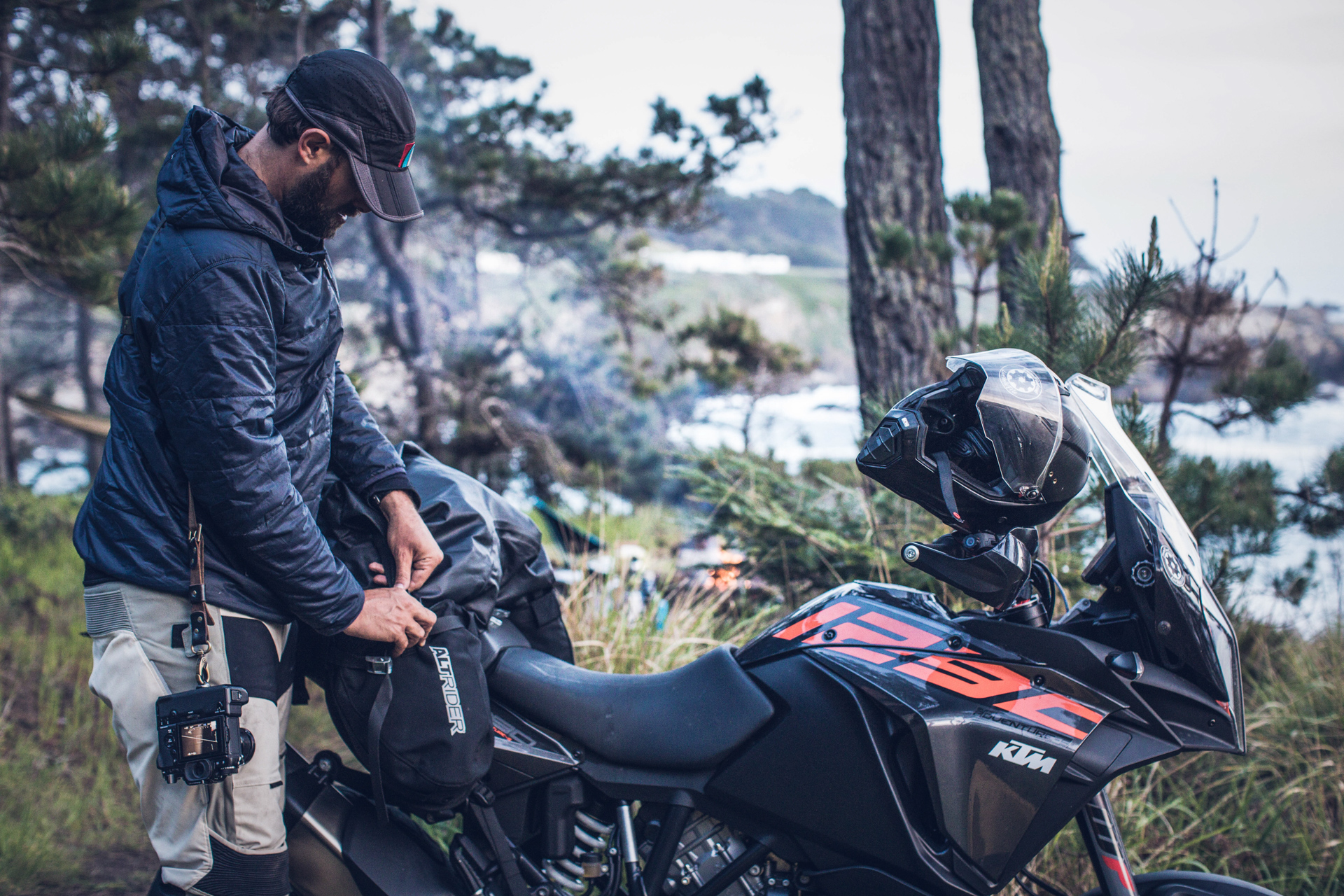 Erik Jutras
, Because I ride a lot of different bikes, a modular luggage system like AltRider's Hemisphere Bag serves me well. It's waterproof, durable, and holds a ton of gear close to bike for proper weight distribution. ,
The biggest rule for packing gear on a bike is to keep heavy things low and as close to the center of gravity as possible. Nothing should be attached to points that flex with the suspension, and no straps should dangling near any spinning bits. It's also key to make sure the weight of your stuff is evenly distributed on both sides; if you don't have a center stand for your bike, have a friend hold it upright from the front while you lightly inspect the balance.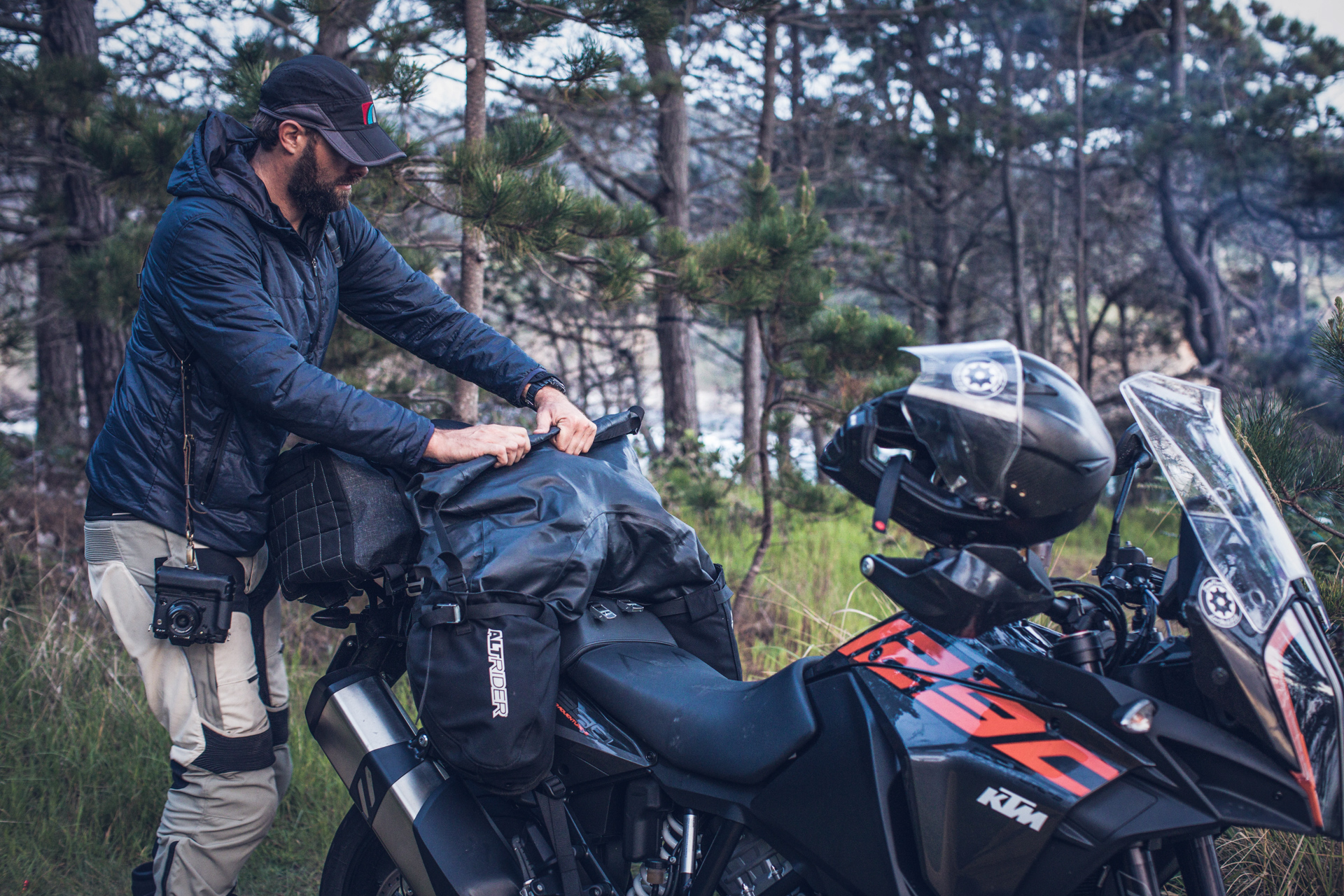 Erik Jutras
, As I break down my campsite, everything that was out from the night before is now firmly stowed away in my AltRider Hemisphere Bag. I won't touch anything in this bag until we get to our next campsite or if we break down and need to perform some kind of roadside motorcycle repair. ,
I recommend keeping your gear divided into three main categories and to keep everything separated to make the loading/unloading process smooth at each stop: Camping gear (items you won't need at all until you're done riding for the day, like the tent and sleeping bag, food, tools, medkit, etc...), clothes and toiletries, and personal items like your wallet, phone, and perfect glasses. The camping gear can be lashed directly to the bike, while the clothes and toiletries should go in a soft duffel on top. Personal items are best stored in an easily accessible (and removable) tank bag.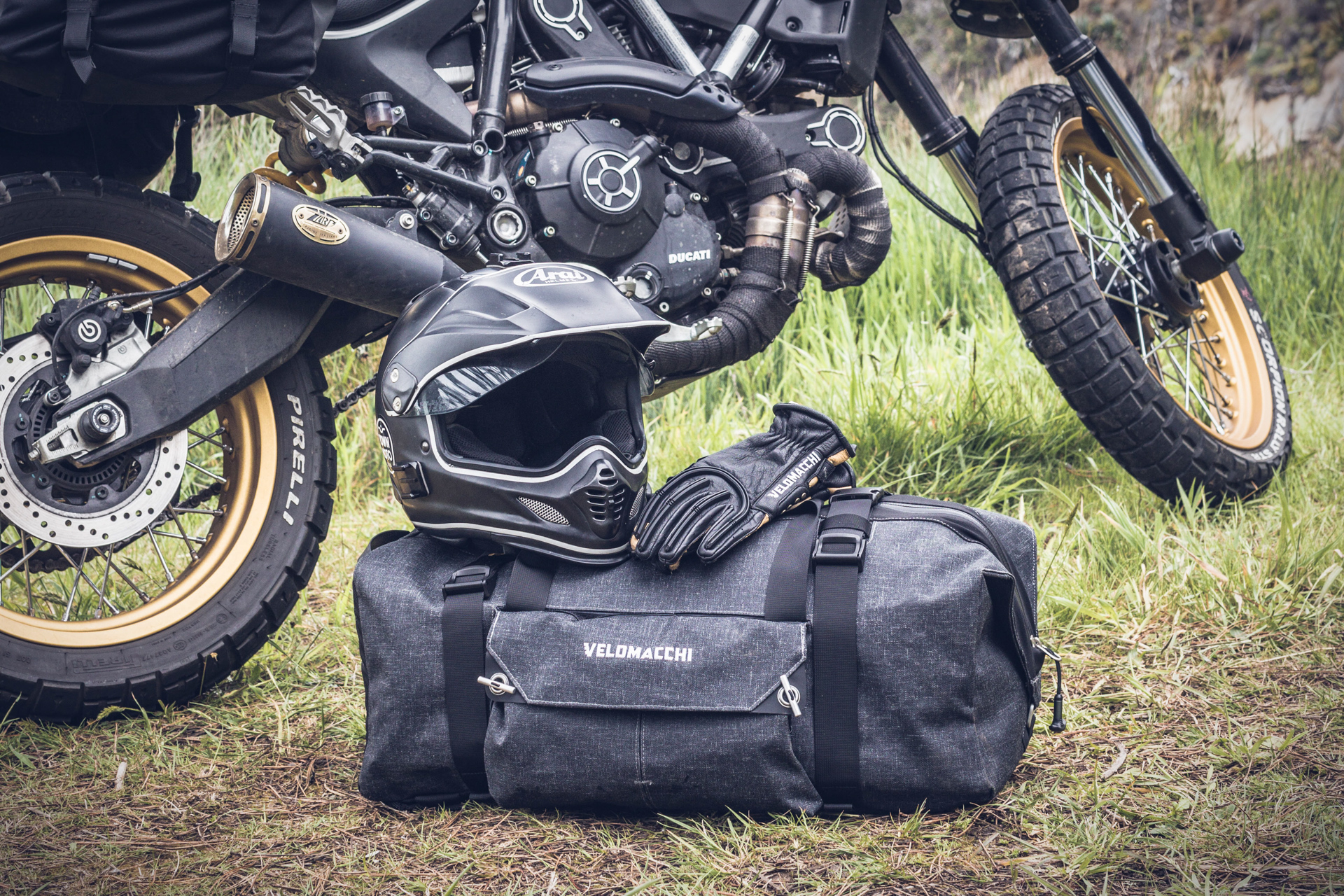 Erik Jutras
, Both Erik and I had our own Velomacchi 50L Hybrid Duffle Bags. We both carried our personal toiletries and change of clothes in these along with other everyday carry items we may need access to during the ride. ,
I don't like to wear a backpack when I'm touring because it can cause physical fatigue and also bump into the luggage mounted behind you. So securing a backpack to my loadout is the very last item I tie down. My backpack contains my most valuable items like cameras, drone, and laptop. If I need to leave my bike out of sight and unattended for a short period of time, my backpack is an easily removable item.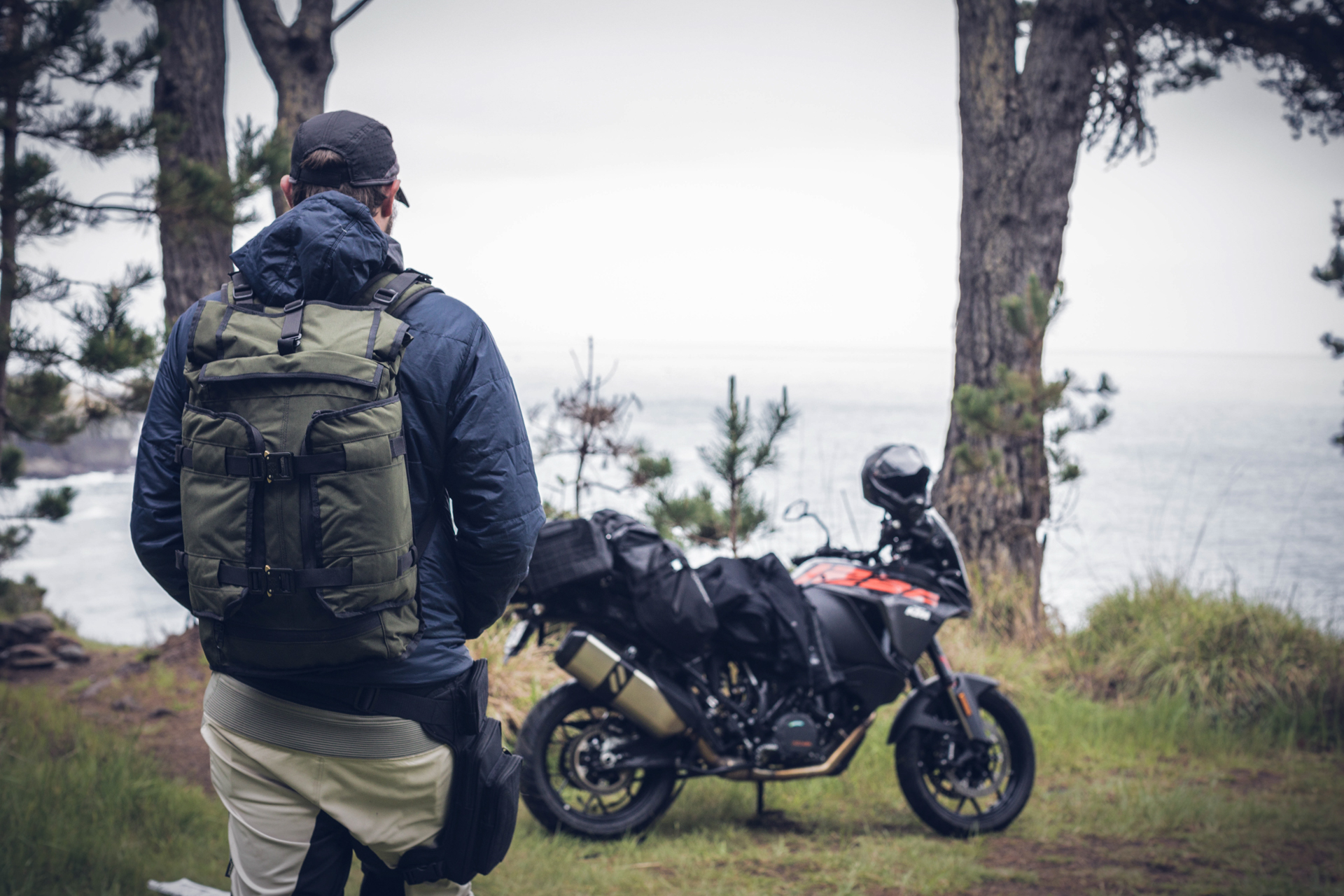 Erik Jutras
, Off the bike, my Mission Workshop Rhake backpack held all my camera gear and super important items that I would need access to at a moments notice. Its design contains a couple mounting loops that enabled me to secure it atop my main bags with Rox Straps. This is a good example of non-motorcycle focused gear getting the job done.,
Two last things to bring: Rox straps and a bungee net. Motorcyclists swear by both of them, and I never leave my house without them. Rox straps are nylon-webbed, hyper-elastic bands are simply the best tie-down straps you can carry on a motorcycle. They are quick and easy to use and take up very little space. Say you stop in a nearby town on a whim for some extra firewood, a case of beer, or half a cow. These wondrous straps are your saving grace.
A bungee net can help too by serving as added support for your luggage or a quick place to stuff a midlayer outside a bag when out and about. You can also wrap it around your fuel tank and stuff items like maps and a second set of gloves in the webbing. 
Don't Fear the Unknown—Just Plan Ahead
Weather and breakdowns are going to be your biggest concern when traveling on a motorcycle, and the only thing to do is to plan ahead. Make sure your motorcycle is in good working order and maintained. We all know being wet sucks on a motorcycle, but a proper rain suit within easy reach could make all the difference in the face of an impending storm. I went on an amazing ten-day solo trip from Los Angeles to Portland and one day I neglected to check my phone for the day's weather report along my route. I remember rolling into beautiful Coos Bay, Oregon at 9pm; cold, damp, miserable, and unable to appreciate my surroundings. My pain could have been avoided with a little forethought and preparation. Lesson learned.   
At the end of the day, every motorcyclist has their own system for packing on trips, but the extra stuff required for camping adds a layer of complexity that might seem a bridge too far for some. But from personal experience, motorcycle camping is an eminently doable, eminently enjoyable way to have a fun weekend in the wilderness. Now hurry, before I book all the campsites on the West Coast for the summer. 
Sam Bendall isThe Autance's motorcycle-obsessed contributing writer. He rides, tests, and lives a life on two wheels. His goal is a simple one: expose everyone to the wonderful world of motorcycles and get them out there riding. He is based out of Los Angeles, CA.