Pick 'n Pulls, public car auctions, and junkyards are great places to see cars from yesteryear. Cars themselves present some anthropological interest, too; they're such a significant purchase and part of our lives. Whenever I see them abandoned or rotting away, I ask myself "what was this all about? Why was this car left here?"
Car: Final generation Ford Escort
Location: Columbus, Ohio
Photog: Yours truly, Kevin Williams (IG = gaytona_usa)
Camera: iPhone 12
In search of a power steering reservoir cap for my former Hyundai Tiburon, I went to my local Pick 'n Pull. The scrapyard itself was super disorganized, and apparently, those reservoir caps are in demand, since the four Tiburons on the lot were all missing their caps.
Dejected, but unwilling to go home right away, I stumbled on this 2000 Ford Escort.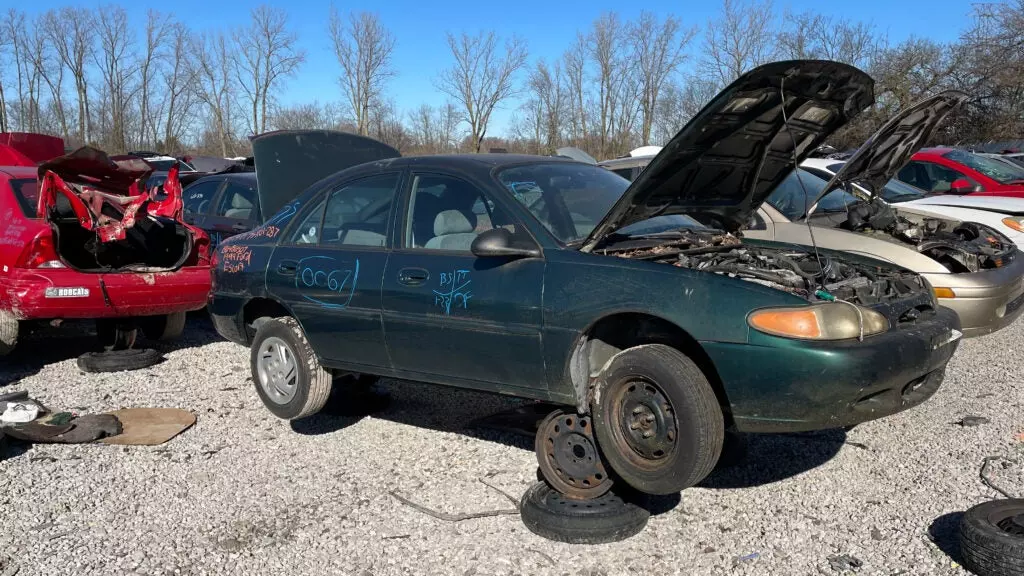 These cars weren't super interesting; underneath it was a heavy facelift of the old Mazda Protege platform Ford had used on the model before it. It got the job done, but the MK1 Ford Focus was light years better.

The bubbly sedan had only done just over 100,000 miles before it found its way to this Columbus-area boneyard.

Startlingly, the body was in good shape, no rust or blemishes, just a hell of a lot of mold on the exterior panels. I wondered, why was this car here? Did it break down, and then was it forgotten about in someone's driveway, left to decay and eventually mold? I felt like it was owned by an elderly relative, someone who gave up driving years ago. The car was probably sold to Pick 'n Pull, because selling a manual-transmission'd moldy Escort would've been more trouble than it would be worth.
Passively, I wondered if the car could be put back on the road. Maybe, but not by me.