Surely I don't have to tell you why now might be a better time to own an apocalypse-ready tank killer than a minivan, but the claim stands: This 1975 Volvo C303 is the best family car available right now. It's got mountainously tall tires, seating for seven (kind of), and portal axles, which'll come in handy when crossing desolate lands once known as "towns" and "cities." Not only that but the classic military-style rig looks the part, too, meaning you can feel good about at least one thing in your life when this is all said and over with.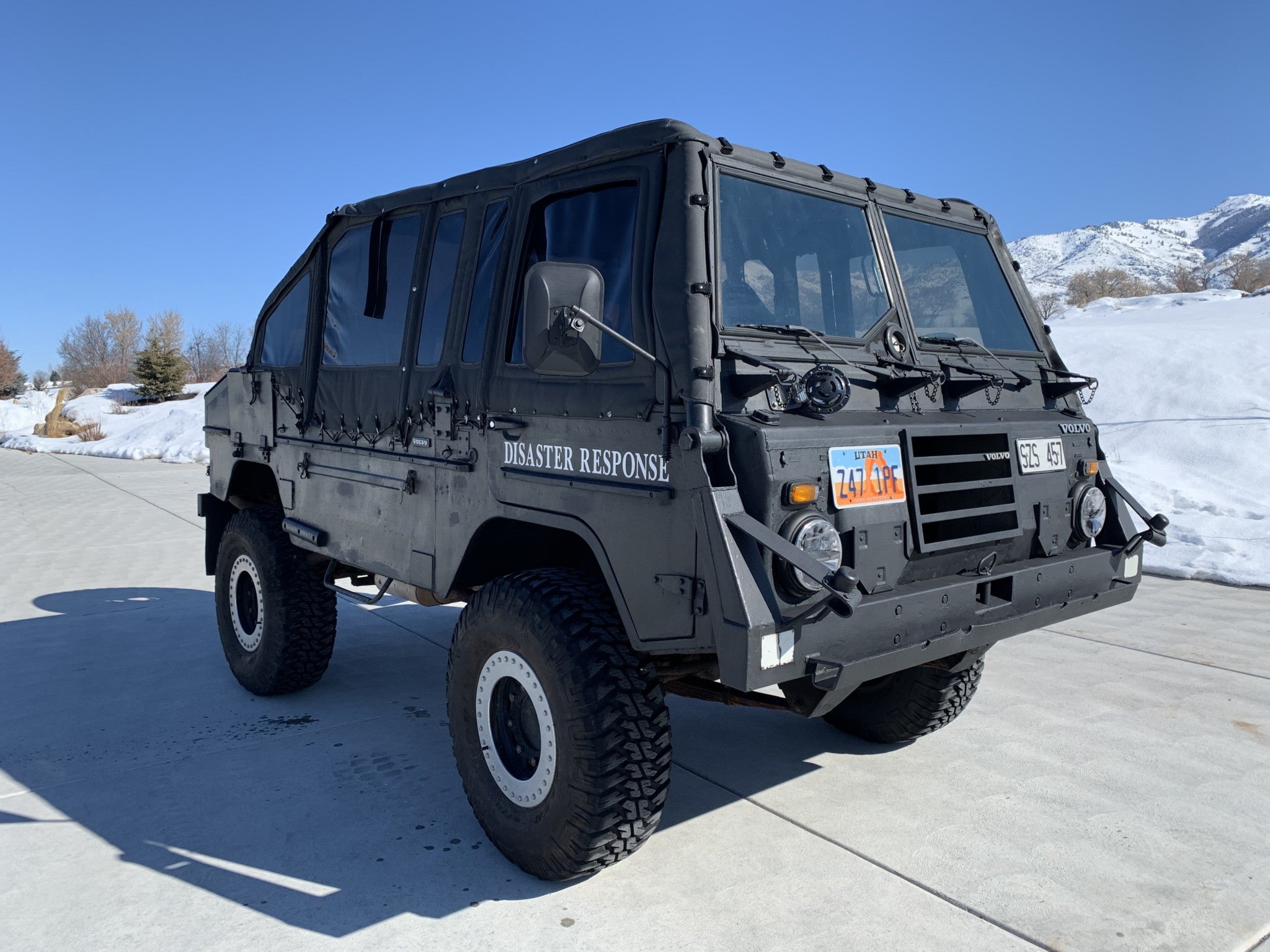 Via Bring a Trailer
It's probably best to start with the powertrain, which is spearheaded by a bulletproof 3.0-liter B30 inline-six gas engine. This lump propelled Volvo 164 sedans back in the day as well as the automaker's full-size utility vehicles, and while it isn't massively powerful, it is at least reliable. The real trick here is in the gearing, so even though the six-cylinder might only produce around 125 horsepower and 145 pound-feet of torque, it can still crawl over incredibly tough terrain. Just make sure you've got the four-speed manual where you want it and shift the two-speed transfer case into its lowest setting, then voila! Instant four-wheeling.
Locking differentials aid with traction for the Volvo and those portal axles I mentioned earlier are the bee's knees when it comes to ground clearance. Factor in the 37-inch Goodyear Wrangler mud-terrain tires and you've got a platform that's ready to travel the most deserted landscape on earth. In fact, judging by the videos included in the Bring a Trailer ad, it already has.
This C303 being a TGB 1111 model, it's got an insulated vinyl top with crank-style windows and a fold-down windshield. A collapsible roll cage is in place for safety—it wouldn't be a Volvo without safety—and the interior is almost completely rubberized for durability. That means it's also easy to clean and sanitize, a must when you're dealing with a pandemic-level viral disease.
At last, the rear heater will be a hit with the kiddos when you inevitably cross into the Arctic Circle seeking refuge. Five Corbeau racing seats have been fitted inside, ensuring everyone stays put with sizable bolstering and lap belts in the back. Then, there are two more folding jump seats that face the rear buckets, making it clear if it wasn't already that this Volvo was made for military use.
Originally, C303s like this one were used by armed forces across Europe and Asia in countries like Angola, Estonia, Latvia, Lithuania, Malaysia and, of course, Sweden. The seller purchased this particular example from a Colorado importer in 2007, sold it to a friend three years later, then bought it back in 2018. It now resides in northern Utah.
There's no telling exactly how much this Volvo might sell for, or what its reserve is set at, but we'll find out Wednesday afternoon when the online auction closes. At the time of publishing, it's been bid to $16,750 with more surely to come if other civilian-converted military vehicles are anything to go off of.
Got a tip? Send us a note: [email protected]