With Tesla claiming 520 miles of range from its upcoming Model S Plaid just to one-up the Lucid Air by three miles, South Korean giant Hyundai is all set to sell one million pure-electric vehicles across its Hyundai, Kia and Genesis brands by 2025. The group has already developed a scalable skateboard platform with EV startup Canoo, not to mention that last year, it also bought a stake in Croatia's VW-favorite EV tech company Rimac.
The group's premium brand Genesis cooked up a significantly upgraded G80 sedan for next year, which will come with a 290-horsepower, turbocharged, 2.5-liter inline-four in base trim, or an optional twin-turbo V6 good for 375 hp and 391 pound-feet. The new G80 is lighter on its aluminum-intensive feet, quieter and more comfortable thanks to having more sound isolation and an innovative noise-canceling wheel design. It also comes with such advanced technologies as smart cruise control that uses AI to tailor its settings to the user's liking.
Genesis won't stop there with this platform, clearly moving into the pure-electric scene with a G80 variant that's expected to hit the roads in 2022, badged simply as the eG80.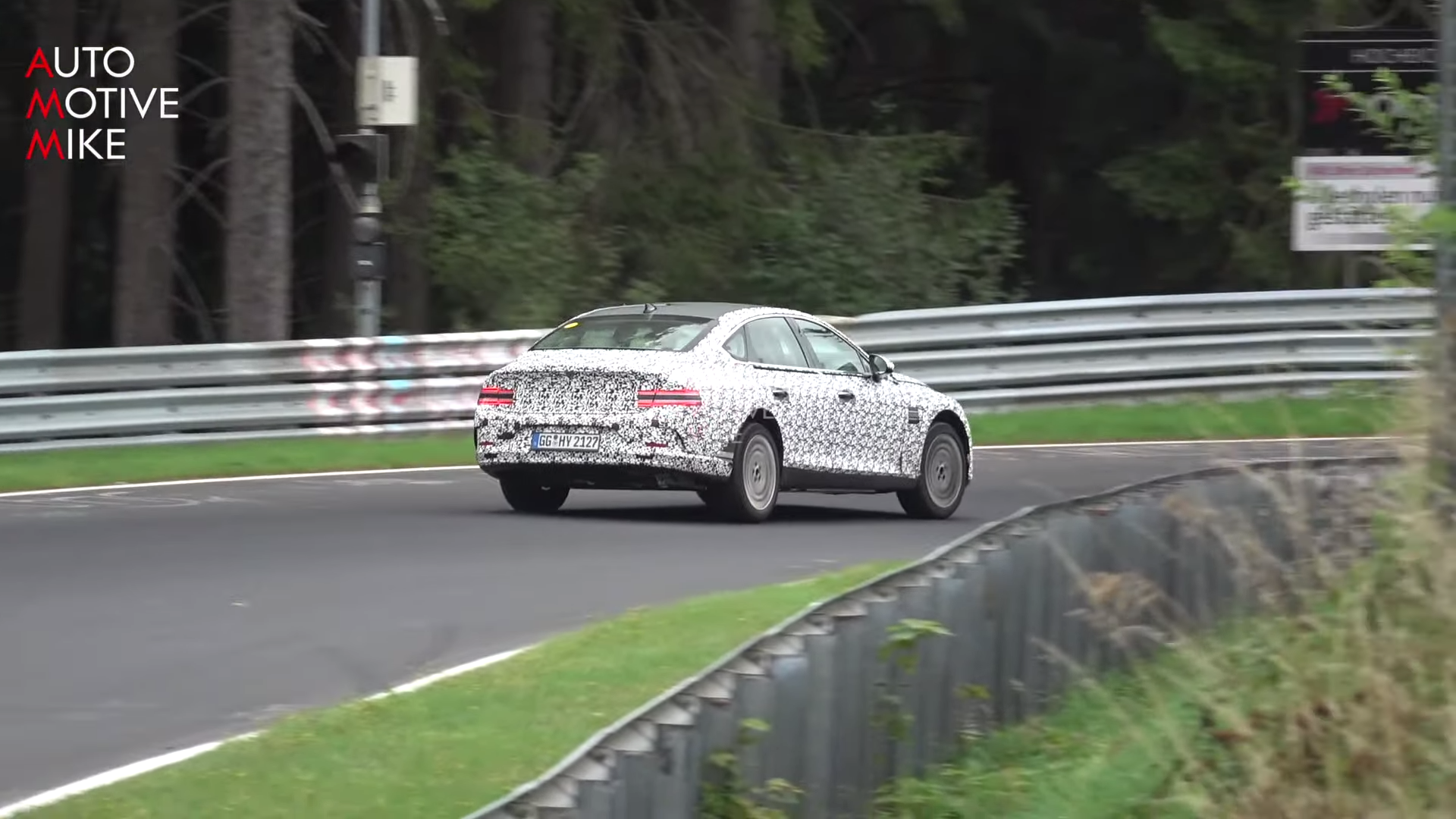 2022 Genesis eG80 at the Nürburgring., Youtube | Automotive Mike
As you can see from the images sourced from the spy video below, Hyundai has been busy with its fully camouflaged EV prototypes at the Nürburgring, which seem to be G80s showing no traditional grille, nor any exhaust pipes as far as we can see. An even bigger clue is that the latest test subject remains silent apart from the tire noise at full throttle, suggesting that instead of a plug-in hybrid, Genesis will indeed go for a full EV to chase Tesla, the German carmakers, Jaguar, startups, or indeed anybody with a realistic chance of launching a luxurious electric sedan in the near future.
Having worked out of a rented garage by the track for two years, the Hyundai Motor Group opened its European Technical Center at the Nürburgring in 2013. The work they do there really shows the moment you drive a new Hyundai, Kia or Genesis.
Got a tip? Send us a note: [email protected]