Multiple owners of full-size General Motors trucks and SUVs built between 2015 and 2019 have banded together to file a lawsuit against GM over paint they say fails years too soon. They claim GM "knew, or should have known" it was selling vehicles plagued with what a dealer reportedly described as "bad paint" problems, and seek compensation in the form of repairs, replacement, or buybacks.
Filed in the U.S. District Court for the Middle District of Florida, Riley et al., vs. General Motors LLC claims paint on certain GM SUVs and pickup trucks from less than decade ago is liable to "microblister, delaminate, peel, fade, and bubble" all "without any external or environmental influence." They suspect flaws in GM's paint, clear coat, or application process are to blame, and want GM to remedy the problem.
The lawsuit alleges that the following vehicles are affected:
2015-2019 Chevrolet Tahoe
2015-2019 Chevrolet Suburban
2015-2019 Chevrolet Silverado
2015-2019 GMC Yukon
2015-2019 GMC Yukon XL
2015-2019 GMC Sierra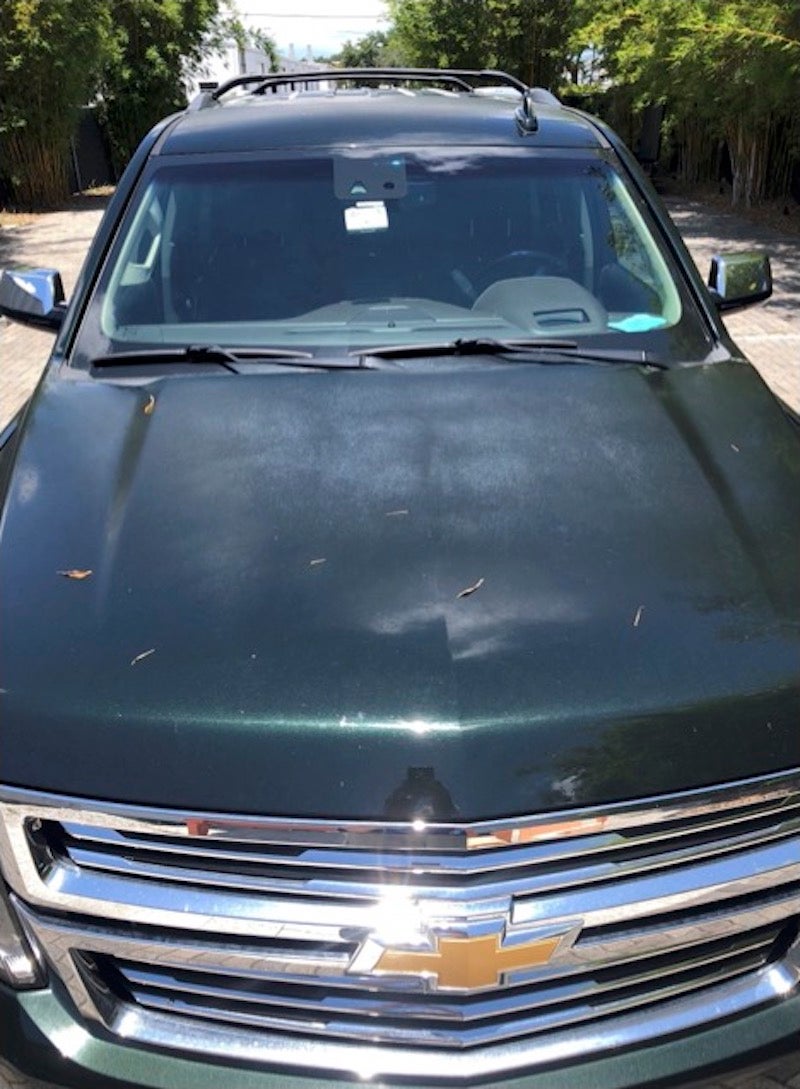 2016 Chevrolet Suburban with early paint failure, Riley et al., vs. General Motors LLC
All four plaintiffs own vehicles from the list above, which they purchased under GM's three-year, 36,000-mile bumper-to-bumper warranty, some new, with at least one purchasing a used vehicle. Two owners report garage-parking or regularly washing and detailing their vehicles, but still noticed significant degradation of the paint within three to four years after purchase. Upon noticing, each took their SUVs into authorized GM dealers for repair under warranty but were declined, even though three of the four were supposedly told by dealers that paint problems are common on their trucks. GM itself seems to have tacitly acknowledged the issue, as it allegedly offered to cover one-third the cost of repainting two of the plaintiffs' vehicles.
GM declined to comment on the lawsuit when contacted by The Drive.
The plaintiffs claim GM has "actively concealed and/or suppressed" information about paint problems to avoid issuing recalls or earning bad press, leaving customers with vehicles of diminished value. The suit demands GM recall and repaint all affected vehicles, as well as offer buybacks or reimburse lessees of impacted products. The plaintiffs also seek to have their legal fees covered and to have GM pay punitive damages.
Anyone seeking to offer evidence for the suit can contact the plaintiffs' representatives at The Maher Law Firm or Heninger Garrison Davis, LLC.
Got a tip or question for the author? You can reach them here: [email protected]