The 755-horsepower 2019 Chevy Corvette ZR1 may be the talk of the performance car town these days, but it's far from the last word in future speed machines from General Motors. And we're not talking about the upcoming mid-engined Corvette, either. Judging by recent remarks from GM CEO Mary Barra, the General may have either an electric Corvette or a battery-powered Cadillac sports car coming down the pike in the not-too-distant future.
On Wednesday, Barra gave a presentation to the Barclay's Global Automotive Conference regarding GM's plans to add a minimum of 20 new electric vehicles over the next six years—in which she, among other things, showed off an image of what might be one of the company's new Bolt-based crossovers. But according to Automobile, woven in amongst the other vague details was this hidden gem: The mighty carmaker, long known for its gas-guzzling sports cars and luxury vehicles, will be an "expressive luxury low-roof" electric car.
For many astute auto industry observes—including us at The Drive—this quickly brought back memories of GM's decision to pop a copyright on the term "Corvette E-Ray," suggesting that the carmaker has been at the very least thinking about whipping up an electric or hybrid version of America's Sports Car. And with the C7-generation model likely soon to be sent off to graveyard in favor of the mid-engined eighth-gen, the time could be prime to throw an electric version together. (Especially if GM does indeed still plan on stirring up a bit of controversy with the new 'Vette's powertrain, anyway.)
After all, 
But the more we look at the mission brief mentioned in Barra's presentation, it seems equally likely (if not more probable) that the sleek EV in GM's future hails from the Wreath and Crest. Luxury, after all, is Cadillac's raison d'etre. And that adjective list—"expressive luxury low-roof"—could also be used to describe another car from Caddy's recent history: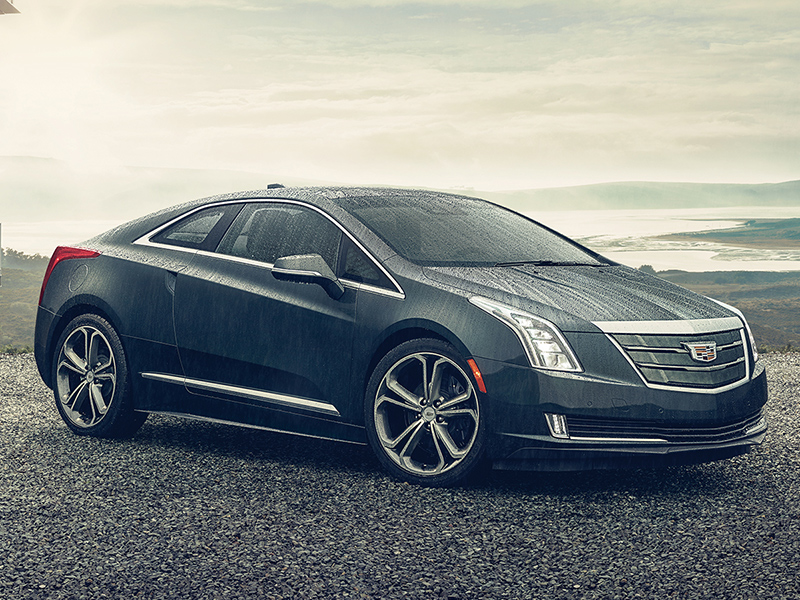 The Cadillac ELR., General Motors
The Cadillac ELR, built from 2013 to 2016 using the same platform and plug-in hybrid powertrain as the first-generation Chevy Volt, never found much luck in the marketplace, due to both the market's generally-tepid response to luxury hybrids and the front-wheel-drive compact's nutrageous $75,000 starting price. (Caddy knocked $10K off that for the 2016 model year, but that still meant the ELR started at around $58,000 even after the federal EV tax credit.) But it certainly never went wanting for style, with an exterior that arguably stands as one of the best executions of the brand's "Art & Science" design language and an interior as nice as anything else the company made at the time. 
An electric Cadillac sports car or gran turismo—ideally, would kill two birds with one stone: It would give Cadillac the elegant halo car the brand has long been lacking, and simultaneously boost GM's overall standings in the market by showing investors the value it's placing on electric vehicles. Which, as the fact that Barra's presentation was primarily about convincing people that GM is a better future-facing investment than Elon Musk's attention-grabbing electric vehicle company, is largely what these moves are about. (It's certainly not because Americans have shown a slathering hunger for EVs—at least, so far.) 
Whether in the form of a Corvette E-Ray or a Cadillac E-Dorado (a name we just coined, don't go stealing that without proper credit), GM's future low-roof electric vehicle will clearly have some serious competition. If the new Tesla Roadster can come even close to matching Elon Musk's claims for it, the General will have quite the battle on its hands.