The GMA T.50 is a V12-powered three-seater supercar weighing just 2,173 pounds.  In order to combine a glass roof and enough room for three adults in a mid-engine layout packing 654 naturally aspirated horsepower, the team at Gordon Murray Automotive had to be absolutely obsessive about the weight of each component, whether hidden or exposed.
However, with all the technologies running mostly at 48-volts currently, it also had to keep in mind that the most complicated solutions are often just as heavy and therefore not necessary for the T.50. That's where a number of five-axis CNC machines got into action, while Murray pushed their suppliers to start chipping their own components as well.
We know that the track-only variant of the T.50 can go down to 1,962 pounds and that the road car's carbon-fiber monocoque weighs just 220 pounds by itself. What else? For starters, forged alloy wheels sized 19x8.5 at the front, and 20x11 at the rear. To compare, on a current Audi RS6 Avant über-wagon, you can even get a set of 22s.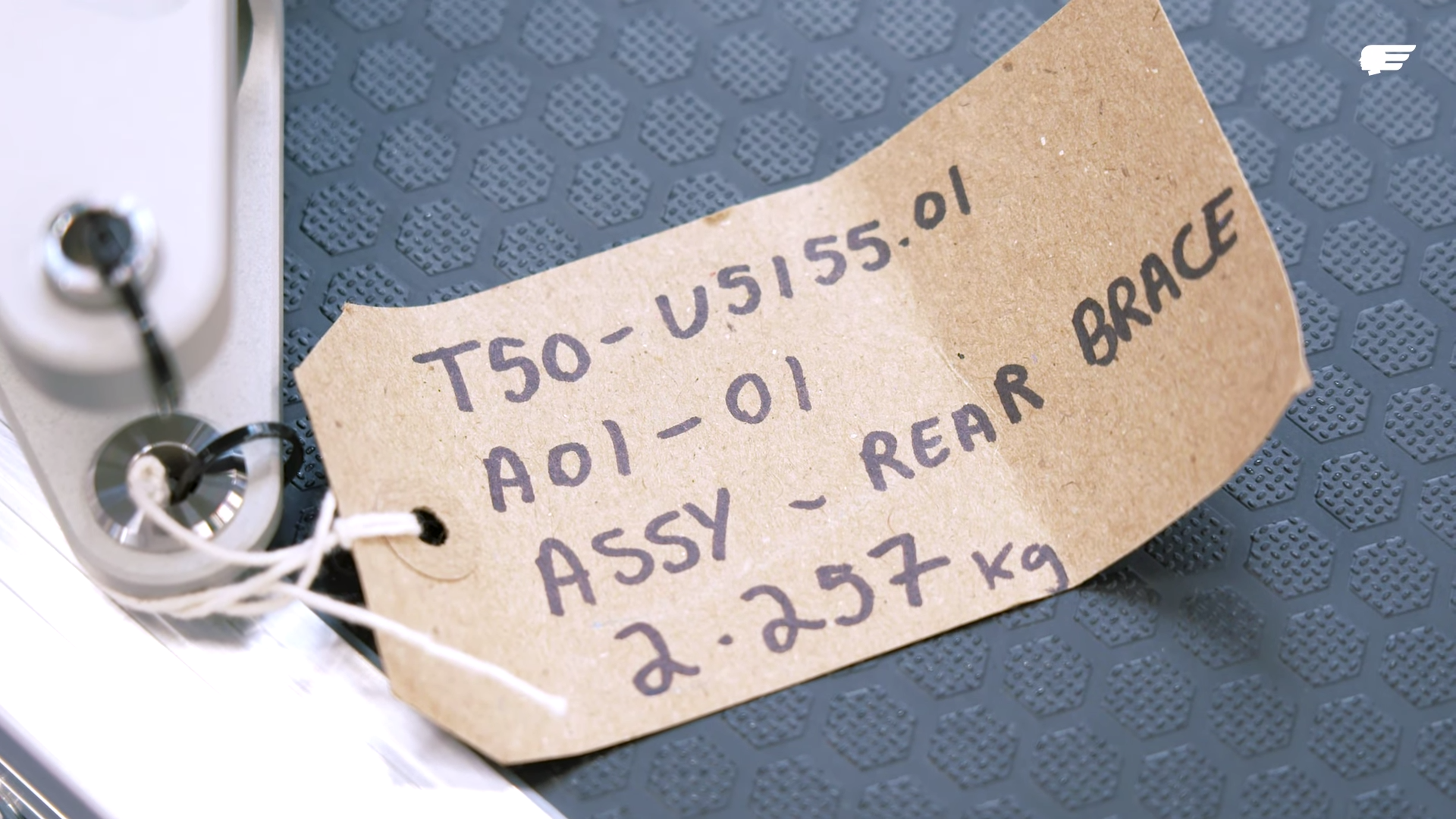 Youtube | Gordon Murray Automotive
The T.50 also uses passive dampers with adjustable bump and rebound settings. These are supplied by a British company called R53 Suspension, the same team that gives McLaren and Bentley its motorsport dampers.
Machined from a single block of aluminum alloy, the T.50's rear brace takes care of all the torsion between the two sides of the monocoque and weighs only 4.97 pounds. Also machined from alloy billet is the left side of the pedal box, while the accelerator pedal is carved from a titanium block. The T.50 requires 900 fixings, all of which are machined from titanium. The rear upright is forged aluminum instead of casting to make sure the molecules are in the right order before facing any stress.
Professor Murray doesn't appreciate that regardless of their price, all new cars come with plastic instruments that are backlit through the material. Instead of that, the T.50 uses a metal face with a machined aluminum needle, simple graphics and a floodlit tachometer that will try its best to alert drivers when it's time to shift before the 4.0-liter Cosworth's 12,100 rpm redline.
Finally, there's the T.50's headlight unit. Unlike the McLaren F1's off-shelf component, the T.50's is a custom LED package with an exposed anodized aluminum heat sink that apparently makes this 15 percent more efficient than it would be with a hidden cooler.
Standing next to Gordon Murray Design's autonomous MOTIV concept is racer-turned vlogger Dario Franchitti, who elaborates on the bits that went into XP1, the first of 13 experimental prototypes to be built for this GMA project.
Got a tip about machined titanium, three-seaters, or something else? Send us a note: [email protected]