Google seemingly knows everything about everyone and anything, and it's making use of that information to personalize Google Maps on Android devices to streamline navigation for each specific user. The Silicon Valley technology giant has added three new features to its app that brings the information users access and need most—such as nearby locations, directions to home and work, and transit information—directly to the home screen.
Three personalized menus now on the home screen
In the app, swiping up on the screen reveals three new icons. Tapping the Places icon displays a menu of nearby services and stores organized into categories, such as grocery stores, restaurants, and ATMs. Drilling down into each category exposes photos and neighborhood descriptions and photos of popular locations.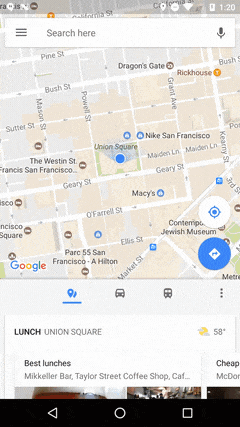 If you've preset your home and work address in Maps, selecting the Driving tab provides turn-by-turn directions, real-time traffic information, and estimated arrival times to those locations. To get traffic information and alerts without turn-by-turn directions, tap on the Start Driving button. 
The Transit feature also uses the work and home addresses stored in the app. Tapping on the transit icon will show nearby public transportation route options, along with departure times and estimated arrival times for those preset destinations. Alternatively, the user can access nearby transit station and schedule information if they are headed to a different location. 
Personalized features speed decision making
The new features should be immediately available on Android smartphones, but information wasn't provided about its availability for Apple's iPhone. The Drive reached out to Google for comment, but did not hear back by the time of publication. 
Google Maps recently added grades that rate the level of difficulty to find parking at destinations in 25 cities, and this information could help users make more informed decisions about scheduling their departure times. Adding personalized information will help make scheduling decisions easier and faster, according to the company.