It's finally here. The true McLaren F1 successor the P1 just wasn't meant to be, the first Gordon Murray-designed supercar since 1992, and Gordon Murray Automotive's first product: the GMA T.50. Limited to 100 units, this car is a combination of ultra-lightweight construction, a naturally aspirated V12 revving to 12,100 RPM, a custom six-speed manual gearbox, the most effective road car aerodynamics aided by a rear-mounted fan nearly 16 inches in diameter, and a completely customized, machined and hand-built three-seater cabin under a glass roof. All this with a footprint that is comparable to that of an average compact hatchback. 
Here's the legendary designer, in his own words: 
"From the first touch of the titanium throttle pedal to the V12 screaming at 12,100 RPM, the driver experience will surpass any supercar ever built," Murray said in a news release. "No other road car can deliver the package of power, instant responsiveness and driver feedback in such a direct and focused way while remaining comfortable, refined and usable every day."
Fair enough. Yet before taking a deep dive into the specifications, let's have a look at the exterior of the new GMA T.50:
Then there's the startlingly low weight: 2,173 pounds. That's all the 654-horsepower V12 has to move around, making the T.50 almost a third lighter than you're average two-seat supercar. It even undercuts an ND Mazda MX-5 Miata by a couple hundred pounds.   
Murray's team will begin building customer versions of this machine in January 2022, claiming that justifying its $3 million (before taxes) price tag is an unsurpassed driving experience. Murray had this to add following his 50 years in the car industry:
"Just 100 customers will share my vision, a car created to improve on the F1 formula in every conceivable way," he said. "With 30 years of technological and systems advancement, now, the time is right to design the greatest analogue driver's car. I believe no other company could deliver what we will bring to market in 2022, producing this British supercar will be my proudest moment."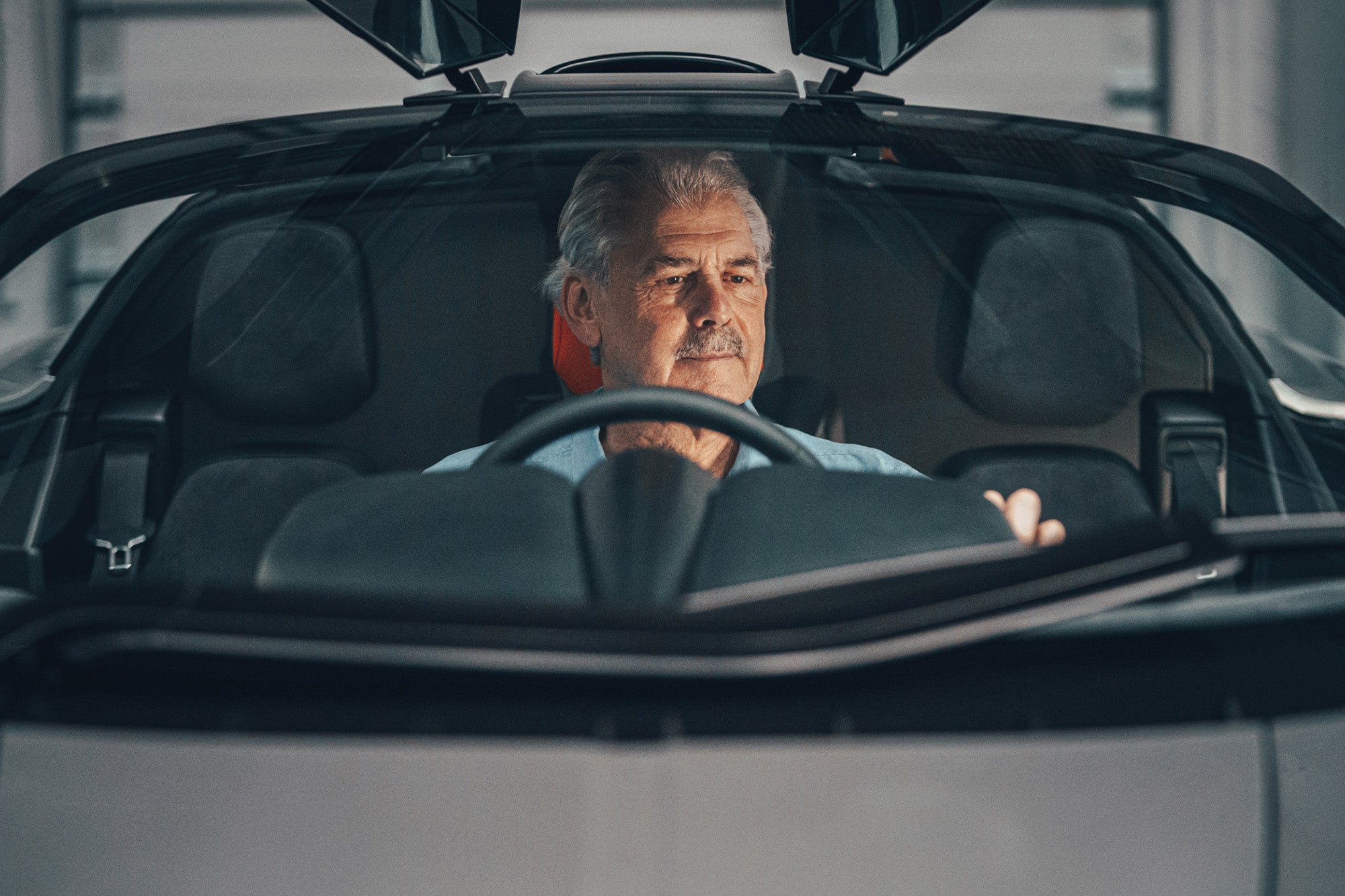 Gordon Murray Automotive
How can one perfect the F1's universally praised original recipe? For starters, with a completely new, dedicated Cosworth engine.
The V12
Murray insists that the engine contributes to at least 50 percent of a great driving experience. The all-alloy 3994cc Cosworth-GMA V12 is not only exclusive to this car, but also an absolute record holder, being "the world's highest revving, fastest responding, most power-dense and lightest road-going V12" at 392 pounds.
Redlining at 12,100rpm, this 65° DOHC engine produces 654 horsepower at 11,500 RPM, and 344 lb-ft of torque at 9,000 RPM, 71 percent of which is available from as low as 2,500 RPM. Dry sump with a compression ratio of 14:1, its crank sits just 3,34-inches from the bottom of the engine. 
It also comes with titanium valves and connecting rods, gear-driven cams, four throttle bodies, variable valve timing on inlet and exhaust, 12 individual 12-volt coils, a 48-volt gear-driven integrated starter, and for cooling, a pair of aluminium radiators at the front. The T.50's short exhaust system is made of Inconel and titanium, featuring four catalytic convertors with Lambda sensors and secondary air injection.
To make the most of the throttle response and rev-happy nature of this engine, the T.50 also features "Direct Path Induction Sound." This system is an evolution of the channel introduced on the F1. With the cold-air ram induction intake sitting right above the driver's head, the carbon fiber panels in the roof act as loudspeakers, amplifying induction growl within the cabin. It is actuated by throttle angle and not revs, keeping the T.50 quiet on part throttle, and turning it into a spine-tingling beast as the throttle opens wider.
The six-speed manual
While fuel only getting cut from the injectors at 12,100 RPM is all but unprecedented for a road car, with all that low-end torque available, Murray says the T.50 will feel very much alive at normal revs too. Not that you wouldn't want to shift it as often as you can. GMA's custom H-pattern six-speed manual by Xtrac features five close ratios geared for acceleration with high-speed bevel gears, and a longer spur gear sixth for cruising, all in a cast aluminum housing just 0.94 of an inch thick.
The entire unit weighs 177 pounds, with Murray promising "the ultimate gearchange – a tactile short throw with a narrow cross gate for smooth, crisp, satisfying shift." This Xtrac unit joins a 184mm triple-plate carbon silicone and titanium clutch, and a Salisbury limited-slip differential.
Both the Cosworth GMA V12 and the six-speed gearbox are semi-structural, being mounted to the chassis.
The chassis
Produced in the UK just like pretty much the entire rest of the car, the monocoque is made of bonded carbon fiber sandwich panels with aluminum honeycomb core and carbon or metallic inserts. The total body including monocoque weighs less than 330 pounds. 
To save more and make this car 168 pounds lighter than the six rather stripped McLaren F1 LMs out there, the glazing is also 28 percent thinner than typical glass. There's an F1-style 'passenger safety cell', while the sill of the tub sits low to the ground, with the flat cabin floor also being free from obstructions across the full width of the car. 6,06-feet, that is.
The small footprint is due to the T.50 being just 4,352 mm long over a 2,700 mm wheelbase, as well as 1850 mm wide and 1,164 tall. It comes with a front track of 1,586 mm, and a rear slightly narrower at 1,525 mm. That makes it only about as long as a Toyota C-HR and only an inch wider than a BMW X2.
For suspension, GMA chose a double-wishbone setup with forged aluminum uprights and wishbones, and a rising rate pushrod operation with steel springs over aluminum dampers and an anti-roll bar. The rear also features double wishbones with an alloy toe link, as well as an inclined axis shear mounting system. The engine sits on anti-vibration mounts to prevent unwanted noise and vibration entering the cabin, yet enabling the effective management of braking, acceleration and cornering forces. GMA says this saves 55 pounds of chassis weight at the rear compared to a traditional engine mounting system.
The T.50 features Formula One-style lightweight hubs and iCentre lock nut wheel attachments.
Wheels and rubber
The McLaren F1 uses special Michelins, so the T.50 comes with Michelin Pilot Sport 4 S tires sized 235/35 R19 at the front, and 295/30 R20 at the rear. Chosen by Murray to avoid costly replacement of bespoke rubber and specified for superior all-round performance, the Michelin tires are another weight-saving move as they can be far smaller and narrower than a typical supercar tire due to the low weight of the car. 
The Pilot Sports are wrapped on forged alloy wheels sized 19-inch x 8.5-inch at the front, and 20-inch x 11-inch at the rear.
Brakes
Murray went for Brembo's carbon-ceramic discs measuring 370 mm x 34 mm with six-piston air-cooled aluminum alloy Monobloc calipers at the front, and 340 mm x 34 mm four-piston calipers at the rear. 
The handbrake is a traditional one with a manual lever—remember those?—and a fly-off mechanism twin cable. As you would expect, both the ESP and the traction control can be disabled entirely, while ABS stays on in the name of safety.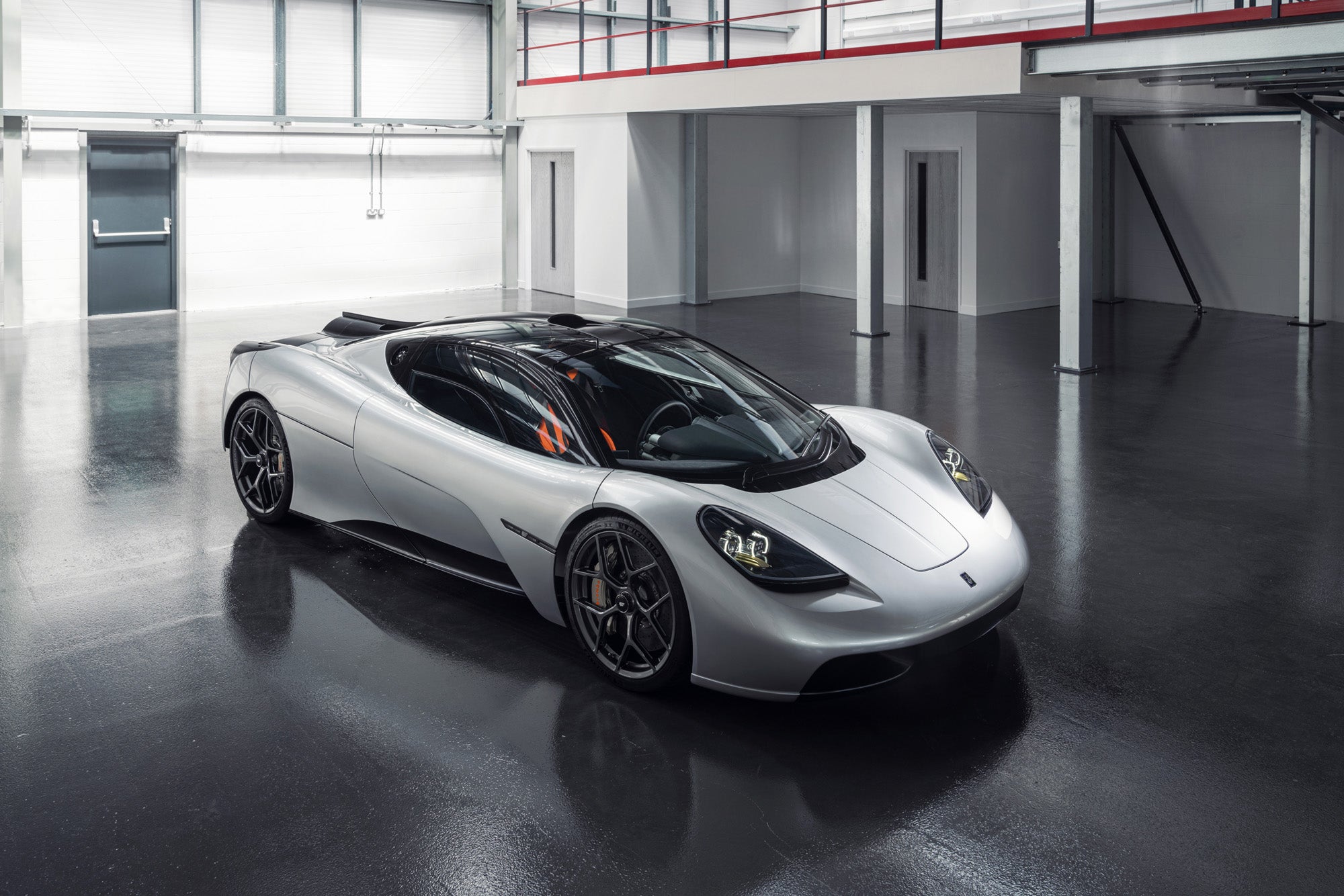 The more you look at it, the more McLaren F1 you see., Gordon Murray Automotive
Fan time!
Many people remember Murray's F1 Brabham BT46B fan car, but it's less known that the same fan-assisted aerodynamic-enhancement was first used for the road on the McLaren F1. There are two far smaller fans hidden beneath each of the F1's rear haunches.
The T.50 features ground effect aerodynamics with what they call a fan interactive aero system (FIAS). It's kept on the road by electronically actuated twin rear spoilers, an active diffuser and a 48-volt, 8.5 kW fixed-pitch rear fan revving at 7,000 RPM when the car is at full tilt. 
In fact, in partnership with the active rear spoilers and interactive diffusers, the fan helps to increase downforce by 50 percent (in braking mode 100 percent more downforce is generated), reduce drag by 12.5 percent, add around 50 horsepower to the car's output, in combination with ram-air induction; and cut braking distance by 33 feet from 150 mph.
With those on board, the T.50 will offer six driving modes. Switching past Auto, Brake Boost is the only other automatic mode, while Streamline, V Max Boost, High-Downforce and Test are driver-selectable. Brake Boost automatically deploys the rear spoilers to their maximum (+45 degree) angle when high levels of deceleration are required. The fan also operates simultaneously at high speed while the diffuser valves open. If sudden deceleration is required, and when aerodynamics could influence stopping distance, Braking Mode overrides all other modes.
High Downforce Mode deploys the rear spoilers at +10 degrees, keeps the diffuser valves open, and spools up the fan to increase downforce by 50 percent. Streamline mode cuts drag by 12.5 percent and boosts straight-line speed while also reducing fuel consumption and downforce. In this mode, the rear spoilers deploy to -10 degrees reducing base suction and drag. 
The diffuser valves close partially, stalling the diffuser and reducing downforce, which saves wheel travel to make the car more comfortable and efficient. It also sets the fan to operate at high speed, drawing air from the top deck to minimize drag while extending the trailing wake of the car, creating what GMA calls a "virtual longtail", and producing 33-pounds of thrust. 'Test mode only operates when the car is stationary, while V-Max Boost Mode provides the most extreme setup.
In V-Max Boost, the T.50 combines Streamline mode with the car's 48-volt integrated starter-generator to drive the fan – freeing up power to the driveshaft. Combined with the ram-air induction, this mode raises the T.50's max output to 690 horsepower.
Exterior
GMA says the design "combines purity and drama." What's for sure is that there are no unsightly vents, ducts, or flaps due to clever aerodynamics. Murray even admits that "from the front, a pair of the latest, high-intensity LED headlights offer a clear nod of recognition to the iconic F1."
Each headlight features a pair of deep-set, horizontally aligned rings that operate as daytime-running lights and indicator lights. The center of each ring features the dipped and main-beam lights "bettering the previous industry-leading supercar headlight for reach and throw by 15 percent."
As for the rest, from his first ballpoint sketches to every engineering and design detail, Murray has led the team and briefed and overseen suppliers to drive the project forward at an unrelenting pace the way he prefers: without a compromise.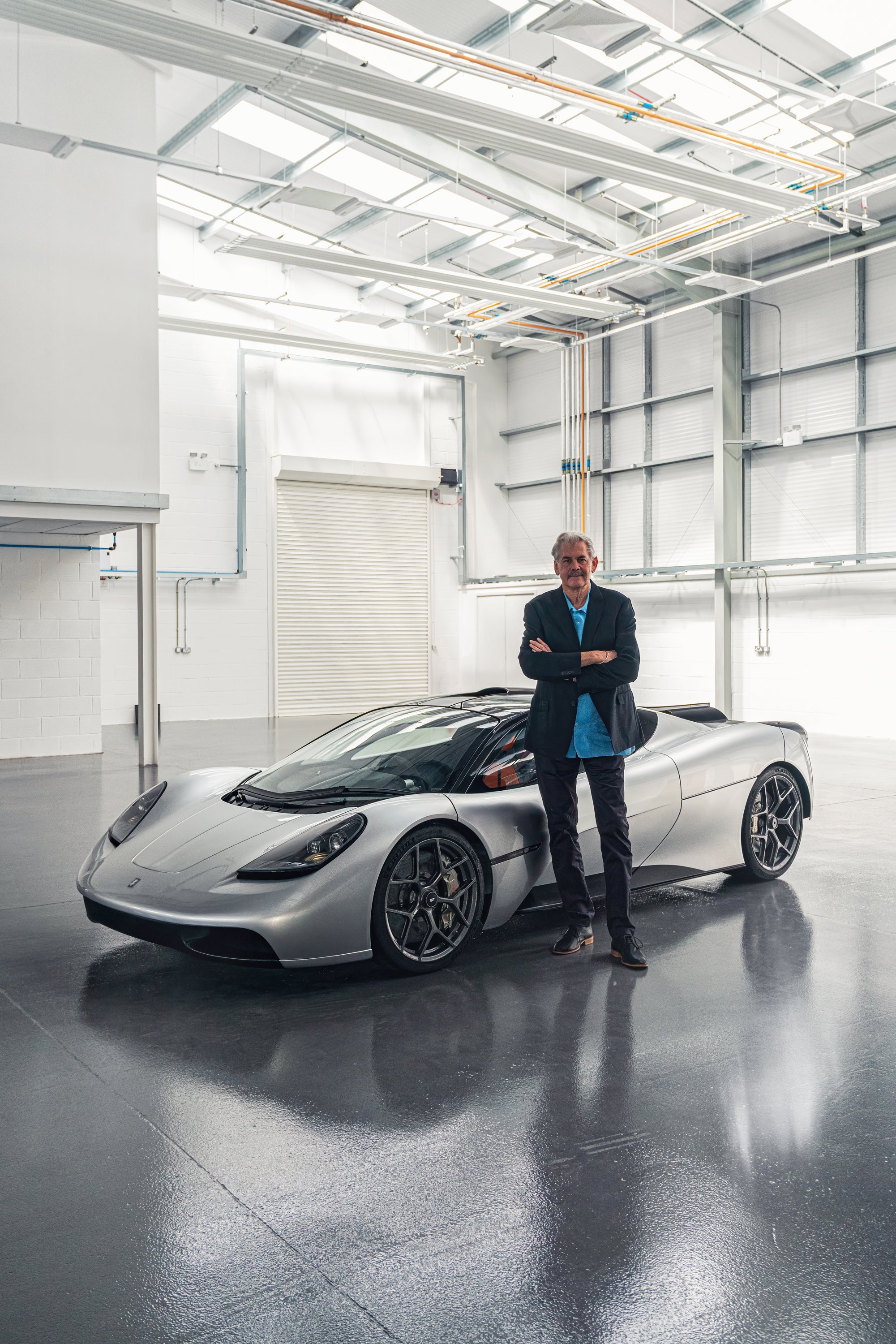 Gordon Murray Automotive
Inside
Three seats—like the original F1 famously had—are placed behind a pair of dihedral doors opening up and forwards, all under a transparent roof. The two passenger seats are trimmed to blend in with the rear bulkhead, while the driver's seat stands out in a vivid color, as tradition. In this jet-inspired "ergonomic bubble" around the driver, straight up is a 350 mm three-spoke carbon fiber steering wheel. The T.50's steering system is a simple rack-and-pinion setup that's unassisted at speed, yet offers low-speed power assistance for parking. The turning circle is 35,7-feet.
Other primary controls include an aluminum brake and clutch pedal, with the throttle made of titanium. The stickshift is also titanium, while all secondary controls are via billet machined rotary switches for the engine and aero modes, lights, heating and A/C, wipers and infotainment. Left- and right-hand paddles enable the driver to sound the horn or flash the headlights without taking their hands off the wheel. There are no touchscreens and no stalk controls, as even the indicators are operated by thumb-buttons on the steering wheel's horizontal spokes.
The T.50 comes with a 700-watt, 10 speak Arcam audio system. It weighs just 8,6 pounds and connects wirelessly to the driver's phone to stream audio. To compare, the McLaren F1's Kenwood hi-fi famously lacking a radio is an almost 19-pound affair. There are two info screens, the right one of which can be used for Android Auto/Apple CarPlay for all Bluetooth phone and navigation functions. The screen on the left is just for status reports, while in the middle is a 120 mm floodlit analog rev counter making both the audio system and the entire infotainment package feel somewhat less important. 
Not unlike most McLaren F1s these days, all T.50s are signed by Gordon Murray as standard equipment.
On the road
On top of being absolutely usable at low revs as well, the T.50 features a 21,1-gallon aluminum fuel tank, and will swallow 10 cubic feet of luggage with two occupants, or 8 with three people on board.
With only 100 being made, each T.50 customer will get the opportunity to meet Gordon Murray not only to discuss their car and personalize it inside and out, but also to go through the fitting session including the seat, steering wheel and pedals. GMA sums it up as "ergonomically perfect". Huge claims all around, yet if anybody will live up to them, it's Professor Murray.
A British startup suddenly producing 100 cars at $3 million a pop? Gordon Murray Automotive is the sister venture to the Gordon Murray Design firm. The company forms part of a new corporate organization for the engineering group, and is set out to manufacture exclusive low volume sports cars, with the T.50 acting as the brand's halo model. 
Announced to be called the T.50 in November 2017 during the exhibition 'One Formula' celebrating Gordon Murray's 50 years in car design, GMA's first car will be a supercar like we've never seen it before. Not even on 28 May 1992, when another silver car by Murray debuted at the Sporting Club in Monaco.
The first customer versions of the GMA T.50 are on schedule to be delivered in January 2022.
Got a tip? Send us a note: [email protected]