In Vincente Minnelli's sentimental 1965 romance, The Sandpiper, free-spirited single mom artist Elizabeth Taylor seduces uptight married Episcopalian headmaster Richard Burton, bewitching him with violet eyes and loose-fitting peasant blouses. She lives in a proto-New Age beachfront community, west of Highway 1, in Big Sur, all fakakta driftwood bohemianism and bacchanalian bonfires. Eva Marie Saint plays Burton's wife. She doesn't stand a chance.
Indeed, the landscape along the northern California coast supplements the appeal of almost everything it touches. Even the gummy veggie burgers at seaside standby Nepenthe taste almost edible with the waves crashing over craggy whales below. But the new Ferrari 488 GTB, which we drove along that curvy coastal road on a perfect late summer day, doesn't need any assistance. Like Big Sur, or Elizabeth Taylor in her prime, it is an active and activating enhancement to any experience.
The car that the 488 replaces, the 458 Italia, was perhaps the best supercar on the market: taut, handsome, exclusive, comfortable and luxurious, as well as impossibly potent and impeccably balanced. The new Lamborghini Huracán, which we drove this spring through the similarly ideal roads of the Angeles Crest in L.A., gave it real chase. But Lambo's latest is at the start of its product cycle, while the Italia was at the end of its lifespan. The 488 eclipses them both.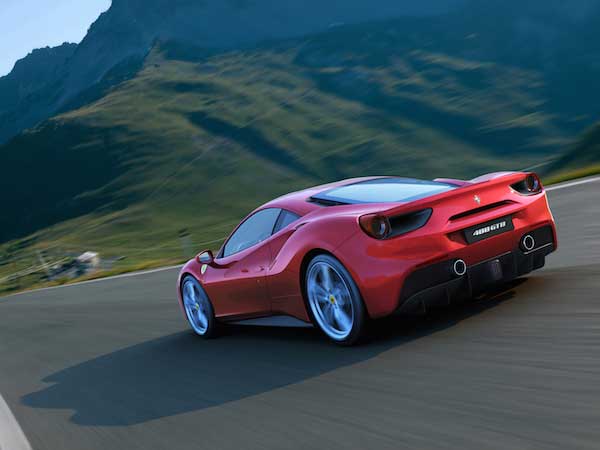 Credit turbocharging. Many Italian exotic car purists worship at the altar of natural aspiration: engines that suck air solely based on what's ambiently available. These motors, when properly tuned, make an audacious wail under power. Turbochargers use the existing pressure of an engine's exhaust gases to suck more air into the combustion chamber, allowing for a bigger bang. (Watch Elizabeth Taylor blow on a bonfire and you'll get the idea.) But they tend to muffle an engine's natural yowl. The 488 has a pair of twin-scrolling turbos mounted on top of its eight-cylinder powerplant. And while they do have a slight stifling effect on the car's auditory output, they hardly dull it. In fact, the impact they have on one's pulmonary and cardiac system is well worth any loss in aural eroticism.
While the GTB's engine is down in size significantly compared to the Italia (3.9 vs. 4.5 liters) it produces nearly 100 more horsepower. Moreover, peak thrust comes on lower in the rev range, so you don't have to wind the car out to its limits to access optimal push.
Of course, you'll want to. There are fast cars, and there are cars that feel fast. The 488 is both. It compresses your chest. It compresses time-space. But unlike other vehicles that perform this kind of rupture, it doesn't bleed your vision or reactions at the limit. It sharpens them. Flooring a Bugatti Veyron pulverizes your senses. Flooring a Lamborghini Aventador terrorizes them. Flooring the 488 releases a flood of endorphins, fight and flight. It's almost as if those turbos are pumping pure oxygen into your throttled body. It's the world's sexiest, most turgifying form of CPR. We would gladly submit regularly, even if it broke a few ribs.
The car's updated bodyshell helps, too. Drawing inspiration from the 308/328 GTB of the Seventies and Eighties (yes, the Magnum, P.I. car), the 488 has iconic, deeply conical side intakes to feed its huffing turbos. And taking inspiration from aerodynamic advancements on Ferrari's tunnel-fendered F12berlinetta, some air going into these holes emerges from negative space around the tail lamps, creating downforce. Even more positive pressure is created from a slot at the base of the rear windscreen, which funnels air downward to eke out from a tersely grinning slot above the rear license plate. We worshiped the smoothly hewed muscularity of the 458, and we don't generally go in for piercings, but the 488's extra holes are alluring. They break up the slight increases in length and width, and make the new car look lighter and more compact overall.
It compresses your chest. It compresses time-space.
Highway 1 is loaded with obstacles, both embedded in the road and rolling upon and beside it—RVs, rented Mustangs and their selfie-stick wielding occupants, the occasional elk—but nothing upsets the 488. Its got magnetorheological shock absorbers front and rear, filled with metallic fluid that can be made stiffer or softer in milliseconds via computer magic. When combined with other mystical gewgaws, like an electronic differential and an recalibrated stability control system, the ride is as planted and compliant as a thatch of bamboo. The Corvette Z06 cannot accelerate without seesawing sideways, and cannot cross a pavement joist without providing an unsolicited spinal fusion. As fast as we traveled in the 488, we had exactly zero near-death experiences. This turbocharged Ferrari may be an apostate in the temple, but most prophets are, or were at one point.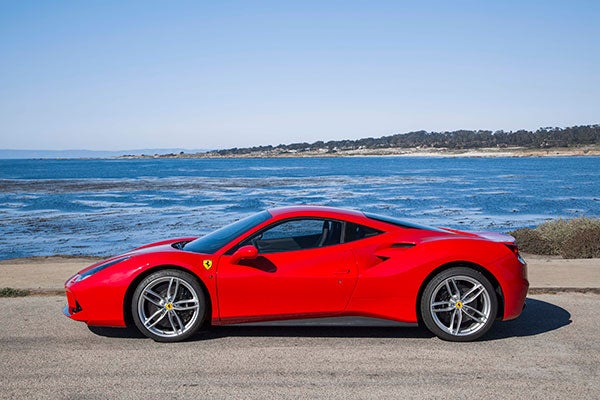 Ferrari
The Sandpiper gets its name from a feeble, broken-winged seabird that Taylor nurses back to health. Once it's well, she frees it and it flies off, but still returns for an occasional visit. In other words: It heals, it grows, it changes, but remains familiar. Liberating Ferrari from restrictive expectations, allowing it to add allegedly heretical technologies like forced induction and electric batteries, for example, gives it the opportunity to flourish and elevate in unexpected ways. If this is the price of progress, count us in.
2016 FERRARI 488 GTB
PRICE (BASE): $242,737
POWERTRAIN: 3.9-liter twin-turbo V8; 661 hp, 561 lb-ft torque; RWD, 7-speed automatic
WEIGHT: 3,250 lbs
0-60 MPH: 3.0 sec
TOP SPEED: 205 mph (est)
ON SALE: Fall