Aston Martin, like virtually all other automakers, is cleaning house to make room for hybrid and electric vehicles. Spy photos of the 2023 Vantage have been published, and the car is the last of its breed. The automaker confirmed in December that it's not just a Limited Edition, it's a Final Edition and I'll mourn it when it's gone. For now, though, the boutique British automaker produces just four models (not including the limited-production Aston Martin Valkyrie): the DBX, Vantage, DB11, and DBS. I drove them all recently, and for your convenience, I've ranked them for you, too.
The Gaydon, UK-based brand was founded in 1913. While it has seen some wild ups and downs (bankruptcy, changes in leadership, and a glorious return to F1) over the years, there's no denying the sheer beauty of the cars it produces. With Palm Desert, California as a backdrop for a recent media preview, each model was a head-turner; every place we stopped drew a small crowd of people asking about them. 
Aston Martin gave me five cars to drive in total, which were the Vantage F1 Edition, DBX, DBS Coupe, DBS Volante, and DB11. Get comfortable and read on to see how they stacked up for me from least to most favorite. 
Fifth Place: 2021 Aston Martin DBX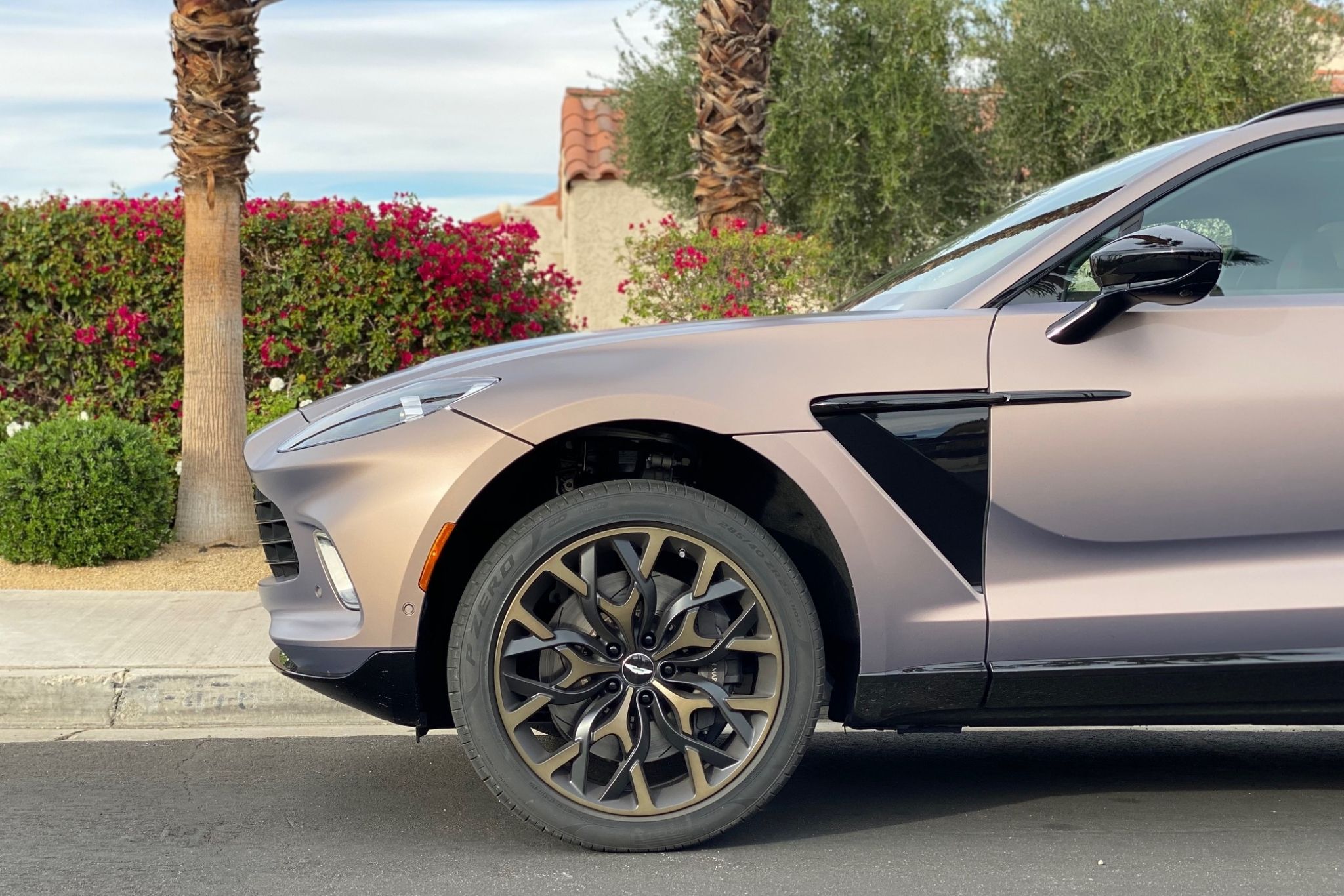 Kristin Shaw
Specs
Base price (as tested): $183,586 ($238,972)
Powertrain: 4.0-liter twin-turbo V8 | 9-speed automatic | all-wheel drive
Horsepower: 542 @ 6,500 rpm
Torque: 516 lb-ft @ 2,200 rpm
Curb weight: 4,940 pounds
Seating capacity: 5
Cargo volume: 22.3 cubic feet behind the first row | 54.0 cubic feet behind the second row
EPA fuel economy: 14 mpg city | 18 highway | 15 combined 
Quick take: When you want the elegance of an Aston Martin but you need enough space to bring the kids along, a DBX is the way to do it.
Score: 7/10
Aston Martin's first-ever SUV launched in 2019 for model year 2020 and is giving Aston its "Porsche Cayenne moment," as our own Kyle Cheromcha puts it. About half of the brand's sales are DBXs so, in some ways, it's been carrying Aston Martin on its back through these last couple of years. 
The DBX earned a last-place ranking not because it's lacking in any way, but because it's an SUV. And if I had to choose between a 5,000-pound five-seater with a V8 or a ground-skimming 2+2 with a V12, there's no question: it's the sports car for me. That said, I'm here to tell you that if I had $200,000 in the bank earmarked for an SUV, I'd buy it in a second. I'd give it the edge over the Porsche Cayenne for customization options alone and the Bentley Bentayga because I prefer the more modern look of the DBX front end. And it might be a close call between this and the Lamborghini Urus for the Raging Bull's cockpit alone, but the DBX has elegance in its favor.
Believe it or not, you can tow a trailer or boat with a DBX—up to nearly 6,000 pounds—so for those with means, it does it all. Leather is splashed everywhere, alongside wood and metal trim, and it's impressively luxe. Behind the wheel, I found the handling to be effortless, lacking the heavy steering more plebeian SUVs might exhibit. The DBX doesn't evoke the "look at me!" vibes, either: It's the most subtle Aston Martin in the lineup. And still, it delivers. It's no wonder this thing is a big seller.
Fourth Place: 2022 Aston Martin Vantage F1 Edition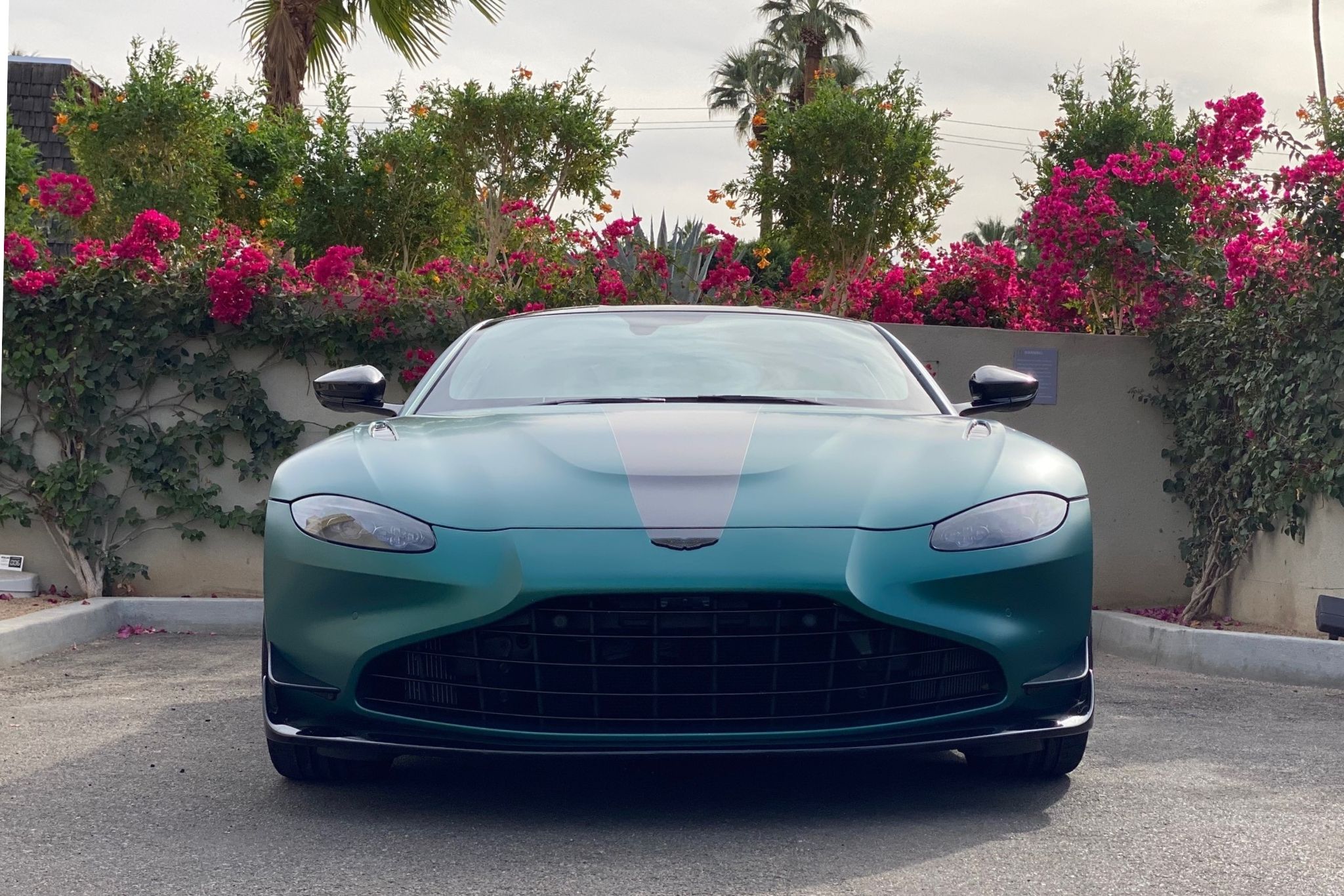 Kristin Shaw
Specs
Base price (as tested): $165,086 ($177,686)
Powertrain: 4.0-liter twin-turbo V8 | 8-speed automatic | rear-wheel drive
Horsepower: 527 @ 6,000 rpm
Torque: 505 lb-ft @ 2,000 rpm
Curb weight: 3,461 pounds
Seating capacity: 2
Cargo volume: 12 cubic feet
EPA fuel economy: 18 mpg city | 24 highway | 20 combined 
Quick take: Nimble and light on its feet, the F1-inspired Vantage has some new tricks up its sleeve like aerodynamics and tuning upgrades. But for sheer power, the nod still goes to Aston's V12 models.
Score: 7.5/10
The newest kid on the block, the F1 Edition of the Vantage is a celebration of Aston Martin's return to Formula 1 after 60 years. While Aston launched the Vantage nameplate in the 1950s (as an upgrade to the DB2), this generation debuted in 2019 with slightly wider and longer dimensions than the previous one. Considered the "entry-level" Aston Martin, this sports coupe still borrows electronic gadgetry and its engine from Mercedes-AMG and retains an automatic transmission. For the 2022 version, the Vantage employs a rear mid-mounted ZF eight-speed automatic. 
In British racing green and a fetching stripe down the nose, the Vantage F1 Edition mirrors the new F1 safety car from the twin-turbo V8 and its 24-horsepower increase to improvements in aerodynamics and tuning. This is the car you want if you like to fit snugly into a sports car and become one with the curves of the road. 
Power delivery is boisterous on the Vantage F1, like its namesake race. In the movie The Santa Clause, there was one unpolished reindeer Tim Allen's character added to the harness named Chet. This young reindeer was wild-eyed and energetic, blasting ahead of the others. That's what it feels like driving the Vantage F1; it's all unrestrained vigor. 
I noticed road noise more in this car than the others and somehow, that seems to fit. This is not the model you want if you're looking forward to a Sunday drive in the country. The Vantage F1 is made for drives when you need to blow off steam and you don't care about cushy comfort. Its tail end is prone to wiggle and the car requires your attention on winding routes to keep it in line. The Vantage F1 I was driving had bonus carbon ceramic brakes that added $10,600 to the total cost, and I'd highly recommend them for longevity even if they're a bit grabby. 
Victoria Scott and I drove this car back to back, and while she prefers the raw athleticism of the Vantage F1, I wanted something a little more refined. I'll explain more about that later.
Third Place: 2021 Aston Martin DB11 
Kristin Shaw
Specs
Base price (as tested): $212,786 ($258,986)
Powertrain: 4.0-liter twin-turbo V8 | 8-speed automatic | rear-wheel drive
Horsepower: 503 @ 6,000 rpm
Torque: 513 lb-ft @ 2,000 rpm
Curb weight: 3,880 pounds
Seating capacity: 4
Cargo volume: 9.5 cubic feet
EPA fuel economy: 18 mpg city | 24 highway | 20 combined 
Quick take: While the DB11 is available with a powerful 5.2-liter V12, the 4.0-liter V8 variant (standard on the DB11 convertible) is not only more than adequate, it's lovely.
Score: 8/10
Marcia, Marcia, Marcia. Similar to the middle sister of The Brady Bunch, the DB11 is in the center of Aston Martin's pack and it leads a quieter existence than its siblings. The smaller Vantage F1 Edition has slightly more horsepower, and the DBS has the larger and more powerful engine as standard.
The differences between the DBS and DB11, besides a sticker price jump of $100,000-plus, are partly cosmetic and partly engineered. Aston's midshipman is also available in a coupe or convertible version with two engine options for the coupe: a 4.0-liter twin-turbocharged V8 or the same 5.2-liter V12 shared with the flagship DBS. If you've got to have the wind rolling through your hair, you'll have to settle for the V8, as it's the only option for the convertible, here called the Volante.
Maybe you read "settle for" like it's a bad thing, but this V8 is no slouch. Carving the canyons of Palm Desert, the DB11 gracefully lapped up the miles and if it thirsted for more, it didn't whine about it. Where the DBS feels more like an elegant jaguar on a leash, the DB11 is more like a greyhound and the Vantage a young stallion. Where the DB11 shines it in its purity; its buttoned down and requires no effort. Three powertrain options (GT, Sport, and Sport+) allowed me to choose my own adventure, from mild (GT) to exuberant (Sport+). The brakes felt noticeably less violent on the DB11 than the DBS, and the ZF transmission shifted quickly and smoothly, as expected. As a daily driver, it would be a joy. 
And psst, by the way, the Royal Indigo Q Exclusive finish on the model I tested tacks on $9,100, and it's stunning. 
Second Place: 2021 Aston Martin DBS Volante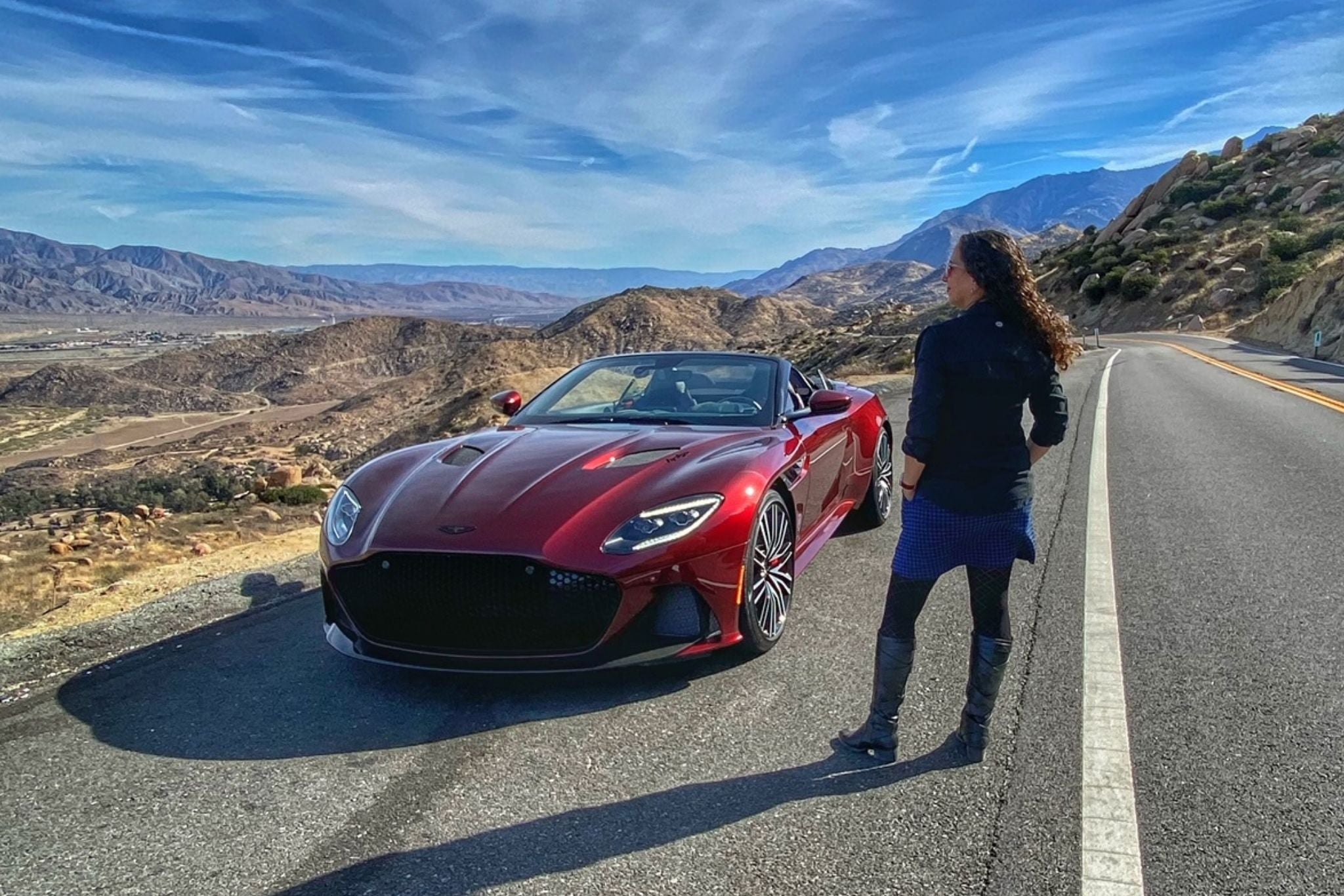 Mercedes Lilienthal
Specs
Base price (as tested): $337,786 ($381,686)
Powertrain: 5.2-liter twin-turbo V12 | 8-speed automatic | rear-wheel drive
Horsepower: 715 @ 6,500 rpm
Torque: 663 lb-ft @ 1,800 rpm
Curb weight: 4,107 pounds
Seating capacity: 4
Cargo volume: 9.2 cubic feet
EPA fuel economy: 14 mpg city | 22 highway | 17 combined 
Quick take: For the love of all things, put down the dang top and throw your head back as you're imbued with the roar of the V12.
Score: 8.5
DB models are named after former Aston Martin owner David Brown, and as a convertible, the DBS is an especially gallant representation of his initials. Fitted with a 5.2-liter twin-turbo V12 running 715 horses, the DBS Volante grabs hold of the wind and harnesses it through its beautifully-designed hood vents. While 664 pound-feet of torque is on tap, engineers limited the grunt in the first three gears to maintain traction. Extensive work on downforce design keeps glued to the road.
As soon as I stepped on the accelerator, the car leaped off the curb with refined eagerness, ready to go. I pressed lightly to roll off the driveway onto the street, exceedingly careful to avoid scraping the low-hanging splitter up front. Behind my head, a black windscreen kept my hair out of my eyes and reduced the road noise so I could compare notes with my co-driver. When I needed to slow down or stop, the ceramic carbon brakes didn't emit so much as a peep as they gently brought the DBS Volante to a halt. That's six pistons in the front and four in the back, all working as a team. 
Where the DBS Volante excels is in the deliberate design to ensure it can keep up with its near-twin, the coupe version. Aston Martin engineers were careful to strengthen the body and tweak the aerodynamics to compensate for the loss of metal on top. Typically, cutting into the roof affects torsion, which affects the car's cornering ability, but advances in structural quality and lighter materials have evened the playing field to a near-negligible amount. 
Let's be real about the rear-seat comfort, though: I climbed into the back seat (somewhat awkwardly, in a dress) and almost needed a shoehorn to fold myself inside. The 2+2 is no joke for adults, and only small children would be comfortable for longer than 20 minutes at a time. As my friend Nicole pulled onto the street with Eileen as the co-pilot and me in the back to pick up some pie (as is our tradition whenever we are together), Nicole asked me if I could check the blind spot. 
"I would," I said. "But I can't move my head." 
We laughed, knowing that was completely accurate. 
The Superleggera ("super light" in Italian) is spectacularly enjoyable with the top peeled back. However, it takes second place to the coupe because there is something pure and mystical about the hardtop version of this car.
First Place: 2021 Aston Martin DBS Coupe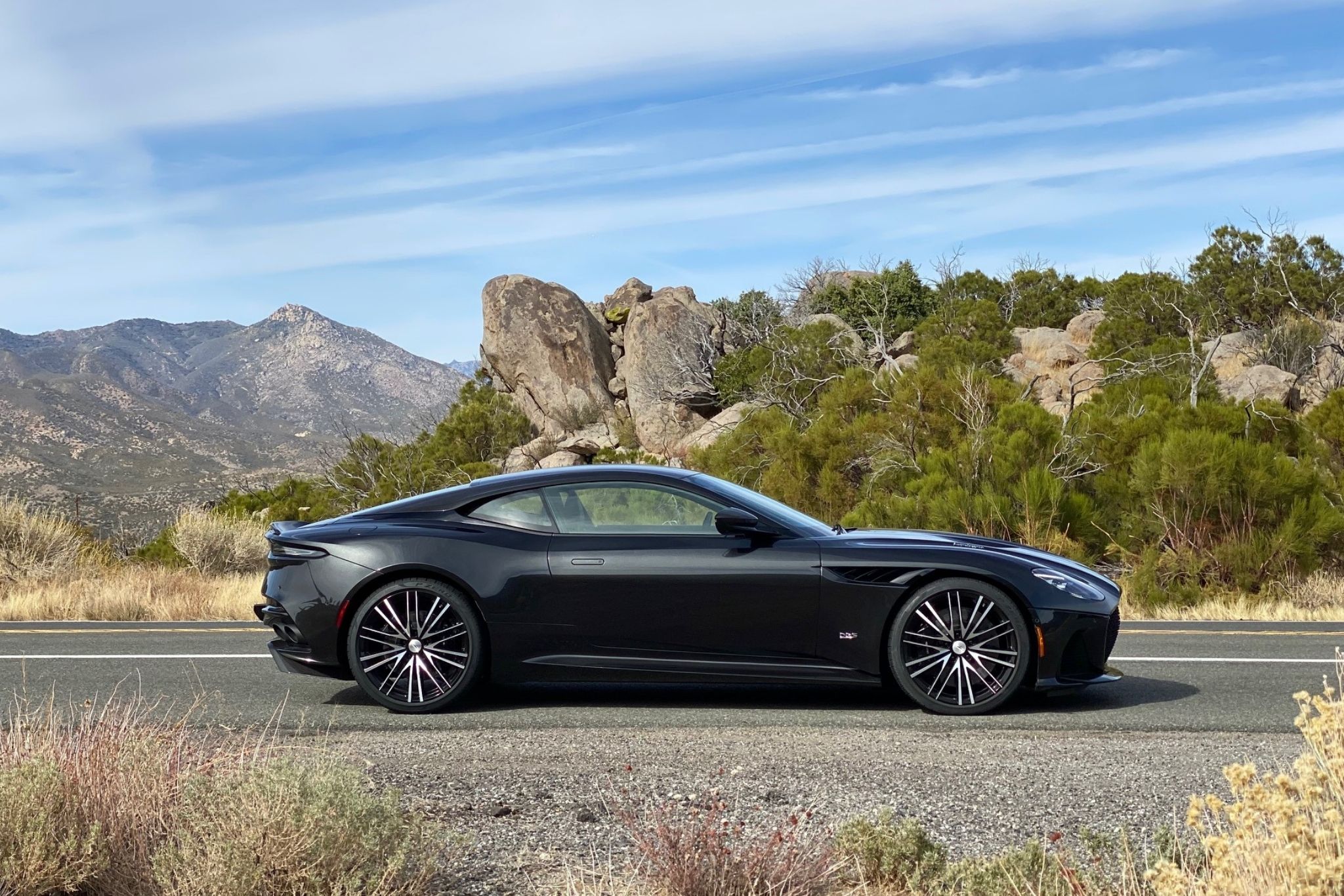 Kristin Shaw
Specs
Base price (as tested): $319,686 ($381,686)
Powertrain: 5.2-liter twin-turbo V12 | 8-speed automatic | rear-wheel drive
Horsepower: 715 @ 6,500 rpm
Torque: 663 lb-ft @ 1,800 rpm
Curb weight: 4,068 pounds
Seating capacity: 4
Cargo volume: 9.5 cubic feet
EPA fuel economy: 14 mpg city | 22 highway | 17 combined (premium fuel)
Quick take: The Brute in a Suit is a thrill every single time you drive it. While it may not express the agility of the Vantage F1 Edition or the lower price point of the DB11, the DBS is the ultimate Grand Tourer supercar.
Score: 9.0
Before entering production, a DBS coupe appeared in 2006's Casino Royale with Daniel Craig's first run as James Bond. It made an impact (literally!) by setting a Guinness World Record with seven barrel rolls during filming. 
The first time I drove a DBS was along the California coast a few years ago, and it made a huge impression on me. Jump on the incredibly responsive 16.1-inch front and 14.1-inch carbon ceramic brakes and they pack a punch, stopping the car as it it wants to eject you, making your stomach lurch; squeeze the gas pedal and it obeys instantly, taking off with the fury of a thoroughbred out of the stalls at the Kentucky Derby en route to a 211 mph top speed. I'm happy to report that my memory exaggerated nothing about this car during this more recent reunion.
As a coupe, the DBS fulfills its billing as a super GT. The V12 roars as it should, setting the road afire with a rumble. Air flows fluently around the Marek Reichman-designed carbon fiber body as it asserts its way through traffic. Inside, yards of leather and Alcantara suede are everywhere you look. Look, no car is perfect, not even Aston Martin's DBS. The infotainment is dated and the interior ergonomics feel like an afterthought. But this thing is pretty close.
Aston Martin's top dog isn't just a show of brawn in the way of sheer power; leave that to the Hellcat family. Driving a DBS gives you the sense that this this brand is comprised of artists that have continued to chisel this car chip by chip over the last century and they know what works. That's not to say that the Superleggera is a dinosaur. It's a Grand Duchess. It's a strand of pearls and not a blatantly Tiffany-branded shiny silver heart necklace. In effect, the only thing that is sudden and jarring about this supercar is the brakes; they're touchier than you are before coffee in the morning. 
If the DBS were a relationship stage, it would be a marriage of passion, like a couple who have been together for 25 years and they're still crazy about each other. Their arguments are brief and heady but smoothed out by the end of the night. Where the DBS excels is in its power. Acceleration feels positively savage, and steering is responsive even while it almost quivers in your hands. 
I picked this one as my Numero Uno for its timelessness, its sheer might. The DBS is all sinew and muscle, a gymnast and not a power lifter. Somehow, Aston Martin has started with the raw clay of its V12 and sculpted it into something befitting of its 100 years. When faced with the prospect of piloting nearly the entire lineup of the British automaker's cars, I wasn't sure how I would pick a favorite, but the DBS rose to the top instantly. Maybe it's because I have such great memories of driving it the first time, maybe it's the unmistakable rumble of the V12, maybe it's the branding itself. So much is right about this car that I can overlook the less-than-ideal infotainment system, which is in need of an update. 
After driving variations of every model Aston Martin makes, I'm even more convinced the brand still has a few arrows left in its quiver, even as internal combustion engines fade away into oblivion. With these cars, the automaker leaves behind a solid legacy and looks forward to the Valhalla and Valkyrie to blaze a path toward hybrid and electric models. Will I enjoy them as much without the V8s and V12s that announce their presence as they claim space? I don't know. But I have a feeling I will. 
How would you rank these? Comment below or send a note to [email protected].