Now that the 2024 Chevrolet Silverado EV has broken cover, it's in for a life of comparison to electric pickup trucks like the Rivian R1T, Ford F-150 Lightning, and if it ever gets built, the Tesla Cybertruck. The Silverado EV's fanciest trim, though—the six-figure RST First Edition—won't be the one we see most on American roads. That'll probably be the Silverado EV WT; the work truck trim, which in more ways than one matches or even outperforms the 2022 Ford F-150 Lightning Pro.
Like the 2022 GMC Hummer EV with which it shares GM's Ultium EV platform, the Silverado EV WT will only be produced as a crew cab. Underneath, it'll stow a ginormous battery pack my colleague Peter Holderith has taken to calling "a huge acid-filled mattress." GM hasn't stated its capacity but boasts the biggest-battery Silverado EVs will best 400 miles of range and recharge 100 miles in 10 minutes on 350-kilowatt DC fast-charging.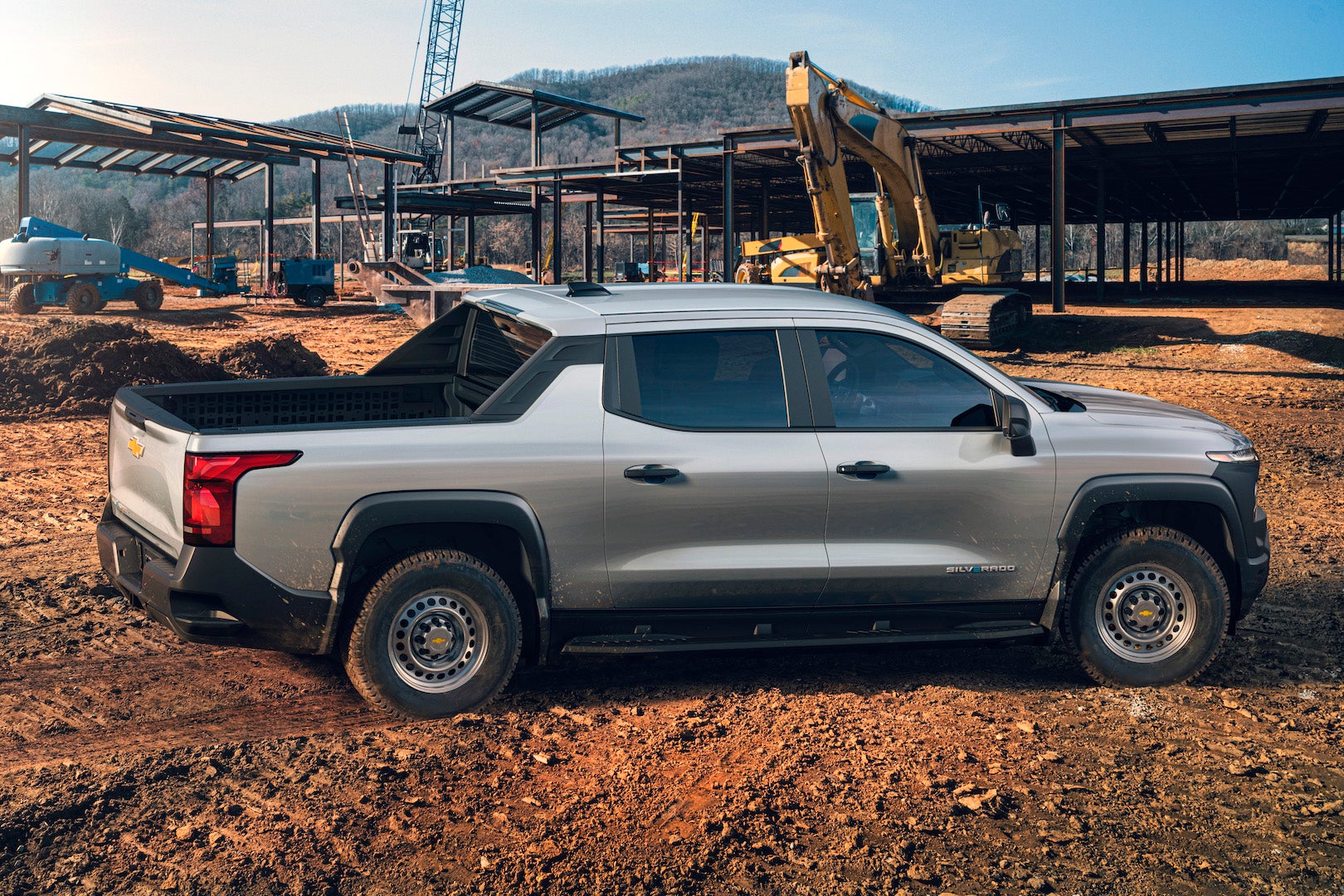 2024 Chevrolet Silverado EV WT, Chevrolet
Being the lesser model, the WT is less capable than the RST, producing 510 horsepower and 615 pound-feet of torque to the RST's 664 and 780 respectively. Payload rating also shrinks, from 1,300 pounds to 1,200, as does towing, from 10,000 to 8,000. However, GM promises a fleet model will arrive with a package enabling 20,000 pounds of towing... eventually.
WTs keep the RST's standard trailer brake, though they miss out on many of the upper trim's gizmos, like standard four-wheel steering, adaptive air suspension, hands-free Super Cruise highway towing, and that 17-inch infotainment screen—not easy to operate in gloves anyway. Some options are unavailable too, notably the Multi-Flex midgate and tailgate—when I asked Chevy, they specified those wouldn't be available "in the launch configuration." There's hope yet, but don't expect those nifty features out of the gate.
The WT does, however, retain access to the optional PowerBase, an offboard power supply capable of distributing 10.2 kilowatts through 10 outlets to power a home, tools, worksite, or even recharge another EV.
We don't have much info on specs, pricing, or trim structure to fully compare the Silverado EV WT to the F-150 Lightning Pro, though we have enough to conclude the Silverado EV WT will be a compelling alternative. Its bed measures in at 71 inches versus the Ford's 67, and while the Lightning tops out at 300 miles of range, GM estimates the Silverado will eclipse 400—though it hasn't yet disclosed this model's price.
Chevy's truck produces more horsepower, but Ford's makes much more torque, suggesting the Silverado will feel quicker unladen but it may lose more performance under load than the Lightning. As for loads themselves, the Lightning is rated for up to 2,000 pounds with its smaller battery, whereas the Silverado EV WT can only haul 1,200. Chevy claws back the difference with towing, though, as the Lightning Pro tops out at 7,700 pounds with its tow pack, whereas the Silverado tops out at 8,000.
The Silverado again has the edge in accessory power output, putting out 10.2 kilowatts to the Ford's 9.6, though it's a marginal difference that big power users will likely just make up with a generator anyway. Chevy also narrowly beats Ford on price, with the Silverado EV WT starting $74 cheaper than the F-150 Lightning Pro before destination charges.
Ford will fire the opening salvo in the battle of electric work pickups, launching the Lightning this spring, whereas Chevy won't be able to return fire until a year later with big-battery WTs—though the base model's ETA remains unknown as of this time. By then, Ford will have a one-year lead on its production ramp, not to mention a healthy lead on sales that even the aforementioned advantages will take time to reverse. GM will have ground to make up, so let's see if the Silverado EV can handle it on its own or if it'll need the help of the upcoming GMC Sierra EV.
Got a tip or question for the author? You can reach them here: [email protected]