The next few years are poised to be big for Ford. The Dearborn-based automaker has already begun executing a plan that will see the company's entire passenger car lineup aside from the iconic Ford Musting axed from American showrooms, with the sedans and hatchbacks replaced by a line-up of so-called "white space" products that are sure to be crossovers of one sort or another. The company further clarified its plans during a dealer meeting in Las Vegas this week, where the company's leadership expanded on their plans to boost the company's fortunes by tightening up the new product release schedule, developing new mobility solutions....and, of course, build the new Bronco. 
As part of the broad new strategy, the carmaker is also rolling out a new ad campaign featuring actor Bryan Cranston. Anyone expecting the Breaking Bad actor to be channeling Walter White will be sorely disappointed; he's more in Malcolm in the Middle mode here, playing presidents and engineers and terrifying Uncanny Valley robots with a proverbial wink and nod to the camera. But in the midst of what would be an otherwise ordinary montage of product and manufacturing B-roll—a Mustang rolling down the highway, a computer-generated image of an engine being disassembled, fast-motion footage of assembly lines cranking out pickup trucks—we noticed something unexpected: a two-and-a-half second shot of some sort of mysterious vehicle we've never seen before. (You can see it for yourself at the 0:37 mark in the YouTube video below.)
Spot it? Well, here it is again, in state image form and lightened up for your ocular pleasure: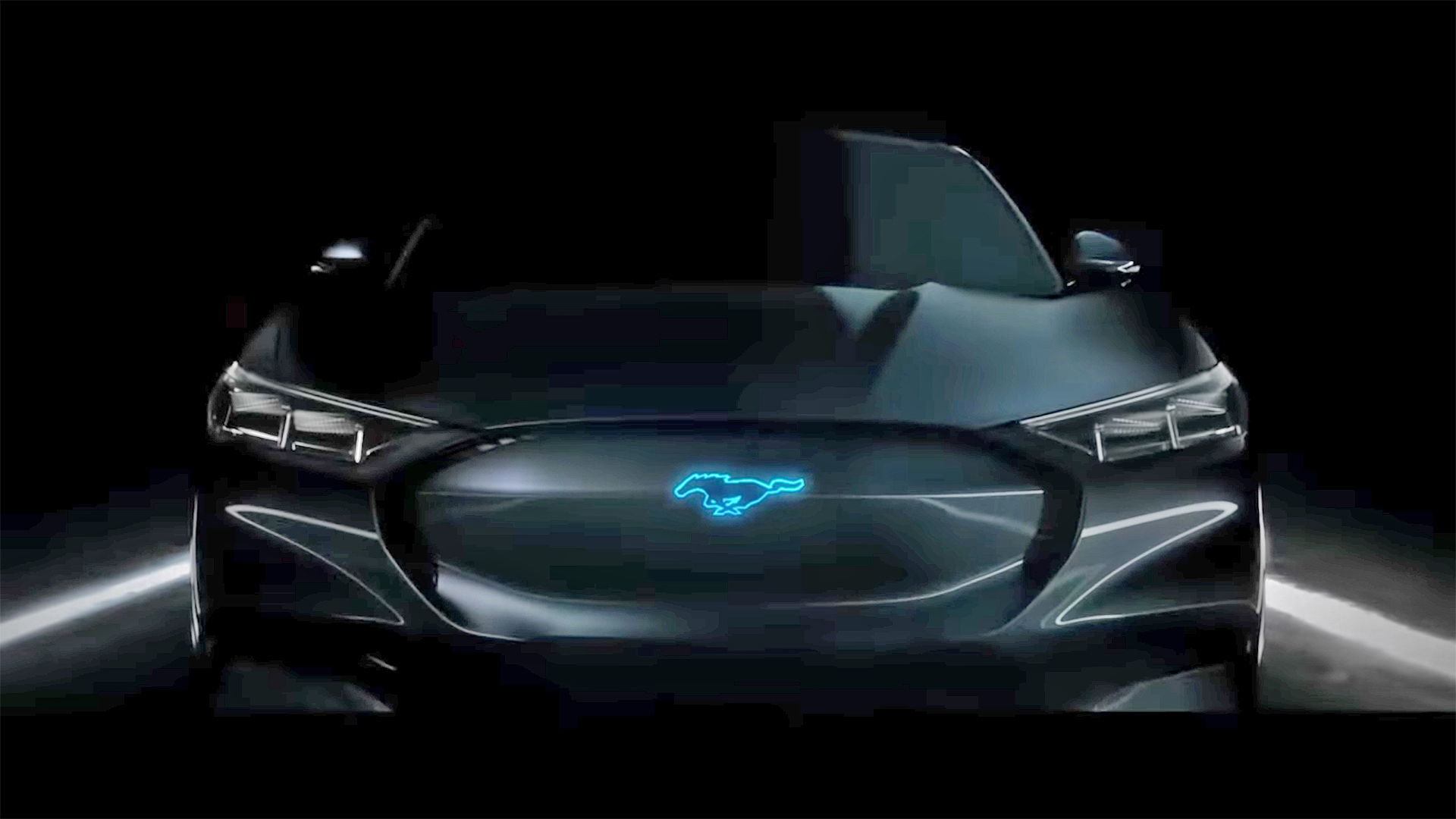 YouTube / Ford
Whatever this is, it's clearly a Ford Mustang of some sort. The blue horse in the center of the grille stands as all the proof you need of that. Except it isn't—because that grille isn't a grille at all, merely a flat panel with what seem to be a few teeny air intakes around the edges. There's no way enough air could flow through those small openings to feed a hungry V8...but it'd be more than enough for the comparatively minimal cooling demands of an electric car. (Also, the Mustang logo is glowing electric blue, which clearly suggests, y'know, electricity.)
But while Ford has made clear that it plans to build a hybrid Mustang in 2020 to go along with the gas/electric F-150—double your heresy, double your fun—the company's made no such statement about building a muscle car powered solely by electrons. So what is this, then? A glimpse at the carmaker's new sporty electric crossover, which was rumored for a time to be called the Mach 1 and will supposedly draw inspiration from the 'Stang? A glimpse at the seventh-gen, potentially-all-wheel-drive Mustang in concept car form, with an EV twist meant to titillate Tesla-loving investors and bump up Ford's flagging stock price? A hint at some sort of Model 3-fighting mainstream electric car that'll borrow the Mustang name? Considering how fleshed-out this design looks, we'll probably find out fairly soon. At least, we hope.