One of the best ways to get your mitts on an exotic vehicle without spending supercar money is to import something interesting. There are a lot of cool and fun cars that never made it to U.S. soil when they were new, but once 25 years have passed since those vehicles were made, they're eligible to be imported. The process is not as expensive or complicated as you may think, though it does have pitfalls, as I figured out bringing a 1994 Toyota HiAce into the country.
It's long been a personal dream to work on, build out, and sell unique adventure-ready off-road rigs. That was the original impetus to get my HiAce, and though I don't think I'll end up importing vans en mass, I did have a blast and learned a lot with this one. The process of importing a car is a little daunting if you don't know where to begin, but there's quite a bit of support out there, and it was actually pretty easy and smooth. If I can do it, I know you can too, and I'm hoping after reading this article you too will feel empowered and inspired to give it a go. Together, we can all contribute to making our local car culture awesome.
Why a HiAce?
I've always been into vans. My first was a 1992 Dodge Caravan hand-me-down from my mother. I pulled out the seats, built a mattress box, and traveled the country while living in it for a year. Later, as a pre-30th birthday present to myself, I splurged on the vansion of my dreams: a $3,500 1986 Volkswagen Vanagon tin top. When the motor in that one decided that the coolant was no longer worth holding onto, I happily purchased another VW off eBay and flew halfway across the country to drive it home. I kept that one for a decade and did all kinds of upgrades. By the end, it was a truly finished project with new paint, new seals, a hopped-up motor, and every cool mod I ever saw on a forum completed.
But somewhere along a 5,000-mile road trip out west, I began to lose interest in the V-Dub. I was tired of having no power at elevation, crap environmental controls, and temperamental wiring. As charming as the vehicle was, and it was, the time had come for something new.
Except by "new," I mean still old. Just… better. To me better meant improved gas mileage, the ability to drive at the posted speed limit on interstates, and power going to all four wheels, crucial for my backwoods camping proclivities. That's how I started scheming on my next dream machine, a Japanese Domestic Market (JDM) Toyota HiAce van. Specifically, one running the powerful and reliable 1KZ-TE diesel engine.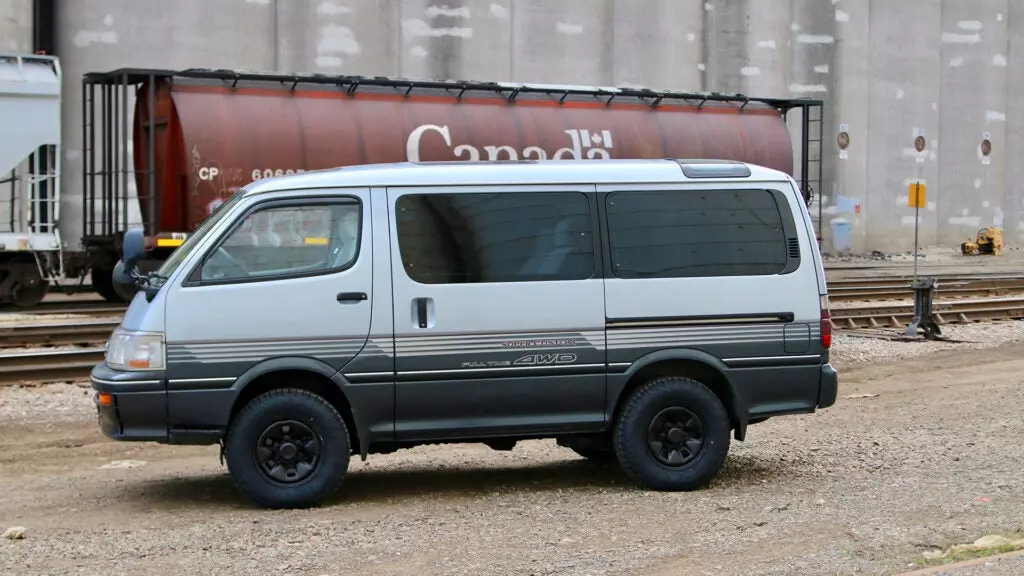 I probably don't have to explain to most people reading Car Autance why I wanted one of these. Reliability? It's a diesel Toyota! The only thing harder to kill is a cockroach. As for style, how about a silhouette reminiscent of a lazy jellybean? Check! Curtains, it's got them, and they're even powered by the tiniest of motors. One button push is all it takes to activate "private time." Moonrooves, sunrooves? Yeah, it's got four. There's also that that lovely diesel four-cylinder motor directly below the front seats that makes a reassuring rumble that wraps your ears in an audible hug which you'll come to know, love, and long for.
At four inches shorter than my old VW, the HiAce is compact but has an excellent amount of space owed to what is essentially a cab-over design. It also has cute little mirrors in front and back pointing directly at the bumpers that allow you to maneuver into the tightest of parking spaces. Higher-optioned versions of this van have a cold box and a water boiler for tea between the front seats, and a feature called "Joyful Talk," which is an intercom from the rear bench to the front, but alas, mine did not. The stickers on the side say 4×4, but it's really an AWD system. No matter, you'll still be embraced by the truck-driving four-wheel folks as a welcome and adorable curiosity. Heck, this JDM vehicle somehow has something for every car culture subset: coal rollers, Prius drivers, Soccer Dads, Adventure Moms, it's somehow the car that all of America can agree on. You'll get thumbs up and waves wherever you roam.
Import Car Context
Importing and road-registering a car that wasn't sold new in the U.S.A. is effectively impossible for the average person until that car is more than 25 years old. If you didn't already know that, you can read the specifics from The National Highway And Traffic Safety Administration (NHTSA). The rule is pretty much in place to discourage people from bringing in cars that haven't been scrutinized for safety by American regulators. The NHTSA probably figures, rightly, that the vast majority of car buyers aren't going to go through the hassle of shipping outdated automobiles in for daily driving.
But for those who are willing to do some research and legwork, that age cutoff is a green light to get a rare car from outside the country. As the NHTSA begrudgingly puts it: "A motor vehicle that is at least 25 years old can be lawfully imported into the U.S. without regard to whether it complies with all applicable FMVSS."
Obviously, there's some inherent coolness in having a non-U.S. car in America, but there are actually some practical benefits to buying used from Japan besides rarity. From my searches, it seems like low-mileage vehicles are more common there than they are here. Japan is much smaller than the United States, and it has a robust train network for jaunts between cities, so it makes sense that many Japanese cars do fewer annual miles than their American counterparts.
Japan's road network is also quite well-maintained, and many areas don't use snow-melting agents like road salt. There are regular inspections that vehicles must pass, and pride of ownership seems to be a staple of Japanese car culture.
Car Shopping In Japan From America
Most used car dealers in Japan get their inventory through wholesale auctions, and many U.S. importers get stock the same way. It's a lot more efficient than trying to deal with private sellers, naturally.
USS Auto Auction (stands for Used car System Solution) calls itself "the largest used vehicle auction in Japan," making it a consistent source of inventory. Like wholesale auctions in America, USS auctions are not open to the general public ,so if you want to shop at one you need to go through a dealer or a broker.
Going into this I thought I had an edge — my best buddy in Japan's family happens to own an automobile repair, customization, and used car sales spot. I figured he could help me buy my car with his auction access, do necessary repairs where the parts are plentiful, and help get it on a boat bound for America.
However, I quickly worked out that the economics of using an established broker stateside actually made more sense. The shipping quotes I was getting as an individual far outweighed the money saved by not using an auction agent from a U.S. firm. So, that's what I did.
Finding a Broker
A quick Google search will show you plenty of firms that specialize in importing vehicles from Japan to the United States. I'd recommend looking for one that works with both dealers and individuals. In my experience, these often have better rates and more customizable programs allowing you to do as much or as little of the logistical lifting as your budget and desire allows.
I chose to work with Pacific Coast Auto on the recommendation of a friend who had imported a really nice diesel Land Cruiser Prado. I looked at a few others, such as JDM Auction Watch, and most seemed to have a fairly similar fee structure. All things being more or less equal, I felt confident using the company my buddy had. At least I knew firsthand of one successful and happy customer. The fee for their services in purchasing a vehicle is ¥100,000 (roughly $950 at the time of this writing).
Finding the Vehicle
Like most firms, Pacific Coast hosts a searchable site that mirrors the USS and other auction sites in Japan. As a buyer, you create a unique search based on the parameters you've selected. In my case, my desires were pretty specific. Maker: Toyota, Model: HiAce Wagon, Year: up to 1994. I checked daily as the auctions were constantly updated, and you'll want to do the same if you're thinking about buying a JDM car this way. Vehicles only tended to appear about 30 hours or so before the auction began while I was hunting. As with most auctions, you'll need a combination of vigilance and luck to score the best deal.
Obviously, not being able to inspect your potential car in person is a major disadvantage, but you still have some tools in assessing the vehicle. The most significant piece of information is the condition grading assigned by auction houses.
The grading system breaks down like this:
5: As new, but used
4.5: As above with very minor blemishes
4: Excellent condition
3.5: Minor marks and blemishes
3: Noticeable/heavy marks and blemishes
2: Poor condition
1/0/-1 – Very poor condition or modified (and quite possibly in excellent condition)
R/RA – Accident damaged, repaired Vehicle, or heavily modified
The auction agents I worked with did not recommend bidding on vehicles with a grade lower than 3. Apparently, previous clients had done so and been disappointed with what they received. It's worth mentioning that it's possible for an R- or RA-grade vehicle to be in good condition, just heavily modified. It's also possible that they don't run or have major issues. Bidding on this type of vehicle is a gamble, so you've either got to really know what you're looking at or be willing to get a dud to go for one.
Each vehicle is only represented by about three photos that consist of one broadside angle, one rear, and an awkward shot of the cab from between the passenger and driver headrests. These are typically wholly inadequate for a true assessment of the condition.
Crucially then, there is also a one-page report for each vehicle that gives additional information, including the engine type, options, mileage, drivetrain, and a thorough rundown of any issues with the glass or bodywork. For example, the report on my HiAce listed cigarette burns on some armrests, a few scratches in the paint, and one noteworthy spot of rust in front of the rear passenger side wheel well.
The vehicle I ended up winning was graded 3.5. Although there is some variance from location to location in the grading, it seemed like the inspectors tend to be sticklers and don't pass out higher grades easily. This was born out of my experience, as I'd rate the car's condition to be excellent for a 25-year-old automobile once I finally got to see it for myself several months after purchase.
The interior was in mint shape, just look at those photos, with the floor covered in no less than three layers of mats all the way around. No kidding, there were the factory mats, then an intermediary layer, then some cheap plastic jobs on top, and the cargo area was covered in household welcome mats and a tarp. The driver's seat had a cushion on it, and best of all, the tops of the seats were covered with official Toyota-brand doilies. Someone had really loved this thing and taken immaculate care of it. There was still plastic on the driver's side door card, and all the temporary factory stickers were still in place. Despite fearing fearing cigarette smoke, the car smelled like an air freshener, and the burns on the armrests that the auction sheet referenced were no big deal.
On the outside, the view wasn't quite as wonderful, as the rust noted on the auction sheet turned out to be a full-on breach of the outer metal in front of the driver's side (remember it's right-hand drive) rear wheel well. Thankfully my neighbor, Gonzo, is a superb mechanic and handy with bodywork, so we blasted the rust, put in some new metal, and I got a spray can of color-matched paint that did a reasonable job of blending it. When the van is a little dirty, you can't tell at all, and my vehicles are always a little dirty.
Bidding
Pacific Coast required a refundable $1,000 deposit from me before I could bid on anything. This is where things started getting real, and naturally, I was nervous about being scammed. However, research and my friend's testimonial had already satisfied my suspicions with the company, so I went for it.
Take note during this stage of the process: Getting your deposit in takes a few days, so you can't wait until a vehicle you like is up for bidding to pay. So if you were to go through this same company, I'd advise you to get your deposit in as soon as you're ready to buy. Then you can start window-shopping in earnest.
Once my deposit was in, I had a system: Every morning I scanned the auction site. When I found vehicles interesting, I requested a translation of their auction sheets. Pacific Auto requires that step, to its credit, as it prevents people from bidding blind. They provided unlimited translations once I had paid my deposit.
When I honed in on a car I really wanted, I emailed their special "bidding" email address with the vehicle number and my max bid in Japanese Yen. Then, all I had to do was wait for the results.
Unfortunately, I missed out on one vehicle because another Pacific Auto client also bid on it. Even though the auction ended below both of our max bids, the other person's max was higher, so the company sold it to that person rather than have two of its clients bidding against each other.
But the next week, another very nice example of exactly what I was looking for popped up: A 1994 Toyota HiAce KZH-106 with less than 100,000 miles and that 3.5 auction grade I mentioned. It wasn't my preferred color, but I liked it enough to plunk down a max bid of $7,000.
I won it for ¥616,000, which at that time was around $5,800. Needless to say, at this point I was simultaneously stoked and nervous about how the rest of the process was going to shake out.
After the auction, I had 24 hours to pay the full amount and then Pacific Coast moved the vehicle to its holding area at a cost of ¥15,200 ($150), and I was given the option to purchase insurance that covered damage to the vehicle during its time in Japan at ¥10,000 ($90), just in case something happened. I went for that too, to be safe.
Once the van was in Pacific's possession, the company also provided me with three videos of the car and about eighty photos so I could properly see its condition. Of course, I had already bought it, but it was still incredibly exciting to download the files and gaze upon my new prize.
Pacific Coast did offer a service where I could have the vehicle checked out by a mechanic of the company's choosing and have any necessary repairs made in Japan, but because the van was in seemingly fine fighting shape, there wasn't a need for me to explore this option.
Shipping
I used Pacific Coast's recommended shipping agent which quoted 154,628Y, or roughly $1,500 to get it to port in Tacoma. This was way cheaper than the $5,000 quotes my buddy with the independent repair shop was coming up with, and it felt quite reasonable.
The shipping style was "roll-on, roll-off," where the vehicle would be driven onto a ship and strapped down, open to the elements. In this type of shipping, no loose parts are allowed inside the vehicle as it's a liability, so you can forget about cramming your car full of useful spares.
For folks purchasing more valuable or exotic vehicles, shipping in a container is certainly an option. However it wasn't something that I looked into, as keeping costs down was paramount to my business case study.
Customs Documentation
Leaving this to the pros is cheap, so that's what I did, and what I'd recommend. I went with a customs broker that was recommended by the auction agent, an outfit called Davidson & Sons, and felt that the small fee was well worth it. This is what they do, they know the systems inside and out, have familiarity with regulations, and are able to overcome obstacles. They also provided downloads of all the documentation that they produced and clearly labeled just what I'd need to take to the DMV to get it registered. The fee for this service? A mere $275.
Another note on customs fees: I wouldn't recommend bringing in a van or truck without rear passenger seating for the same reason many automakers don't sell trucks made outside the U.S. in our country. You could get hit with the infamous "Chicken Tax" that adds a 25 percent import duty on commercial vehicles and pickups coming in. Luckily, my van was full of seats, so I didn't have to sweat it.
Total fees for import and customs were $675.25. Here's a breakdown:
Customs duties: $206.24
Brokerage: $275.00
Administrative fees: $19.03
Delivery order: $25.00
Handling: $50.00
Import security and filing: $50.00
EPA/DOT fees: $50.00
Getting It Home
All the money I'd shelled out to that point got my van to the port of Tacoma in Washington, which is sort of near Portland, Oregon, where I was slated to be when the van was meant to arrive. My plan was to coax a buddy into driving me up and simply driving solo back to Portland and eventually to my home base in Minneapolis.
Of course, what ended up happening was a global pandemic and me still at home in the Midwest, and there was no way I was risking my health and my family to travel to pick up a car.
I was about $9,300 in when the van hit the port in Washington, and it cost another $1,200 to have a carrier bring it to me in Minnesota. The shipper was a real nice Russian fellow who was very excited to drive the HiAce off the trailer and chat me up about my purchase.
I was excited, too, though slightly less so when I realized how filthy the van had arrived. Like, there was no way to get inside or interact with the vehicle at all without becoming a mess yourself, kind of filthy.
So at 10 p.m. in the pitch black, there I was, washing my new van and posting videos of it rolling off the transporter. How do you not, right? I had won the auction at the beginning of January, and it was now Mid-April. I had spent four months worrying, dreaming, and getting excited to build it out into the off-road camper of my dreams.
Registration and Insurance
Insuring my newly immigrated '94 Toyota HiAce was a slight pain in the ass. Because no insurer understood how to evaluate it, we had to come up with an "agreed-upon value" to establish what the car was worth. I decided to go with the replacement cost, after some maintenance, of $12,000.
I typically use Progressive for car and motorcycle insurance, but its quote for full coverage was stratospheric. I ended up going to classic car insurer Hagerty. Because insuring a car for an agreed-upon value is something that the company does every day, they were far easier to deal with, and I ended up with a quote of $388 per year. Quite reasonable.
Your state might be different, but Minnesota doesn't have an inspection requirement, so getting the HiAce registered just required turning in the forms that had been provided to me by the customs broker (and some additional forms that were provided to me by the local DMV) that are used when registering a car without a previous title. I also had to do a little explaining of why the car carried a non-standard U.S. vehicle identification number (VIN). I was prepared for a hassle over the fact that although the odometer says 140,000 it really has only 85,000 miles on it, but no one from the DMV ever so much as looked at the car to verify what I had written down. Due to the pandemic, I simply dropped all my paperwork into a dropbox and picked up my plates the following day. I will say that dropping off the only live signature documents I had stating that I owned the car was nerve-racking, but the folks at our local DMV were aces, and I breezed through.
Editor's Note: We first drafted this story before the state of Maine started re-classifying JDM Mitsubishi Delica vans as "ATVs" all of a sudden to get them off the road — DMV regulations, especially those surrounding nonstandard cars, can change. Make sure you get a good sense of how your state treats these things before jumping in.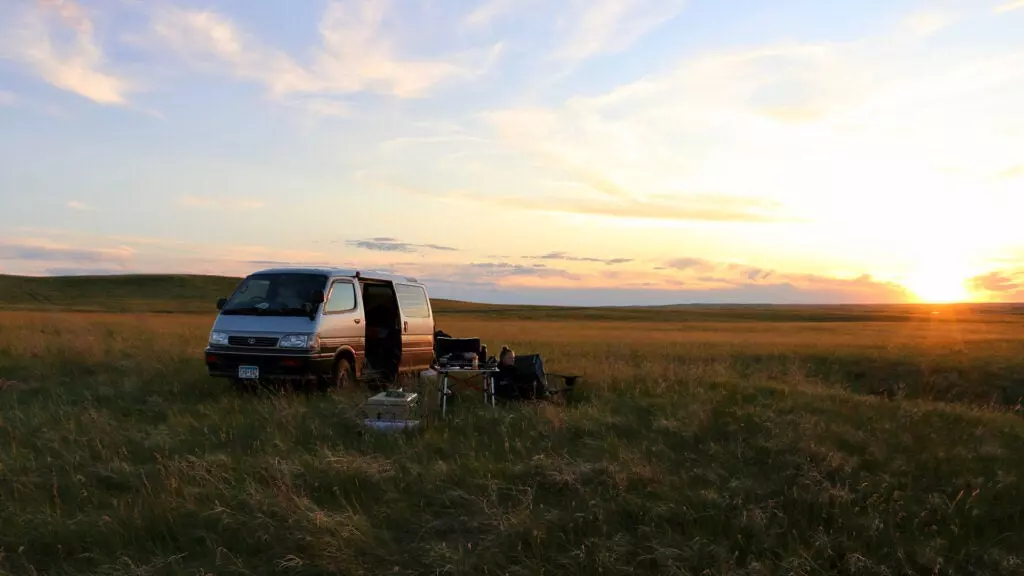 Life With the HiAce
Once my van was legally on the road, I wasted no time in messing with it. I changed all the fluids, checked the belts, and Plasti Dipped the rims black.
Luckily for me, there was a stack of maintenance record paperwork in the van. With a combination of Google Translate and sending pics to my pal in Japan, I was able to see some crucial history, including the last timing belt and water pump service.
I pulled out the rear seats and built a platform for a mattress with storage underneath. It was a quick-and-dirty design with a foldable mattress and a simple swing-out to allow for a full size queen bed. I essentially was trying to replicate the interior of my Volkswagen, which I'd spent a decade dialing in.
Piloting a right-hand-drive car in a left-hand-drive country took a bit of time getting comfortable, and my primary passenger found it quite unsettling that I was often hugging the centerline of the road, which made them feel uneasy. If I had my dog with me, people would constantly do double takes as it appeared to them that the pup was at the wheel. But the turn signals and wipers were the biggest challenges. Even after months of driving the HiAce, I'd hit one when I wanted the other.
Passing was also a little sketchy because you'd have to swing way out on two-lane highways to see around the vehicle in front of you. Otherwise, it wasn't all that hard to own. Maintenance and such would sometimes take a bit of planning because not everything is available over the counter at a U.S. auto parts store or Toyota dealer. But many components were shared with vehicles that we had stateside, and everything else was generally easily ordered through the internet. When my rear shocks failed, I was able to source them from a local auto parts store, same with oil filters, air filters, and other consumables.
I have to admit, though, there was always a lurking fear that I'd break something irreplaceable at an inconvenient time. I've been on road trips and gotten my windshield smashed by a rock before. If that happened in the HiAce, what would I do? I had made friends with people who made a business of importing these things through the online community, and no one had a really good answer. Would I have to fly one in from Japan? Would it cost $2,000? Nobody seemed to know.
Selling It
Ultimately, although I dug the van and loved driving around in a weird car that got attention, it ended up being a bit small for my camping needs.
I reckoned I had about $12,500 into it, after the cost of shipping from Seattle to Minneapolis, new tires, maintenance, and a custom receiver hitch. Research revealed that the few listed for sale in the U.S. were trading between $12,000 to $18,000 depending on how they were built out. I was hoping to command a premium because, when I went to list, there wasn't another HiAce for sale within a thousand-mile radius of my home in the Midwest. I posted it up at $16,500.
Of course, I had to wade through a string of chuckleheads who couldn't believe that I was pricing a minivan that high, but what are you gonna do? Real ones knew what was up and delighted in seeing a true JDM vehicle offered locally. Finding an actual buyer, however, wasn't all that easy.
After a few weeks of only one person coming to see it in person, and several electronic offers of $12,000, I was getting nervous that I'd have to take it to Denver or another area that has more people looking for adventure vehicles. While road-tripping through Michigan, though, somebody from Fargo, North Dakota said he wanted the van sight-unseen as long as it was delivered.
It seemed too good to be true, but after chatting, we made a deal, and my partner and I cut our trip short to drop it off the next day. The final sale price was $15,000, including the camping platform and mattress.
Timeline
The hunt begins: December 2019
Auction sin: 1/25/20
Car and shipping paid: 1/28/20
Transport leaves Japan 3/20/20
Arrival in U.S.: 3/26/20
Arrival in Minnesota: 4/1/20
Registered: 4/21/20 (late in registering due to Covid weirdness)
Title arrival: July 2020
Sold: 8/25/2020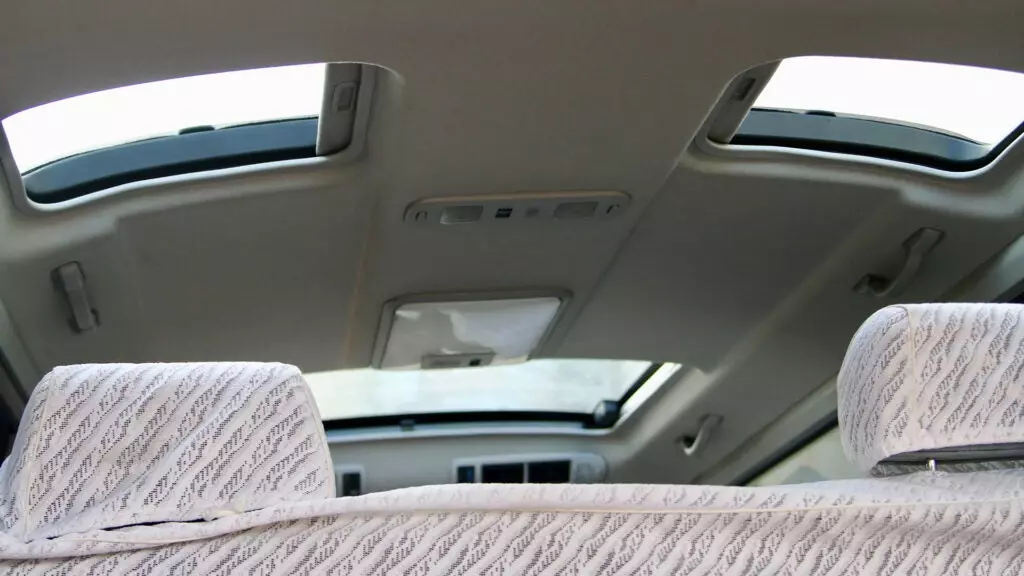 Profit
I nominally cleared $2,500, but I was out of pocket with no way to recoup from January until I received the title in July (I registered it in April). It quickly became apparent that margins for flipping JDM cars like this are pretty low, at least on a privately sold HiAce. I'm guessing if I had chosen a Land Cruiser I might have been able to make more coin, but still, it doesn't seem like an opportunity for a particularly high-profit business. I'm now inclined to believe that most shops that specialize in JDM imports have to be doing it at least partially out of a passion for the cars. Though, Skylines and Supras tend to attract people with more money to burn than van-lifers.
Pricing Breakdown
Here's a fuller rundown, and a partial recap, on what this adventure cost.
Vehicle purchase price: $5,800.00
Auction agent fee: $950.00
Inland shipping to port: $150.00
Insurance while in Japan: $90.00
Shipping from Japan to USA: $1,500.00
Customs duties: $206.24
Brokerage: $275.00
Administrative fees: $19.03
Delivery order: $25.00
Handling: $50.00
Import security and filing: $50.00
EPA/DOT fees: $50.00
Total: $9,165.27. Plus tax, title, registration, and insurance. And then fuel, my mods, etc…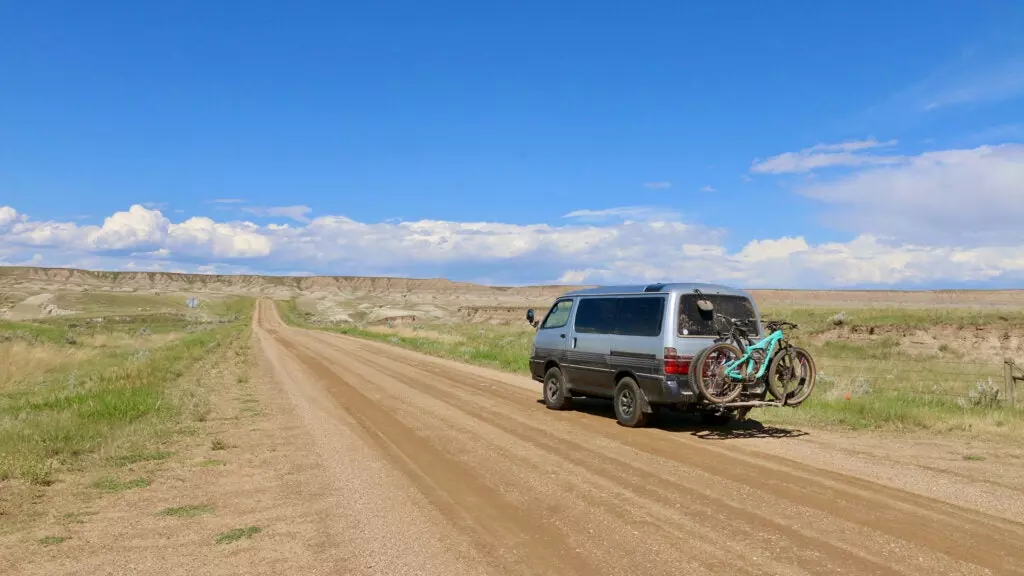 Was it worth it? Hell yes, it was. I got to put a super cool auto on the streets of America, learned way more about a car I was always curious about, and I now have a whole new world of options. Not to mention I now get to write this article which hopefully empowers some of you to do it too. Together, we can make a difference in the fight against boring and same. I'm already dreaming of my next one. I'm definitely thinking it's either time for a diesel 4Runner (Hilux Surf in Japan) or a Land Cruiser 60 series. Can't wait!