Time Needed: 2-5 hours, Difficulty: Beginner, Cost: $20-$100+
There are few things that are quite as satisfying as getting into a freshly detailed ride. The pristine clean and distinctive smell can create an almost Pavlovian response for people. Getting your car professionally detailed, however, can get pretty pricey. Not to mention that for some, the process of cleaning and detailing your car yourself can be like a less expensive form of therapy and even a cherished ritual.
If you don't happen to have a solid detailing routine set in stone, the prospect of how and where to begin and the subsequent steps can be a bit daunting. That's why the Car Autance informational gurus have come up with a thorough step-by-step guide to help you effectively and efficiently detail your car.
Pro tip: there's no such thing as too many microfiber cloths.
The Safety Brief
While working on your car can come with certain dangers and potential messes, the act of detailing your car is relatively benign. That said, there's always a potential for screw-ups or accidental injury when doing any vehicle work. Here's what you'll need to ensure you don't die, get maimed, or blinded and that you'll keep your designer threads and skin spotless — hopefully.
Mask (optional)
Coveralls (optional)
The Tools & Parts You Need
When it comes to detailing your car, there's a decent-sized list of required items. We like gathering them all together beforehand so you don't waste time rummaging through your garage every 10 minutes or waiting on your preschooler to bring you the necessary item.
Tool List
Supplies List
The Task: How To Detail Your Car
When it comes to detailing, you can get as thorough and deep as you want and no one will judge you. If you're pressed for time, or just not feeling like you don't need to delve into every single crack and crevice, you can definitely cut out any unnecessary steps. Feel free to tailor our detailed how-to guide to suit your needs — we won't be offended.
1. Wash and rinse the exterior.
It's always a good idea to wash your car in the shade to prevent streaks while drying.
Take two buckets, each with dirt traps in the bottom, and add your favorite car wash soap (bonus points if it's bubble gum scented).
Using your garden hose and sprayer or beloved power washer, spray a thorough layer of rinse water over your vehicle to remove any dust and surface debris.
Get some suds on your car wash mitt, and working from the top down, give your car a thorough bath. We recommend frequent rinsing of the wash mitt to remove any dirt or debris that might scratch your clear coat.
With your wheel brush, tackle that annoying tar, road grime, and brake dust that sticks on your wheels like superglue. 
Give everything a thorough rinsing from the top down to help avoid streaks and water spots.
Using an absorbent towel or shammy, soak up as much of the rinse water as you can immediately after rinsing.
Now use another dry towel to go back over and give your car a more detailed drying, getting in the cracks and corners.
Last but not least, dry and shine those wheels. Here you can also use your favorite tire shine product if you're gunning for car show-ready rims.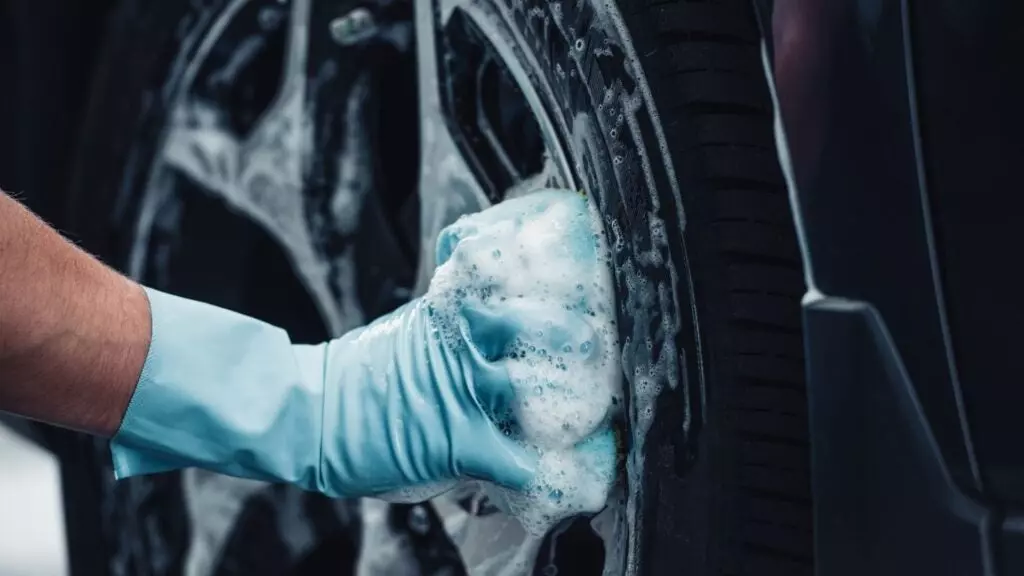 2. Use a clay bar and paint protection.
One thing you may or may not choose to do is use a clay bar on your car to get an even more thorough detailing. Clay bars are great for removing contaminants that become embedded in your car's paint. Proper use of a clay bar can take some practice, though, especially if you've never used one before. Here's what we recommend:
Just like when you were a kid and played with clay, you want to squeeze a small chunk of your clay bar until it's soft and pliable enough to be formed into a disc that's slightly less than one inch in thickness.
Spray clay bar lubricant on a section of your car and slide your clay disc in an up and down pattern over it. DO NOT rub your clay disc in a circular motion.
Once you've thoroughly rubbed the bar over the entire section, wipe it down with a clean microfiber towel.
It's a good idea to check your clay frequently for contaminants that have built up. If you see any, just fold the disc in half and reform it into a new disc.
Do this over your entire car. If you're a newbie to the process, we think you'll be very pleasantly surprised with the results.
Following the clay bar, you'll want to polish the car, then add a protectant like wax or a coating.
3. Clean under your hood.
Engine bay cleaning is a fine art in of itself, and in fact, we recommend you look at the whole post we dedicated to it right here. But we'll lay out some high-level notes.
Wait until your engine's cool to the touch before you start cleaning it.
Look around for leaks, cracked hoses, or exposed wiring before you even get started. If your engine's got some sketchy spots, you'll want to be extra careful around them.
Cover your alternator and any other wiring with a plastic bag. The alternator will have a pully on it and little slots through which you can see a nest of wiring.
Get rid of big chunks, leaves, bits of debris with a vacuum, brushes, or your fingers.
Select a heavy-duty cleaner carefully. It may be tempting to go hog wild with an oven cleaner or extreme degreaser if your engine is particularly filthy, but make sure to read the labels for compatibility with the parts the engine's made of. Aluminum, for example, can stain easily when exposed to certain cleaners. We've had good luck with Simple Green's Motorsports Cleaner And Degreaser, which goes a good job cleaning engine grease but is also very gentle. Jay Leno's brand of green degreaser is similarly useful on sensitive surfaces.
You'll want to rinse whatever cleaner you use off before powering up the engine. Just be careful about where your hose is shooting.
If you want to avoid using a hose altogether, degreaser wipes like Tub O' Towels can work nicely. You'll need a lot of them, and a lot of patience, but you can work in small sections with minimal prep.
4. Tackle the interior.
Remove your floor mats and give them a thorough shake to get rid of loose dust and dirt.
Using your favorite car vacuum or shop vac, give the carpets, seats, and console a thorough once-over. Feel free to pocket all that loose change for your next coffee run.
If you have all-weather floor mats, give them a solid scrubbing with a stiff nylon-bristled brush and some soapy water. Rinse them with your power washer or garden hose and leave them outside to dry. If you want to give your carpeted mats a deep clean, remove them, use a drill brush to scrub them, then spray out the dirt with a power washer.
Take leather cleaner or upholstery cleaner and wipe down the seats, headrests, headliner, and any other areas that you might need to clean.
Clean the inner side of your windshield and windows using a streak-free glass cleaner. Be sure to do this out of the sun so that it doesn't dry with annoying streaks that seem to only show up at night in oncoming traffic.
Clean your dash, consoles, cup holders, doors, and trim with a console-safe cleaner.
Feel free to use a toothbrush or detail brush to really get deep in those vents and other nooks and crannies that like to trap dust and food crumbs for all of eternity.
Be really careful around gauge faces and the display screens of radios or infotainment systems. They can be extremely sensitive to staining.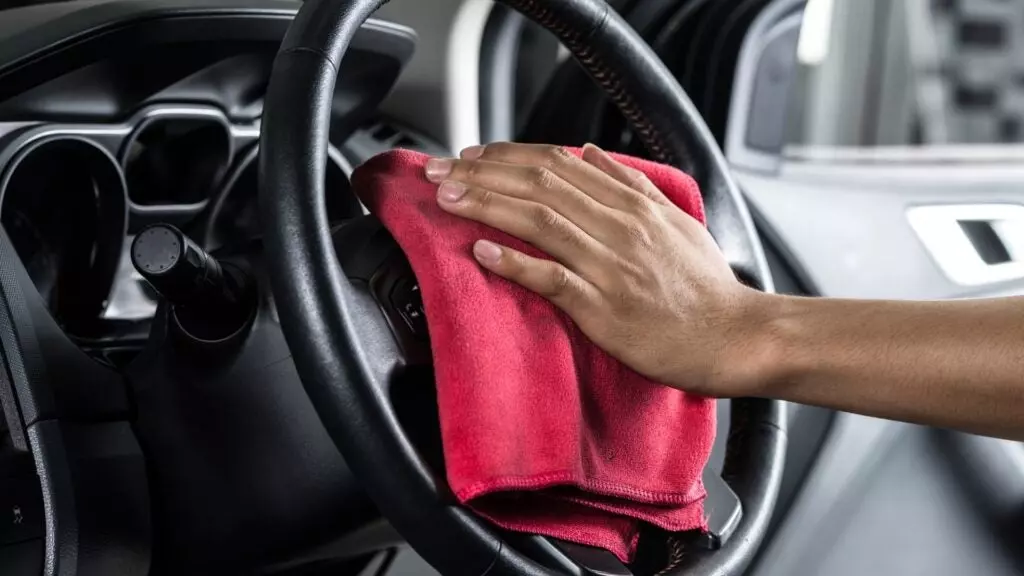 5. Replace your cabin air filter.
You don't need to do this every time you detail your car, especially if you're a frequent flier when it comes to cleaning. In general, you should replace your cabin air filter every 30,000 miles or so. For most cars, the cabin air filter is located in the same spot.
Remove all those spare napkins, old parking tickets, and other miscellaneous stuff from your glove box. Maybe you'll finally find that missing set of sunglasses.
Take the glove box door off the hinges. This should be pretty easy and won't require any special tools.
Take out and discard your used cabin air filter.
Insert the new, fresh air filter.
Reattach the door to your glove box and put back whatever must-haves you have decided not to toss in the trash and you should be good to go.
6. Deodorize your interior. 
No judgment here, we've all had smelly cars at some point. This is when using a good-quality car deodorizer can be a game-changer, not to mention a relationship saver — just sayin'.
Find your car's HVAC intake (it's most likely near the base of your windshield).
Turn on your car and turn the HVAC system off of recirculate mode and roll down your windows.
Turn the fans on to high on your lowest temperature setting.
Spray the deodorizer through the HVAC intake on the outside of your car.
Turn off your car and let it sit with the windows down long enough for the deodorizer to settle. Voila! No more stinky sock smell.
Now step back and bask in the satisfying feeling that only comes with a pristine and finely detailed car that looks just like the day you bought it.
FAQs About How To Detail a Car
We can't read your mind, but we want to try to answer any questions you have before you start the job. We've selected common points of confusion from our experience, as well as commonly asked questions from popular search results. We answered those questions below.
Q: What are the benefits of detailing my car?
A: Other than having a clean ride that you're proud to show off, detailing your car protects the inside and outside from damage caused by dirt, debris, and exposure to caustic chemicals, like road tar, salt, brake dust, and other grime. It can really help extend the life of your vehicle. 
Q: How many different chemicals do I need to detail my car?
A: There seem to be a limitless number of car detailing chemicals that promise the best results ever, but you can do a very thorough detail with a really good car wash soap, a window cleaner, and a non-toxic, safe all-purpose cleaner that can be used throughout your car's interior.
Q: How often should I detail my car?
A: This depends on your personal preference, but we recommend detailing your car at least once per year. It's best to do it in the spring in order to remove all the road salt and other chemicals that might build up over the winter, but if you notice that it's getting extra dirty, feel free to detail your car as often as you'd like. For some, it's a very Zen experience.
Learn More From This Helpful Detailing Video Tutorial
Car Autance' editors understand that not everyone is a text-based learner. For those kinesthetic and visual people out there, we have your back with a video showing you exactly how to completely detail a car.
Here's a whole series on the subject from one of the best-known pro detailers online, Larry Kosilla:
Another resource:
Disclosure: Carbibles.com is also a participant in the Amazon Services LLC Associate Programs, an affiliate advertising program designed to provide a means for sites to earn advertising fees by advertising and linking to Amazon.com. Pages on this site may include affiliate links to Amazon and its affiliate sites on which the owner of this website will make a referral commission.