As far as I can tell, there's never been a reason for me to not have a 55-year-old Ford dump truck. It wasn't even an abstract idea to me when I bought the thing a couple of weeks back, but my, um, more urban colleagues brought up that it's not particularly normal, either. 
That's why I'm here to talk about my gem of an F-Series, one that'll take me to and fro the local rock quarry as well as the occasional cruise at night.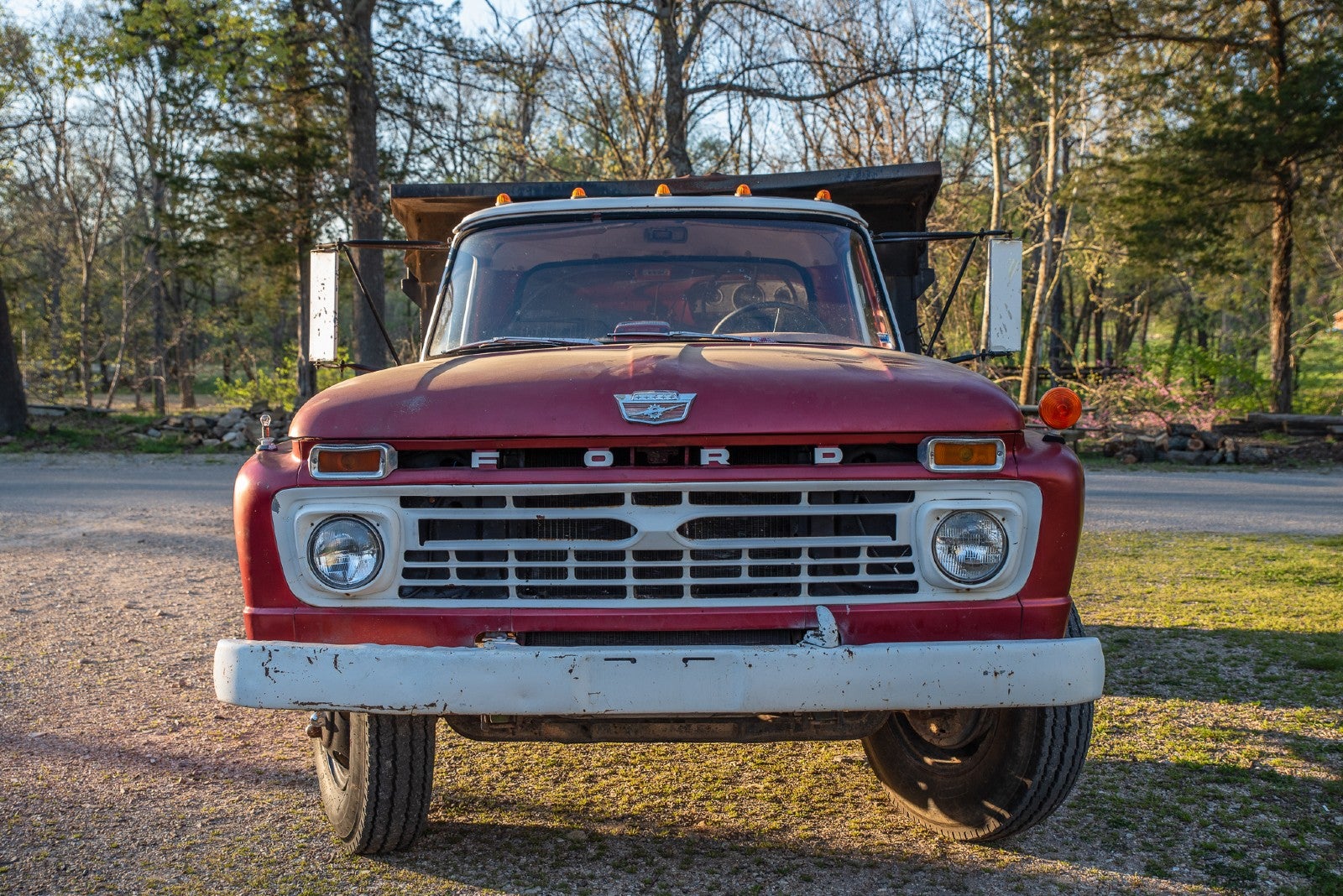 Caleb Jacobs
I found it parked along a fenceline about six minutes from my home in the town of Rocky Comfort, a Missouri Ozarks flyover place just north of the Arkansas state line. It proudly wore a "for sale" sign, though there were essentially zero details listed aside from it being a '66 model year by VIN and little else. It had sat there for a week until my grandfather mentioned he called and got a price for the two-tone beauty. 
"$3,000 and not a penny less," the seller explained. Sounded fair to me, especially after driving it the next day and finding not only did it run, and stop, but the hydraulic bed also worked in a cinch. 
As I signed the title, another vintage-loving sucker rang to ask about the price. "I'm afraid you're out of luck, buddy, because I just sold it." That was like music to my ears, and a sign from the commercial vehicle gods that I'd made the right call.
In the time since I've driven it more than 200 miles, with relatively few issues.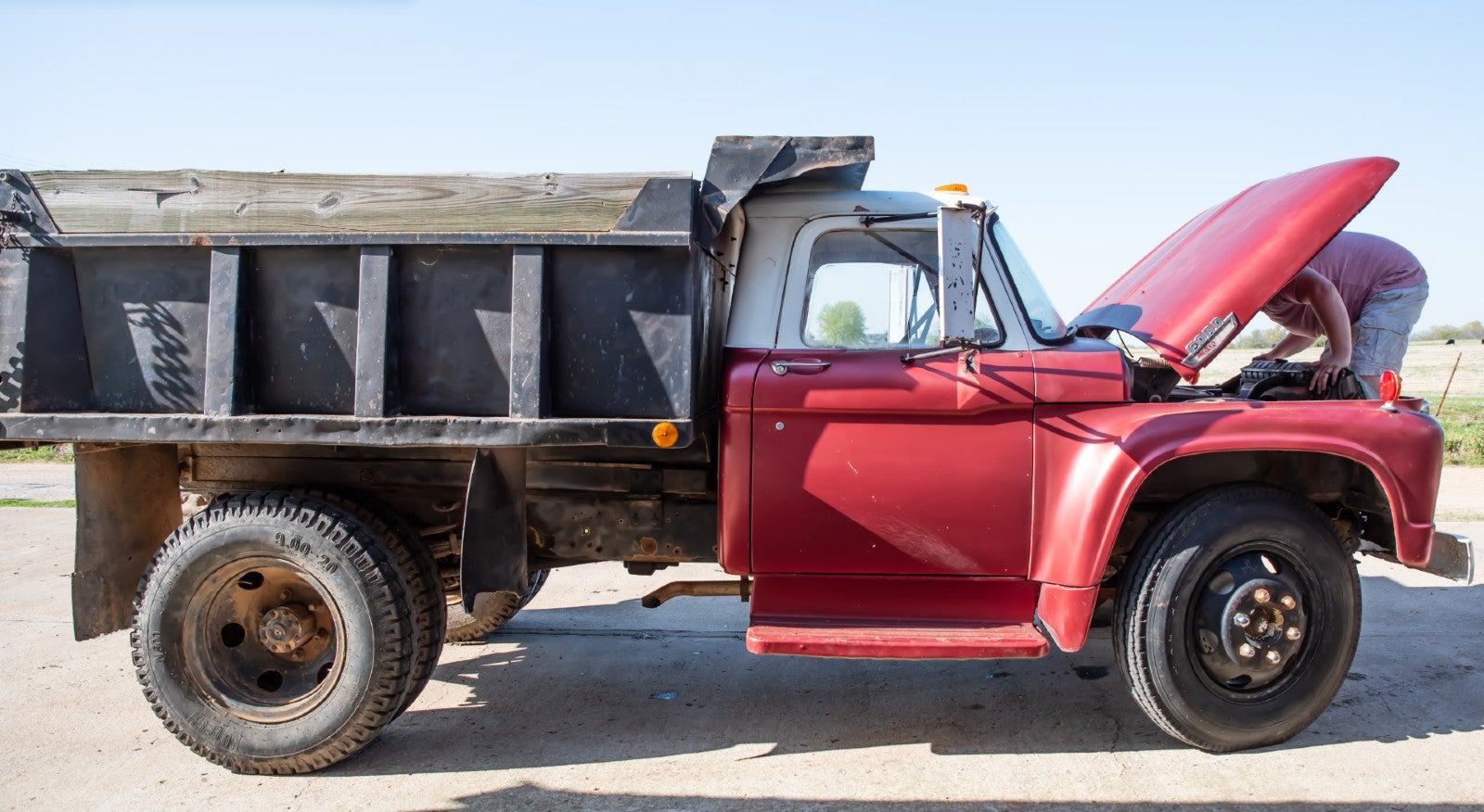 Yup, that's an engine., Caleb Jacobs
There are a couple of things to know about my particular F600 if you'd like to become truly acquainted with it: It doesn't have a V8 like most others, and it's generally a hodgepodge of Blue Oval trucks spanning from the 1960s to the '90s. Under the hood is a 300-cubic-inch inline-six, known around the work truck world as one of Ford's most reliable engines. It's more than enough to push the heavy hauler to 55 mph completely unladen, and I'm hoping to see similar results with a good load of whatever in the back.
The four-speed transmission sends power to an Eaton rear end with two speeds of its own, effectively giving me a massive range of ratios to shift through to my heart's content. That is, if the electric switch that's supposed to be mounted to the gearshift were actually there. I'll work on that in the meantime, but for now, it does the job just fine.
You'd think this behemoth of a truck would fit my 6'5" frame perfectly, but to tell the truth, I'm a bit cramped. The brake pedal is so high that, when I shift into second gear, I can hardly find room to, y'know, stop. Then, the big steering wheel comes in handy given the lack of power steering, but it also cuts into my gut. Maybe that last one's more of a personal problem. At least I've got headroom.
It ran almost perfectly when I bought it, and it pretty much still does. I replaced the starter, but only after three trips to the local parts store in a series of trial-and-error runs. Emphasis on "error." I'm tracking down a few issues right now, the first being why my rear axles are leaking. Probably just bad seals. Not to worry, that'll be sorted out in no time. At least that's what I told my wife.
I put it through its first test this past weekend, hauling 15 or so loads of creek gravel from one end of my family's campground to the other. All in all, the eight-foot bed will hold between 15 and 20 tractor bucketfuls per trip, cutting our working time short by at least a few days.
And they called me crazy.
I've even had four—count 'em, four—people call me and ask me to haul topsoil, mulch, and general junk for them. If I've learned anything, it's that having a dump truck is a lot like having a boat, except you can make money all the while.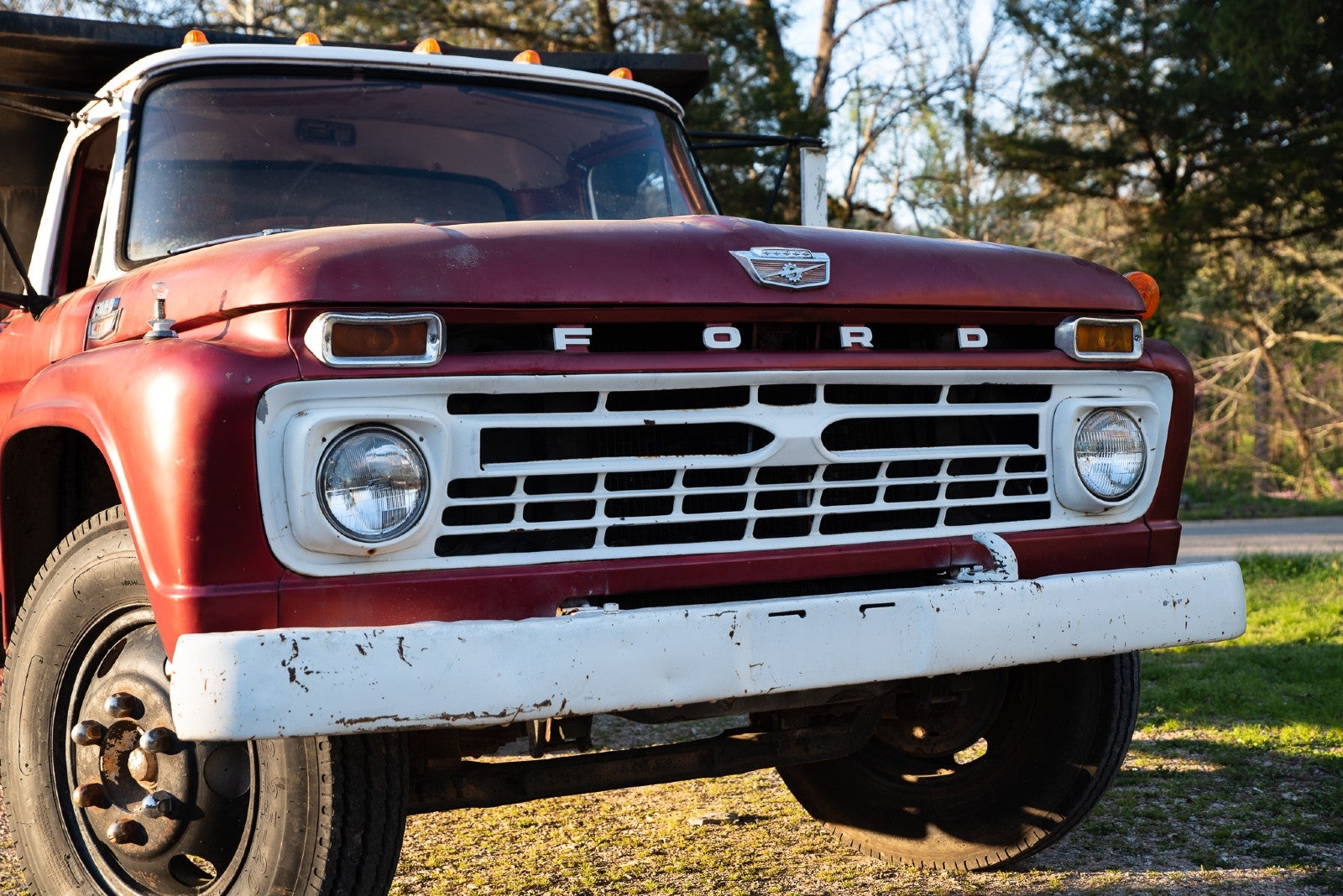 Caleb Jacobs
My future plans are relatively simple: fix everything that's broken, re-wire everything that needs re-wired, and hope for the best. Who knows, maybe I'll venture into paint and bodywork, though it's relatively clean the way it sits. That's what happens when you store your work truck in a barn for years on end. It just... exists without rain, snow, or ice.
I can find all sorts of uses for it, I think. But I'm open to ideas too. What should I do with this thing? A whole world of hauling (and dumping) has opened up to me. Any suggestions?
Hopefully, I'm able to get many more years of use—and enjoyment—out of it. For now, I'm on Cloud Nine. I just crank the key, which is located to the left of the steering wheel (just like a Porsche!), and turn on whatever roots-rock I'm feeling that day. Usually something by The Band.
Caleb Jacobs is deputy news editor at The Drive. He buys weird things, like a '66 Ford Dump Truck and a '65 Chevy school bus. We continue to employ him, though we can't seem to understand why.