At mile 10, Reykjavik is already out of sight. At mile 37, cavernous volcanic craters pass by your window. At mile 75, you confront the base of a large basalt ridge littered with waterfalls. By the time you arrive there, though, you will have run out of superlatives. Not too shabby for an island the size of Kentucky.
This is Iceland's Highway 1, the Ring Road, an 830-mile loop around the nation's perimeter. Iceland's unique geographical location, far north in the Atlantic and directly atop a massive tectonic divide, begets myriad natural wonders: over 100 volcanos, thousands of waterfalls, geysers, geothermal vents, ice caves and glaciers the size of Luxembourg. It's all packed so densely on this rock that it's difficult to drive more than 20 minutes without stopping to gawk.
The road's not a bad thing to marvel at, either. Smoothly paved (except for a few remaining dirt sections) with curves for days, Highway 1 begs a driver to rent a lively ride from the airport and let loose; there are empty stretches in the east that see only a few dozen cars per day. Best advice: Rent something all-wheel-drive with seat warmers.
Starting in Reykjavik, most ring-roaders first head along the South coast, the most trafficked region. It's also the most dense in terms of jaw-dropping sights. Even in this heavily touristed area, the hub of activity is tiny Vik, a town of 300 people. On the way, slip behind a 200-foot waterfall or spy puffins roosting on cliffsides. Walk on the world's largest ice cap outside the poles. Take a boat through a lagoon filled with icebergs as they float out to sea. Any one of these make for one hell of an afternoon. Try to do them all.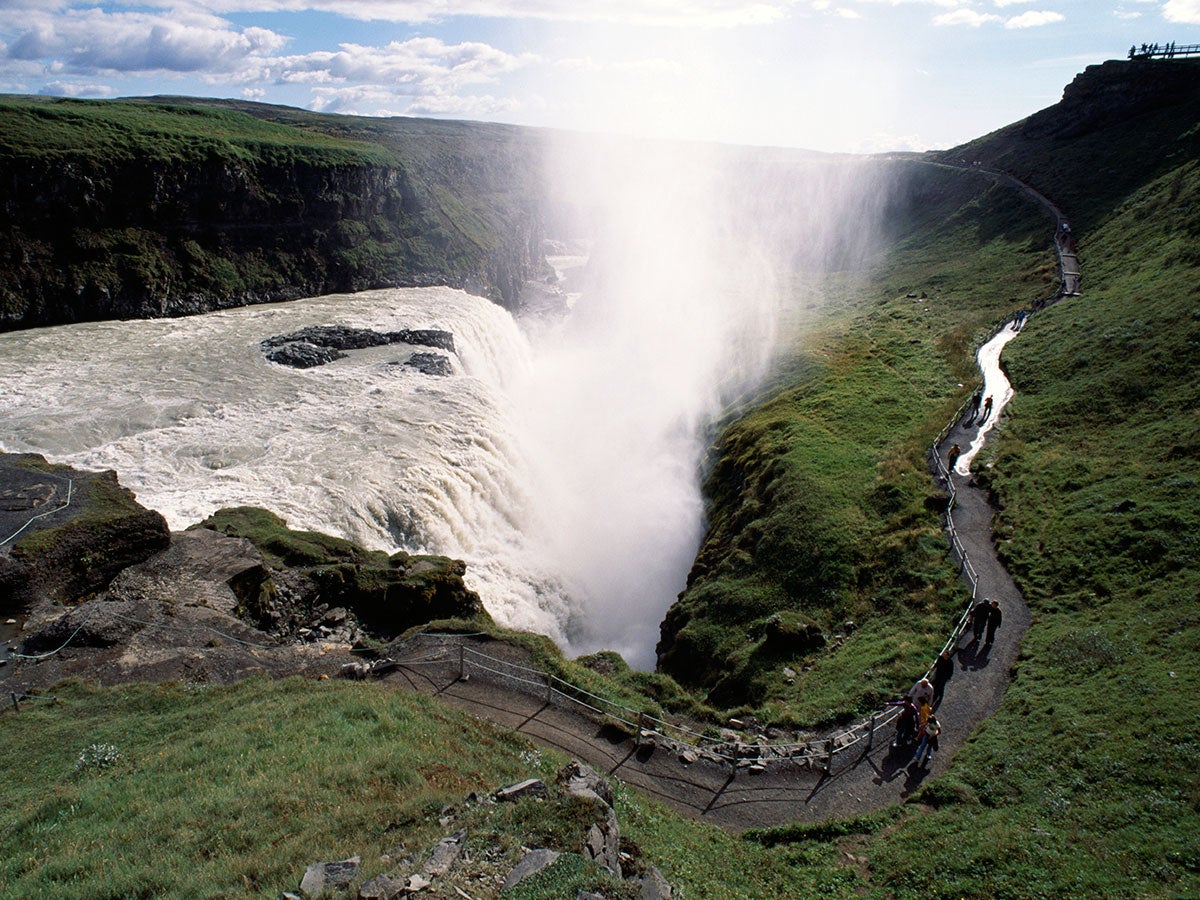 DeAgostini/Getty Images
There are no mile or kilometer markers on this road. But based on a post-trip Google Maps session, these are the rough mileage equivalents to what you'll find during your journey.
At mile 145, the monstrous Vatnajökull Glacier appears in the distance and the landscape becomes barren, with lava rock all around.
At mile 162, regal basalt rock columns rise from the ground as if laid there by an architect.
At mile 230, icebergs the size of Manhattan studio apartments calve off the glacier and float out to sea.
Continuing around the ring toward the eastern end of the island, things get quieter. Mountains line this coast, and with the road clinging to the edge, the scene is reminiscent of a craggy, rugged Pacific Coast Highway. Tiny cabins dropped throughout the scenery are the perfect place to shack up for the night. Between September and February, you may see the Northern Lights. Because that's just a thing that happens here.
At mile 402, rolling hills covered in bright red volcanic sand run directly into a rocky shoreline.
At mile 492, geothermal Lake Myvatn appears, surrounded by jagged caves and sulfuric pools.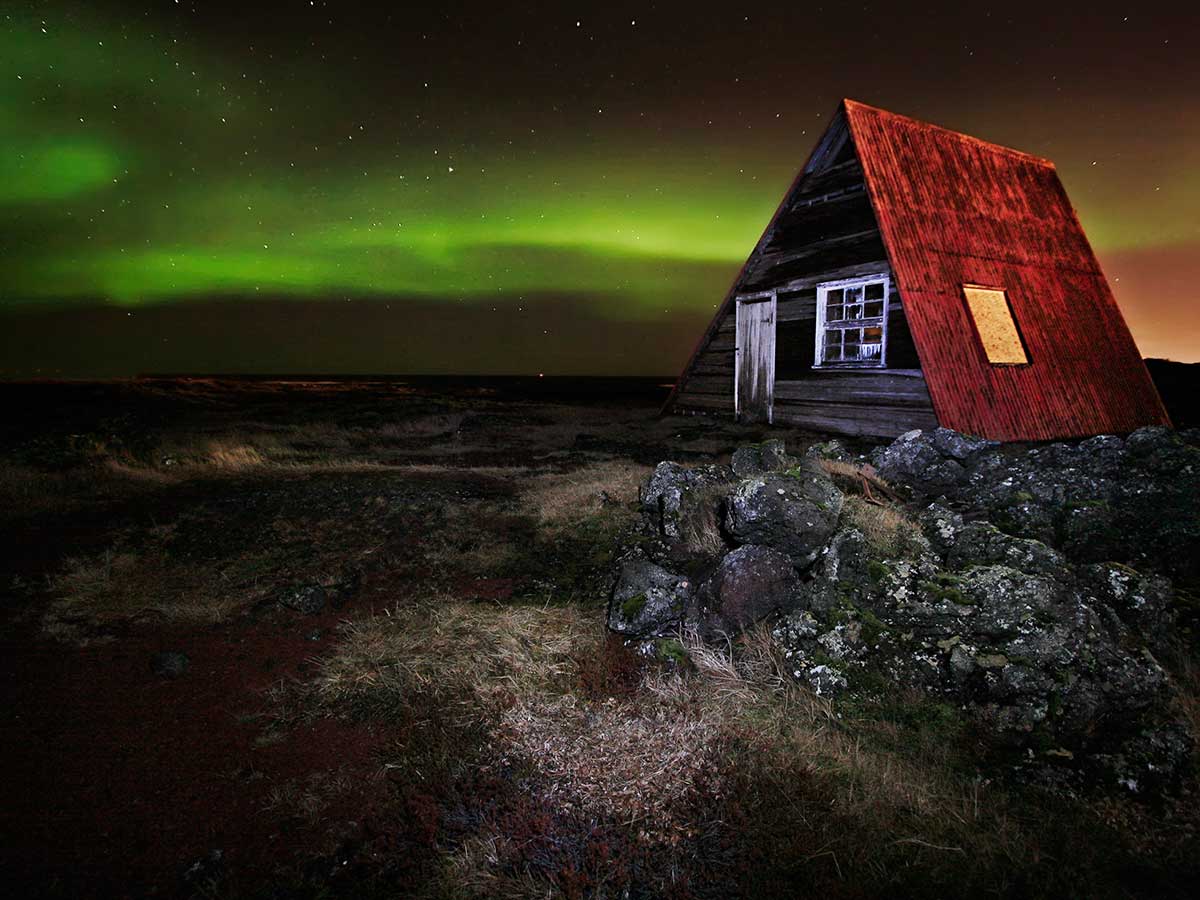 Orvar Atli Thorgeirsson / Barcroft Media / Getty Images
The last third of the drive is less about cliffs and geological formations, and more about reflecting. The beauty of this place has gone nearly unnoticed and untouched until a recent spike in tourism. The people of Iceland have managed to protect and preserve their gem of a homeland while growing as a nation, a rare feat in the 21st century.
During your road trip, a few things to keep in mind:
Don't eat fermented shark (Hákarl). Don't even think about it.

Icelanders believe elves will curse your family for seven generations if you don't respect the environment.

Don't bother trying to pronounce anything. "Eyjafjallajökull" does not sound how you think it might.

Drive the hell out of this road.
--
Accommodation
Homeaway - Reykjavik
Hotel Edda Vik - South coast
Hotel Geirland - South coast
Bradgavellir Cottages - East coast
Hotel Laxá - Northeast coast
General Information