The sight of a hypercar on a flatbed in Manhattan usually means it's being rescued for repairs, or being towed for some minor infraction by a capricious cop. For Michael Fux, the Cuban-born car collector and philanthropist, the sight of a flatbed at his Manhattan pied-à-terre marked a happier occasion: The delivery of the first McLaren Senna to a customer anywhere in the world.
Flashbulbs popped and minds were blown in the courtyard of One Beacon Court, the midtown building where Fux keeps a residence, and where Beyonce recently sold her three-bedroom, 2,600-square-foot condo for just under $10 million. At the sight of this emerald-green, carbon-fiber-scaled dragon, Queen Bey herself might inquire as to how she might saddle one up. McLaren would have to advise The Carters to scour the secondary market, perhaps by making nice with Fux: All 500 Sennas have been presold for roughly $1 million, or much more with bespoke options. Many will surely be tucked into private collections and camera-surveilled garages and rarely seen again.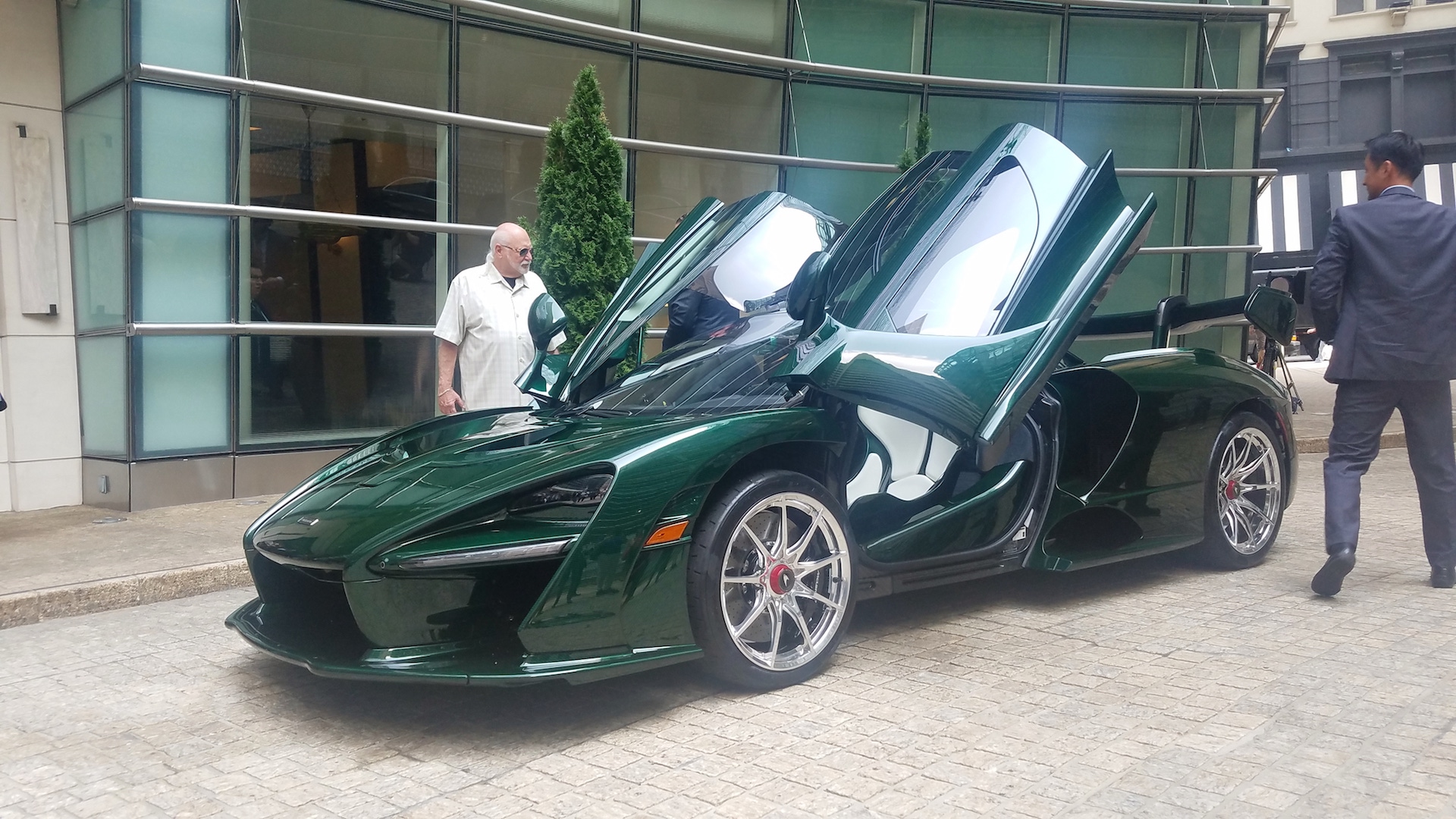 Owner Fux takes his first walk-around of his new Senna, Lawrence Ulrich
Fux himself grew up poor in Cuba, moved to America as a teenager in 1958, and made his fortune in mattresses. It would take dozens of cash-stuffed mattresses to amass his current collection of more than 150 cars. Yet Fux fondly remembers paying $25 for his first, a 1950 Ford with rotting floorboards.
"I've loved cars since I was a child," he says, explaining the desire for the Senna and other automobiles for those who might not understand. "It's a piece of art. People pay hundreds of millions of dollars for a picture. This car is rare, and it will never lose its value."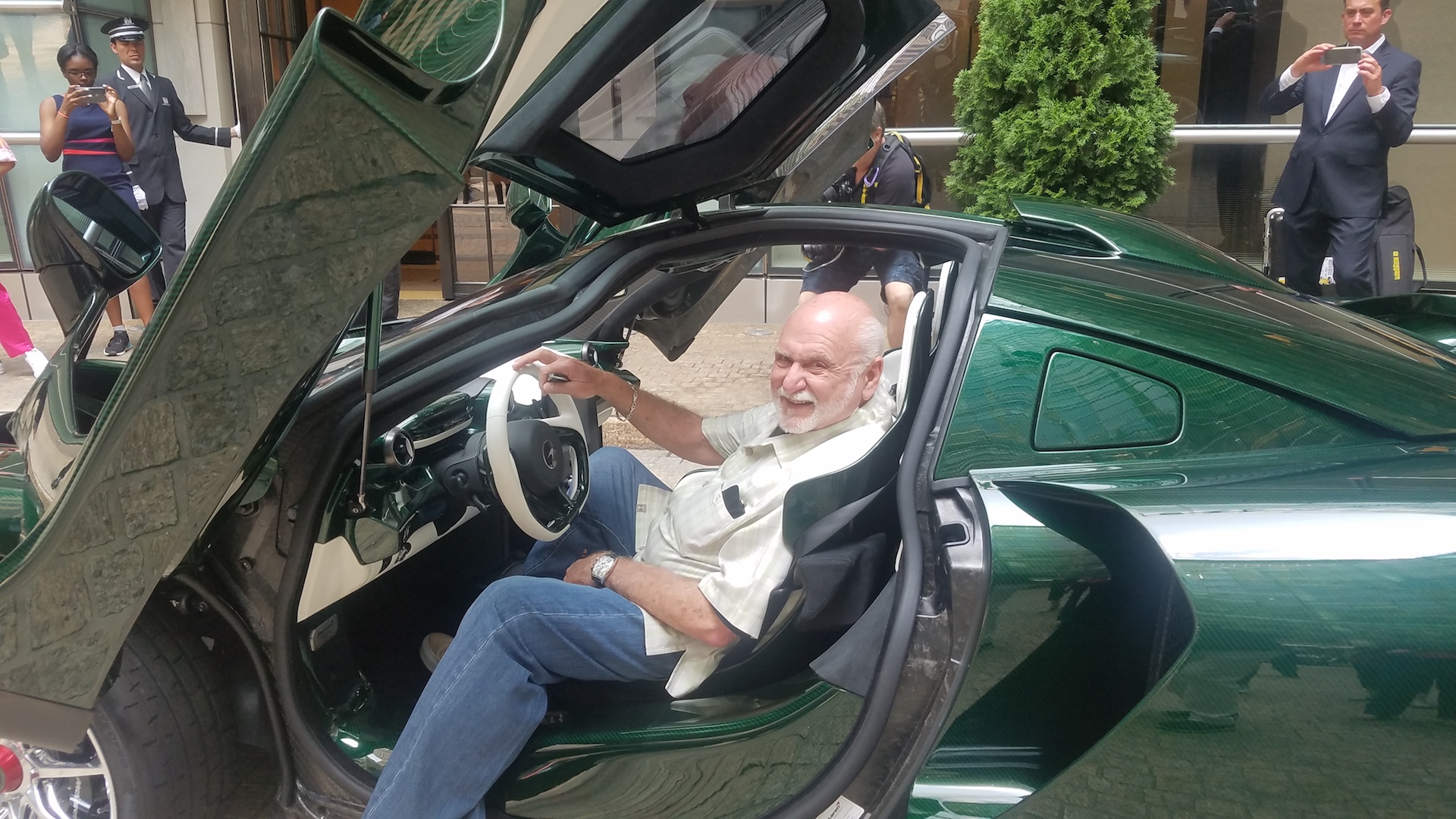 Fux, as always, chose the McLaren's colors to his unique specifications., Lawrence Ulrich
So valuable, Fux says, that he doesn't have the heart to put the Senna on track; despite its power, specs and technology that might shame your average IMSA GTE racer, or the more-powerful Ferrari Challenge racer I recently drove at Laguna Seca. The Senna weighs just 2,640 pounds, with 789 horses from its twin-turbo, 4.0-liter V8, and a boggling 1,760 pounds of downforce at 155 mph. McLaren claims the Senna will bolt to 60 mph in 2.8 seconds, and things get really fast from there: 0-124 in 6.8 seconds (about 0.8 seconds quicker than the new Ferrari 488 Pista), and a quarter-mile in 9.9 seconds.
For all that, "I'm not going to track this car," Fux vowed. "You track it and you beat it up pretty good. This one is too special."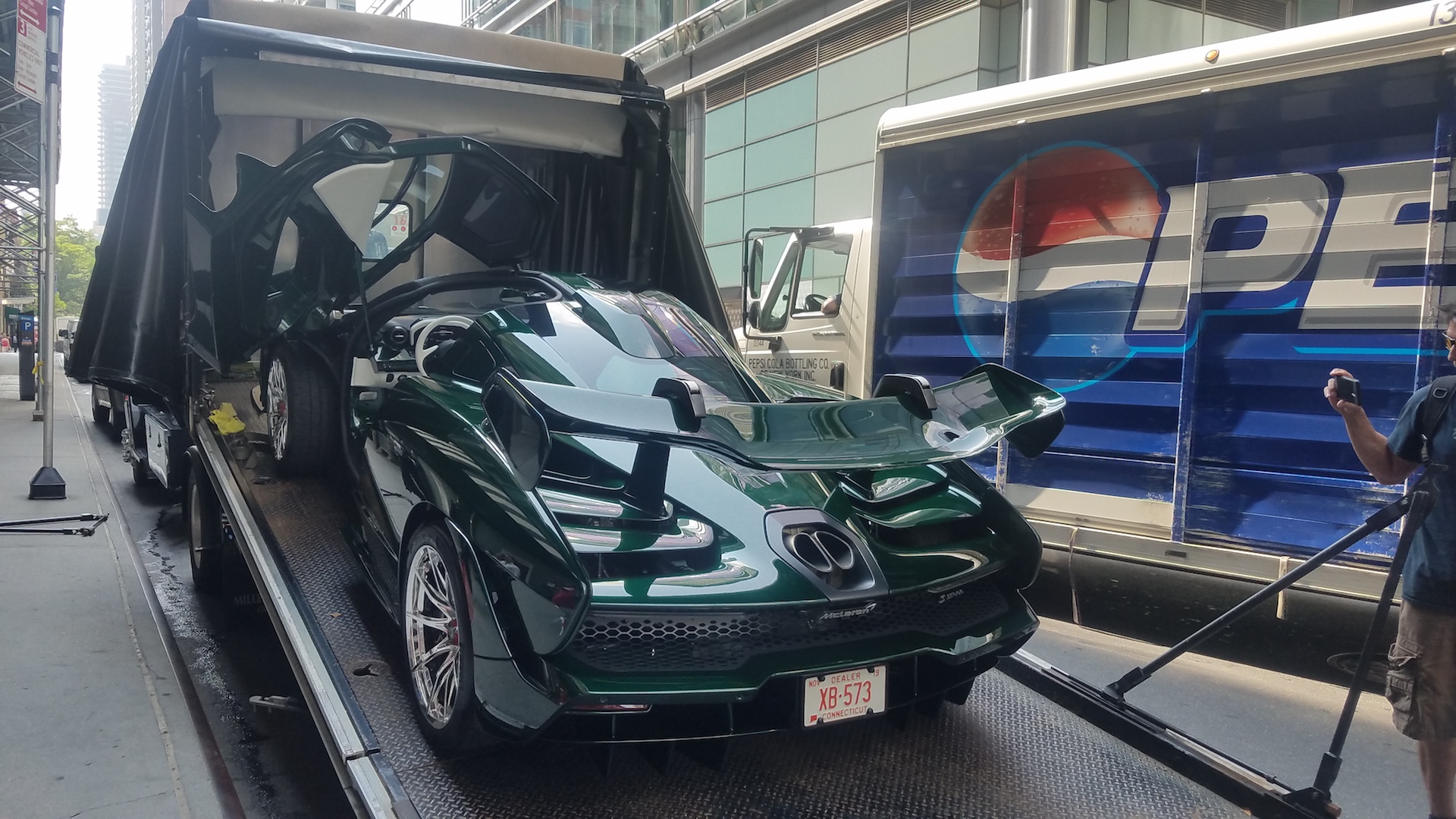 Special delivery: World's first customer Senna arrives in midtown Manhattan, Lawrence Ulrich
(Fux did promise to drive the car very fast, both near his New Jersey manse and after trucking the McLaren down to another residence in Florida).  If Fux is known for his collecting, he's become downright notorious for his, um, enthusiastic color choices that have seen his taste or eyesight questioned. My eyes are still smarting over the green (inside and out) Rolls-Royce Wraith I encountered in a Pebble Beach parking lot, which resembled a three-ton after-dinner mint. I had never heard of Fux at that point, and recall mumbling, "Who the fuck would do that to a Rolls-Royce?" (Fux, that's who). Then there's the "Fux Fuschia" McLaren 720S, so purple that it could make Prince shimmy, lasciviously, in his grave.  Fux, 74, whose white hair pulls a U-turn from a balding pate,  takes the criticism in stride. It seems barely worth noting that he doesn't give a damn what other people think.
"I like to create my own color combinations," he says. "People tell me, 'You're crazy, it's not going to look right.' But then people see the cars and they go nuts."
Fux tells me he's just returned from a week in Sun Valley, Idaho, looking at flowers for new color inspirations. But his Senna's custom emerald paint —a $300,000 upcharge, for its technically complex tint that exposes the carbon-fiber weave below—wasn't found in nature. Fux was visiting McLaren in Woking, U.K., and a particular green paint (originally developed for the P1) wasn't coming together for him. Fux promptly pulled off his own, green shoe and plunked it down as a makeshift color swatch.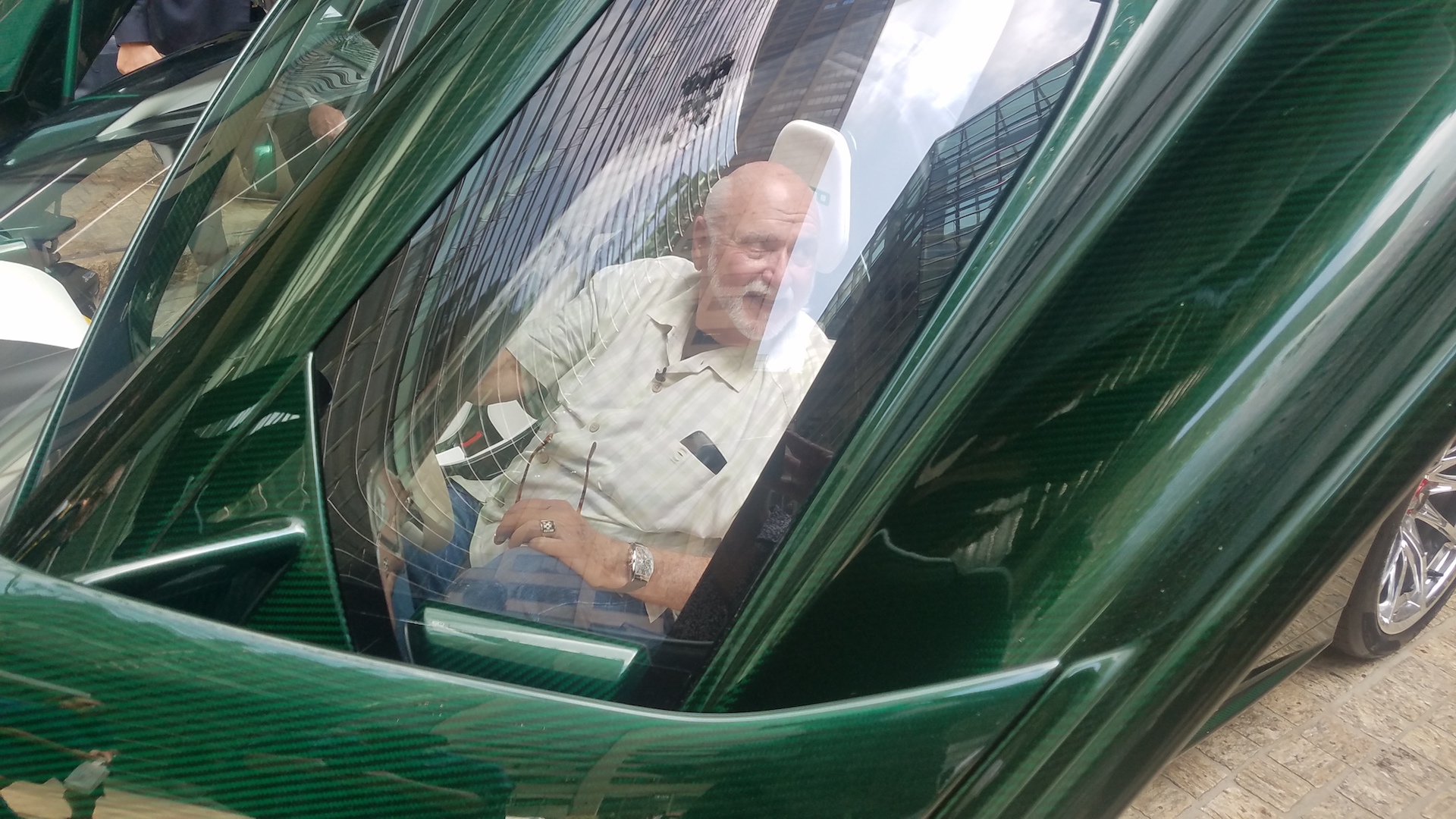 Through the looking glass: Transparent panels on the Macca's dihedral doors, Lawrence Ulrich
Like its owner, Fux' Senna also doesn't give a damn what anyone thinks about its design; least of all the broke-ass adolescents who have filled the Internet with their unsolicited opinions. Viewed in the flesh, the Senna does seem the most brutally functional McLaren yet, from a company whose remorseless pursuit of function is a calling card. Even a McLaren PR rep allowed that the Senna will rarely be described as pretty. Track cars rarely do "pretty," so the Senna's desirability centers around technical bona fides that would draw a "hubba hubba" from anyone fortunate enough to drive it—which we're assured will include The Drive in coming weeks. Those bulging physical attractions include ground-teasing, sickeningly engorged air inlets; the Monocage III carbon-fiber monocoque, and a "K-Damper" linked hydraulic suspension. The adjustable, air-braking wing out back seems big enough to require its own corner of the factory in Woking, U.K. In this beastly visage, which might frighten any common villager, there is one bit of princess-y, looking-glass fantasy: Transparent door panels on the up-swinging dihedral doors, a feature that BMW failed to pull off in the i8's evolution from concept car to showroom. My only real criticism was the too-bright chrome wheels and their crowded spoke pattern, which seem more suited to a four-door barge than a bonkers hypercar.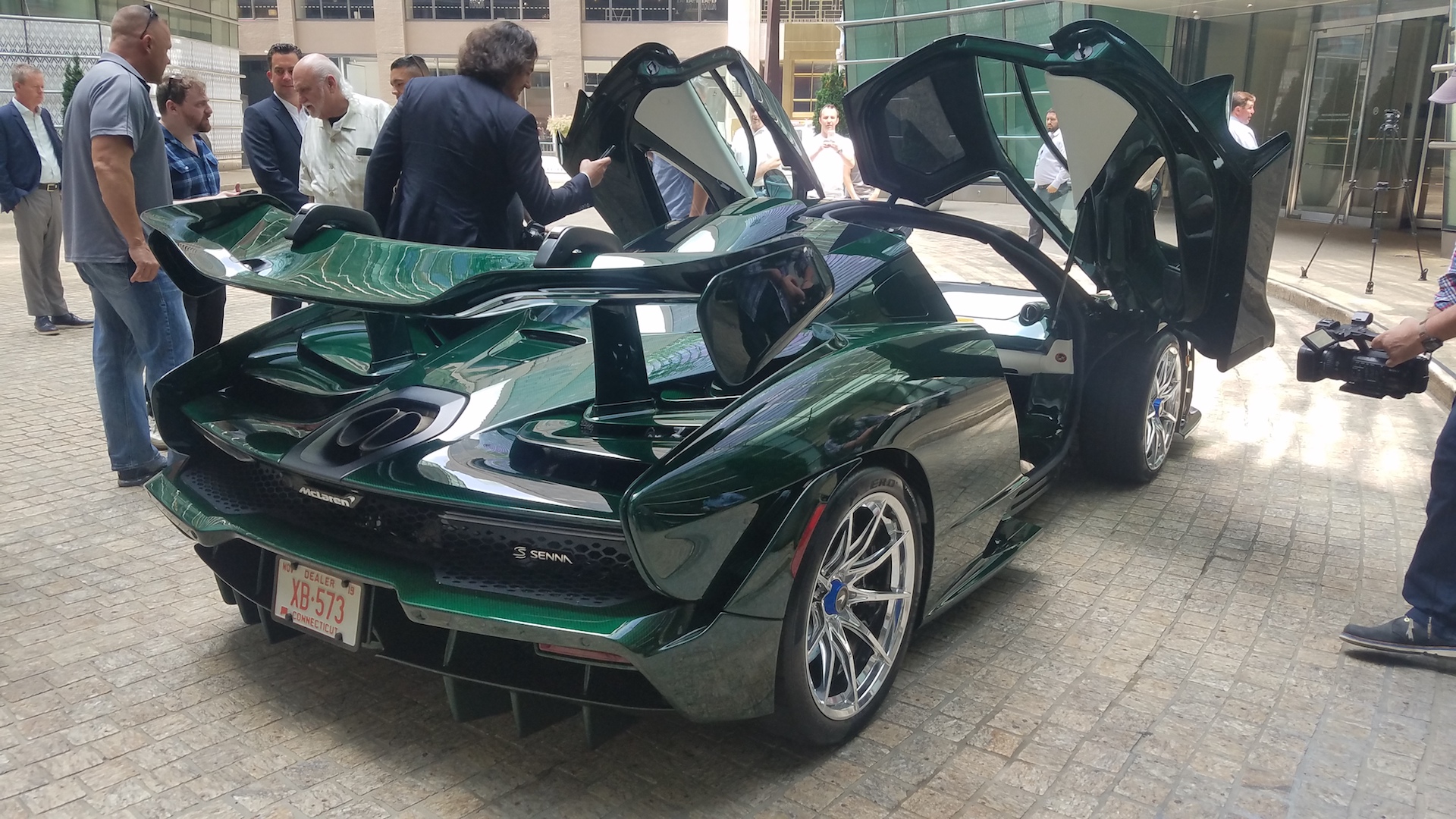 Carbon-fiber wing generates crowds, along with 1,760 pounds of downforce at 155 mph., Lawrence Ulrich
With the scent of so much automotive money wafting around, Fux is naturally asked what he thinks of President Trump's threatened tariffson imported cars, stiff enough to add charges at least $200,000 to the price of cars like his Senna. Fux said that tariffs might not affect him personally, but would hit hard at people of more-modest means.
"It's a mistake, because a lot of people are going to suffer, people who can't afford to pay any more" for a car, he says.
Fux, should he care to expand his candy-colored collection, can always tear open another mattress.