New York City interior design duo Mercedes Desio and Alberto Villalobos create habitats for globetrotting clients. They craft the type of spaces that appear on the pages of Luxe, Domino and Curbed, and in the hallowed halls of the Kips Bay Decorator Show House, for the type people who might drive a Bentley from their city place on Central Park to their country estate in Connecticut.
So when we recently came into possession of a $250,000 Apple Green Continental GT-S V8, we swung by the duo's midtown office and invited them to provide their expert impressions of the Conti's interior while we chauffeured them around town, as part of our ongoing series Interior Designers Critique Car Interiors.
As the natty pair climbed in off Lexington Avenue, they were immediately struck by the sportiness of the big coupe's cabin. "It's definitely the opposite of what I expect of a Bentley," Desio said, sliding into the cozy back seat. "I feel more like I'm going to Le Mans than driving around the Riviera."
Villalobos concurred. "It's much younger, more youthful," he said, noting the broad expanses of exquisitely lacquered carbon fiber that dominated the center console and dash panels. "Though what is young and old anymore? Anyone in their fifties today it's like someone in their late thirties in the past. We're living different, we're taking care of ourselves different, and we're enjoying things different."
Young or old, we wonder—as we often do—if including highly polished plastic is appropriate in a vehicle that costs as much as a large Midwestern house. The pair had an interesting perspective. "It's technology, that's the thing," Villalobos said. "There are elements—like pleather for us today—that we might not love now, but when it came up in the Thirties and Forties for modern furniture, it was one of the most interesting materials to use. It was super avant-garde. So it depends. You see it as plastic, and yes it is plastic, but it's not just plastic. It represents this journey. And it's technology and it's aerodynamics and it's lightweight. It makes you think about velocity."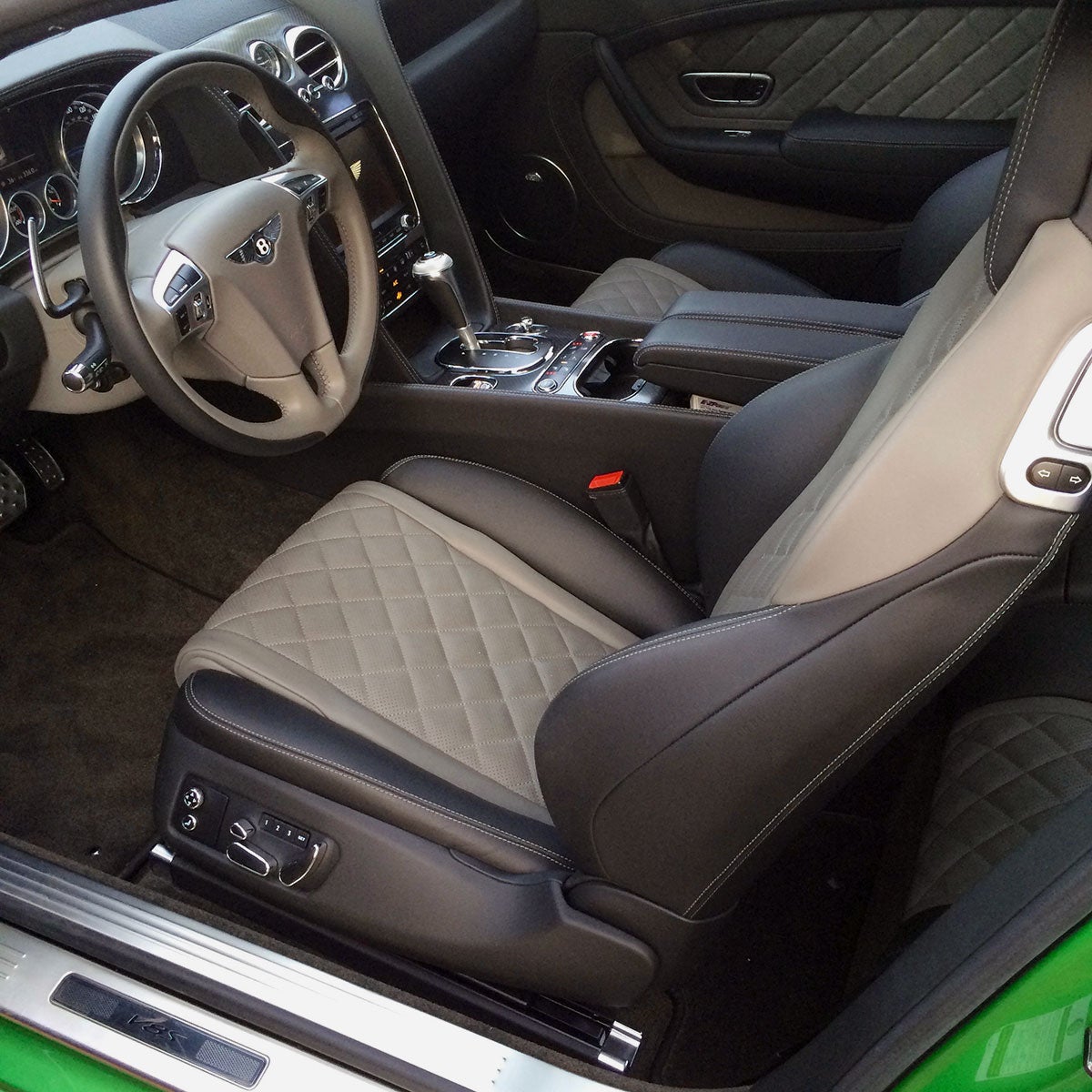 Brett Berk/autance.com
"I would definitely do the wood veneer, just because I'm very old-fashioned when it comes to that," Desio said, demurely.
One thing on which there was no grey area was the two-tone charcoal-on-dove grey hides that covered nearly every bit of the interior, including the ceiling. "This is truly our color palette," Desio said. "Very neutral, greys, maybe some splashes of color. And the quilting and the perforation, it's like, every time you look, you see these additional layers of detail and craftsmanship that is characteristic of this car."
But it is not just the artistry of the leathers that seemed on brand for the pair. "In small spaces, darker tones always make the space appear bigger," Villalobos said, breaking us of our own preconceptions. "Also, neutrals like this make any room eternal. You don't get tired of it, you feel like it's always fresh, it's always new."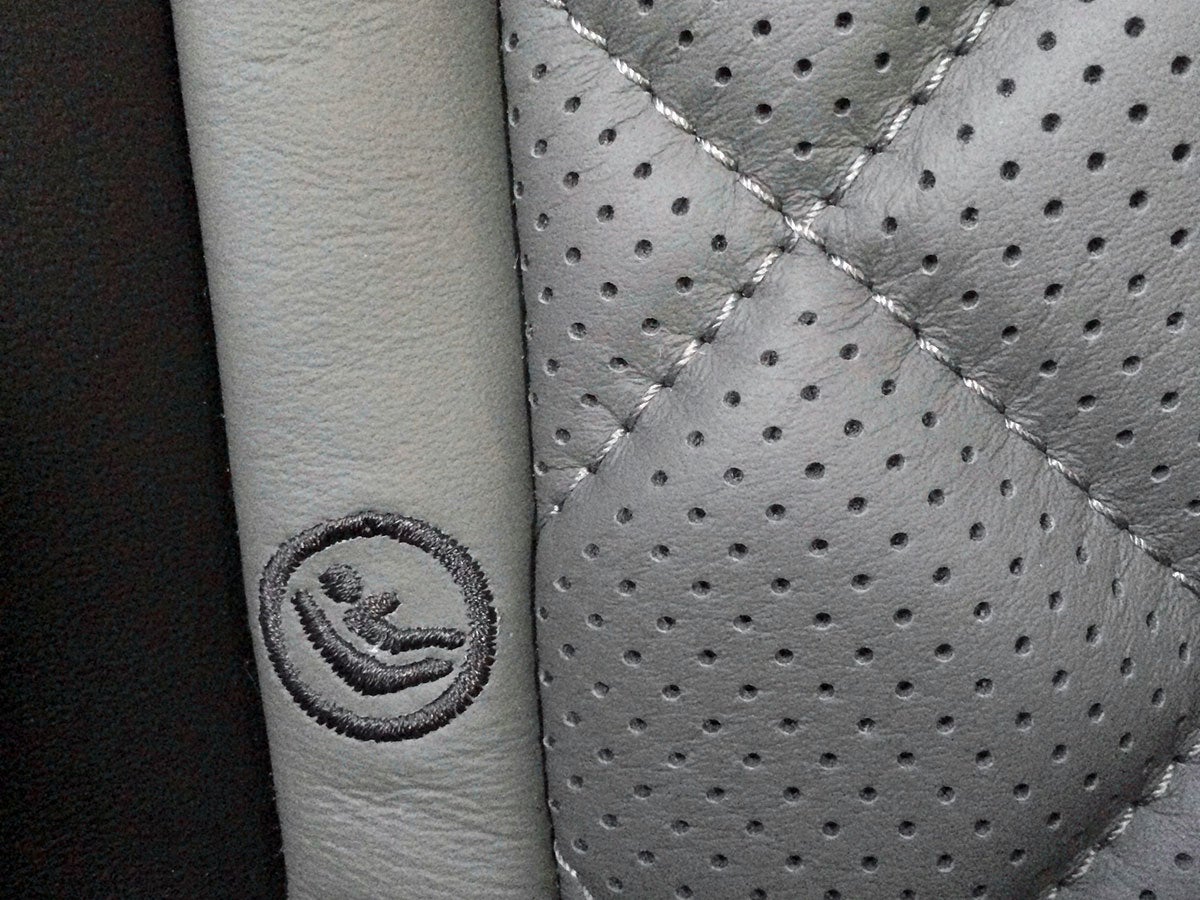 Brett Berk/autance.com
Beyond this, darker colors seem to have an added interior value in their durability, especially in our age-blurring times. "It doesn't matter what you do or who you are or how old. At least fifty percent of the time, people are tending to wear denim," Villalobos said. "And denim bleeds. It doesn't matter if it's $800 Pradas, or if it's $40 H&Ms, they're going to bleed. And in a car, like in a home, things need to be great but they don't need to be too precious. They need to be livable, they need to be used, and they need to age well. If things don't age well there is a flaw in the design." Apparently, splotchy blue butt swipes on white tufted leather is not an example of aging well. Go dark.
The designers also fawned over the orb-like solid-metal HVAC vents, the subtly knurled and Flying B-branded switchgear, and even the ribbed diamond quilting in the grippy rubber insert at the base of the cup-holders and phone bins. In fact, it was difficult for them to find elements of the interior that they didn't love.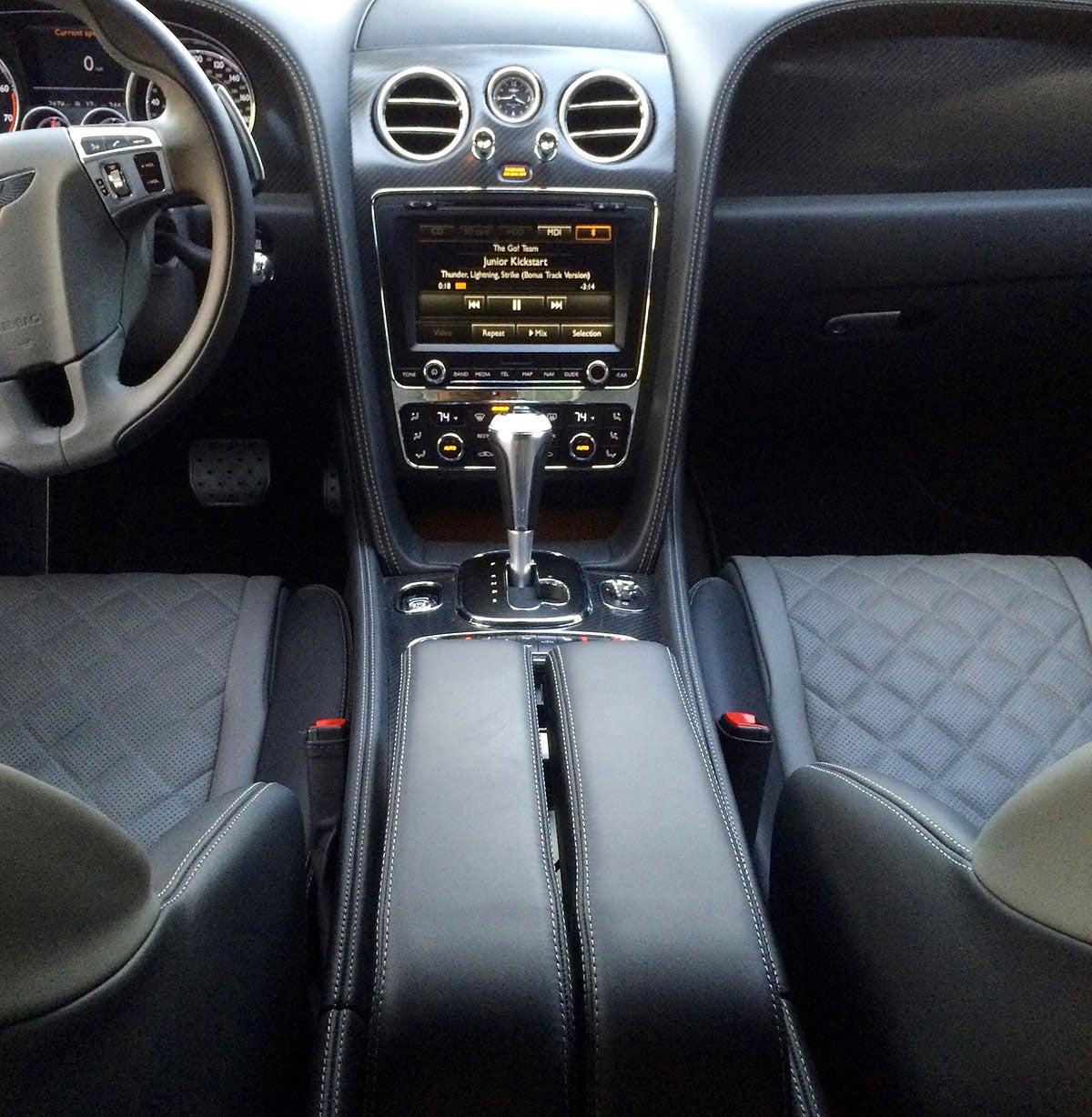 Brett Berk/autance.com
The map lights definitely fell into this category. "LED," Desio scowled as she toyed with the switch. The pair tries their best to avoid this lighting source in interiors. "The sun makes us happy, we need yellow light. And we look better in yellow light," Villalobos said, checking himself in the visor mirror. "You are not always fulfilling a task. This is task lighting. And luxury is the opposite. It is the void, the empty space, free time."
They were impressed, if slightly confounded by the infotainment system, which we left mainly in the off position for our travels. "We love the navigation system. Everyone needs one," Desio said "But," Villalobos added, "we have lots of clients that want to go back to basics. They're like, don't give me a complicated lighting or T.V. system. Especially because we design a bunch of second or third or fourth homes, they're like, I don't live there all the time. I won't remember how it operates."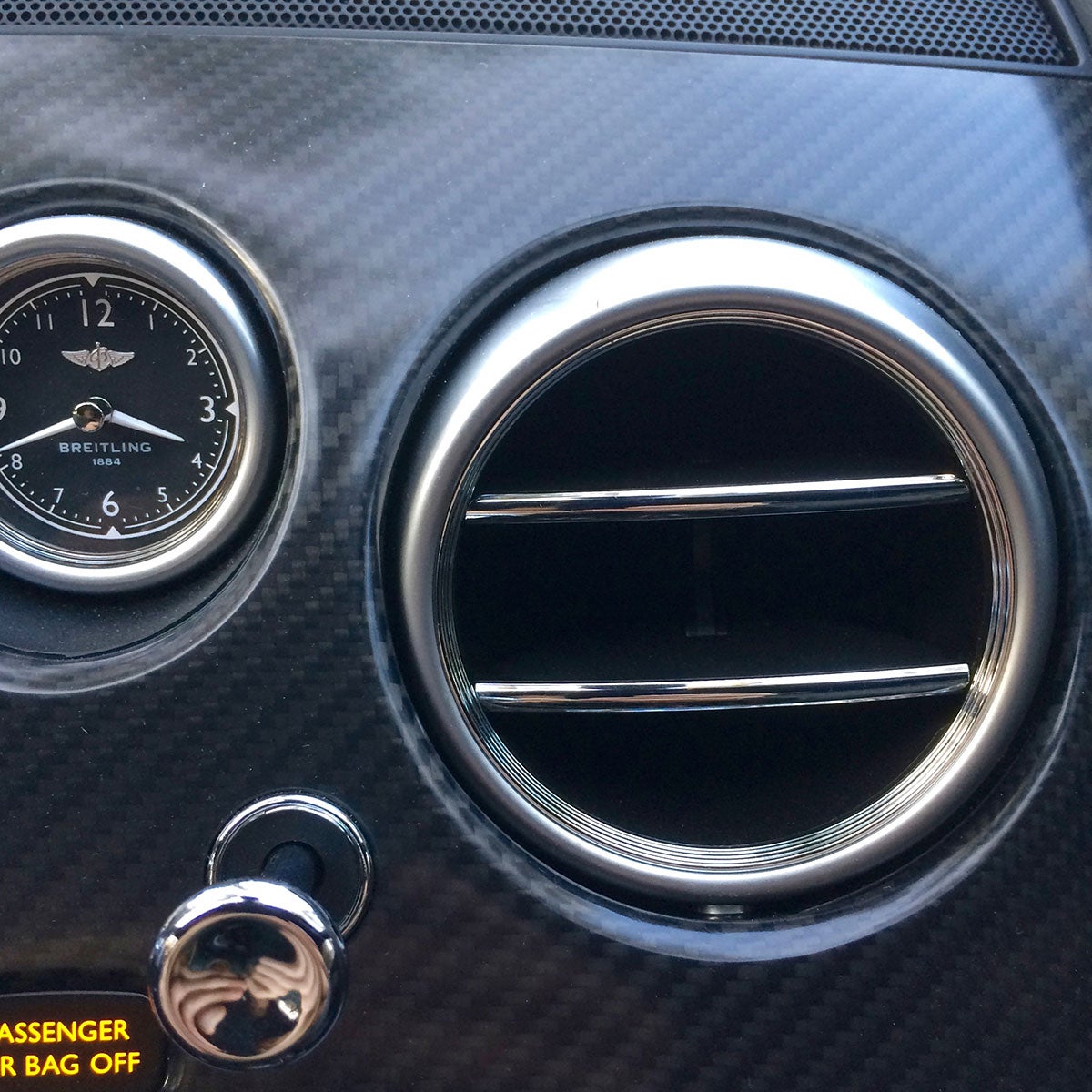 Brett Berk/autance.com
Villalobos' eye kept returning to the sun visor, and eventually, he pointed at a pair of broad, yellow plastic stickers attached to its fine dark leather surface, alerting passengers to the presence of the car's airbags. "Everything inside is saying something beautiful, perfect, and then you get here," he flicked at the visor, disdainfully, "which is something that is right in front of your eyes every time, and it's like, Huh, what happened?"
Desio agreed. "It looks like an afterthought."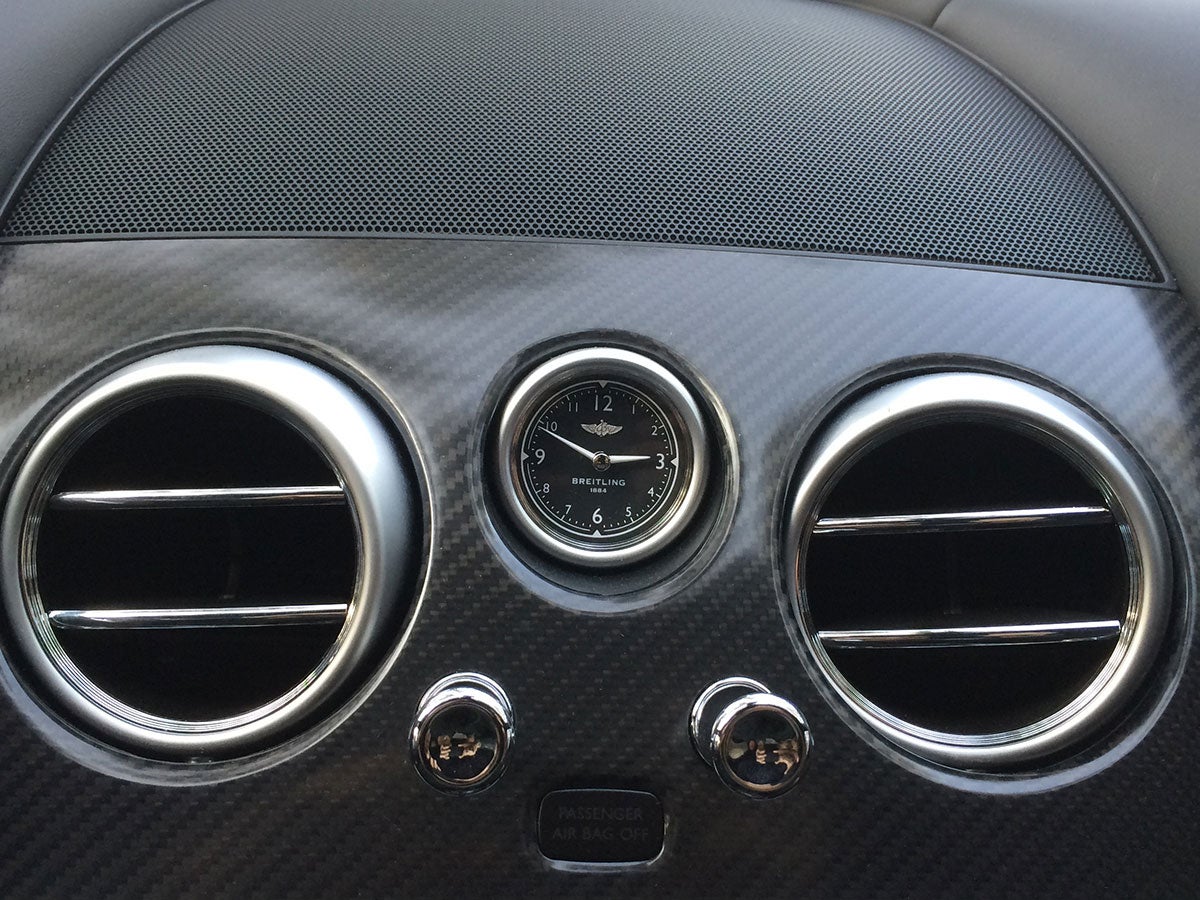 Brett Berk/autance.com
Being solution oriented, the pair worked, as we drove up Park Avenue, to come up with a suitable patch. Finally, Desio pointed out the symbol for the kiddie-seat LATCH anchor in the back seat. "They embroider these, for the children's seat belts. They could do the same on the visor," she said, making a sewing motion.
In a Bentley, even the exploding airbag warning should be hand-stitched, of course. "At the end," Villalobos adds, "the devil, or God, is in the details."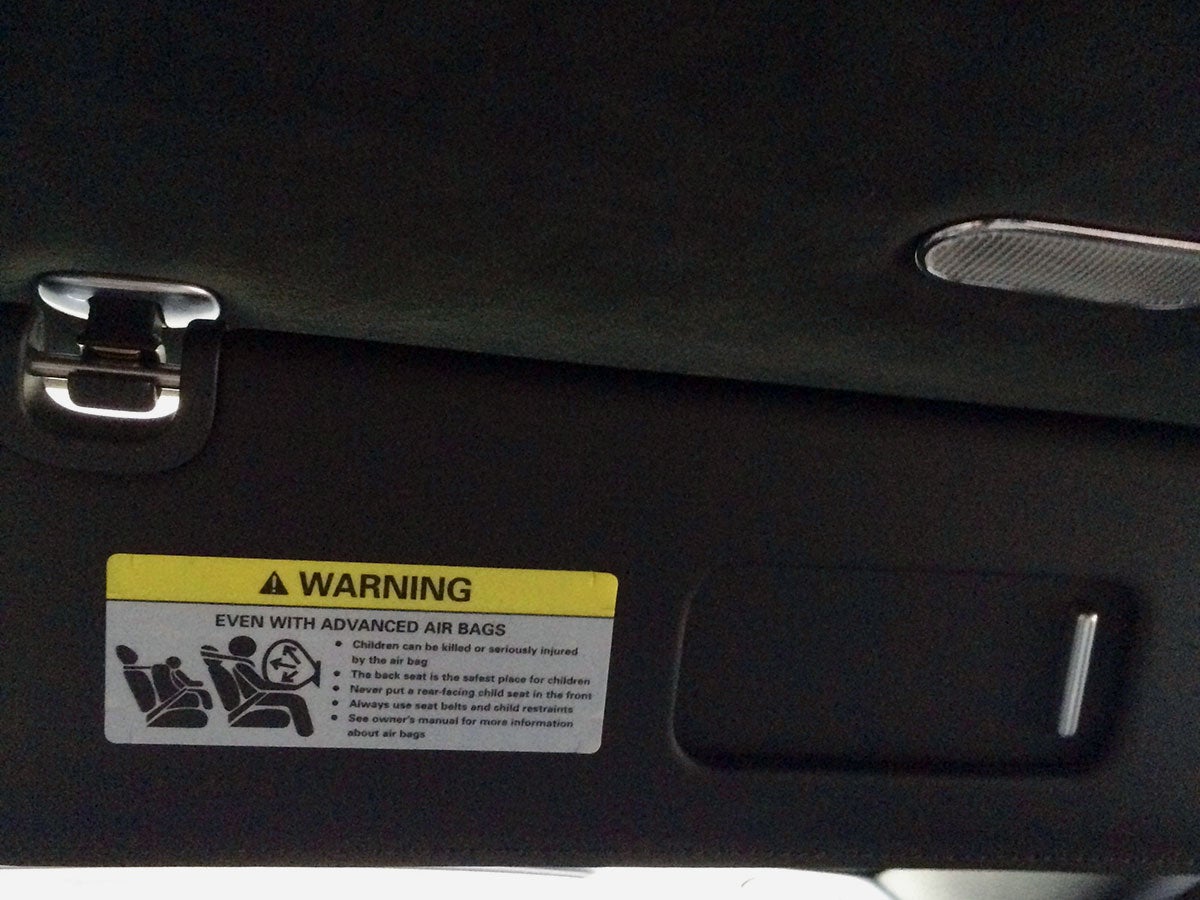 Brett Berk/autance.com