I'm used to driving long hours behind the wheel, all thanks to the courtesy of being a midwestern, ex-rideshare driver existing in a city with poor public transportation. Recently, after an impromptu trip to Detroit, I said "screw it, why not?" and drove my little Italian discount sporty city car down I-94 to Chicago where I saw this sad thing.
Chicago's cute; loads of great people, picturesque spaces, and culture that Columbus, Ohio can't hope to match. It's also got really awful roads, terrible winters, bad traffic, and overall can be a hellscape for any motorized vehicle with wheels.
While walking around the neighborhood that encompasses my airbnb, I stumbled upon this forlorn Lincoln Continental.
Car: Ninth-generation Lincoln Continental
Location: Chicago – Humboldt Park area
Photog: Kevin Williams (IG + Twit @gaytona_usa)
Camera: iPhone 12
These Continentals weren't so good. Ford, in its everlong wisdom, stretched the Taurus a bit, gave it a V8 engine, and sold it with old-world styling as the new Lincoln Continental. The market was kind of meh on the Continental, as it failed to be as good as other FWD luxury cars of the era, like the Cadillac DeVille or Oldsmobile Aurora.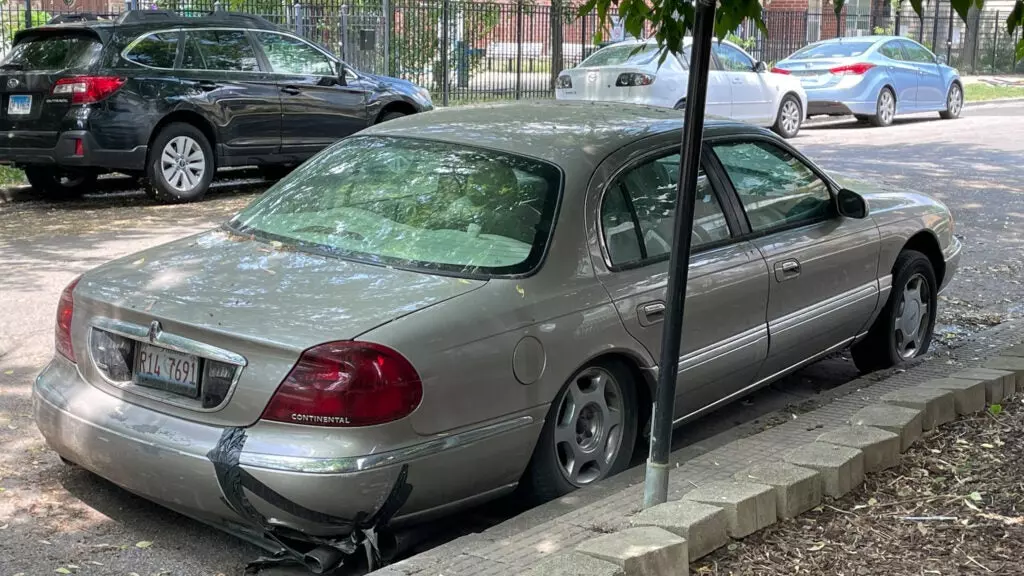 Not sure if this car is abandoned, but it looks like it. The engines in these cars are okay, but the transmissions are known for being exceptionally fragile.
These cars came with self-leveling suspension but clearly, that shit's broken, and the car is now suffering from what I like to call rocks-in-the-trunk syndrome. I don't know what it is with Ford midsized sedans of this era – it seems like every Taurus, Sable, Contour, or Conentnal of this era has the same sagging rear-end look. Did Ford screw up with a supplier or something when they specified the specs for the rear springs?
A quick n dirty search shows that the Ford Taurus is equipped with springs and shocks that wear out and go soft over time. The only real fix is to replace them with new springs and shocks.

Somehow I think this Continental might need more than just springs, though.