Early in 2021, Kia refreshed its brand with an all-new logo. But for what feels like forever now, car reviewers have been talking about how far Kia has come from its early days in America. The latest change comes during a time when Kia has been turning over nearly its entire lineup by debuting exciting modern designs, entering new vehicle segments, and launching its first electric vehicles. The Korean brand has shown great evolution throughout the past three decades, and this throwback video of the 1994 Los Angeles Auto Show is a great look at Kia when it was first establishing itself in the U.S. market.
Motorweek dropped one of its excellent old-school video reports today, and it focuses on the '94 show in LA. As host John Davis points out, this event served as Kia's big debut and introduction in America.
The video shows off two vehicles badged with Kia's old circular red logo. The first is the Sephia, Kia's first independently developed passenger car, and the second is the Sportage prototype. The Sephia, which was later renamed the Spectra, is no longer in production, but the Sportage is, and it just received a complete overhaul with a wild design. Next to the old Sportage, it's clear Kia is feeling itself in 2021 and has much more of an identity.
As stated in Motor Trend's first drive of the 1995 model, the Sportage cost about $15,000 at the time and was equipped with a 2.0-liter single overhead cam (SOHC) inline-four that made a claimed 94 horsepower. That was quickly updated to a double overhead cam (DOHC) engine that made a claimed 139 horsepower. The Sportage that Kia is showing at this week's 2021 L.A. Auto Show is a hybrid equipped with a 1.6-liter turbocharged engine and a 44-kilowatt motor that combine to make a claimed 226 horsepower. Pricing is not out for the 2023 models, but the current Sportage is priced roughly between $25,000-35,000. Kia also showed off a new three-row electric SUV called the EV9 at this week's show. This one is just a concept for now, but it again shows that Kia is not afraid of bold designs.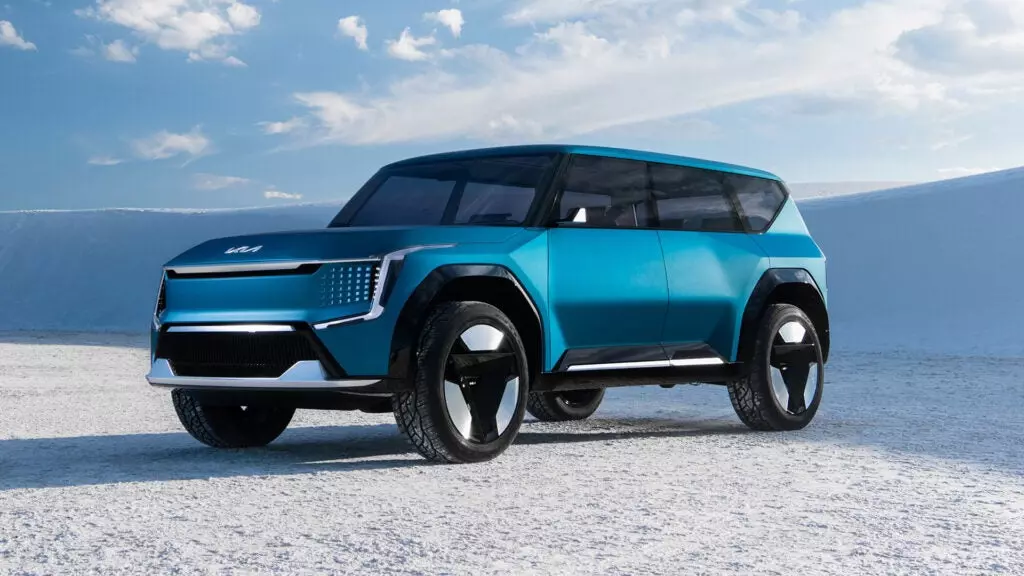 We've primarily focused on Kia, but there are dozens of other great sightings in this short video clip. It includes the Isuzu XU-1 Concept and Trooper Convertible, the Honda Passport, the Mitsubishi 3000GT Spyder, and a Subaru Impreza Coupe. The displays were strikingly similar to today's show with the inclusion of numerous alternative fuel vehicles. We see a Civic powered by natural gas, the crazy Mitsubishi ESR hybrid concept, and the electric Toyota EV50 that's based on a Rav4.
These auto-show rewinds are always great to use as litmus tests of how things have changed or shifted within the industry. Judging by the vehicles shown here, Kia has changed tremendously, while the industry is still focused on several of the same ideas. If you're looking for more vintage show footage, check out this post about what SEMA was like in 1997.
More great stories on Car Autance