The racing landscape has changed drastically over the last few decades. Once upon a time, only the manliest of middle-aged men were considered fit to drive high-power race cars, while younger, less macho, and not to mention, females, had to stand aside and watch from the sidelines. Thankfully, none of this applies nowadays, at least in the Battery Tender Global Mazda MX-5 Cup.
I've always known that the Mazda-powered spec series was competitive, affordable (in racing terms), and that it attracted talent from all walks of life, but I didn't fully comprehend just how true all of these notions were until I found myself at the MX-5 Cup paddock at Road America in Elkhart Lake, Wisconsin. There, I talked to several drivers ranging from 37 to 14 years old—yes, 14—about how they got to where they're at and what they love most about the series.
The Series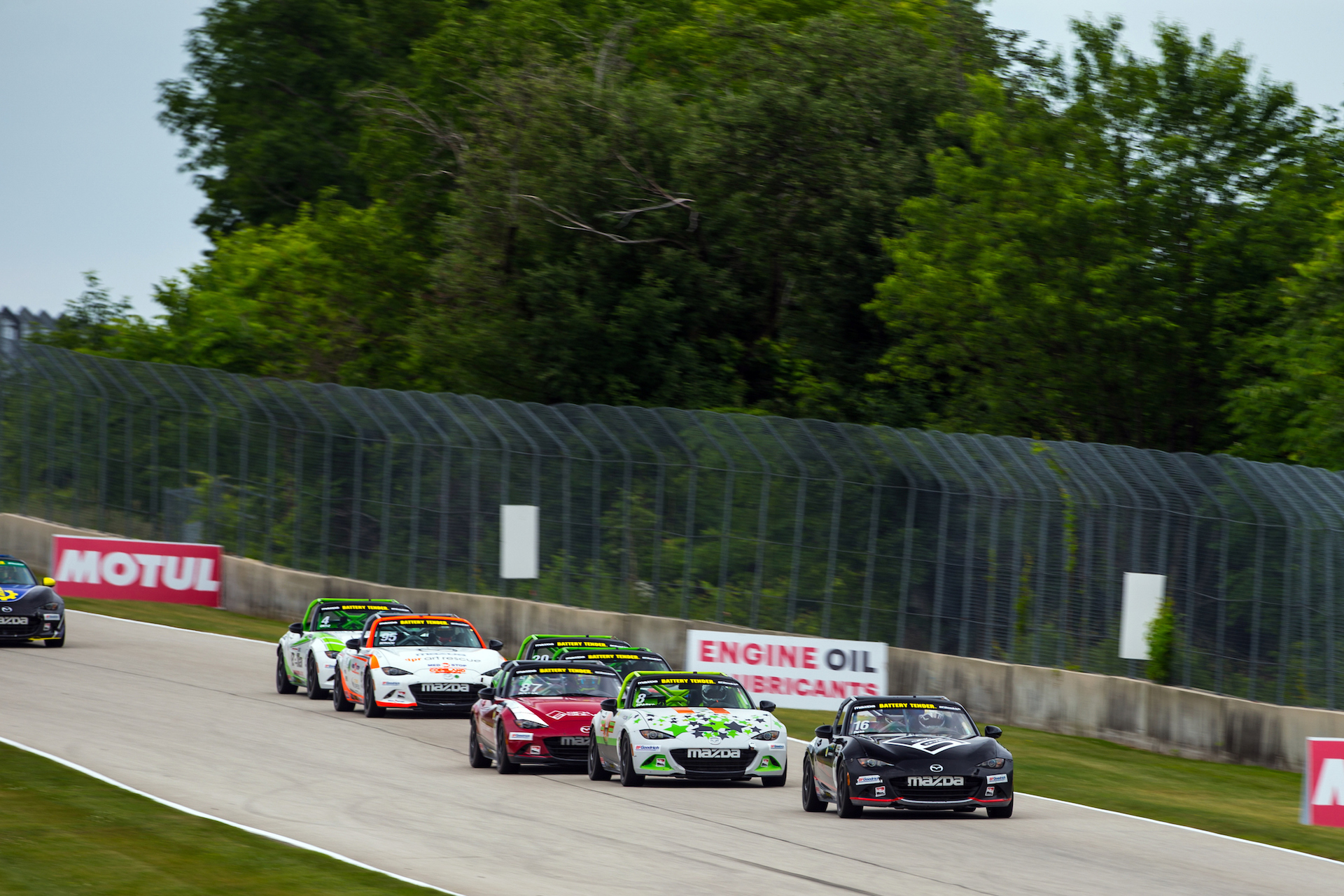 "Trains" of six to eight cars is a common sight in the MX-5 Cup., Ignite Media- Halston Pitman
Let's start with the Global MX-5 Cup itself. It consists of twelve racing events at six premier racing venues in the United States, where an average of 25 full-time participants compete for bragging rights and a hefty $200,000 championship purse courtesy of Mazda. The winner of the purse gets to apply his winnings or "scholarship money" towards another racing campaign within the Mazda Motorsports family. In addition, the series' rookie of the year can also earn a $75,000 scholarship.
The Car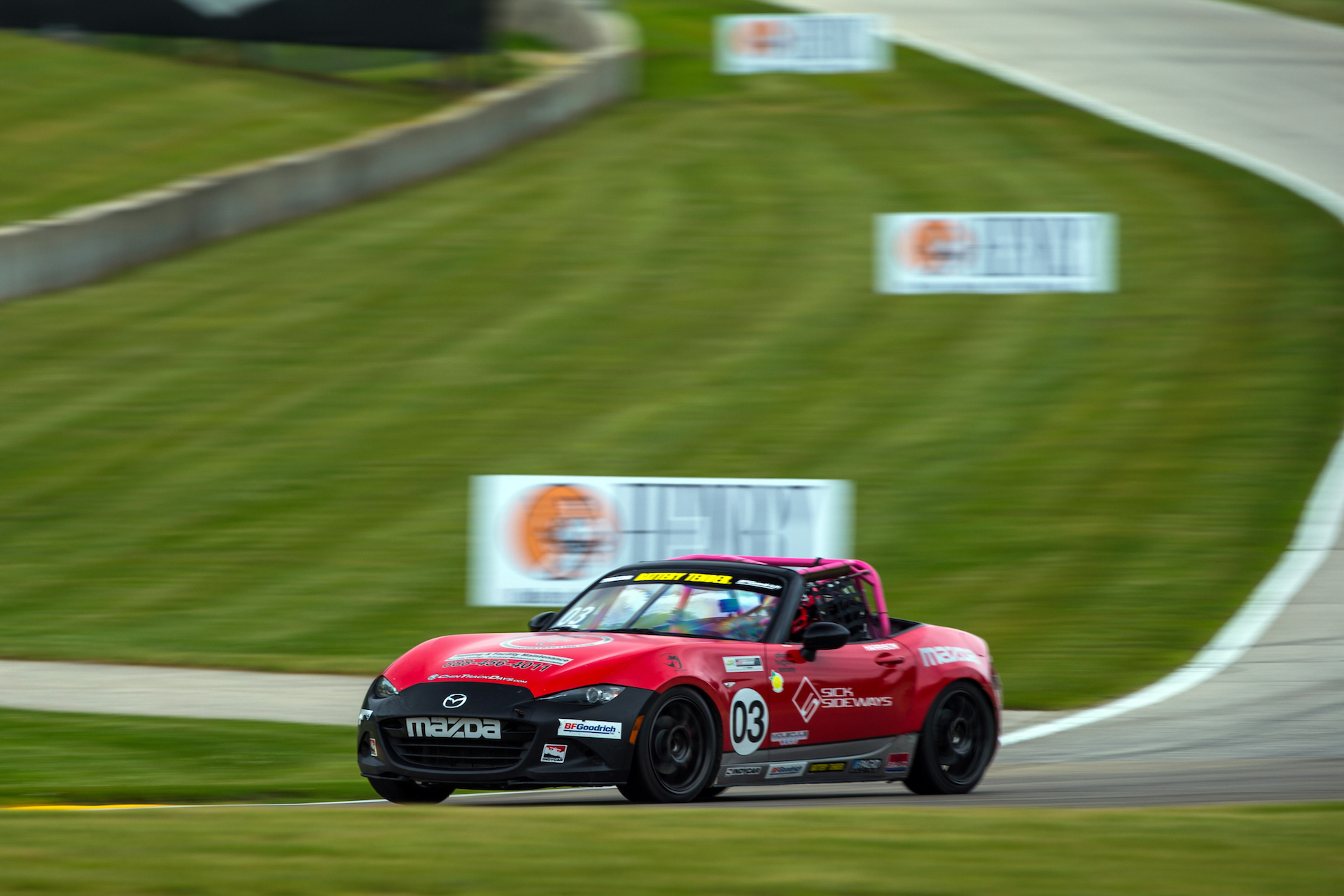 Ashton Harrison., Ignite Media- Halston Pitman
Don't let the cool graphics fool you, under the shouty facade of these Mazda MX-5 Cup race cars there is the same 155-horsepower Mazda Skyactiv 2.0-liter four-cylinder engine that the road-going car uses. While the power output remains the same, more than 250 motorsports-specific components such a roll-cage, suspension, brake rotors, radiator, and others are installed to withstand the heavy-duty stress of road racing.
The People
Sure, race cars are cool, but they're nothing without the drivers who pilot them.
John Dean II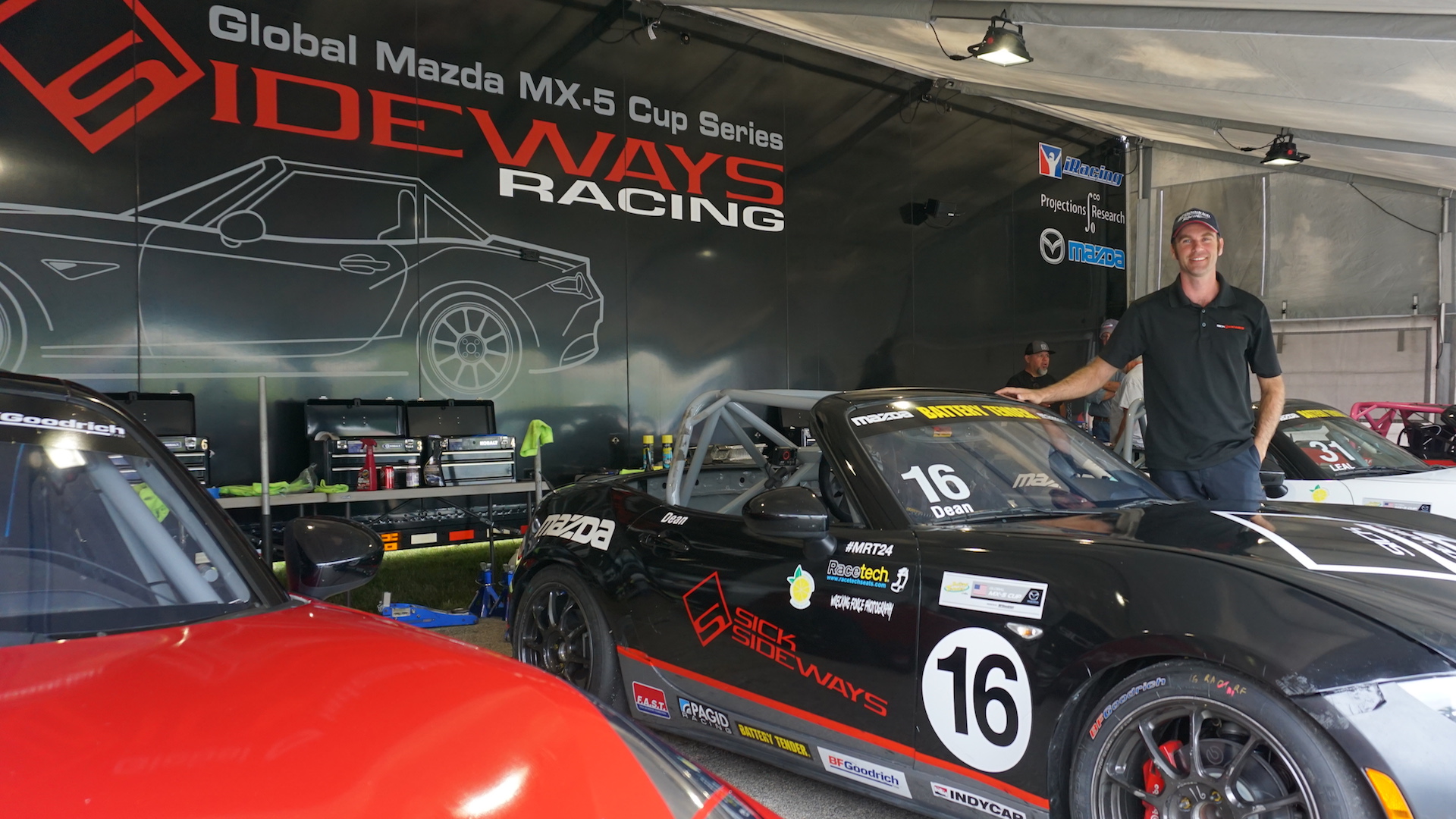 DrivesWGirls
Take a quick look at him and you can tell the man's seen some stuff. Not like Vietnam kind of stuff, but he's done it all: Lead the field, win races, and clinch championships. He exudes a Steve McQueen-like kind of confidence. Dean currently races in the series, but he's also the owner of Sick Sideways Racing, an organization that runs six full-time cars and drivers.
"For the people who want to compete, and learn about super-close racing, and get really good at it, there's no better place than the MX-5 Cup," said Dean. "This series caters to those guys who want to race for the love of it, but also the drivers who feel the need to win in order to move up to other series. It's just a great series all around."
Dean managed to win both races at Road America, with several of his Sick Sideways teammates also placing in the top five.
Selin Rollan
DrivesWGirls
Selin Rollan is one of Sick Sideways' drivers and also last year's winner of the Mazda Road to 24 Shootout, which earned him a $100,000 scholarship towards an MX-5 Cup drive after several years of racing in the Spec Miata series. Interestingly enough, Rollan makes living selling cars at Classic Mazda in Orlando and credits Mazda's scholarship and "organic" system of promoting drivers for much of his success in the world of motor racing.
"I was fortunate enough to win the scholarship, and that's how I'm here. I'm lucky to have Mazda backing me," said Rollan. "This is a very organic way as far as your skills getting you the money. It's the way drivers hope and dream to make it through racing, yet that's not always the case."
Ashton Harrison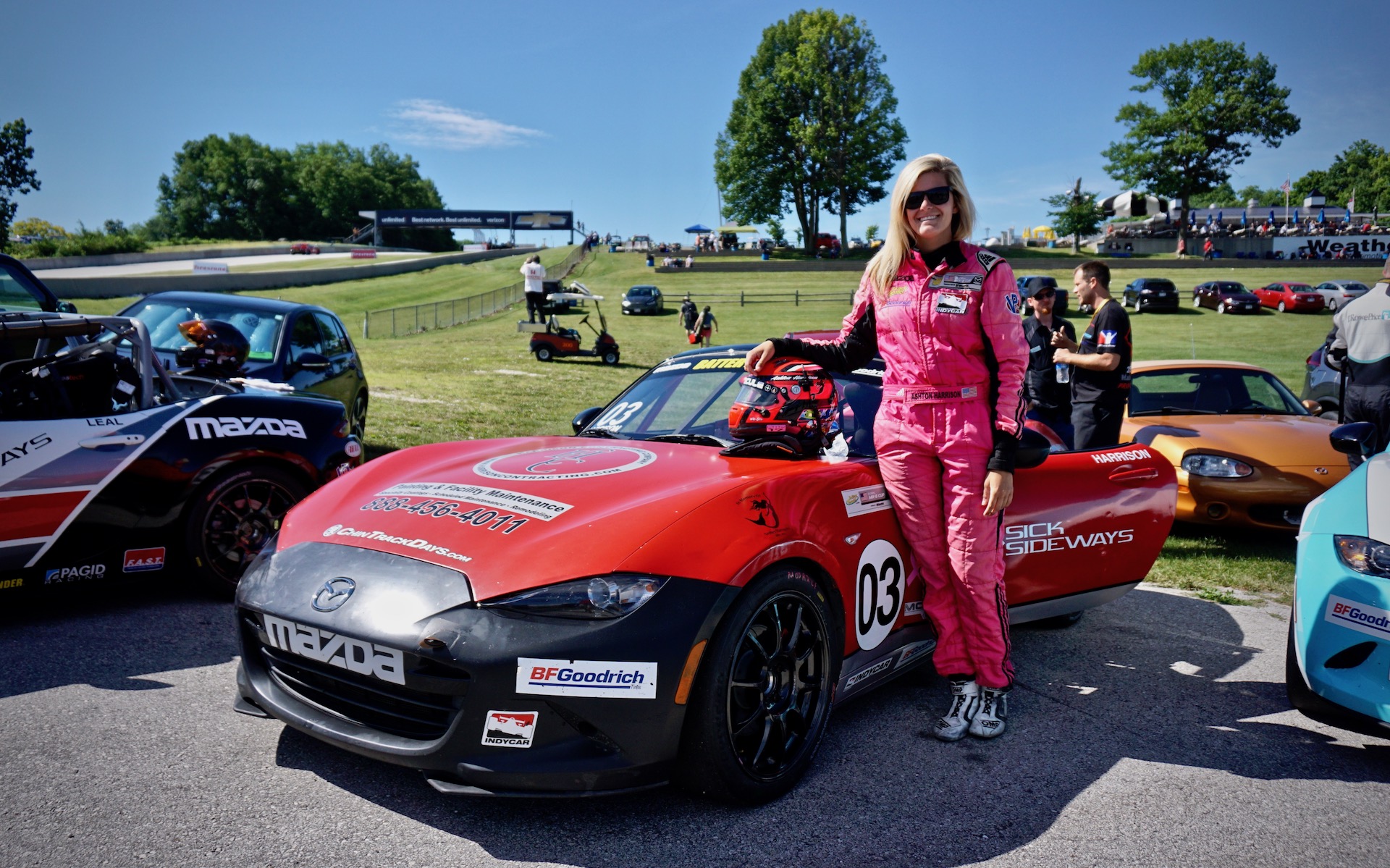 DrivesWGirls
Another one of Sick Sideways' talents, Ashton Harrison is the only female in the MX-5 Cup and one of the fiercest competitors in a series that's known for its ruthless wheel-to-wheel racing. Unlike most of her competitors, Harrison skipped karting and went straight into sports cars after excelling at the Bob Bondurant Racing School and other regional series. A living definition of determination, Harrison failed to get her learner's permit a whopping three times but now works as a driving instructor at the Porsche Experience Center in Atlanta.
"Once you start driving Miatas it's ridiculously hard to get out of them," said Harrison. "When you manage to pass someone and beat them and you realize that you're in the same exact car, it's so much fun."
Nikko Reger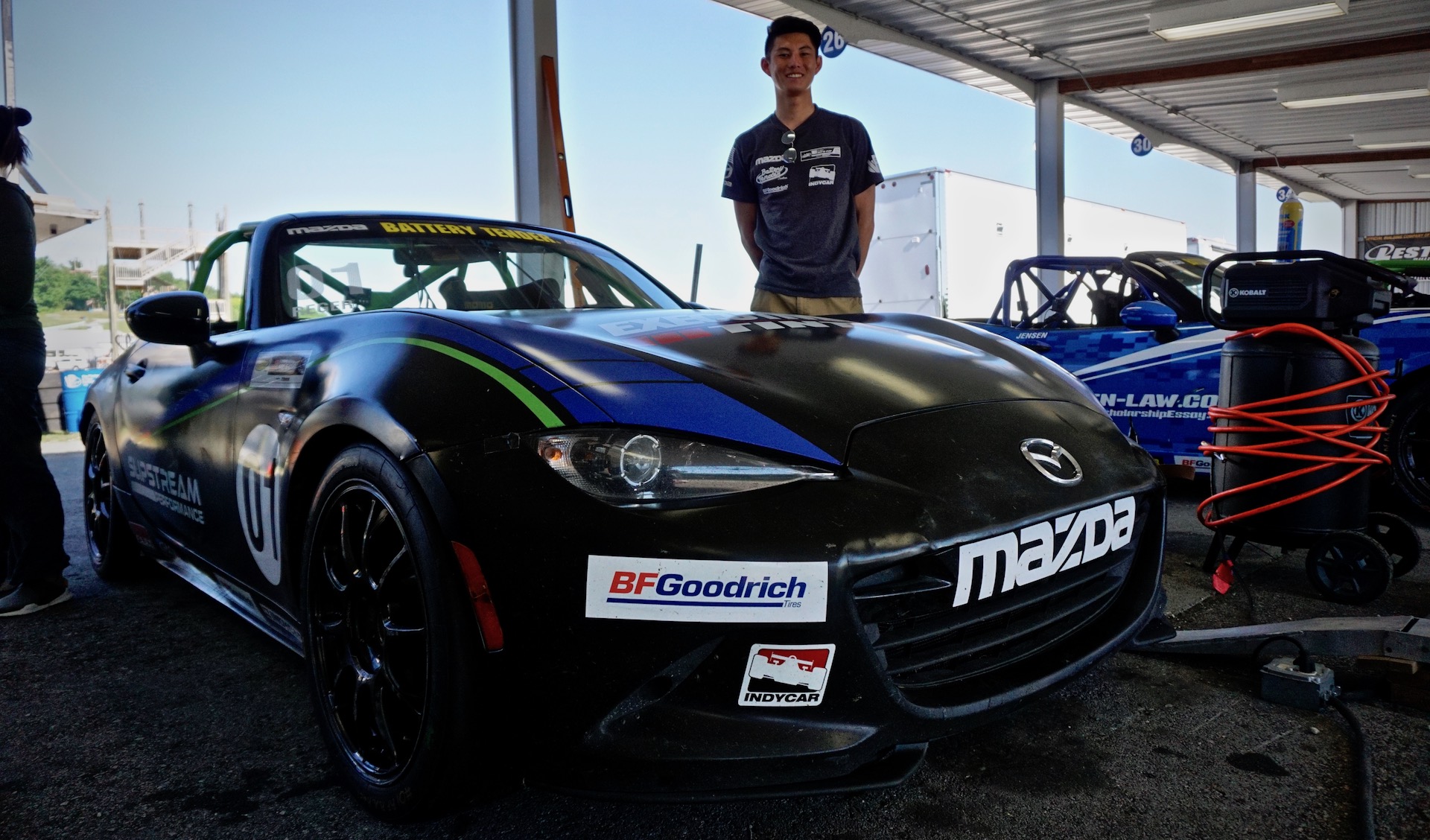 DrivesWGirls
Twenty-year-old championship-leader Nikko Reger is a sharp young man who's quickly making a name for himself despite this being only his second full season in the series. Reger began his racing career tooling around with dirt bikes and go-karts, but quickly found out he had what it takes to push it to the next level. The international business major at the University of Texas in Dallas currently balances a hectic student life and racing for the Slipstream Racing Team, making him one of the busiest drivers in the paddock.
"The entry barriers to racing are substantial, and that's where this series comes in," said Reger. "The scholarship that Mazda offers, the $200,000, is just incredible. That's what I'm shooting for this season."
Reger finished second in the first race at Road America and third on the second, meaning that he still leads the championship by a healthy 18 points over Selin Rollan.