While Mercedes-Benz is a decidedly upmarket brand here in the United States, they've long been known around the world for their reliable, base-model workhorses like the A and B-Class hatchbacks and V-Class passenger vans. That's why the 2013 introduction of the CLA budget model was such a big deal for the company—would American consumers embrace the idea of entry-level luxury, or would we send the four-door coupe packing like the ill-fated C230 Sports Coupe?
Of course, people in this country bought in big time (at least at first), and with the CLA now running above that magical $30,000 price line, executives at Daimler see room at the table for a new entry-level Benz. According to a report by Automotive News, officials with Mercedes-Benz USA confirmed to U.S. dealers at a recent meeting that the upcoming A-Class sedan previewed in concept form earlier this year will be coming stateside in late 2018.
Though the price hasn't been determined, the small FWD sedan will slot just below the CLA as the brand's cheapest offering. Dealers interviewed said they were shown a real pre-production model at the meeting—one dealer described it as "very nice-looking"—and Mercedes-Benz clearly believes it can avoid the foibles of previous downmarket experiments by bringing over the new sedan body style instead of the global hatchback A-Class.
This confidence in the face of the country's cratering sedan sales doesn't change the essential question, though. Who is going to buy this? Another dealer praised the A-Class' "techy" interior and said it looked like it would be very appealing to the millennial buyer" [barf], so that's one avenue they're clearly aiming for. 
But at that base-model price point, there's no doubt some of the cooler features from the concept like the latticework headlamps and full glass roof won't make it to the production model. If the stripper A-Class offers nothing more and a probably whole lot less in features than a similarly-priced Toyota Corolla, or any of the growing legion of subcompact crossovers, all they're really selling is a name.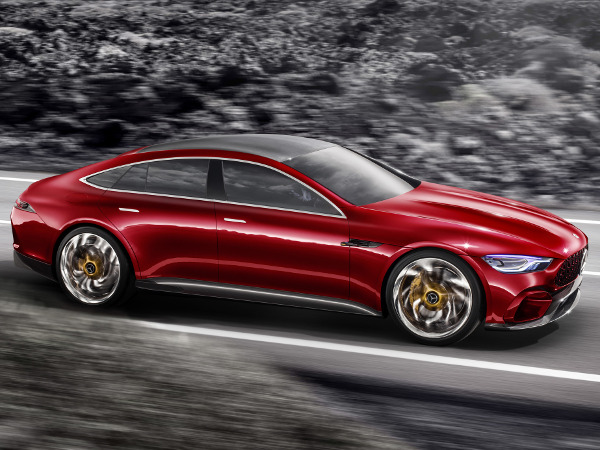 Mercedes-Benz
At the same meeting with dealers, Mercedes-Benz also confirmed the AMG GT sedan will be visiting our shores in 2018 as well. The four-door fastback will plug a lineup hole for the brand and compete with the likes of the Audi RS7 and the Porsche Panamera. No word yet on whether the concept's fancy 800-horsepower hybrid drive will be making it to production, but with a name like that you can expect some solid insanity in one form or another.