Mitsubishi has made some absolutely incredible cars and trucks and defeated mighty rivals, on and off-road, in the past. Unfortunately "in the past" is doing a lot of heavy lifting in that sentence — the brand has been pretty low-key in the U.S. market for the last, well, couple of decades. But it looks like somebody finally got motivated over there to celebrate and leverage the triple-diamond's triumphant off-road heritage, so I call that a move in the right direction.
For the third year in a row, Mitsubishi will be represented at the Rebelle Rally. That's an all-women off-road navigational competition that will go down this October. It's a test of endurance, off-road driving ability, and creativity in navigating. Competitors don't simply follow a GPS line, they have to plot their way across challenging terrain with minimal guidance. This time, the competing Outlander will be decked out in Dakar Rally-style livery that's a cool throwback to a look that was run on a Pajero two decades ago. And it's not just the 2001 car that was cool; the woman driving it showed a lot of people up when she won the Dakar that year in her Mitsubishi.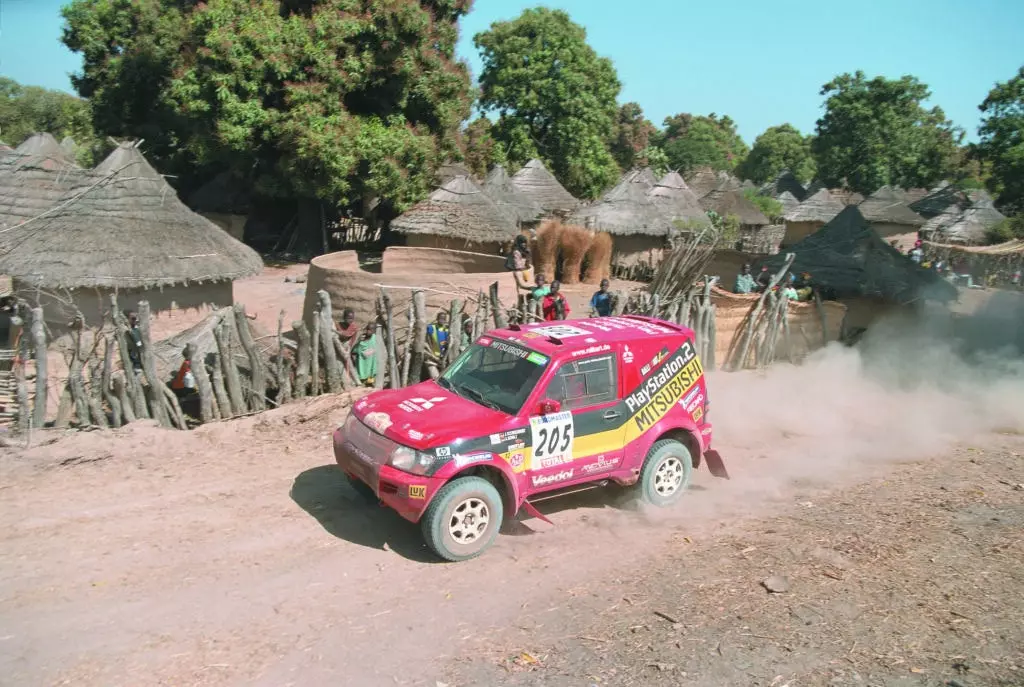 Here's the new livery look:
And here's a little clip of the 2001 Pajero we're referencing, as seen at a car show in 2012:
The "PlayStation 2" branding really contextualizes how long it's been, huh? Speaking of context, check out this broadcast from the 2001 Dakar Rally to get a taste of what the race was like:
Wait, hang on, I just found one more clip of a Pajero with this livery with a one-way ticket to Send It City:
I think that last video is mislabeled, because what you're seeing there is a second-gen Pajero body while 2001 would have been a third-gen (like you see in the first clip) but whatever.
Anyway, I implied that there's extra significance of the nod to this livery in particular for Mitsubishi. What I meant was: Jutta Kleinschmidt, who drove that red with black-and-yellow stripes Pajero in '01, became the first woman to win the epic off-road race that year.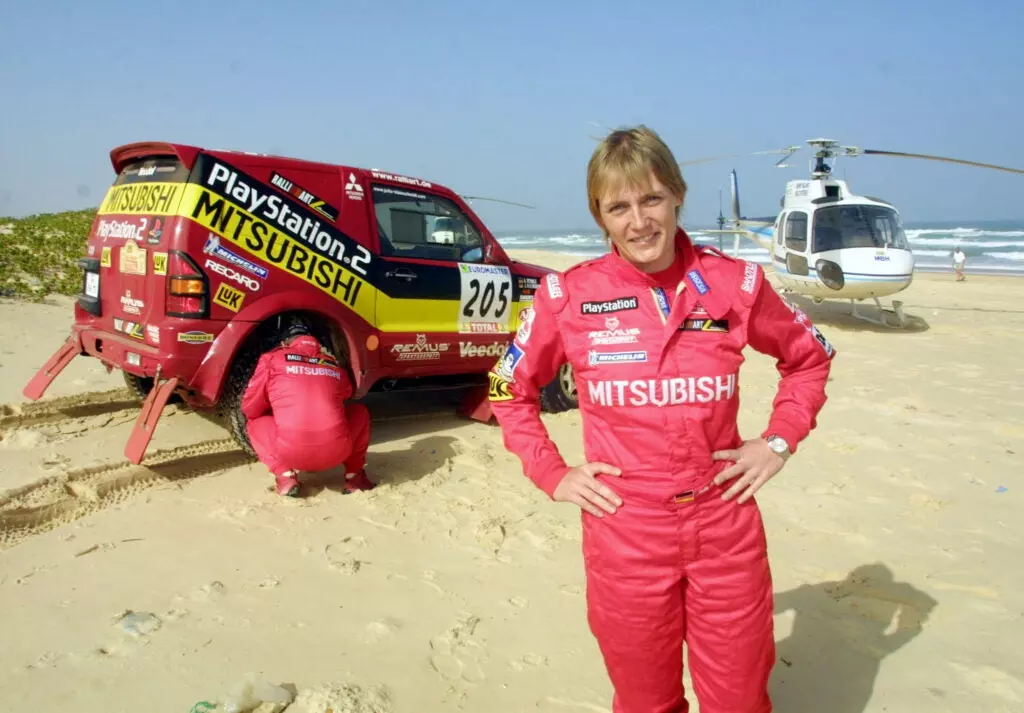 That makes this color scheme an especially cool flag to fly at an all-ladies rally. And like I said, any acknowledgment of retro racing from Mitsubishi is long overdue!
As one of the triple diamond's few fanboys, I've spent a lot of time and money restoring and modding my '98 Montero SUV into an overland/rally-style vehicle which I'm extremely proud of. Mitsubishi did, as a matter of fact, build epic 4x4s in the '80s and '90s that rivaled (I dare say bested) Toyota Land Cruisers and downright smoked Land Rovers in range and reliability.
For years, I've watched Land Rover capitalize on its old adventure origins, same goes for Jeep, and of course, Toyota's not shy about pointing to its decades of off-road dominance with pride.
Mitsubishi, however, has not really bothered to tout its rally history or off-road background since the Lancer Evo retired. In an era where consumers are gobbling up the ideas of nostalgia and self-sufficiency like they're pizza and soda, I feel like Mitsubishi's really been missing an opportunity to revive some cool old liveries to bring its brand some fun energy.
Well, looks like that's finally happening a little bit with this nav rally Outlander. I still think Mitsubishi should start sticking lights and tires and stripes like this on some stuff in its dealerships and showrooms, but what do I know. Maybe Mitsu's making enough money off of its cement factories and industrial air conditioners to care a lot about the car biz.
Regardless, I'm looking forward to seeing pictures of this cool color scheme in the desert and learning more about the women who will be driving it at this year's Rebelle Rally. The rally's coming up, October 7 to 16 of 2021, and you should be able to get more details on its official site here.