A 1997 Toyota Supra Turbo rolled violently and crashed into a train Monday near Denver. Videos of the crash have gone viral and have been shared across social media after its driver was reportedly identified as a mechanic at a nearby shop, who took the iconic sports car out for a test drive.
The crash happened in Englewood, Colorado, a suburb of Denver, and the video shows a red Mark 4 Supra opening the throttle as it changes lanes, accelerating heavily before its rear end loses traction. The driver fails to recover the Toyota, and spears into a concrete barrier before tumbling into a trainyard on the other side. Though the camera captures little of the crash itself, it shows the battered husk of the car as the videographer passes by.
Rolled 1997 Toyota Supra Turbo in Englewood, Colorado. Brandon Zike
The Englewood Police Department confirmed to The Drive that the car's driver was not its registered owner and that the driver had been taken to a nearby hospital. Their condition is unknown at this time, though they may have been injured, according to a recount of the crash shared by the Trey Grube, who recorded the video.
Grube told us the driver was ejected during the rollover, but that they were "completely okay." Englewood police couldn't confirm the condition of the driver. Grube said that he had been following the Supra for about five minutes leading up to the crash, during which its driver had allegedly been obeying traffic laws. He also said the driver was a mechanic taking the car for a test drive.
Rolled 1997 Toyota Supra Turbo in Englewood, Colorado. Brandon Zike
While Grube did not learn the name of the business allegedly employing the driver, local car groups point to speed shop Bespoke Motorsports as the company handling the car. Until its deletion within the last day, the shop's most recent post on Instagram was of a red Supra whose engine bay, wheels, and decals match those of the wrecked car.
We reached out to Bespoke Motorsports for comment but its owner declined without advice from an attorney.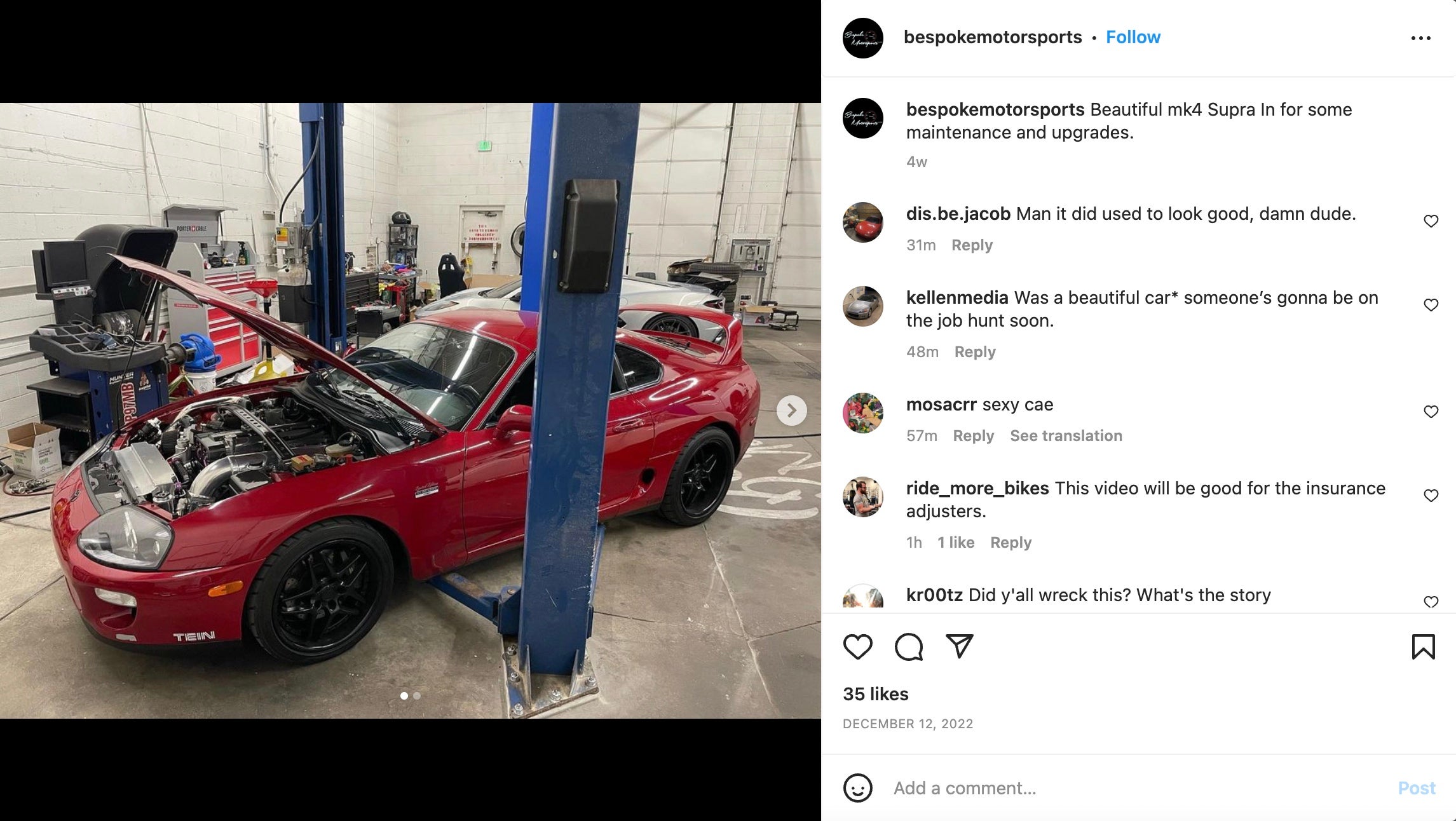 Bespoke Motorsports Instagram post of possibly wrecked 1997 Toyota Supra Turbo. Instagram
Got a tip or question for the author? You can reach them here: [email protected]