Between now and 2030, Audi's performance division Audi Sport will fully electrify according to its managing director Sebastian Grams. In a lengthy interview with Autocar, Grams revealed how that'll play out for all of Audi's sporting lineup, from its SUVs to the iconic TT and R8—all of which Grams says will "be no less amazing" than its current offerings.
Audi's electrification of its performance cars is already well underway, in the form of hybridization on the RS6 and RS7 and full electric power in the E-Tron GT. Remember, "electrification" encompasses both hybrid and electric powertrains, and the next few years will see each take greater prominence in Audi's quickest cars. Grams says that'll begin with escalating hybridization and the release of performance plug-in hybrids.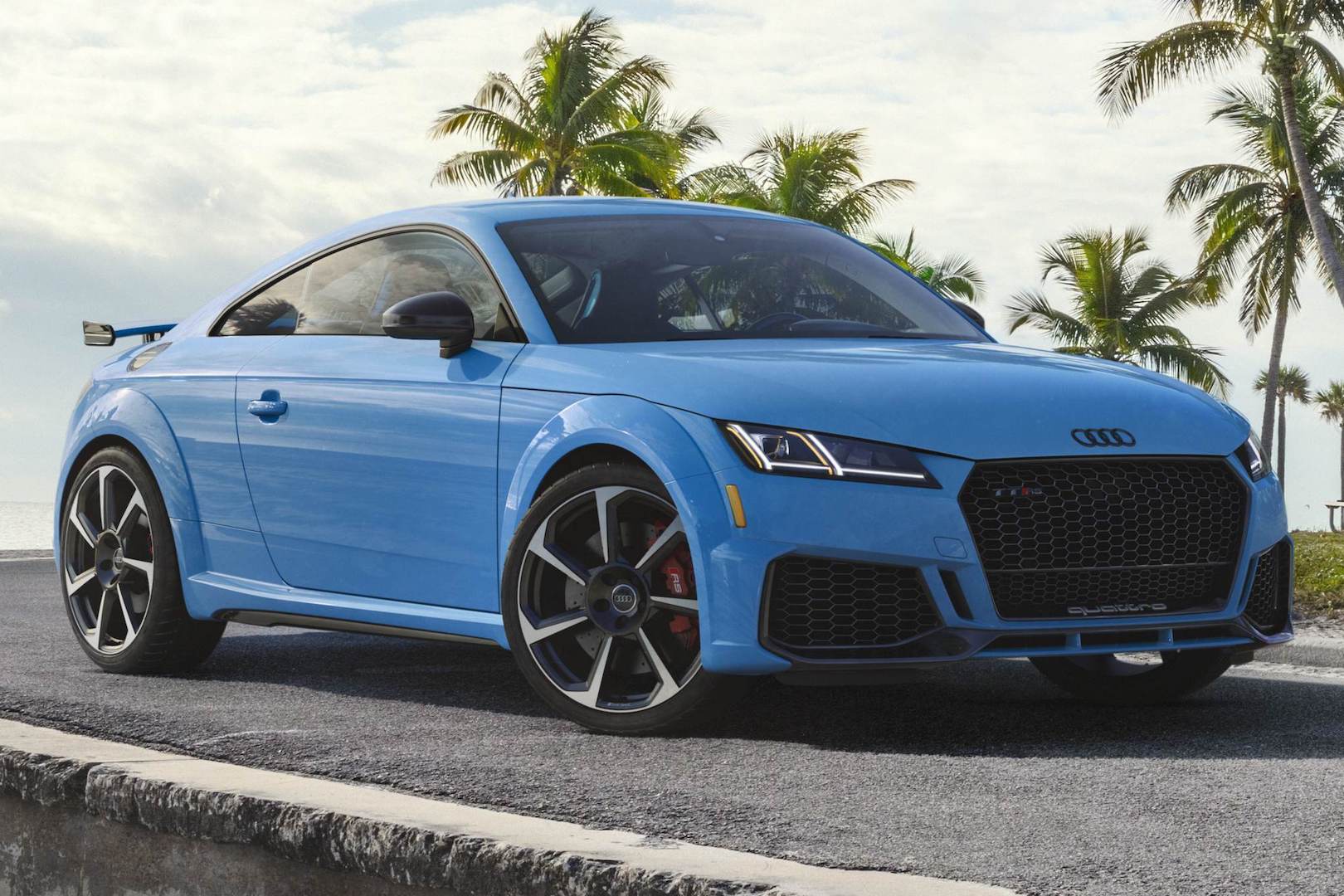 2020 Audi TT RS. Audi
"We are going in the direction of performance plug-in hybrid systems," Grams said. "This is what we are going for and I can tell you, this will be no less amazing than what you're driving today."
Grams believes this can be achieved through the finer torque control of electric motors, which he thinks can be harnessed in a way that "will be fun." While hybrid systems will add weight, Grams thinks they won't add too much, and their weight distribution can be optimized.
Of course, perception is as important as the performance itself, which is why Grams thinks noise still has to be part of the equation. At least for now, that is, as he speculates younger drivers who grew up in the digital age may not feel as strongly about the issue as the enthusiasts of today. Visual design is another matter; RS models will continue to advertise their presence because it's just what people like. It's why optional cosmetics are already an integral part of Audi's business model, and Grams thinks they prove there's reason to apply similar thinking to the software side of a car.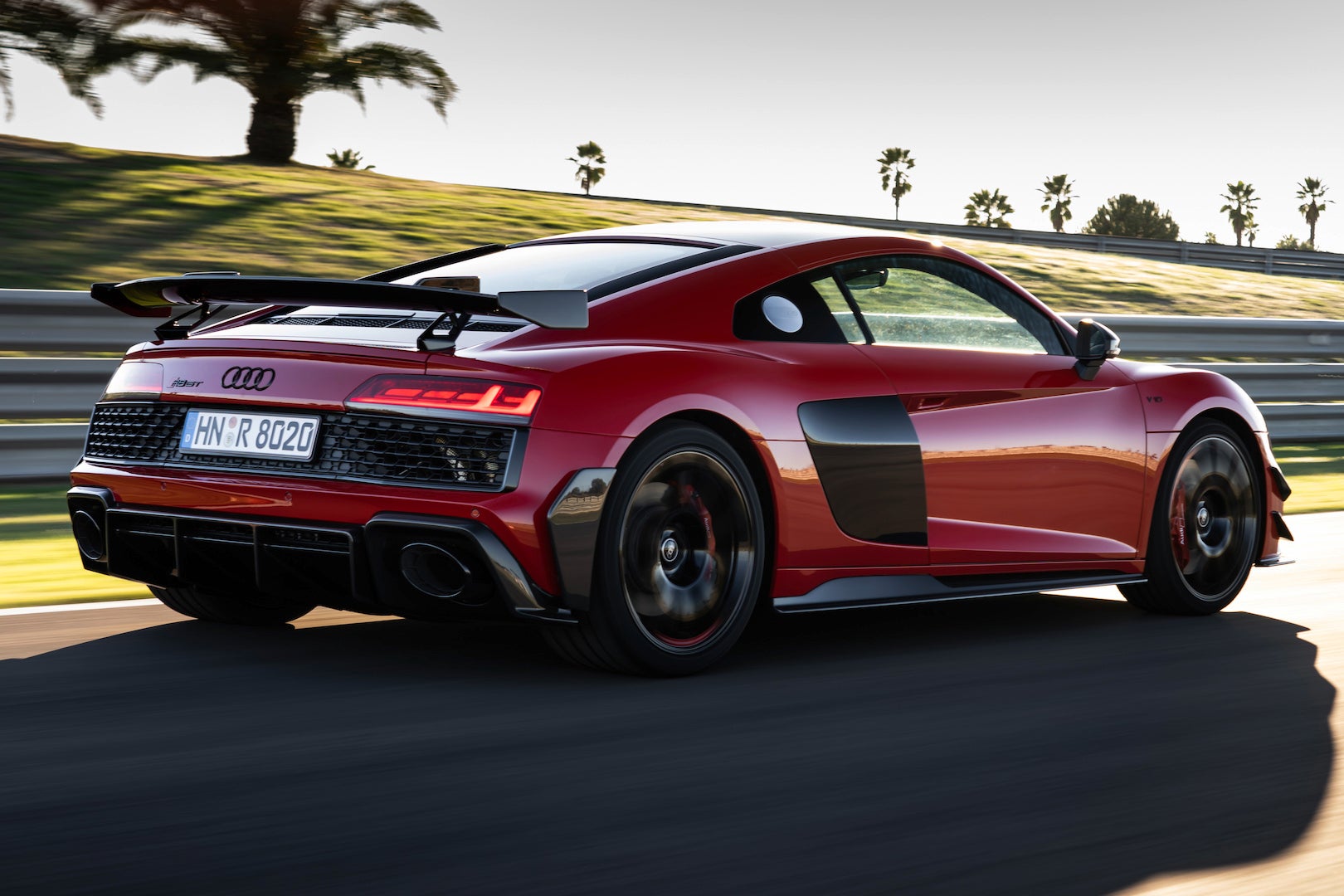 2023 Audi R8 GT. Audi
As for which vehicles we'll see this unfold on, Grams promised the biggest expansion in the field of SUVs, which will see more electric and more RS performance models. That said, Grams emphasized the importance of not diluting the RS brand by making a fast version of every model. At the same time, Audi Sport's individuality will be limited by its use of existing platforms—it won't develop its own. That could complicate the path toward its grandest goals: continuing the lineages of the TT and R8.
"Our biggest wish is to have a successor of the R8," said Grams, who said the supercar's progeny will depend on Audi Sport achieving internal goals, fitting its electrification strategy, and getting board approval. "If you're asking if we need to do it, it depends on other things inside the group. We cannot decide these things alone."
Grams couldn't speak to the future of the TT for the same reasons, as it reportedly must undergo the same vetting. We already know the R8's potential successor will be electric, so for the TT not to be, it'll have to come out before Audi's full-EV deadline of 2026. The economy doesn't look too friendly to that right now though, so you'd better brace yourself for an E-Tron—or nothing at all.
Got a tip or question for the author? You can reach them here: [email protected]