The Jeep Gladiator was more or less willed into existence by off-roaders who miss the J-Series, Scramblers, and Commanches of yesteryear. Really, they just wanted a Jeep truck, and building one akin to the Wrangler seemed like the automaker's best shot at printing a whole lot of money. Of course, it was never going to stop there as the Wrangler still has some features that the pickup doesn't. Chalk another one up for enthusiasts, then, as they more or less talked Jeep into offering half doors for the Gladiator, too.
It's part of the truck's new Dual-Door Group option. As you probably guessed after reading the name, it comes with both full and half doors, though you really don't have to sacrifice anything when swapping for the latter. Jeep has made sure the half doors work like normal with power mirrors, blind-spot detection, passive and non-passive entry handles, and power locks.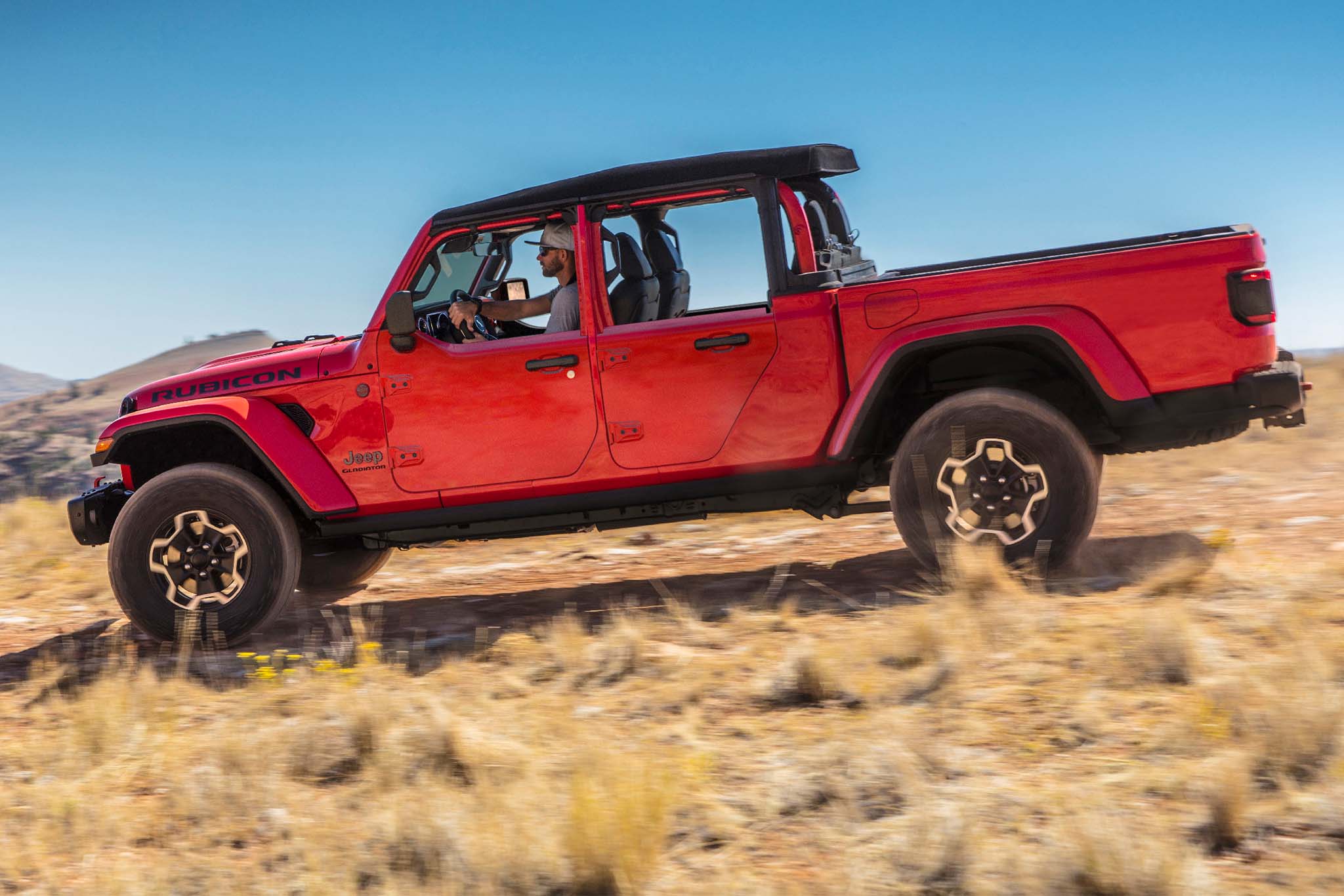 Jeep
Of course, the half doors use the same hinges and wiring connectors as the full doors, so the transition is fairly seamless. The upper portions are offered in two different materials—base model vinyl and premium acrylic. What's more, a Jeep spokesperson confirmed to The Drive that the Dual-Door Group can be ordered with both soft top and hard top Gladiators.
Right now, we've only got one photo to go off of but the doors look exactly like you'd expect. They add to the open-air experience everyone loves about a Jeep and since they're offered as a package deal with the full doors, you can swap back when you get tired of the wind noise. Jeep promises a weather-tight seal with the upper portions installed, but don't expect your passengers to hear you without speaking up a little.
The Dual-Door Group is a $4,590 option when fitted with the base vinyl upper halves, and it costs $4,990 when equipped with premium acrylic. It's all covered under Jeep's three-year/36,000-mile warranty, but don't expect them to replace a set just because it's got a ton of pinstripes from the trail.
Got a tip or question for the author? Contact them directly: [email protected]