Tesla's Cybertruck was revealed all the way back in November of 2019, and since then, progress on the truck's path to road legality and mass production has been unclear. Tesla CEO Elon Musk likes to take out the prototype for a drive every now and then, but as far as a Cybertruck you can actually buy, we haven't seen anything.
And we still won't be seeing any new truck today, at least, not from Tesla. At the company's Fremont facility, something else interesting was spotted: a new Ram 1500 TRX pickup truck covered in wires and other testing equipment. It's unclear what business Tesla has tooling around in the anti-EV, but an interesting theory, first posted by Teslarati, is that the company is benchmarking its Cybertruck against it.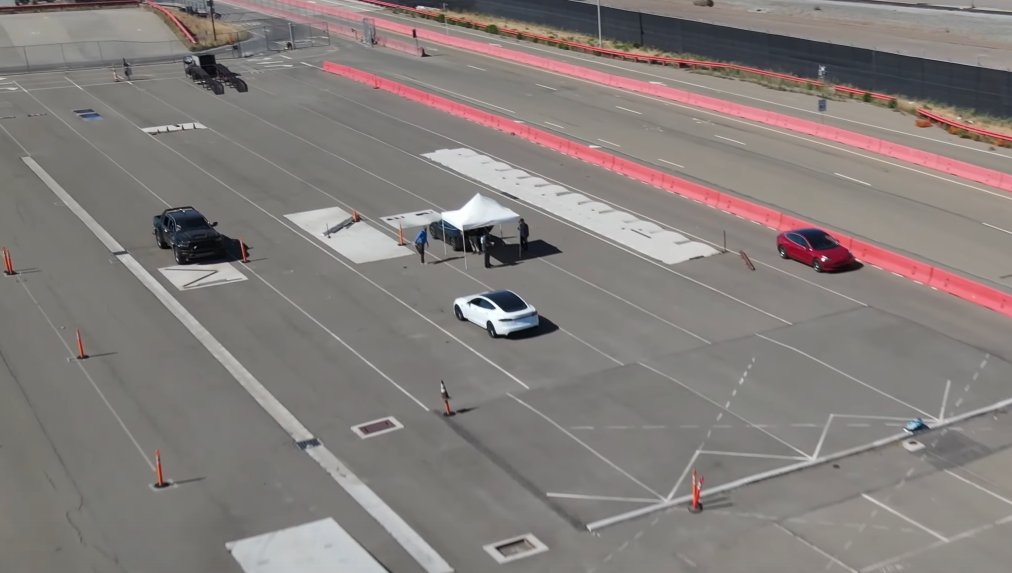 Gabeincal via YouTube
The truck was spotted in drone footage of Tesla's facility posted to the YouTube channel Gabeincal. The video itself is 11 minutes long, with footage of the stationary TRX only taking up a small part of it. 
Various sensors and wires appear to be attached to the 702-horsepower pickup, although there's little in the way of off-road obstacles in the Fremont lot where the truck was sitting. There's a few mild lengths of washboards located to one side of the area and a ramp towards the far end, but nothing else. Perhaps the company is benchmarking other data points, like details of the RAM's somewhat sophisticated suspension, seeing as they've never made an off-roader before.
The only other vehicles in the lot along with the TRX are a smattering of Tesla's other sedans, so unless the California company is looking into making a safari version of its popular Model 3, it's likely only coincidence they were there at the same time.
The lack of a production Cybertruck alongside the pickup—even in heavy camouflage—might suggest the production vehicle is still a bit far from hitting the streets. Musk says the vehicles should start trickling off the line sometime this year, although at this point, statements of likely dates for that kind of stuff from Musk himself are kind of meaningless.
It's certainly going to be interesting to see the production version of the vehicle, but as far as when that's actually going to happen, it's likely nobody really knows.
Got a tip or question for the author? You can reach them here: [email protected]