Ford has been uncharacteristically open about its testing of the hotted-up Bronco variant to this point. Normally, there'd be no word from the manufacturer confirming or denying an unannounced future model; that's not the case here, though. The Blue Oval tweeted out photos of the supposed Bronco Warthog testing on 37-inch tires and test mules have been spotted on public roads, giving an even closer look at the high-performance off-roader.
The prototype-hunting crew at TFL Car came across a small fleet of Bronco Warthogs testing outside Denver last week, all in four-door guise. They were completely clad in camo, of course, but it's impossible to hide attributes like the 4x4's incredibly wide stance. Compared to the normal Bronco, or even those with the optional Sasquatch Package, these test mules were undeniably taller, too.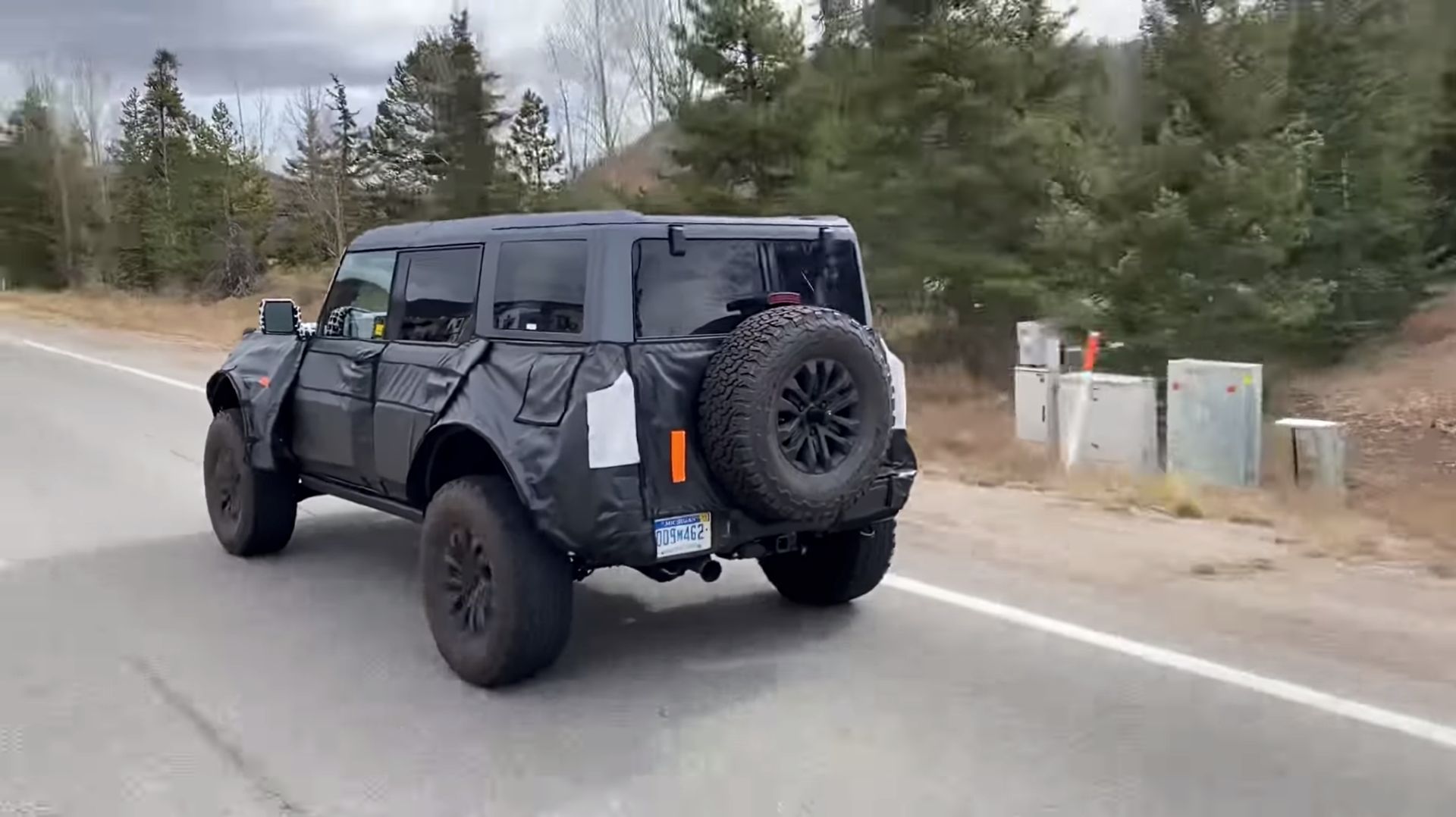 TFL Car via YouTube
TFL Car via YouTube
Frustratingly, the camouflage hid key components like the suspension from easy viewing—such is to be expected. It's hard to guess what might underpin the faster, more capable Bronco, though it wouldn't be surprising to find Fox shocks like on the F-150 Raptor. Ford has worked together with the Fox suspension gurus to build some impressive packages in the past, so it'd make sense for them to collaborate again on the potential Warthog model.
The same goes for the engine—it's anyone's guess. We have our doubts that the 2.3-liter EcoBoost four-cylinder will make it to this top-performing trim, but a tweaked version of the twin-turbo 2.7-liter V6 is possible. Then again, so is the 3.5-liter EcoBoost from the F-150, or even a V8. Previous reports suspected that the specialized Bronco could rock a supercharged version of Ford's 5.2-liter engine also found in the Mustang Shelby GT500; however, that'd be a mighty leap as that engine makes 760 horsepower and 625 pound-feet of torque.
Sadly, there's no real exhaust noise to go off of in this clip.
In all, relatively few specifics are known about the Bronco Warthog. One thing you can expect, however, is for Jeep to return the favor by releasing its own beast of a Wrangler, likely based on the 392 Concept we saw over the summer. That's good news for any four-wheeling fan, and it's only a matter of time before we see one if not both of them on public roads.
Got a tip about the new Bronco Warthog? Send us a note: [email protected] Or, email the author: [email protected]