Drive California's eastern highways at the end of August and you may notice an armada of battered trucks and buses, some piled high with wood and steel, others sprouting tubular framework and other flotsam. These are the mutant vehicles of Burning Man in their unassembled state. Follow them to their final destination, and you'll witness (in addition to many sunburned buttocks) their metamorphoses into air ships and sea monsters, Moby Dicks and Spanish galleons—all mounted to the stripped-down frames that once ferried school children and delivered home heating oil.
They don't come together quickly. Despite the free-wheeling spirit of the Burn, building a mutant is a piece of work, one that requires a quantity of hands, hardware and dispensary-grade weed. The Drive visited these motley bands before they decamped for Black Rock City.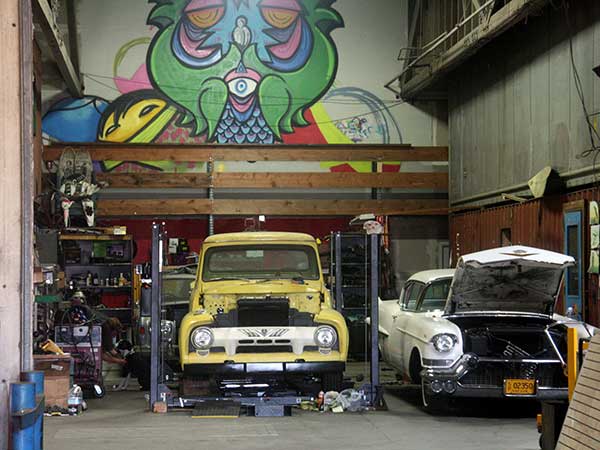 Benjamin Preston
SoCal
Los Angeles is home to the French Quarter, a Burning Man group led by Greg Abbott—better known as Reverend Gadget, profiled in the 2011 documentary Revenge of the Electric Car—who for the '15 Burn built a mobile interpretation of New Orleans' fanciful, historic wrought-iron district. Abbott and his team took a 1993 Coachman R.V. equipped with a rear-mounted 5.9-liter Cummins diesel engine, and chopped off everything but the cab, leaving a flat, platform-like surface. Then they built a steel frame, lowered it onto the bare R.V. chassis and built their mini Vieux Carré atop the framework.
Voilà. A piece of the French Quarter, bound for the Nevada desert. But what does it look like?
"If we had to choose a style, it was going to be 'Space 1799,'" Ari Schindler, who goes by Lucifer during Burning Man, says. "If steampunk is the outer space vision of Jules Verne and H.G. Wells, ours is the vision of Benjamin Franklin and Napoleon Bonaparte. The lines between science and fantasy are a little squishier."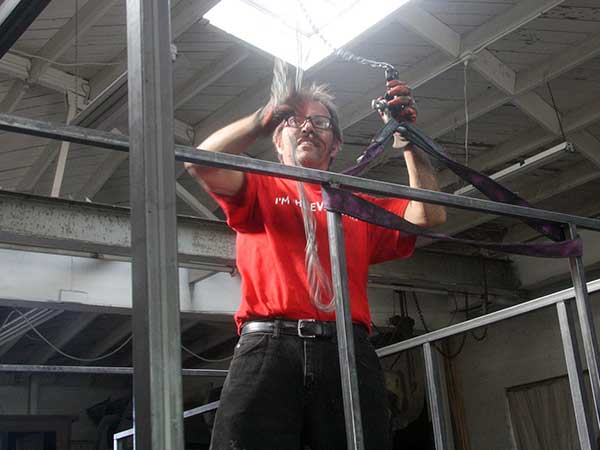 Greg 'Reverend Gadget' Abbott at work., Benjamin Preston
Abbott is a mustachioed polymath who builds electric cars, furniture and—judging by the diversity of machinery strewn about his shop—anything else that strikes his fancy. Like most teams, his is composed mostly of volunteers, with Schindler as the group's ringleader.
"Ari's strength is getting people interested in working on projects," Stitch Bjornstad, a former Hollywood special effects man, self-proclaimed "car guy" and lead fabricator, says of Schindler. "He can get people down here on the weekend, building and painting."
Bjornstad, who found the R.V. and prepped it for Abbott's steel frame, worked to clear some protruding wires from the floor as a group of nearby volunteers painted large plywood squares. In Abbott's warehouse workshop/home, more volunteers were engaged in various other activities: helping Abbott position the steel frame for placement on the R.V.; discussing fundraising; preparing what appeared to be sausages from Smart & Final on potato buns. Some, like Norris Tie, a 23-year-old aerospace engineer, are first-timers.
"Seeing something like this come together is amazing," he says. "The amount of creativity these guys have is inspiring."
Tie admitted that the Burning Man experience would probably not inform his work at the aerospace lab, but the group's unconventional approach to project management and execution were of keen interest to him.
NorCal
At an expansive indoor-outdoor warehouse complex in Oakland, Burning Man mutant vehicle teams wrench on their visions amid hot-rod builders and hobbyists of all kinds—among them a fabricator of tiny houses, a fellow who restores old pipe organs and a motorcycle drag racer. Michael Snook is the Burning Man vet who runs the space, called NIMBY. He said he once worked for Black Rock LLC, the company that produces Burning Man, and is familiar with the rules that must be adhered to if a mutant vehicle is going to be welcomed.
"When the art camps come here to work on projects, they come specifically because of the Burning Man connection," Dave Dávila, a member of NIMBY's small staff, says as he tours the 70,000-square-foot facility. "One of the advantages of building a mutant vehicle in a space like this is that there are people around who can help."
Aside from resident expertise, groups working on projects at NIMBY also benefit from a cache of donated tools, building supplies and other equipment. Extra items that may or may not be used: an Officer Big Mac play structure from a McDonald's, an old Dodge flatbed truck, analog aircraft controls and a box of copper penis sculptures that were reportedly found at an estate sale. These were intertwined with projects that would eventually arrive in Black Rock City.
'Burners may never grasp the man hours, crises and tiny triumphs that precede the arrival of 600 mutant vehicles.
In NIMBY's sprawling, 35,000-square-foot yard, mutant vehicles line the back wall. There's an old fire-service water truck with an armless foam devil standing guard; a retired school bus disguised as a giant sheep; a box truck with a sex dungeon in the back, complete with glory hole, a St. Andrew's cross and the aforementioned box of metallic phalluses. An old school bus dressed in tube steel and white fabric to resemble a giant sheep features a ladder, which is used to approach the sheep's rear end. Visitors can use the ladder to crawl into the sheep's anus, and then slide down a chute to a dance party in the pink interior of the bus.
A pile of steel pipes separates the sheep from Dr. Brain Love: a giant, mobile jungle gym fashioned in the image of—what else?—a brain. Dávila says that like most groups, the gym team consists of a core membership. Among Dr. Brain Love's central cast are neurologists and other scientists, but Dávila noted that there were at least 70 people involved.
"The groups that are the most organized are the most successful," he says. "They have dues, required volunteer hours, everything you'd see in a typical club." The sheep-bus crew, for example (known as BAAAHS, for Big Ass Awesome Amazingly Homosexual Sheep), is adept at getting new recruits up to speed by teaching them to weld and use different tools.
"They're teaching stuff a lot of people don't learn anymore," he says.
At the base of every project, however, is a vehicle that must run well enough to travel from its den to Black Rock City and back, year after year. For the groups in Oakland, it's a 700-mile round trip. For the French Quarter team, it's nearly 1,200 miles. Many groups travel with not only a mutant, but also support vehicles carrying pieces too heavy to pile onto one truck. Added to these are the rigors of idling across parched terrain when temperatures often touching triple digits—and the real possibility that the vehicle may not pass Department of Mutant Vehicles inspection. The need for attentive mechanics is clear.
"It's getting tougher," Snook says. "Burning Man is limiting the number of vehicles allowed out there. Everyone wants one, so it can get a little crowded."
As they negotiate Black Rock's swirling dust to attend their next cocktail hour or fart symposium, casual 'Burners may never grasp the man hours, crises and tiny triumphs that precede the arrival of 600 mutant vehicles. But Black Rock City, in a very physical sense, is temporary. Palaces, towering sculptures, art installations, restaurants and cafés—down to the dusty show of humanity that decamps there every year—blow away at week's end. The encampment's rolling sentinels, the mutants, may not be there for a long time, but they're there for a good time.