It looks like a scene out of The Fast and Furious movies but it's really just a freak accident. A speeding car somehow wound up on the second floor of a dental office after hitting a median on the street. According to NBC Los Angeles, the accident happened around 5:25 a.m. near the intersection of French and 17th Street in Santa Ana.
Police say a white sedan was traveling northbound on French Street at a high rate of speed, hit the raised center median on 17th and went airborne. The car launched and landed halfway through the 2nd story. I give him 10 points for the jump but only a seven for the landing as the car ended up at a 45-degree angle, dangling out of the 2nd story dentist office window.
Eyewitnesses say that the car caught fire after plowing into the building. The driver managed to get out of the vehicle but didn't make it to the ground floor. He was hanging off the bottom of the vehicle until police arrived to help him down. Luckily, the driver and a passenger both sustained minor injuries and no one else was hurt. In case you're wondering, the driver was not drunk but did admit to police that he was using drugs. He was taken to a local hospital for observation.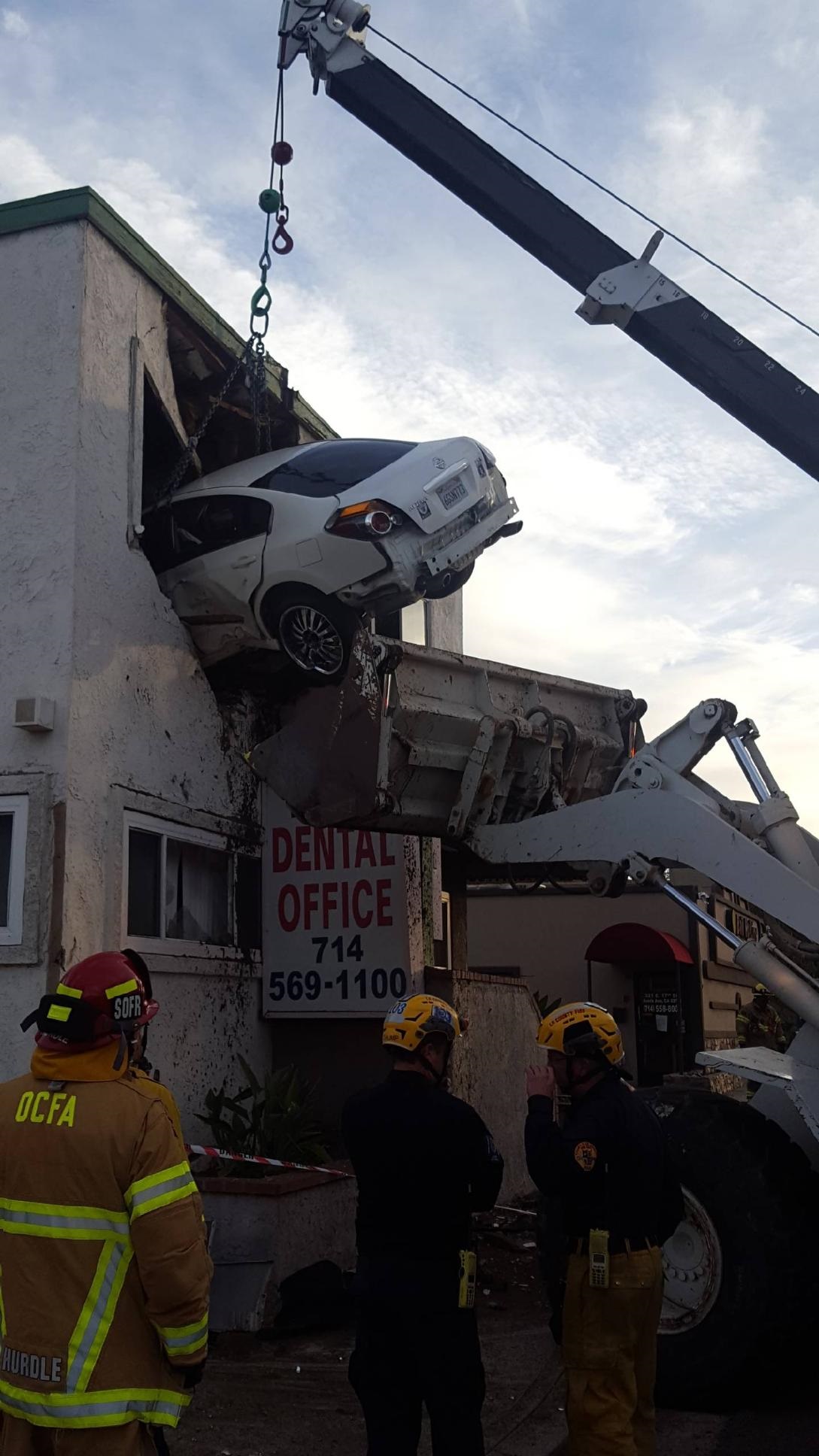 Firefighters remove car from the second floor, Santa Ana Police Department
As of about 10 a.m. PST firefighters on the scene were still trying to get the car out of the 2nd-floor window. Representatives from the Public Works department were there too to examine the structural integrity of the building after the accident. The LA County Fire department responded to the scene in Orange County with a large wrecker truck to help the locals remove the car.
From the pictures, it looks to me like a Nissan Altima made the jump. I bet you were all banking on it being a Mustang.