Remember when Sony said that it wouldn't be building and selling an electric car back in 2020? Well, a lot has changed in three years (almost to the day), including the formation of a partnership with Honda that allows the electronics giant to do exactly what it initially had no plans of doing: battling Tesla and other EV makers with a rolling PlayStation.
Sony officially revealed its joint brand with Honda to the world on Wednesday at the Consumer Electronics Show in Las Vegas. Coined "Afeela," Sony says it's named to bring attention to how people "feel" at the center of the mobility experience, and how mobility "feels" people through sensing and tech. But name and buzzwords aside, the most important tidbit to know is that the venture will focus on building the first luxury EV under Sony's careful tech-focused watch.
A prototype of the first Afeela vehicle made an appearance on stage during Sony's presentation at CES. While a lot of technical details were left out, the world did get a look at what appears to be a natural progression from the original Sony Vision-S concept that debuted years ago. Its exterior has been refined and smoothed out, removing certain notable features like the side crease and sharp front bumper. Proportionally, the prototype is around the same length, width, and height as a BMW 5 Series or Tesla Model S.
Perhaps the most interesting feature splayed on the prototype's exterior is the "Media Bar" across the front fascia. The display—which appears to be a full-color digital unit affixed to where a grille would be, similar to a thin television—is designed to use light and images to communicate with the outside world, as well as show off useful stats like charging while the vehicle is stationary.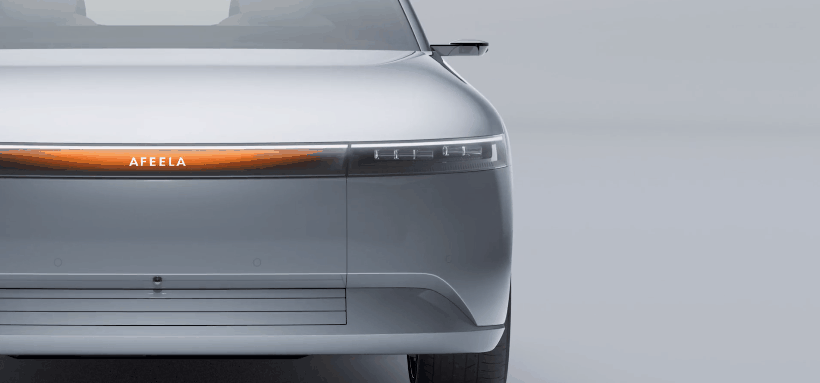 Sony also shared some photos of the vehicle's futuristic cabin. It takes a minimalist approach, featuring mostly smooth real estate taken up by displays—four, in total. The concept also features two displays reserved for the camera-based side view mirrors, something which may or may not reach the final production version depending on federal regulations. The cabin features a single knob on the driver's armrest and a yoke-style steering wheel.
Sony says Afeela is focused on three key points: autonomy, augmentation, and affinity. For autonomy, the vehicle will utilize 45 cameras and sensors around the vehicle to enable conditional Level 3 automated driving. The plan is to use Sony's sensors along with Honda's safety tech, which is promising considering that Honda launched the first production vehicle with Level 3 automation last year. Much like Honda's implementation, Afeela is aiming to allow its Level 3 system to operate under "specific conditions" along with Level 2+ features for urban driving.
As for augmentation, Afeela is focused on using its human-machine interface to meld the driver with both driving and entertainment experiences. Sony says that it plans to "evolve" the mobility space using augmented reality along with its sensing suite, as well as explore "digital innovations such as the metaverse" in the vehicle. Details on how exactly Afeela plans on using augmented reality are slim, but it has partnered with Epic Games to utilize the 3D capabilities of Unreal Engine to aid in the implementation of AR.
Lastly, the brand says that it will also focus on the affinity between the vehicle and the world. The "world" could be Afeela's industry partners, key players in other industries, and creatives.
Afeela plans to begin taking preorders for its electric sedan in the first half of 2025 with sales hopefully kicking off by the end of the year. First deliveries in North America are expected to take place in 2026.
Got a tip or question for the author? Contact them directly: [email protected]