Subaru has made great strides toward becoming a mainstream brand, rather than that quirky company specializing in all wheel drive rally cars with funky styling. Though I currently drive a 2015 Subaru WRX, I chose it over the Ford Focus ST and Volkswagen GTI despite its interior, not because of it. The competition has far more elegant designs that are both more practical and more pleasing to the eye. The driver sees the inside of the car more than the outside, so it's important to get this right, especially in an enthusiast car. Traditionally, Subaru has fallen short in this area. But the 2018 Impreza is turning this trend around.
Wards Auto recently announced their awards for the Ten Best Interiors of 2017. The winners include prestigious brands such as Bentley and Maserati, as well as some brands already known for their excellent interiors like Honda and Lexus. But joining this list for the first time is the 2018 Subaru Impreza. It's also the least expensive car on the list.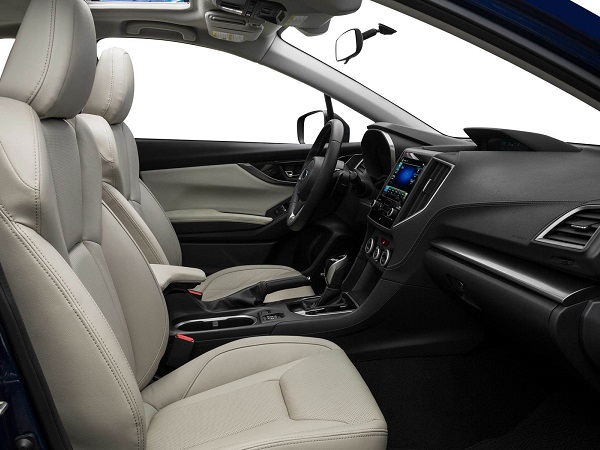 Subaru
"Anchoring the Impreza's clean interior is an all-new crisp, easy-to-use telematics screen bookended by angular vertical vents on a gently sloping instrument panel distinguished by judiciously applied contrast stitching and metallic trim," said Wards Auto. I can see the influence of other manufacturers on the design, but that's good, because Subaru had some catching up to do. The information display on the upper dashboard is similar to my WRX, maintaining a familiar setup for current Subaru owners while updating and improving the overall design. In fact the whole dashboard feels like an evolution of the older design into what it really needed to be.
Full disclosure: I am a Subaru Ambassador, and therefore inclined to say nice things about the company. I also take awards such as these with an F-350 Super Duty full of salt. But I honestly believe that the new Impreza interior is a huge improvement over the old one—an upgrade that both needed to happen, and that Subaru has executed well. It makes me a little bit envious to look at this new dashboard, then get back into my WRX. But it also reminds me just how far Subaru has come in a short time. Wards seems to agree: "We haven't seen a compact car improve this dramatically since last year, when the Honda Civic earned a 10 Best Interiors nod."