Remember the drive-in restaurant? Northeast Ohio does.
Car: Fiat 500 Abarth
Location: Stow, OH
Photog: me (Kevin Williams)
Camera: Canon EOS M50

I'm originally from Akron, Ohio, and if you know anything about the area, you'd know about Swensons. Swensons is an old-school carhop-style drive-in restaurant where the servers all wear khaki shorts and literally sprint from the kitchen to your car. The food is delicious, especially the scratch-made buns paired with beef patties that are lightly sweetened (don't knock it until you try it) and other fried goodies.

Swensons' delectable menu has inspired a few copycats, like Skyway. Or, in nearby Stow, this Retro Dog space. Retro Dog had opened sometime in the late 2010s, but it was sadly a victim of COVID and the place has been closed for nearly a year now.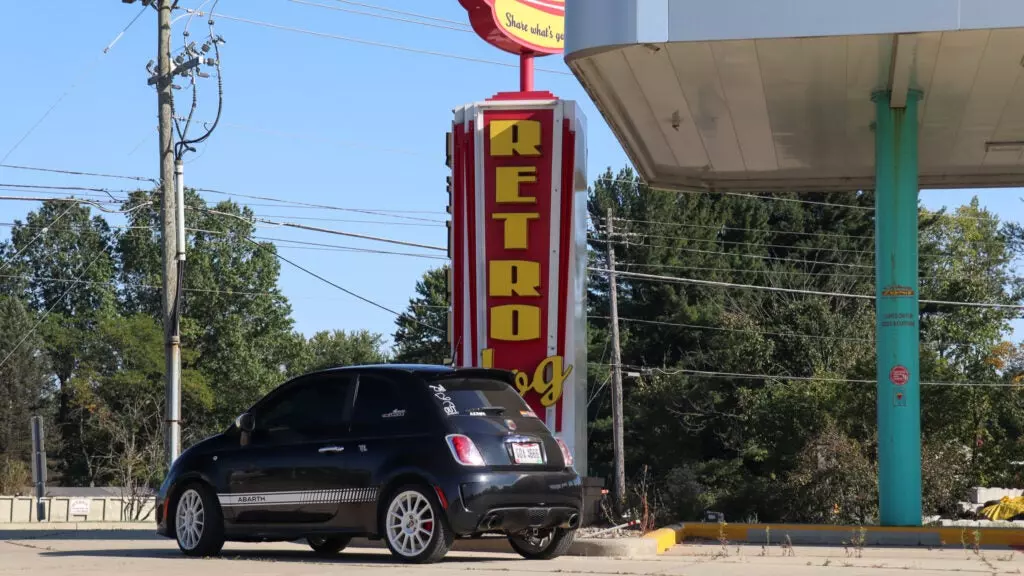 Still, that didn't stop me from doing a quick impromptu photo shoot. Compared to the relatively demure Skyway or Swensons nods to the '50s-era drive-ins, Retro Dog is drenched in the aesthetic. The mint green coloring and the neon vertical signage both call back to the era of sock hops, saddle shoes, and a time when maybe black people were a little (lot) less equal.

Okay, that last part was mean. I had been there once, 10 years ago when it first opened. The food was good, although not as good as the venerable Swensons or copycat Skyway. I remember Retro Dog being a go-to hangout spot for high schoolers with fresh licenses, or families with young kids looking for a cheap meal in a fun spot.

Drive-ins can be very problematic to operate in states that experience cold weather. When the seasons change and the weather turns cold and wet, people just aren't as willing to sit outside in their cars and order food. Unfortunately, seasonality and reduced demand due to COVID-19 put Retro Dog under. The restaurant closed in October of 2020, and with it, a piece of the community vanished.
More great stories on Car Autance