We're going to need a new name for Motown specials like the Chevrolet Camaro. "Muscle car" doesn't do it justice, not for a machine built on the stellar Cadillac ATS/CTS chassis. Not for a car that's such a glutton for curves. "Pony car" is a cutesy euphemism from an era when Camaros and Ford Mustangs were mostly—let's face it—antiquated crap fit only for intramural battle; like watching the Detroit Lions play the Cleveland Browns for the duration of the Eighties, Nineties and early Aughts.
But suddenly, Detroit's blue-collar underdogs are fielding high-dollar performance editions like the Camaro Z/28 (previous generation) and Shelby GT350. Once as limited to straight-line speed as a slot car, these modern versions have created a bizarro world, putting up racetrack times on par with holies like the Porsche 911 and BMW M3.
Yet most people can't or won't spend $50,000 to $75,000 on a Camaro or Mustang. The real battle will be pitched at a more middle-class price point, between standard V8, V6 and turbocharged four-cylinder versions. In sales at least, it's a battle the Camaro has never lost since its rebirth in 2010. And though the 2015 Mustang appears certain to outsell the Camaro this year as Chevrolet switches over its factory production, this 2016 model seems primed to nab both sales and performance titles.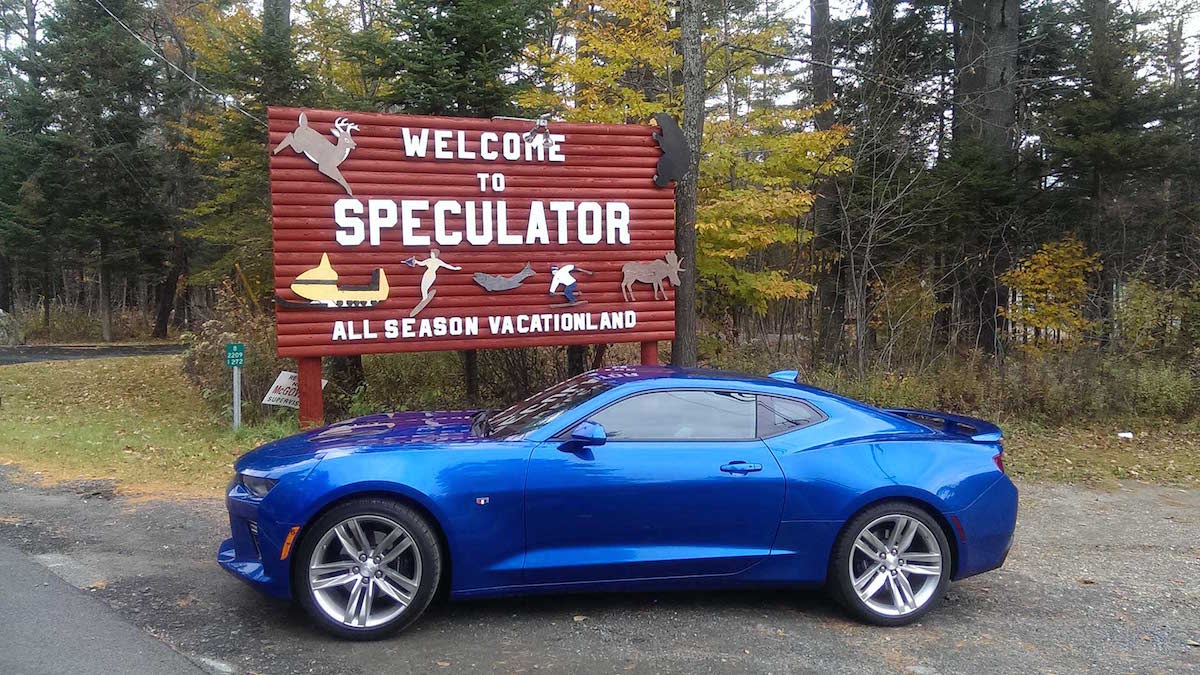 Lawrence Ulrich/TheDrive.com
That puts all eyes on Camaro SS versus Mustang GT. V8 versus V8. A barroom brawl for fanatics that I might as well pour the Jaeger shots for: Camaro wins.
Sure, the Ford is still the looker of the pair, a textbook lesson in balancing a beloved design heritage with modern cues. But nearly every other category falls Chevy's way: horsepower, acceleration, steering, handling, interior design, fitment and intuitive technology.
Credit Chevy's engineers, but also an almost unfair inheritance: the Cadillac chassis that underpins two of the best-performing sport sedans on the planet, the ATS-V and CTS-V. (Chevy emphasizes that 70 percent of components are unique to Camaro). Also credit superior transmissions, including GM's eight-speed paddle-shifted automatic versus the Ford's slower and less efficient six-speed; and a Corvette-derived V8 that outsizes and ultimately overwhelms the Ford's Coyote 5-liter.
As part of a four-week, 48-state road trip, Chevy handed me the keys to a shiny blue Camaro SS in Syracuse, N.Y., with instructions only to have it in Boston by the following afternoon. I proceeded to rack up 560 fast-paced miles, the majority in mountainous Adirondack Park. (I'd earlier driven the new, 335-hp Camaro LT V6 on Detroit's Belle Isle racecourse prior to the Detroit Gran Prix.)
This slimmed-down Chevy sheds roughly 200 lbs on average, and nearly 300 for the V6 version. It's about two inches shorter than before, an inch lower and narrower. A host of modest changes—including a peekaboo upper grille and headlamps and resculpted sides—make for a leaner and more handsome profile. But the lowered roofline does no favors for the notoriously poor outward visibility: Side windows are so short that poking my head out reminded me of a canine squeezing through a miniature doggy door.
The Camaro's smartly revamped interior scores its first win over the more plasticky Mustang. Surfaces are softly padded, and driver's instruments are striking and legible. Knurled metallic bezels, the likes of which you'd find in an Audi, ring console vents that smartly integrate temperature control. The Chevy MyLink infotainment touchscreen, including new Apple CarPlay, easily bests Ford's obsolescent, Microsoft-based Sync unit. Press the OnStar button to summon carbon-based assistance (or accidentally when you meant to switch on the cabin light). And options such as a reconfigurable head-up display and an adjustable magnetic suspension can't be had on the GT 'Stang.
Available with all three engines, the six-speed manual transmission looks good and, I swear, feels even more direct and precise than the Stingray's seven-speed. The redesigned console ensures the shifter doesn't butt up against cups or bottles in their holders.
Notwithstanding its hardcore special editions, the last-generation Camaro was powerful yet prone to piggish understeer, and honestly not all that fun to drive. The new one is a revelation, a barnstorming driver's car, a muscle head's dream: Picture a Cadillac ATS-V, only 120 lbs lighter, with a Corvette V8 and an awesome stick, and you've got the general idea.
Adirondack Park includes a 2.6-million-acre forest preserve, with 43 mountains that top 4,000 feet and the source of the Hudson River bubbling near Lake Tear-of-the-Clouds. Once a forbidding wilderness, the preserve rolls out a splendorous two-lane welcome mat for this Midwest interloper.
To land the first volley in the bloody Ford-Chevy wars, start with the Chevy's superior power-to-weight ratio. With its 28-percent stiffer chassis, the SS is slimmed to 3,685 lbs, officially 20 fewer than the Mustang GT. Modular construction let Chevy optimize the design for various engines: The 335-horse V6 version weighs 250 fewer pounds than the SS. A 275-horsepower turbo four model that goes on sale next, alongside a convertible, will weigh a sports-car-like 3,339 lbs. That's 390 fewer than the departing V6 Camaro.
The SS's 455-hp and 455 lb-ft of torque stack against the Ford's 435 horses and 400 lb-ft. The Ford's brilliant, overhead-cam Coyote V8 revs to giddier 7,000-rpm heights. But the Chevy's pushrod V8 has 1.2 liters more displacement, a nearly 15-percent torque advantage and, when paired with the automatic, can deactivate half its cylinders to save fuel. Every little bit: The Camaro automatic's 17/28 mpg federal rating bests the Ford's 16/25 mpg economy.
About that snappy, power-maxing eight-speed automatic. It helps the Camaro SS burn to 60 mph in 4 seconds flat, a half-second quicker than the Mustang GT with its mere six speeds. The Chevy continues to pull away, posting a sparkling 12.3-second quarter mile at 116 mph, versus 12.8 seconds at 112 mph for the Ford. Bye-bye, Mustang.
The Camaro's optional, direct-injected 3.6-liter V6, also bequeathed from Cadillac, brings a similar advantage with 335 hp versus 300 for the Ford's 3.7-liter V6. Hustling to 60 mph in 5.1 seconds, it's quicker than either the Mustang's V6 or its 310-horsepower EcoBoost turbo four.
Picture a Cadillac ATS-V, only 120 lbs lighter, with a Corvette V8 and an awesome stick, and you've got the general idea.
Straight-line numbers, however, are almost beside the point—as heretical as that may sound. I'll enter here that the Camaro has transcended such stats. Thanks in part to its inheritances from Cadillac—which deserves some Philanthropist of the Year award—the Camaro feels as much a nimble sport sedan as a muscle car. Its rack-mounted electric ZF steering shares hardware, software and its quick ratio with the ATS-V and CTS-V, but the Camaro enjoys a wider track and and even more caster angle thanks to its longer dash-to-axle ratio. That steering is a paragon of on-center feel, and a pure love connection through the curves.
Here's the deal: The Ford and Chevy are both fast. But the Camaro's sophisticated steering is its biggest performance edge over the Mustang, which suffers from a relatively lazy rack and mute feedback. Powerful Brembo brakes are also standard on the SS, along with coolers for transmission and differential oil, and a handy limited-slip differential for manual models.
Optional Magnetic Ride Control, another present from the Cadillac-Corvette sugar daddies, hands the Chevy another edge: the ability to tailor ride and handling for mellow cruising or track assaults. It's integrated into the Drive Mode Selector with its Tour, Sport, Track and Snow/Ice settings, which calibrate the engine, transmission and stability systems.
Chevy claims the SS, shod with 20-inch Goodyear Eagle F1 rubber, pulls .97 g's in lateral grip. It's a remarkable number for a car whose handling was traditionally as limp and greasy as a mullet. And the previous Camaro's terminal understeer is largely banished.
Blessed with its modern, manifold gifts, this SS carves up the Adirondacks like a runaway lumberjack. Lighting up tires in first gear, or pulling hard through forested sweepers in fourth, the Camaro also sounds great, a pissed-off bear woken from hibernation every time I mat the gas.
The Camaro SS does lose one showroom battle: At $37,295, it costs about four grand more than a base Mustang GT. The V6 model, at $26,695, stretches about $2,000 beyond a six-cylinder 'Stang.
Before Ford loyalists accuse me of being a Mustang hater or GM board member, let me be clear: I love the GT, and the Shelby GT350 even more. Growing up in Detroit, I was never a fan of the Camaro, a car that symbolized all the lunkhead jockery I hated. (The Dead Milkmen's "Bitchin' Camaro" summed this up nicely.)
But facts are facts. This Chevy rocks, harder and louder than the Ford, but also better. To Mustang fans whose ripostes consist of "Sez You," "F-You" or "So's your mother," all I can say is, drive the Camaro SS yourself. Then we'll talk.
--
2016 Chevrolet Camaro SS
PRICE (BASE): $37,295
POWERTRAIN: 6.2-liter V8, 455 hp, 455 lb-ft torque; eight-speed automatic or six-speed manual; RWD
WEIGHT: 3,685 lbs
0-60 MPH: 4 sec
TOP SPEED (est.): 175 mph
MPG (est.): 17 city / 28 highway
ON SALE: Now