Drive-in movies always remind me of muscle cars, harkening back to an era of rockers, exploitation shockers, and of course, back-seat make-out sessions.
Then I heard about all the ingenious, tailgate-party features in the new Alabama-built Ridgeline. The light bulb went off, both in my head and the Honda's pickup bed: This might be the ideal truck for a starlit night at the movies.
Earlier this summer, I'd taken my daughter to her first magical drive-in near Knoxville, Tn., to see "Finding Dory." But I'd never been to a drive-in in New York, and everyone knows they're an endangered species. There are only about 338 drive-ins left in America, with roughly 100 screens going dark since 2000 alone.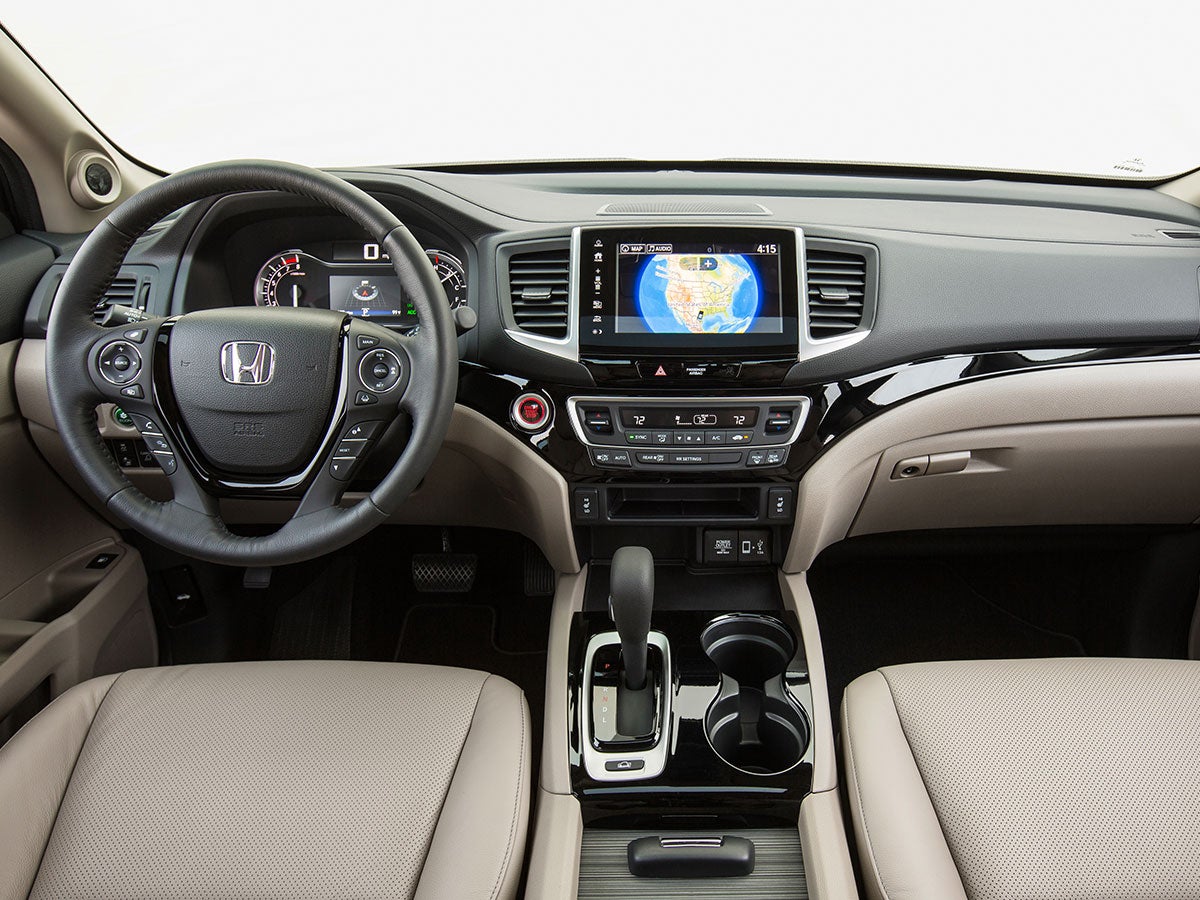 Honda
The entire state of New Jersey has one drive-in, in Vineland, and its web site made it sound like Stalag 17: A total prohibition on outside food or drink, with a warning that cars are searched to ensure compliance. I knew they'd never find the Honda's secret compartment, an ingenious lockable trunk below the bed that can fit an 82-quart Coleman wheeled cooler. There's even a drain plug, so you can fill the entire compartment with ice and refreshments and whoop it up. But still: What kind of bullshit drive-in is that?
New York actually has 27 surviving drive-ins, among the most of any state. The theater in Warwick, a charming hamlet barely an hour from Manhattan, seemed the best candidate. So with my friend Eric accompanying us in his brand-new Dodge Challenger, we loaded up the Ridgeline and headed north.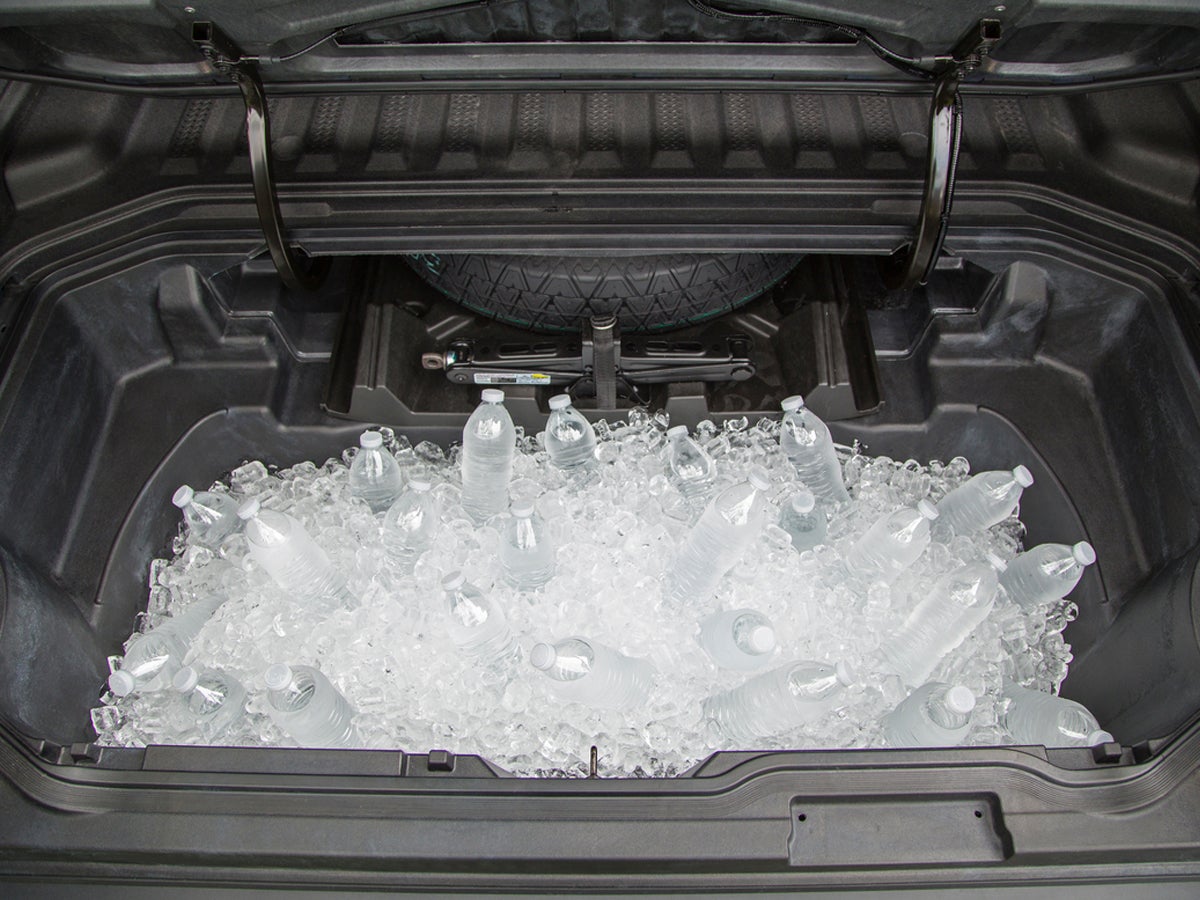 Honda
The first-generation Ridgeline earned Motor Trend's Truck of the Year award in 2006. Built on a unibody car platform, rather than a traditional steel truck frame, the Honda was the pocket protector of pickups: Smart and useful, but proudly or painfully uncool, depending on your point of view.
The Ridgeline still shares a beefed-up car platform with the latest Pilot SUV (And soon, an all-new Odyssey minivan). But this new Ridgeline is altogether less dorky-looking, thanks to more-traditional truck styling. The cargo bed, especially, no longer resembles a fiberglass hot tub molded into the cab. When we rolled into the drive-in near sunset, the Honda blended right in with a phalanx of pickups and SUVs, their beds and hatches all facing the screen for an R-rated bill of Sausage Party – Seth Rogan's animated raunchfest – and Bad Moms with Mila Kunis.
We'd rolled to Warwick through that bucolic part of northern New Jersey you didn't know existed, unless you live in northern New Jersey: Forested mountains, rolling farms, water skiing lakes and stunning reservoirs.
The Honda's 280-horsepower, 3.5-liter V6 provided just enough urge. A somewhat timid throttle and a lack of natural engine braking demanded some extra concentration on steep grades. But basically, the Ridgeline drives like any top-end family SUV, jitter-free and creamier than supermarket Jif. Pay no attention to the cargo bed out back. And the price is right: $30,375 to start, with this nearly range-topping RTL-E version checking out at $42,270.
Though, for some buyers, the Honda's lack of issues will be an issue.
Lawrence Ulrich/TheDrive.com
Ask any owner of a weathered pickup, or even a Jeep Wrangler: A bit of shimmy over bumps, some necessary elbow grease at the wheel, is part of the charm of a body-on-frame truck. So while the Honda's air-mattress ride is mostly welcome, my Wrangler side was still wishing for some manly bonhomie, those playful shoulder punches and nudges in the ribs. The Honda is sprung so softly that it tends to ooze down the road, its helium-light steering forging even less connection than the Pilot on which it's based. Again, for a subset of buyers, it's a puffy-cloud dream come true.
It's the same for the interior. Kudos to Honda for not going the saddle-horn and lariat route, the fallback luxury cues of American trucks that count one actual cowboy for every 10,000 buyers. (Such a theme would get Honda laughed out of the roadhouse, anyway). Yet a little effort to differentiate the Ridgeline from your auntie's Pilot would go a long way – a seat stitch, perhaps, or some burlier switchgear designed for larger hands. (Regarding hands, the Ridgeline's Display Audio system, with its unsightly new Garmin navigation unit and obtuse flush-mounted digital controls, is easily its most off-putting feature).
Yet credit Honda for honesty, for acknowledging that Ridgeline buyers aren't going to haul much topsoil or tow a stable of ponies.
Certainly, the Honda's body-on-frame rivals – the sales-dominating Toyota Tacoma and the Chevy Colorado/GM Canyon twins – are fine trucks. They can claim more truck cred and (should you care) a skosh more off-road ability; though the Honda's nifty AWD system can vector torque front-to-rear or side-to-side without any power-sapping intervention from brakes. But from its comfy ride and cabin to luxury-car features and safety, the Honda makes the Toyota and GM twins seem like relics from a stone quarry.
The Honda has more passenger space and a huge edge in rear-seat cargo room. Its newly expanded bed, 5.5 inches wider and longer than before, is largest in class by a wide margin, with a nearly 1,600-pound payload capacity. Or, plenty of room for three adults at the drive-in, comfortably arranged on blankets and pillows. When I operated the Honda's unique double-action tailgate – which can drop down or swing open from one side – and pulled our cooler and folding chairs from its Houdini bin, the owner of a nearby Ford F-150 was eyeballing the Honda's every move.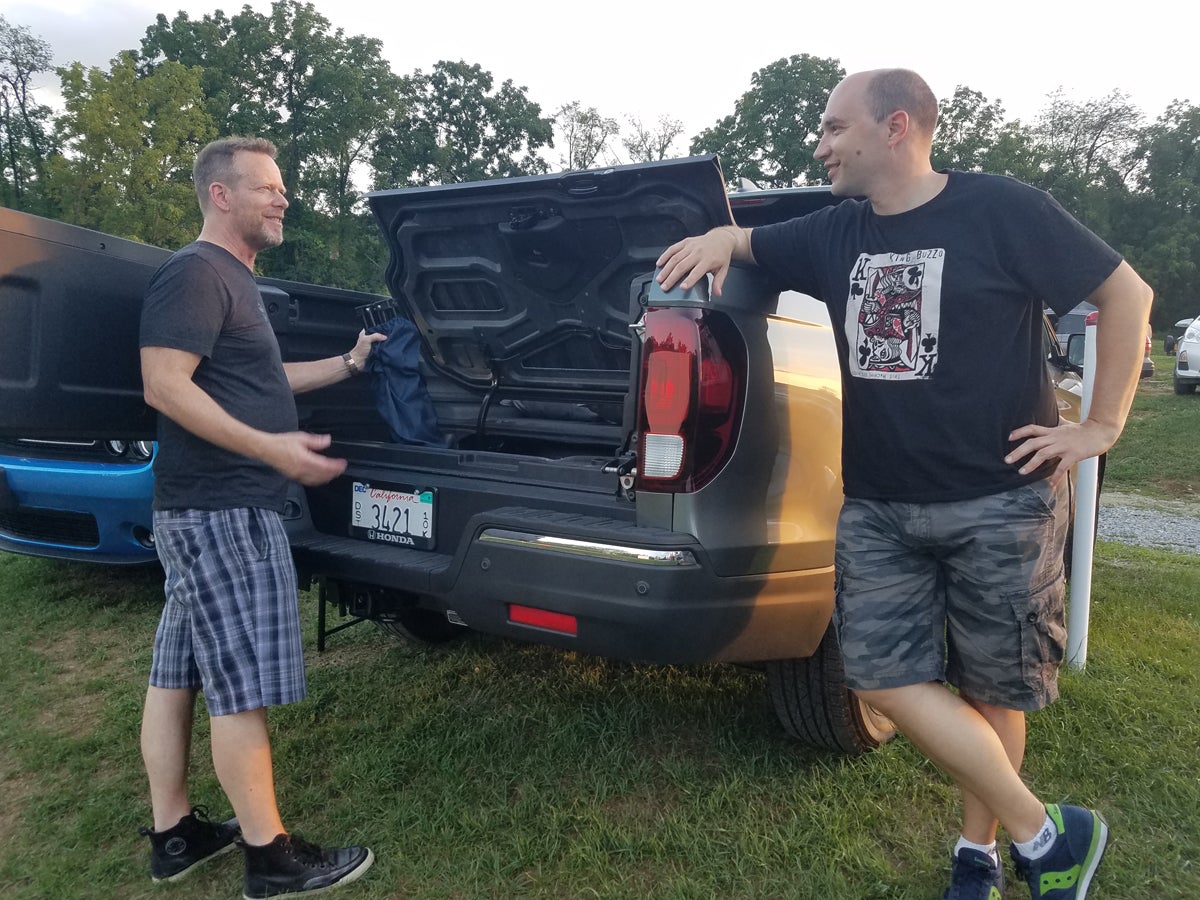 Lawrence Ulrich/TheDrive.com
For the next trick, I tuned in the drive-in's FM broadcast and cranked up the Honda's Truck Bed Audio System. Standard on RTL-E and Black Edition models, it drives a half-dozen 10-watt audio exciters built into the bed's fender rails. While other pickup owners hauled along portable radios, generators and speakers, the Honda amped up the movie soundtrack even with its doors and windows shut. A standard household outlet in the bed delivers up to 400 watts of juice, enough, Honda says, to power a flat-screen television. Again, it's ideal for those tailgaters who prefer hanging in the parking lot for the entire first quarter.
A sudden rainshower interrupted the second movie, sending people dashing for shelter in their cars. I powered open the Honda's rear glass window, another class-unique feature, for a better view.
The verdict? Sausage Party is a must-see, so funny and fearless that you'll split your intestinal casing like a burnt wiener. Bad Moms seemed amusing, if formulaic, but we began to lose track after midnight. (You know the drill at the drive-in).
And the Honda? I'll put it in Sausage Party terms: For buyers with no truck insecurity issues, whether in length, girth or the brand on the package, the Ridgeline has a serious payoff – including its movie-going, picnicking, tailgating genius. Next time, I'm filling the trunk with ice.
Lawrence Ulrich,The Autance's chief auto critic, is an award-winning auto journalist and former chief auto critic for The New York Times and Detroit Free Press. The Detroit native and Brooklyn gentrifier owns a troubled '93 Mazda RX-7 R1, but may want to give it a good home.