Let's cut to the chase on the BMW 530e iPerformance: On a somewhat subdued highway drive to the Poconos, this plug-in hybrid 5-Series returned 36 mpg. The chase got faster on the return trip. I romped at will past slower cars, and still managed 34 mpg by the time I entered the Seventh Circle of traffic hell at Manhattan's Lincoln Tunnel. By any measure, that's excellent mileage for a roomy, swanky 5 Series sedan. And that's not even counting the all-electric miles that the BMW delivered before it switched to hybrid operation. 
2018 BMW 530e: Hybrid mileage at a come-hither price
Yet this BMW will never be diagnosed with hybrid hypoglycemia, considering its sugar rush of acceleration on Interstate 80: The rear-drive 530e sprints from 0-60 mph in a commendable 6.0 seconds flat, according to BMW, or 5.8 seconds with optional xDrive AWD. Those acceleration numbers are identical to the gas-only 530i model. Giving a boost to your early-morning efficiency, the 530e can officially cover 16 all-electric miles on a plug-in charge, at a 72 mpge rating. Set a destination on the navigation system, and the BMW's hybrid system even anticipates the road ahead—including topographical data—to save energy, using the engine more on highways and conserving battery juice for urban areas.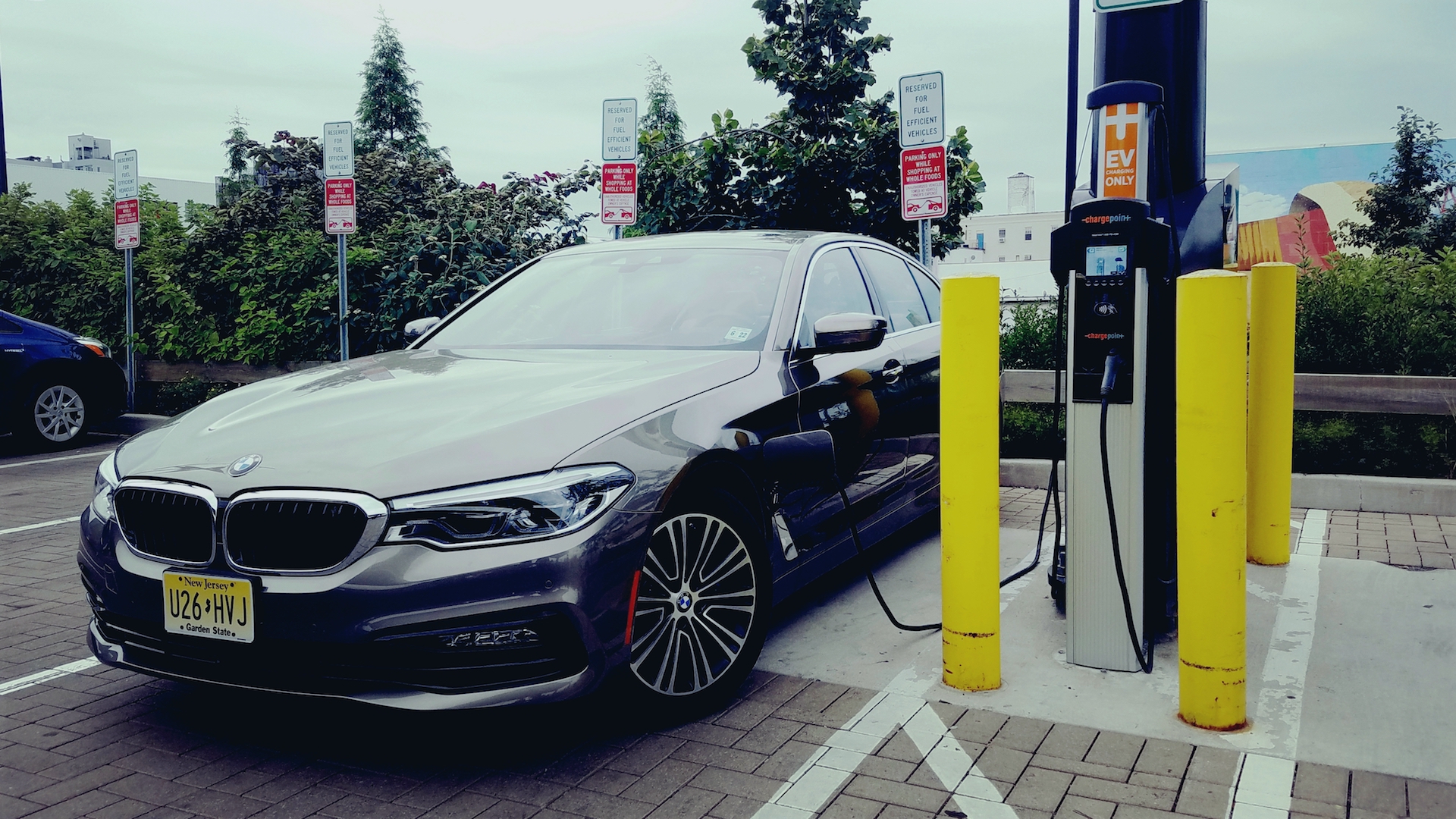 How cliche: BMW sips juice at Whole Foods, driver sips wheatgrass, Lawrence Ulrich
Now, what if I told you that BMW is essentially offering its latest hybrid technology for free? This 2018 530e iPerformance starts from $53,395, not a penny more than a 530i with its 248 horsepower, 2.0-liter four-cylinder. BMW clearly wants to make the 530e the offer you can't refuse. It's a welcome change in philosophy, and financial terms, from BMW's previous, performance-centric Active Hybrids, including an X6 SUV that supplied 400 V8 horsepower and 575 pound-feet of torque. Those head-scratching hybrids threw buyers a scrawny bone in mileage, but at filet mignon prices—including an outrageous $8,000 price premium for the 5-Series version. Not surprisingly, the Active Hybrids landed in the marketplace with a resounding thud.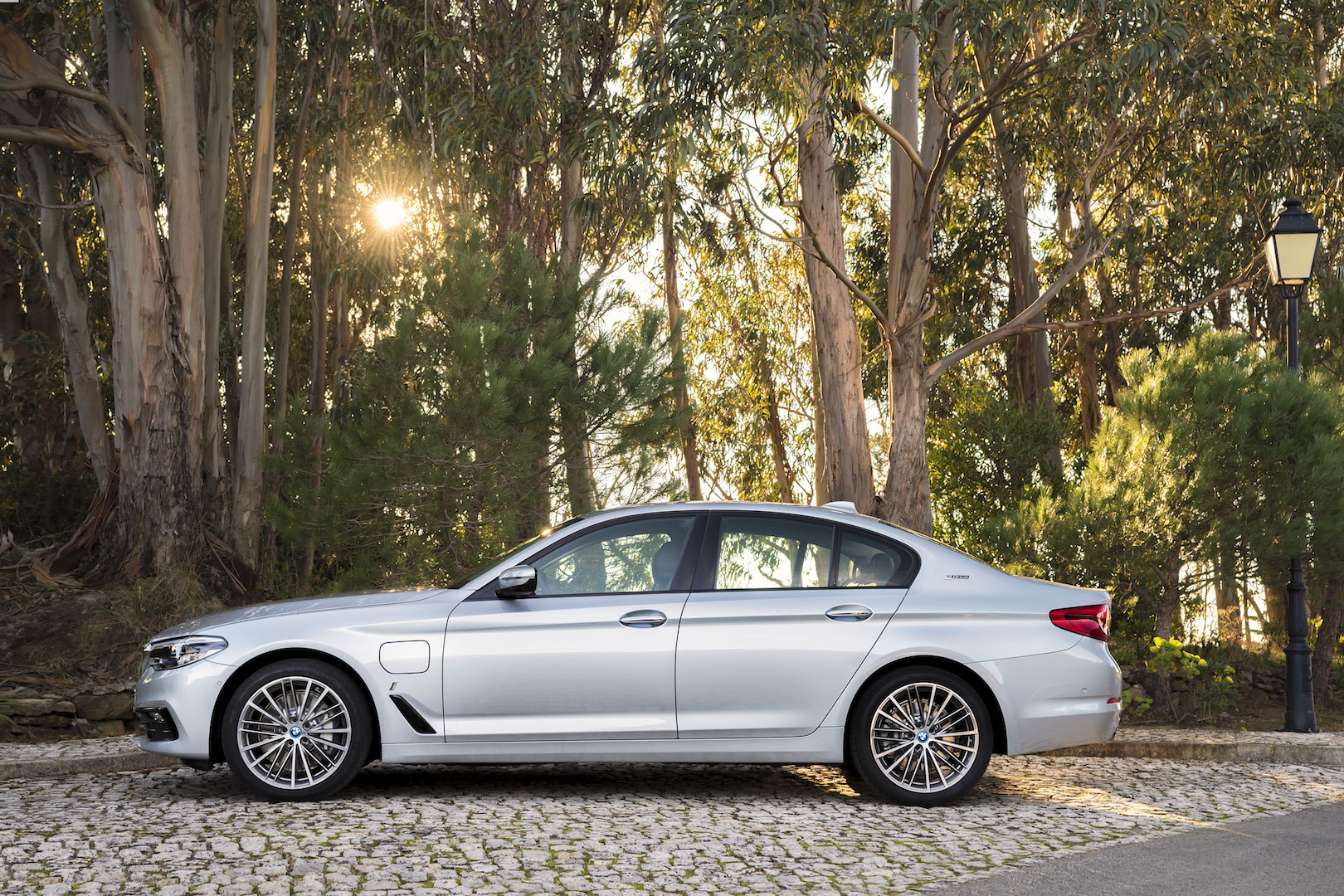 530e topped 30 mpg in real-world driving, plus bonus all-electric miles, BMW
BMW is being more realistic this time—and far more generous. Aside from the 530e's alluring base price, the federal government will hand you nearly $4,700 more (in the form of a tax credit) to choose the hybrid—dropping its price to $48,700. It makes the 530e a steal on par with Chrysler's plug-in Pacifica minivan. That $4,700 can pay for a whole lot of BMW options, including xDrive AWD at $2,300. More perspective: A next-level-up BMW 540i, with its brilliant 335-horsepower turbo inline six, is a full second quicker to 60 mph than the hybrid, at 4.9 seconds. It also costs $10,000 more after accounting for the 530e's tax credit. Is that second worth $10,000 to you, or $1,000 per tenth?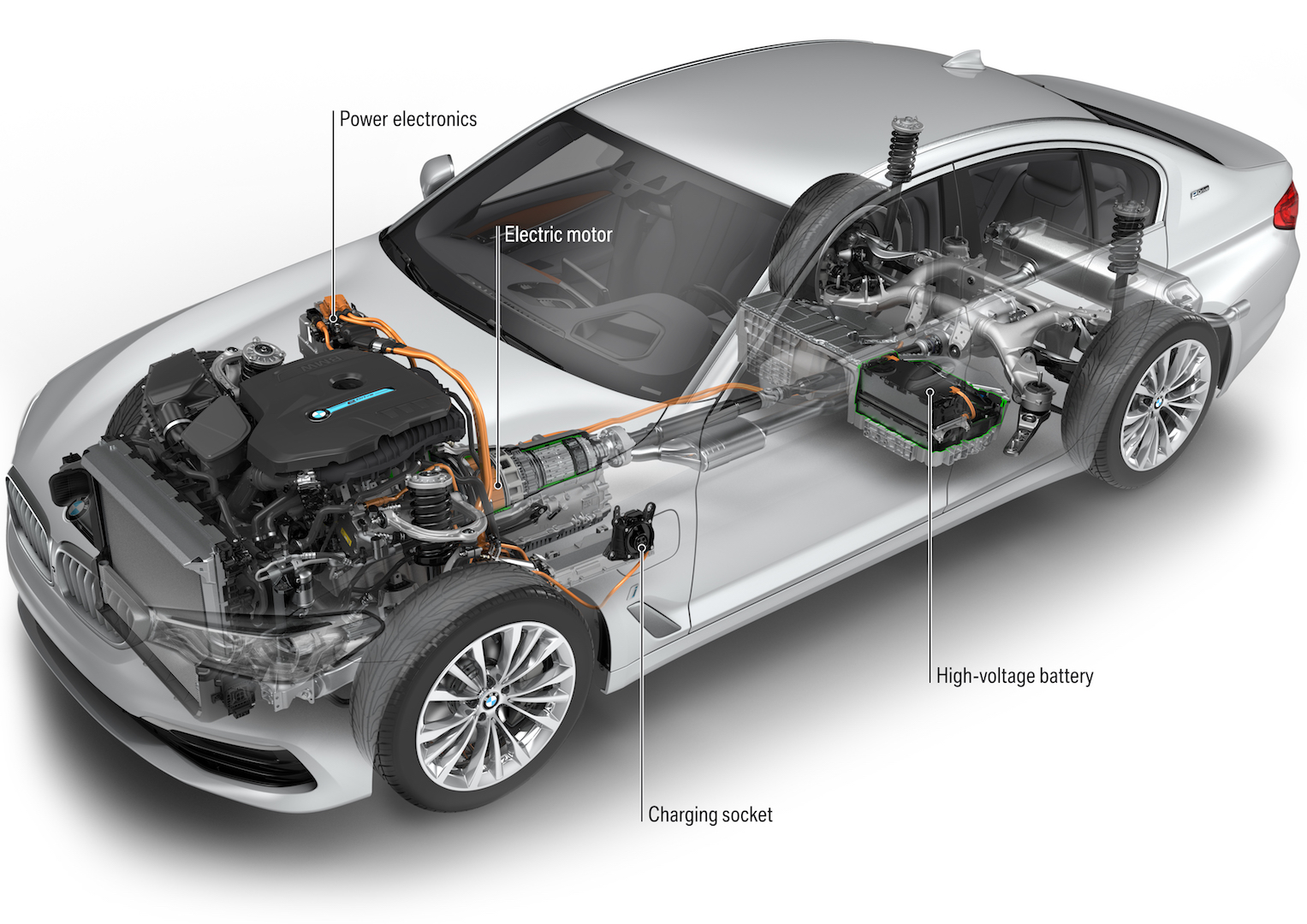 See all this stuff? It's essentially free, BMW
America's most affordable 5-Series, then, starts with a detuned, 180-horsepower version of the 530i's twin-scroll turbo four. To keep up with the gasoline Joneses, BMW amps the system with a meaty 111-horsepower electric motor, mounted in a bell housing between the engine and the eight-speed automatic transmission. All told, the system matches the 248 horses of the gas-only 530i, but generates far more torque, at 310 pound-feet versus 258. That extra grunt, including 184 pound-feet of instant-on electric torque, neatly balances out the hybrid's roughly 500 pounds of additional curb weight, or 4,266 pounds for the rear-drive 530e.
All the 5-Series' good stuff, with green icing 
That ZF transmission—versus the disconnected-feeling CVT's common to most hybrids—is one key to the BMW's satisfying performance. The other is the improved, lightened chassis that underpins every 5-Series, in its all-new, more-luxurious guise. That includes a largely aluminum suspension, active dynamic dampers (a $1,000 option) and a finely judged balance between ride and handling.
Some critics have quibbled about the close resemblance to the larger 7-Series, but the new 5'er remains a handsomely understated sedan. My 530e benefited from a particularly flattering paint job, a gorgeous bronze-gray shade (a $500 option) called Atlas Cedar. And after a few years of complacency, the 5-Series' redesigned interior is as sumptuous and tech-stuffed as anything in its field, including the Mercedes E-Class. My tester's gray-stitched Cognac leather would have design aesthetes raising a snifter in appreciation. And with its lengthy, 117.1-inch wheelbase, the BMW's back seat sets a class standard for spaciousness and well-sculpted seats.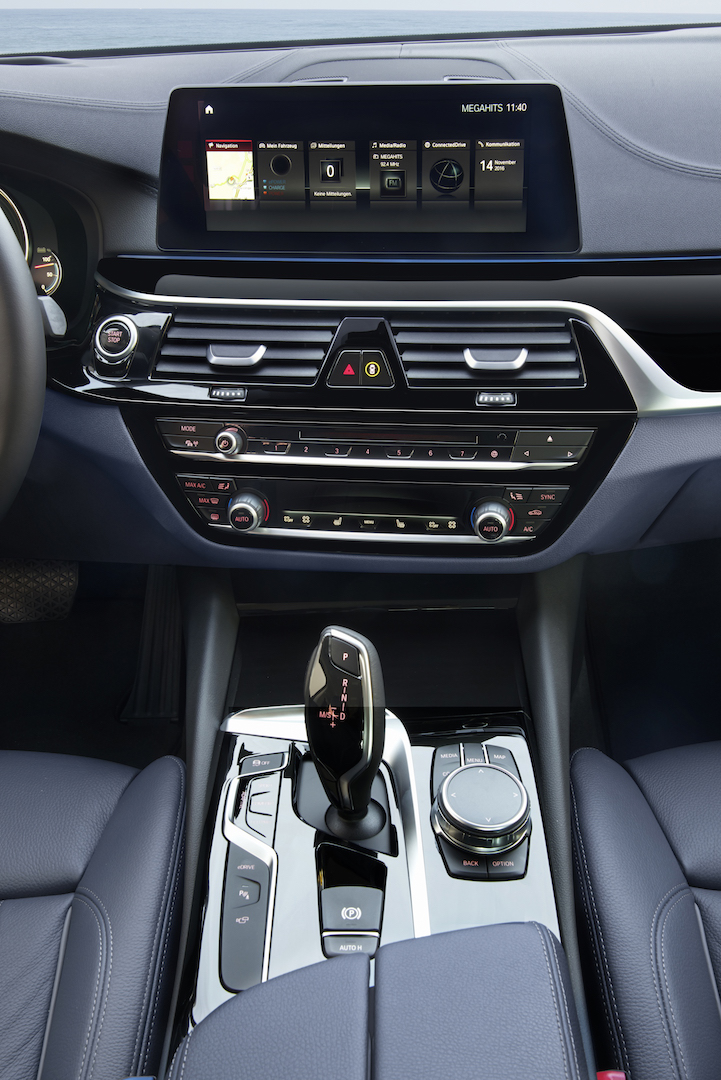 Interior luxury rivals big 7-Series, including iDrive 6.0 with drawing pad, BMW
The overall impression of "7-Series Jr." is boosted by flagship features, from the semi-autonomous functions of Driving Assistant Plus ($1,700) and soft-closing doors ($600) to the latest iDrive 6.0, wireless phone charging and Gesture Control. The latter feature, which costs $190, lets a driver or passenger perform a kind of semaphore—twirling a finger in the air to adjust audio volume, for example—without touching any physical controls.
With gentrified Brooklyn standing in for Portlandia, I wheeled into Whole Foods, waved my ChargePoint card and plugged the Bimmer into one of several free chargers in the lot, alongside an Audi A3 eTron, a plug-in Prius and BMW's own i3. A handsome, animated driver's screen informed me that the 530e's 9.2-kilowatt hour battery would be fully juiced in 3 hours on the Level 2 station, with the BMW's onboard charger drawing at 3.3 kilowatts. Owners can set a departure time, and the BMW will pre-heat or cool the cabin with grid electricity, rather than wasting stored juice.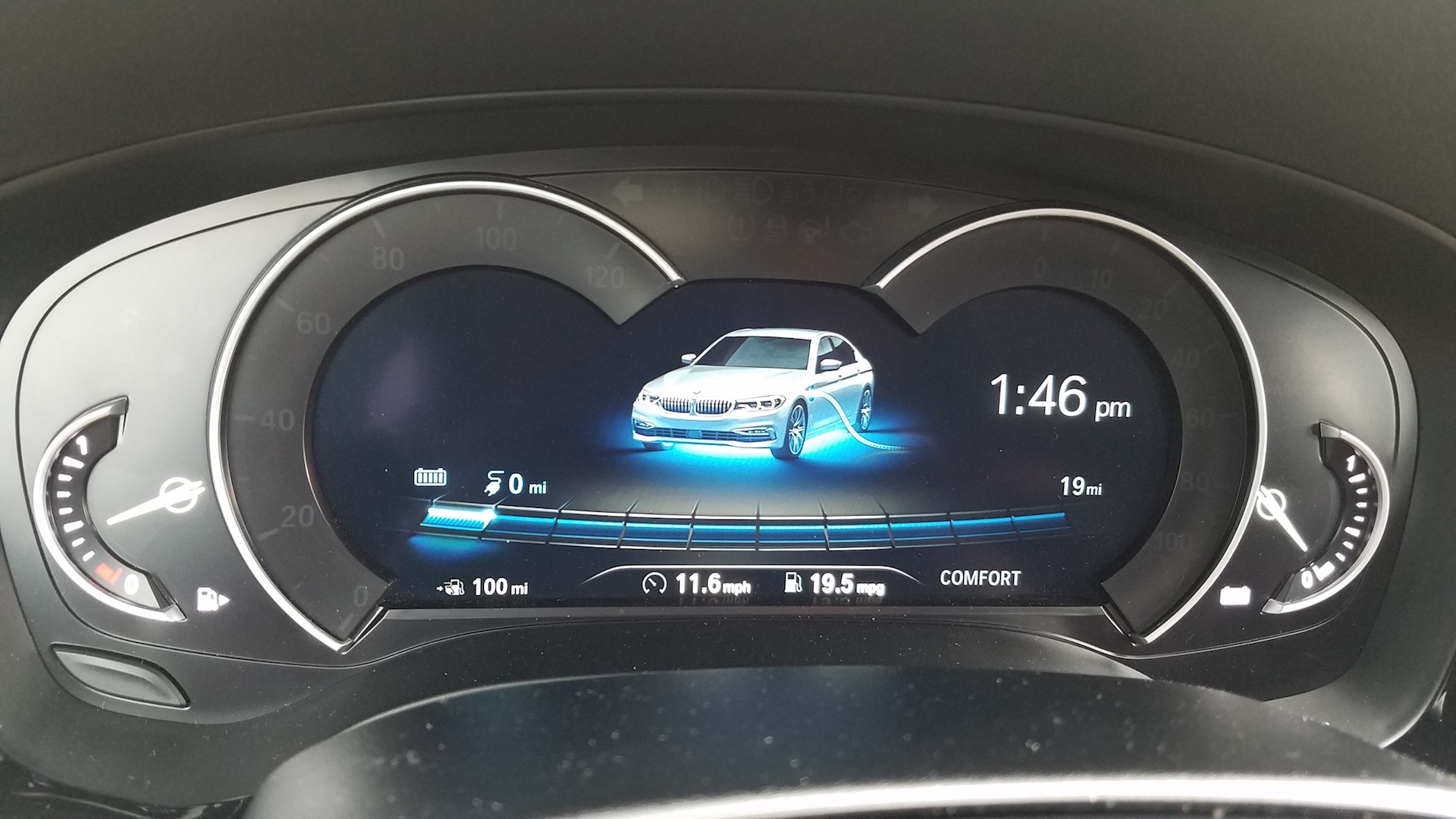 Driver's display monitors plug-in charge status, Lawrence Ulrich
Upon my return, I hit the "start" button, which put the BMW into its default Auto eDrive mode: Mixing-and-matching electricity and gasoline power according to the driving situation. As ever, BMW's four-cylinder can sound a bit rattly when it's still cold. But once up to temp, the transition from pure electric to hybrid power was often so quiet and seamless that I didn't even notice the engine firing up. Overall, this bank-vault 5-Series is amazingly quiet. Wind and road noise are banished like Steve Bannon. Hit a console button, and Max eDrive mode sidelines the engine entirely, unless you press the throttle into kick-down mode for a fossil-fueled burst. I manage just 13 all-electric miles on a charge, versus the official 16; though in miserable conditions, crawling through Manhattan and Brooklyn with the A/C blasting. A raft of onboard coaching screens can help drivers boost their mileage game.
Electricity is available for tag-team power as well: Instead of a traditional tachometer, a driver's gauge displays throttle position from 0 to 100 percent; hold the pedal to the floor for a shove of "e Boost" action. Even in all-electric mode, the BMW can reach a reasonable 87-mph top speed, rising to 146 mph in hybrid operation. A Battery Control mode lets you reserve remaining electricity—say, for downtown London or other pollution-sensitive urban areas—or divert gasoline power to recharge the battery in flight. Trunk space drops to 12 cubic feet, down from 15 in a standard 5-Series, but folding rear seats, split 40/20/40, return some cargo versatility. The fuel tank also shrinks a bit to 12.1 gallons, yet the 530e can still cover a healthy 400 miles between a charge and a tank of premium unleaded.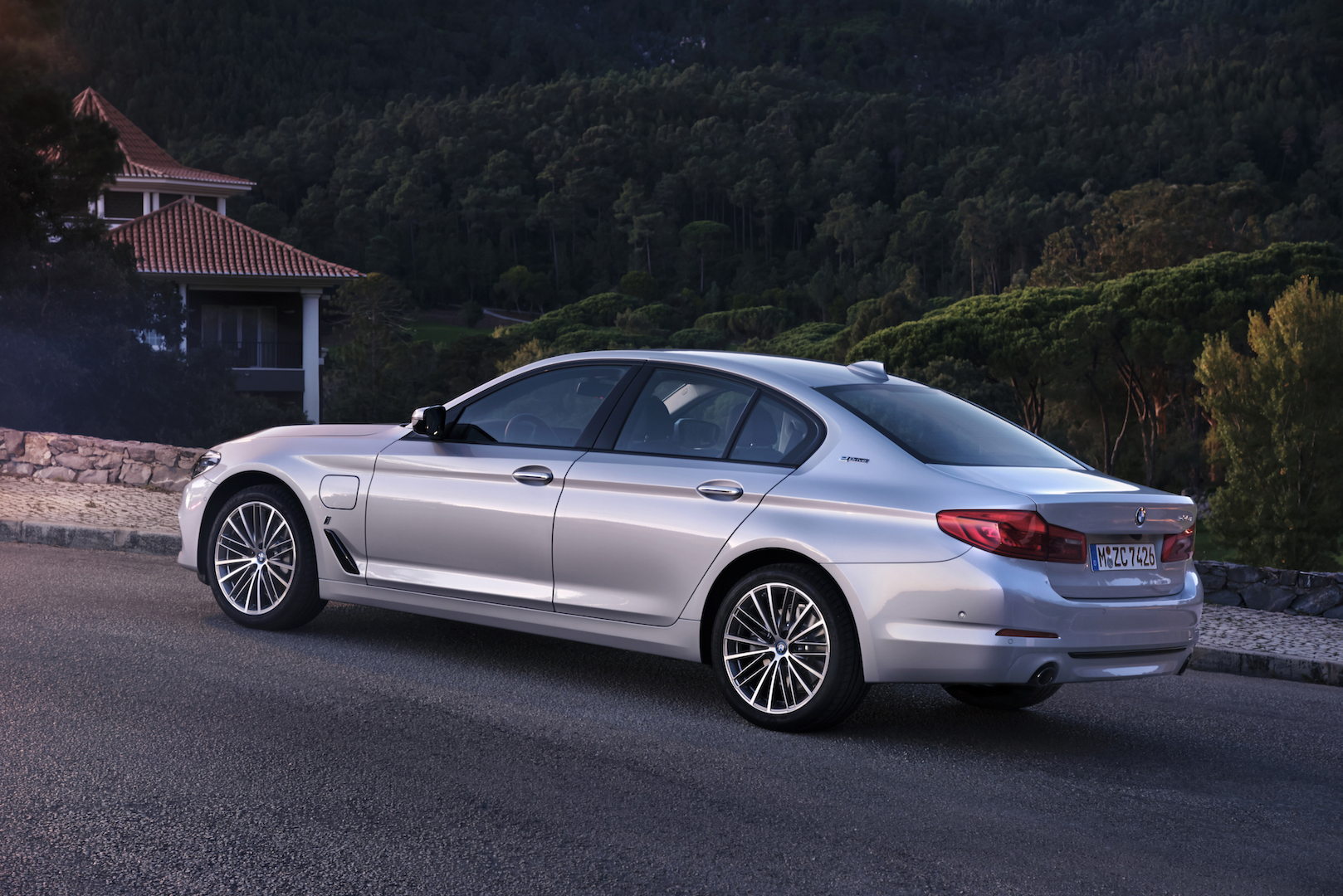 BMW likes to charge, in both senses of the word, BMW
Another console button guides the BMW through familiar Eco Pro, Comfort and Sport settings. "Sport" reconfigures driver's gauges and keeps the engine running at all times. Despite its heft, and standard all-season, run-flat tires, this 5-Series proved eminently capable of setting a fast pace on country roads. Most of the extra battery mass is carried rearward and below the floor, a boon to handling. Steering is in dire need of more driver feedback, but I can say that of any new 5-Series, tuned as much for isolation as excitation. The level of hybrid regenerative braking is also well-chosen for a BMW—you can lift off throttle and coast on the highway without a sudden deceleration—but I might prefer one or two driver-selectable regen settings, especially to allow EV-style, one-pedal city driving.
Now, this is the part of a hybrid review where I'd normally calculate, sometimes feebly, the "payback period," or how many years you'd have to drive a hybrid before you break even on the extra technology costs. But in this case, the 530e buyer is already $4,700 ahead, via the tax break versus the identically priced 530i. So fuel savings become green icing on the financial cake, with the added benefit of conserving fuel and emitting less C02 and other pollution. It's the same for BMW's other new plug-ins, including temptingly priced versions of the 3-Series and 7-Series sedan and X5 SUV. Together, they suggest that BMW's trumpeted, global push in electrified cars—including a dozen new all-electric models by 2025—is more than marketing hype.
The gasoline-only 530i is already America's most fuel-efficient (non-hybrid) midsize luxury sedan, at 24/34 mpg in city and highway, or 27 mpg combined. On paper, the hybrid 530e delivers a mere 2-mpg gain in hybrid gasoline economy, at 29 mpg. The EPA figures the 530e owner will save $350 a year versus his neighbor with the 530i; that's $1,250 in annual electricity and gasoline for the 530e, or $1,600 in gasoline for the 530i. But I suspect that the savings will be greater in the real world, especially for people who faithfully plug in. As with any plug-in hybrid, your mileage will vary, largely depending on daily driving patterns. Yet even if the 530e never comes within sniffing distance of a charger, you're looking at a 5-Series that will approach or top 30 mpg. Tuck BMW's baby in for a nightly charge, add in those bonus electric miles, and overall efficiency will soar. For one example, a 32-mile daily commute, half on electricity (at 72 mpge) and half on gasoline (at 29 mpg), will result in a Prius-like 50 mpg. Within a year or so, a wireless charging system, developed with Daimler-Benz, should let owners park atop a charging pad to juice the 530e, cutting the cord entirely. 
That seems fitting: Unlike most hybrids, the BMW doesn't make you reach for your wallet to pay for its technology. Soon enough, you won't need to lift a finger to charge it.
Lawrence Ulrich,The Autance's chief auto critic, is an award-winning auto journalist and former chief auto critic for The New York Times and Detroit Free Press. The Detroit native and Brooklyn gentrifier owns a troubled '93 Mazda RX-7 R1, but may want to give it a good home. Email him at [email protected].