Ah, Los Angeles: Where image rules, poolboys drive BMWs, and self-worth can hinge on the car you drive. It's the kind of brand-conscious city where the Kia Stinger GT could face an uphill battle no matter how quickly it can climb into the surrounding canyons.
But for enthusiasts who don't give a damn about the Kia badge on the exterior—or those who are handy with a roll of duct tape—the Stinger GT is looking like the Underdog of the Year. As with various slope-roofed German sedans, the Stinger disguises a hatchback, but not its ambitions, whether in performance- or bargain price: that would be (a still-unofficial) $39,895 for a base Stinger GT, with its 3.3-liter twin-turbo V6; or $32,795 for the Stinger 2.0T and its 255-hp four with a single, twin-scroll turbo. If some four-legged, sled-dog traction is in order, add $2,200 for AWD on any model.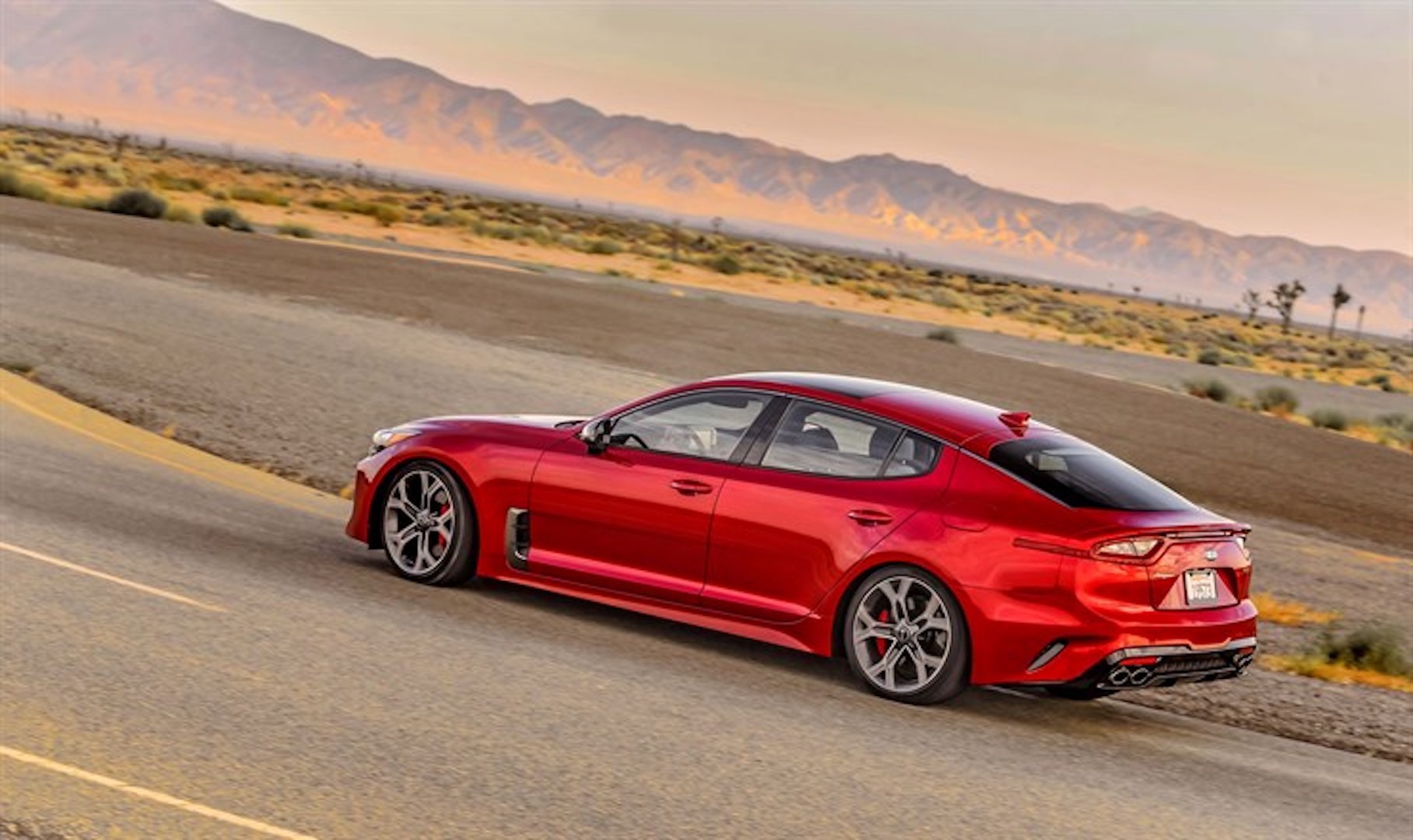 A Kia that does 167 mph? Believe it. , Kia
The biggest takeaway? Unlike every previous attempt at high-performance from Kia or Hyundai—notably the disappointing Hyundai Genesis Coupe—the Stinger isn't a mere statistic, with encouraging on-paper specs that you might as well crumple up on the street. Yes, the Hyundai Motor Group has soared in sales and showroom reputation based on value, design, and dramatically improved quality. 
The two brands, along with a 6,900-car blip from the new Genesis luxury division, moved a remarkable 1.42 million cars in America last year. That was more than double the 590,000 sales of its next-closest mainstream rival, the Volkswagen Group; and on the bumpers of Nissan and Honda for fifth place among all automakers. But until very recently, chassis dynamics remained the missing link for all three brands. The cars simply lacked the sophisticated ride and handling that characterizes a Mazda, a VW, the best Hondas, and German luxury brands.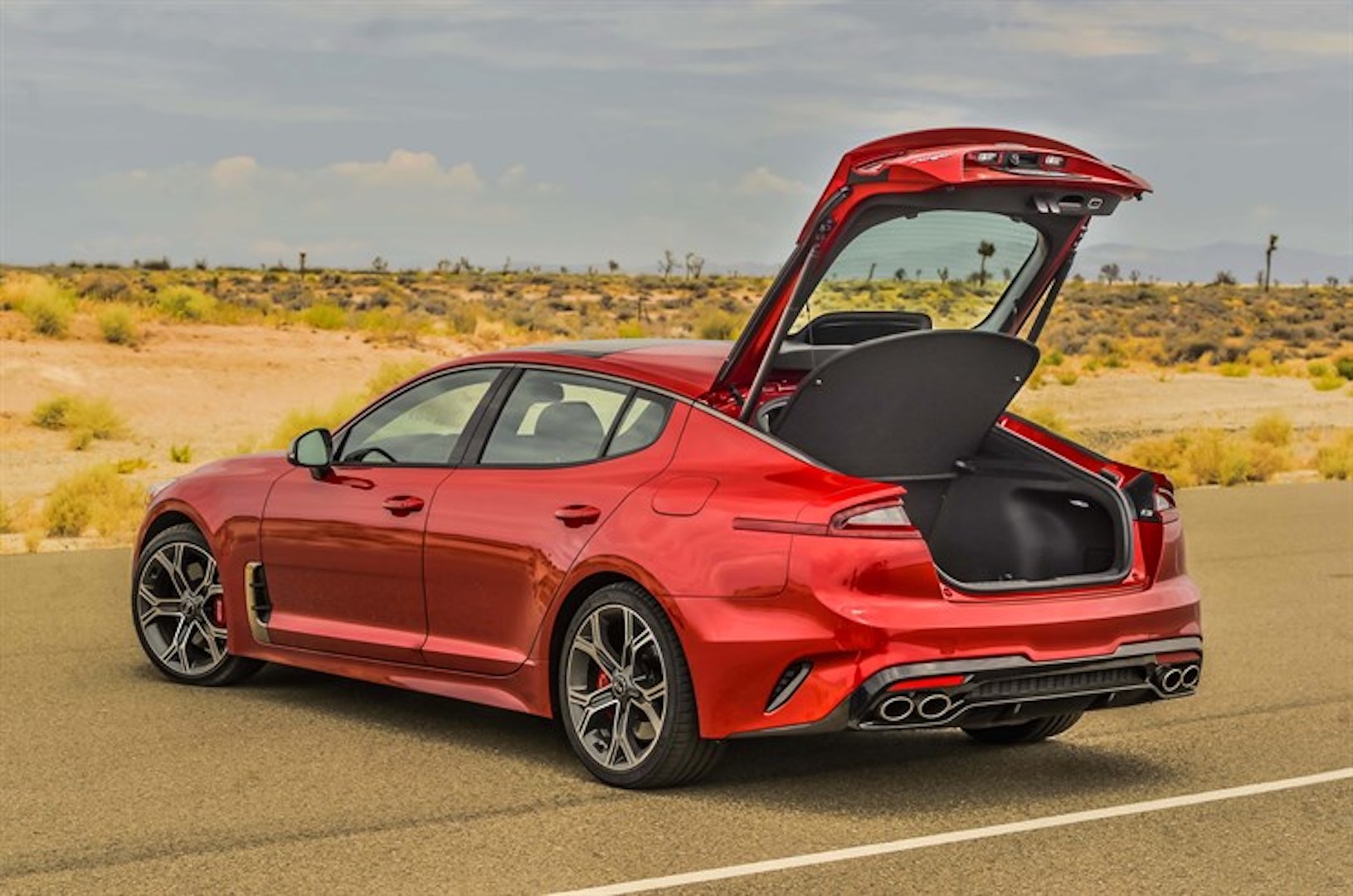 Like Audi, like son: Stinger disguises a handsome, ultra-practical hatch., Kia
Not so the Stinger. Its tutelage by the estimable Albert Biermann, the former chief engineer of BMW's M Division, now director of high performance for Hyundai and Kia, shows in every refined move, from our lonely-canyon blasts to a road course and oval at Hyundai's California Proving Ground in the Mojave Desert. Dr. Biermann's translated German lessons included 6,000 miles of Stinger development on the Nürburging, and nearly 1 million miles of overall testing. As Biermann characterizes his vaunted arrival at Kia: "I said, 'Hey, these cars need to drive as good as they look.'"
We're a long way from the late Nineties, when Leno and Letterman were peppering monologues with jokes about lemony Korean cars. A Leno Sample, comparing a Hyundai to an Olympic luge: "A three-foot long vehicle that has to be pushed to get started and only goes downhill." (Ba-da-bum).
I'm dying to see what Leno says when the Kia Stinger GT rolls into his fantasy garage. For one, the Stinger is nearly 16 feet long, roughly splitting the difference between the smaller Audi A5 Sportback (or BMW 4-Series Gran Coupe) and the elegantly stretched Audi A7. The Kia does look as streamlined as an Olympic luge—one sponsored by Audi: Gregory Guillaume, Kia's European styling chief, penned the body, but the fingerprints of Peter Schreyer, the former top Audi designer who now leads global design for Kia and Hyundai, are all over the Stinger inside and out. (Hey, if you're going to copy, copy from the best.) Audi knockoff or not, the Kia's lovely design, including unmistakable rear-drive proportions, fairly wowed the denizens of trendy North Hollywood during our test.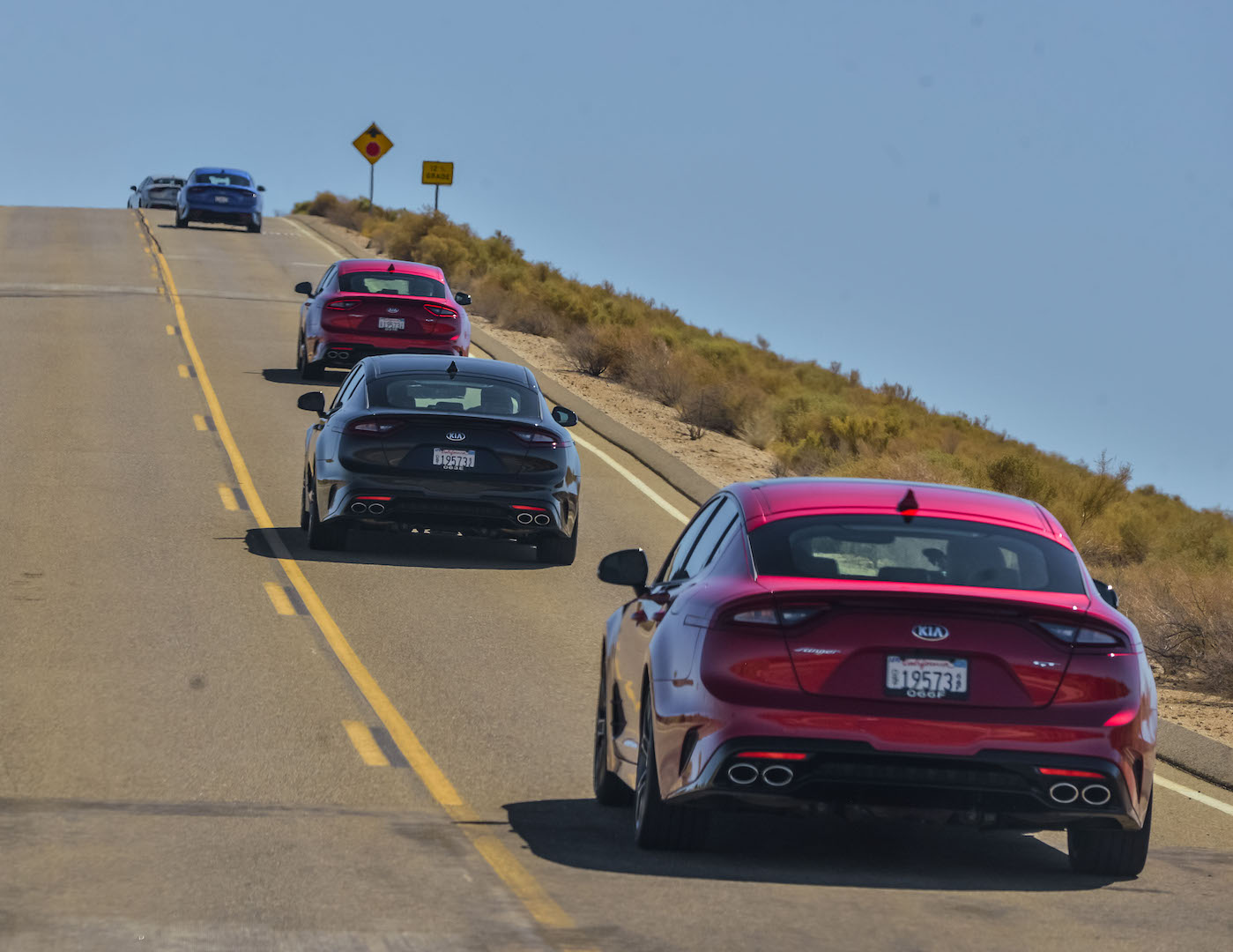 Shall we dance? Kia convoy twirls in Cali canyons., Kia
And the only push the Kia needs to get started comes from your right foot. With its twin-turbo V6 and an eight-speed, paddle-shifted automatic transmission—not the industry's ubiquitous ZF unit, but an in-house design—the Stinger GT has more horsepower and torque (at 376 pound-feet) than any competitor, including the base-model Porsche Panamera V6. That grunt translates to the highest top speed in the class at 167 mph. The Kia hamsters have never exercised wheels at such speeds, not even Lil Turbo. Safety rules limited me to 130 mph on the desert proving ground's unbanked oval, but the Kia felt so stable that I was tempted to take it to the limit.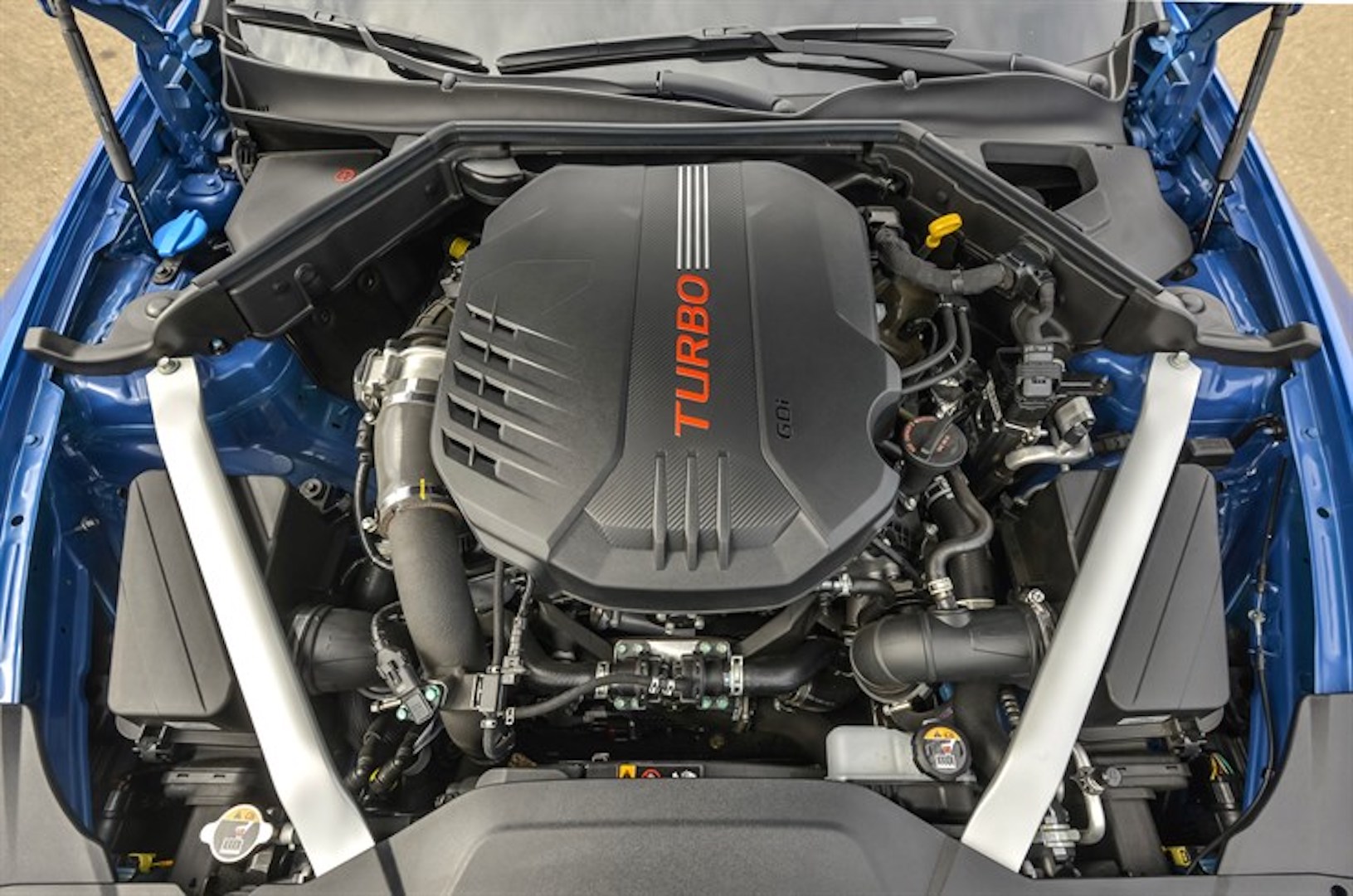 Twin-turbo V6 spins up a class-topping 365 horsepower., Kia
The Stinger's lusty, 4.7-second dash to 60 mph also beats a showroom's worth of luxury cars, including the aforementioned Porsche, the 4- and 6-Series Gran Coupes, the Audi A5 and A7, and the Lexus GS F-Sport and Infiniti Q50. Only the Audi S5 Sportback has more stoplight pop, at 4.5 seconds to 60 mph. That smaller Audi also starts above $55,000 in base form—about $3,000 more than a fully loaded Stinger GT AWD—and costs about $15,000 more, at 68 grand, when comparably equipped. The Kia's super-stretched, 114.4-inch wheelbase (eight inches longer than a BMW 4-Series Gran Coupe's) helps carve out the most rear legroom in the class, including a three-inch edge on the Panamera. Its smartly integrated rear hatch offers 23.3 cubic feet of luggage space behind split-folding rear seats, nearly matching the Audi A7, a car that's six inches longer overall. That sloping roof does trade headroom for style, and to a greater degree than nearly any competitor: I'm five-feet eleven inches, and the top of my noggin was just brushing the headliner when I leaned all the way back into my seat.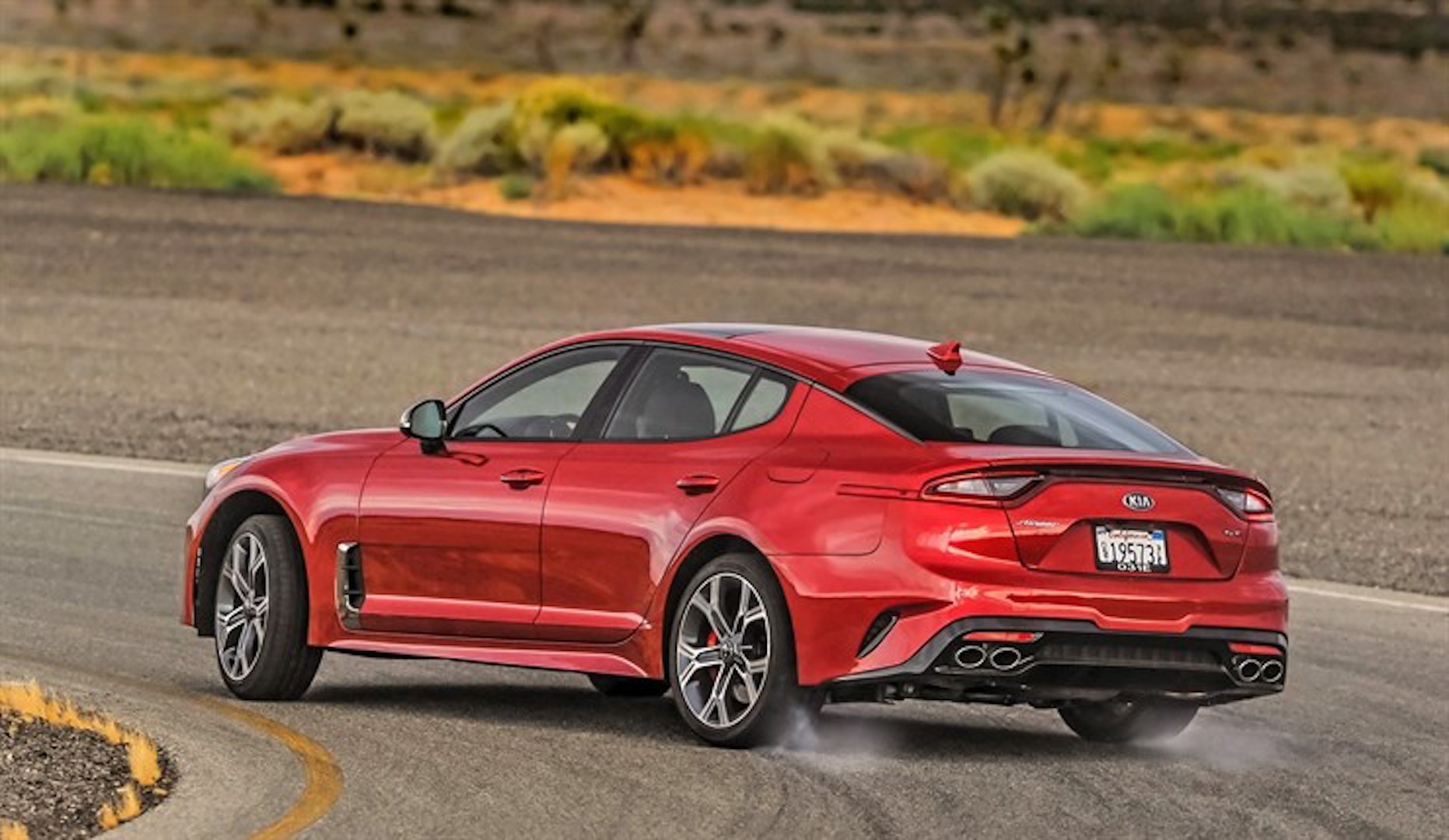 Stinger shakes a tail feather on track., Kia
That Stinger interior is really the only place where the Germans press their advantages of superior breeding and design sophistication—at a price, of course. As long as you remind yourself that this Kia starts below $33,000, the snazzy layout, seating, materials, and features should strike you as outstanding. Credit it or curse it, but there's a near-slavish adherence to Audi's design ethos, from the shapely wing-shaped dashboard to a yacht-like console shifter. Even the cupholders scream Ingolstadt, with the exception being "turbine wheel" vents and metal speaker grilles that nod instead to Mercedes. Features are out in force: A 16-way power driver's seat with welcome adjustable bolsters, Nappa leather, a head-up display, and 18 available driver assistance systems. The optional Harmon Kardon audio system is noteworthy, an ear-tickler with 15 speakers, 720 watts and subwoofers under front seats, plus resonance chambers in center roof pillars and "Clari-Fi" technology that unpacks sound lost through heavy compression of digital files. Kia's latest UVO3 infotainment system is as easy to use as ever, including Apple CarPlay and Android Auto functionalities. But I'd still prefer a German-style rotary console controller, even as a redundancy, rather than having to use the touchscreen exclusively.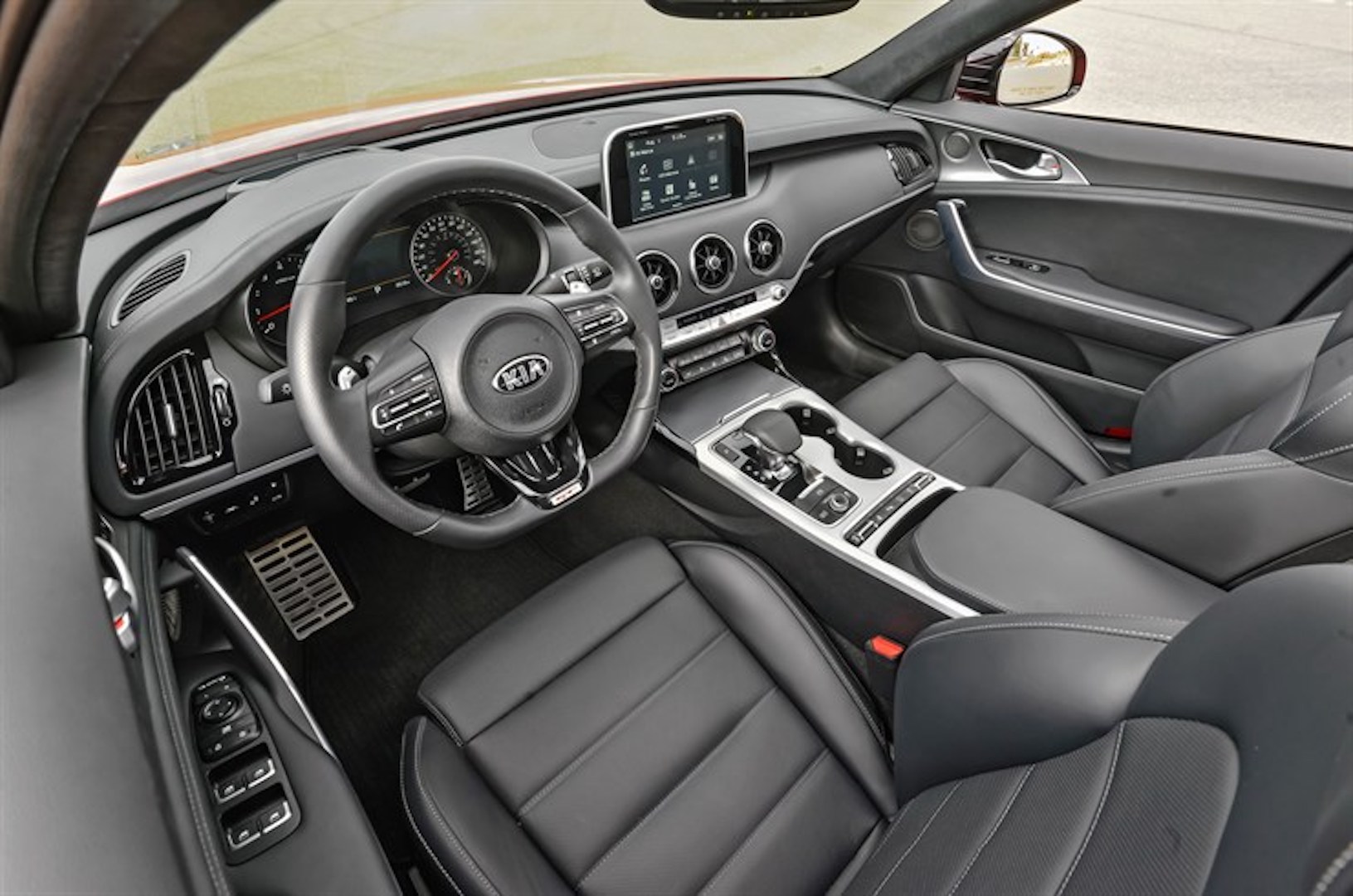 Interior is high quality and fully featured, but you still won't confuse it with an Audi or Benz., Kia
While the Kia rides smoothly, as befits its Gran Turismo size and philosophy, that cabin sounds less civilized than some luxury rivals, including some tire slap on LA freeways and excess wind noise around the front roof pillars. I'm also not sold on the Stinger GT's somewhat over-styled 19-inch wheels. Yet the Kia's overachieving performance counters those criticisms, and quickly. Incredibly, obtaining comparable speed, agility, and driver engagement in a Teutonic car requires springing for their mid-range performance models, meaning S-badged Audis, M Performance Bimmers, or Mercedes's C43 and E43 AMGs.
Credit to the fact that the GT's validation ran through the Green Hell of Nürburgring for robust cooling and smooth aerodynamics. That includes front wheel curtains with functional vents, a full underbody tray with NACA ducts, and an elegant, curling rear decklid spoiler that doesn't require weighty moving parts. Brembo brakes combine four-piston front calipers with trusty pedal feel. The Stinger GT AWD adds brake-based torque vectoring and an optional GKN limited-slip differential. Both complement an AWD system that can divert up to 50 percent of torque to front wheels—though it's the rear-drive Stinger GT, lighter by roughly 150 pounds, that feels swifter and friskier, the clear enthusiast's choice.
Those Kias set a hot pace on Hyundai's extra-wide road course in the Mojave, where the only other stingers belong to scorpions that crawl near the track. But our brightly colored swarm of Stingers actually does its best work in the sprawling canyons between Los Angeles and the Mojave. The Stinger seemed to grow in poise and stature the harder I flung it through cliff-hung curves—a signature of a great chassis. That chassis goodness has me eager to test the lighter four-cylinder turbo model, with its 5.9-second surge to 60 mph and 142-mph peak, for under $33,000 to start.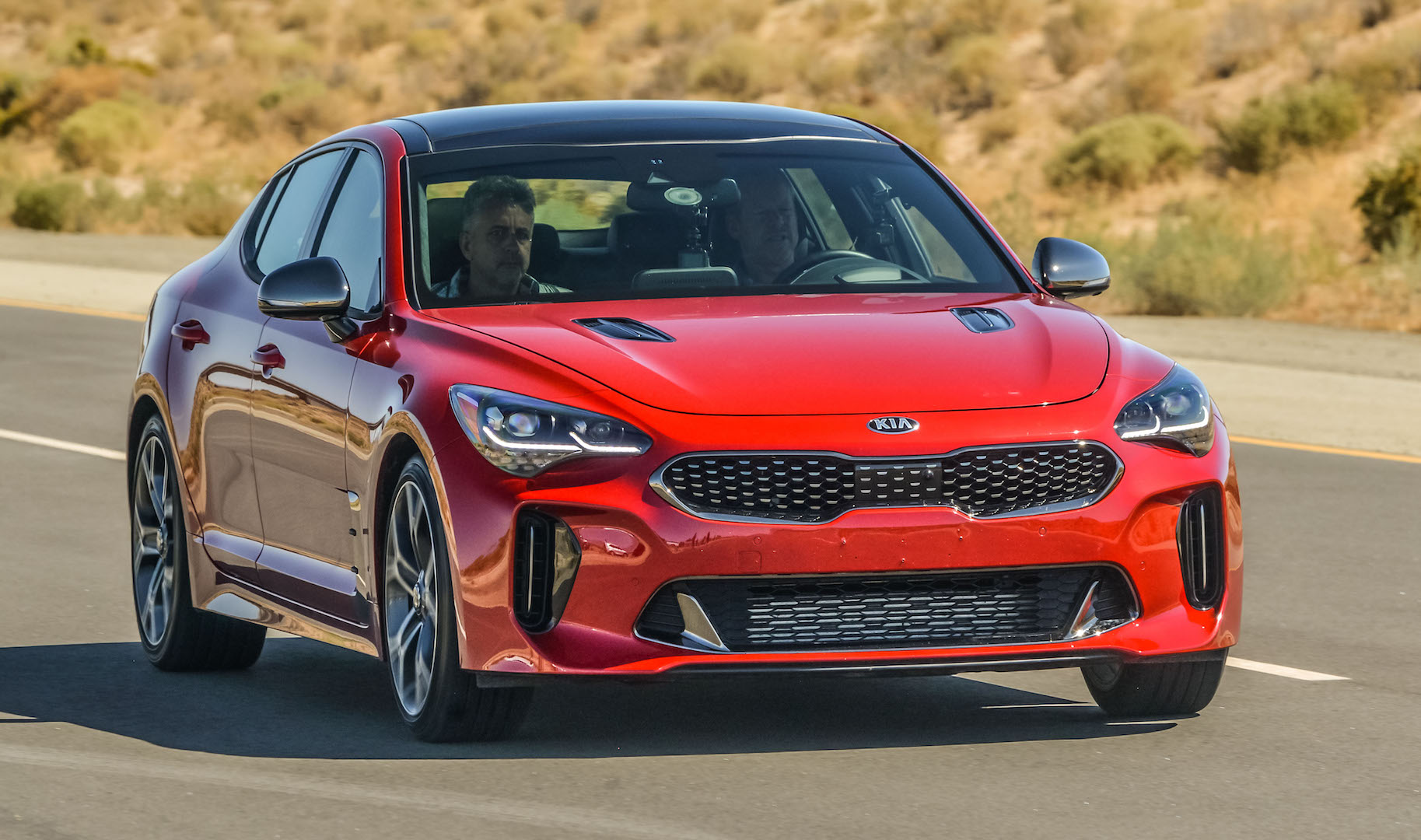 Ulrich avoids scorpions and Mojave Green rattlesnakes at Hyundai's desert track., Kia
The husky-voiced, twin-turbo engine isn't as purely creamy as BMW's or Mercedes-AMG's pricier turbo sixes, but it pours out power just as effectively. This Kia is smoking fast, whether you're going 15 mph or 115. That engine gets a subtle aural boost, with a digitized form of natural engine frequencies played through the audio system, at your choice of low, medium or high volumes. (No, you can't shut it off entirely.) Sensitive hands may detect one blemish: the Kia's "Sport" steering setting reveals some unneeded stiffness, though nowhere near the obnoxious, fake-sporty feel of older Kias and Hyundais with adjustable levels of steering boost. Fortunately, the Stinger's (smallish) drive mode selector knob allows individual settings, and putting the steering in "Comfort" and everything else in "Sport" was definitely the Goldilocks mode.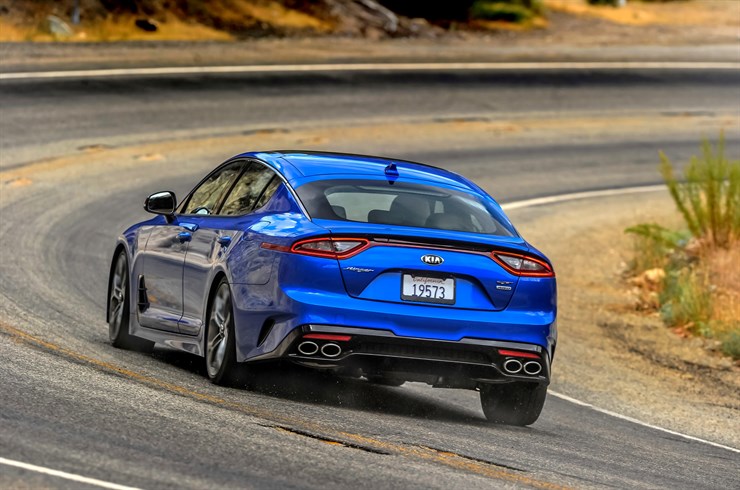 Underdog Kia starts below $33,000, maxes out at $52,595., Kia
The Kia's price is just-right as well. Shoppers are looking at roughly $38,000 for a smartly equipped four-cylinder version, or $40,000 with AWD. For under 40 grand, you're into the mighty Stinger GT. Throw the options book at the Kia, and it's $50,395 for a deluxe Stinger GT2 model, or a maxed-out $52,595 with AWD. To my mind, the rear-drive Stinger GT1, at just over $44,000, is the sweet spot for enthusiasts, the best balance of value, luxury and giant-slaying ability. To wit: A dead-stripper Audi A5 Sportback starts from nearly $44,000, or $54,000 for one Prestige version I tested. That Audi is lovely and lux, especially inside. But its 257-hp turbo four, 5.7-second run to 60 mph and Mr. Softee suspension pale before the Kia's 365-horse V6; its 4.7-second dash to 60 mph; and its superior athleticism. Adding insult to performance injury, the Kia is larger and roomier for people and cargo alike.
Yes, one car wears an Audi badge, the other a Kia. For many people, the comparisons end right there. But let's not forget that, not so long ago, Audi was a luxury underdog, dismissed by Mercedes and BMW snobs as a poseur, an uppity Volkswagen in a leather jacket. To more and more buyers, there's no shame in driving a Kia, Hyundai, or Genesis. No need to explain things to the neighbors.
If those neighbors or friends demand an explanation anyway, try this: The Stinger is the wide-eyed ingenue that's plotting to destroy the star. It's the hungry second-stringer that has coaches wondering why they're overpaying the pampered prima donna. Make the latter a soccer reference rather than a Rudy comparison. We are talking German prima donnas, after all.