Tesla made waves this week after informing the United States Securities and Exchange Commission that it had purchased $1.5 billion in Bitcoin. Apparently, the electric automaker also plans to accept the cryptocurrency for payments on its vehicles, which involves some risk for both Tesla and the consumer. As we've seen before, the skyrocketing value of Bitcoin—just over $48,500 for a single coin as of this writing—has come back to bite those who bought their cars years ago with the ever-fluctuating digital currency, and some took bigger Ls than the rest.
Tesla is really the first automaker to take on mainstream crypto adoption. And while it may be the largest and most popular car company that plans to take cryptocurrency payments, it isn't the first auto-related entity to go down this path. For years, niche car dealerships and even private citizens have been dabbling in the volatile currency as payments for goods and services. Given Bitcoin's record price in 2021, now is a better time than ever to look back at some of the most notable car-related purchases made with Bitcoin, including my favorite: a used Toyota Prius that someone bought in 2013 for the equivalent of almost $50 million today.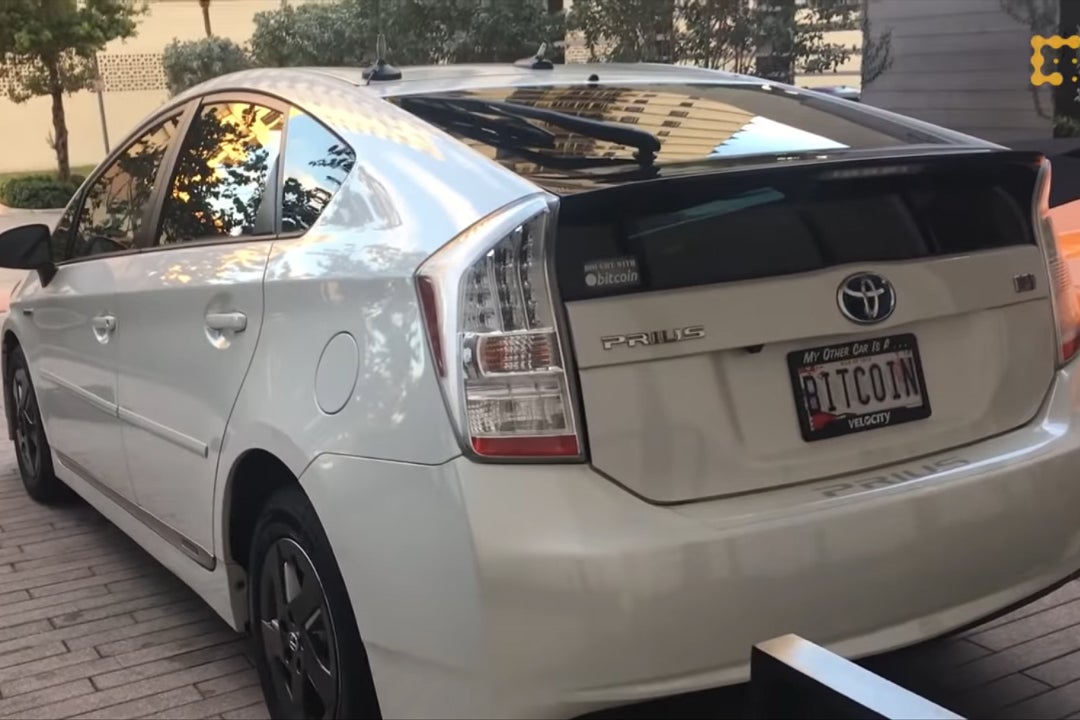 via YouTube
Toyota Prius: $48.5 million
One of the first cars purchased with Bitcoin was a Toyota Prius. Owner Michael Tozoni acquired the fuel-sipping Toyota back in 2013 after Bitcoin experienced a rather volatile year, shelling out 1,000 BTC for the car. 
Tozoni purchased a lump sum of the cryptocurrency just three months before buying the car when Bitcoin was valued at $10 each. By the time it had reached $22 in early February, he met a private seller in Florida who was willing to sign his Prius over for 1,000 BTC—equivalent to approximately $22,000.  By early December of that same year, it would be worth upwards of $120,000.
Today, that's a drop in the bucket—1,000 Bitcoin could net you over $48 million as of this writing in 2021. In 2019 Tozoni said he didn't regret the purchase, but given Bitcoin's new record values, we have a feeling that he might be rethinking his position.
2014 Lamborghini Gallardo: $10.5 million
As I mentioned above, 2013 was a good year for early Bitcoin adopters. It was one of the first huge spikes in the coin's value and brought a lot of new money riches into the pockets of investors. One of these investors happened to be a 4Chan user, who announced his purchase of a brand new Lamborghini Gallardo on the forum's technology board.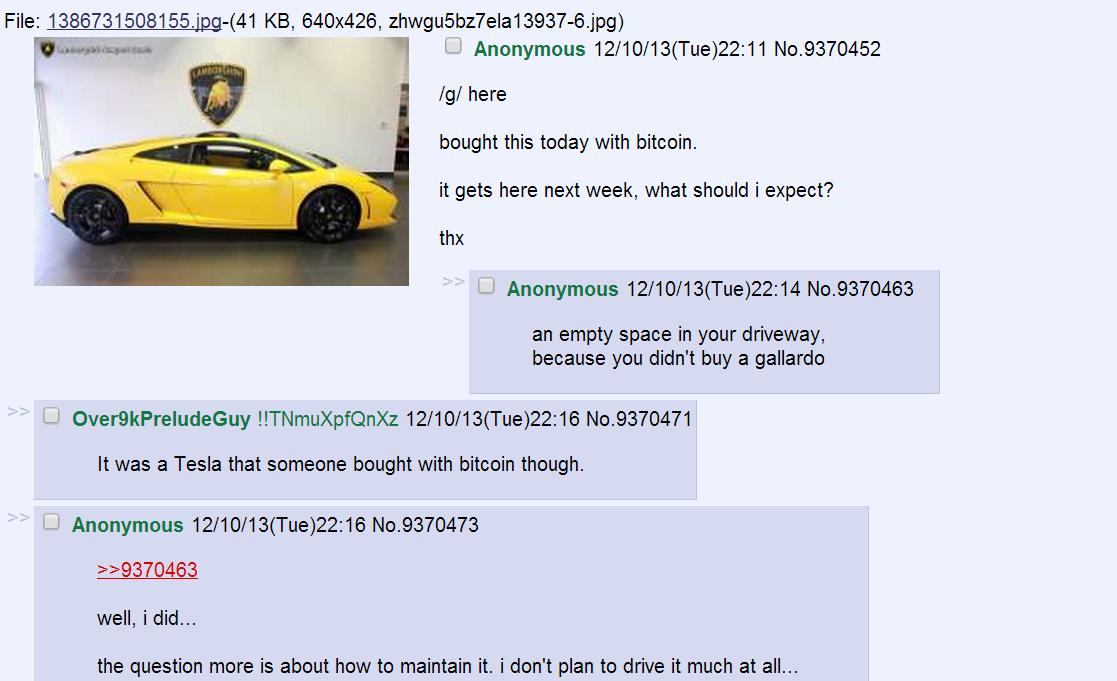 4Chan via Screenshot
The anonymous poster wasn't lying. Soon after the post was made, documents of the purchase were leaked online, citing Lamborghini Newport Beach as the store that made the sale. The Daily Dot later confirmed this with the dealership and sourced the transaction showing the transfer of funds.
When the purchase was made on Dec. 10, 2013, the dealership received 216 Bitcoin worth nearly $210,000. Today, that same amount would be worth nearly $10.5 million.
2013 Tesla Model S: $4.5 million
You might be wondering how the Lambo buyer knew how to reach out to Lamborghini Newport Beach to make his purchase. As it turns out, the dealer had actually made a similar sale a week earlier, selling off a pre-owned 2013 Tesla Model S Performance in exchange for Bitcoin.
The buyer completed the purchase on Dec. 4—the day when Bitcoin was worth the very most in all of 2013. The perfect timing resulted in a payment of 91.4 Bitcoin, or the equivalent of $113,116, marking the dealership's very first cryptocurrency sale. Today, that same amount is worth over $4.4 million.
2015 Lamborghini Huracan: $2.15 million
If you're familiar with the world of car YouTube, you might've heard of Peter Saddington. He's the founder of VinWiki, and also happens to be someone who made a car purchase with Bitcoin.
In November 2011, Peter bought Bitcoin when it was valued at just $2.52. He sat on the investment, and at one point even forgot that he owned the cryptocurrency. But when the value started skyrocketing, he opened his eyes to how much of a potential return he would really have.
Now, Peter understood the risk of buying his car with Bitcoin and what it meant to exit his bagholder status. He wouldn't be accruing value on the crypto he paid in exchange, though he still chose to shell out 45 Bitcoin for a Lamborghini Huracan in 2017. Technically, the car only cost him around $115, but today, that Bitcoin would be worth $2.15 million.
2005 Nissan Sentra: $111,641
This example is one of the more interesting private party transactions seeing as the Bitcoin holder opted not for a luxurious supercar but, instead, a fifth-generation Nissan Sentra.
According to a YouTube video briefly outlining the deal posted in 2014, this was one of the first known Bitcoin transactions for a vehicle in New Hampshire.
The details on this are pretty thin, but we can see that the buyer paid 2.3 Bitcoin for the Sentra, which was around $2,000 at the time. Today, that translates into about $109,375.58, making for a rather expensive beater car.
Got a tip? Send us a note: [email protected]