Car enthusiasts love to talk about Acura's "golden years" and the amazing drivers' cars it's turned out in the past. Scroll through any recent Acura writeup and it's easy to find references to the Integra Type R, NSX, RSX Type S, and even the TL Type S. The ILX compact luxury sedan didn't exactly get a Type S or Type R hot version, but it did get a six-speed manual. And since these cars are not folk legends, their prices on the used market haven't gone stratospheric yet.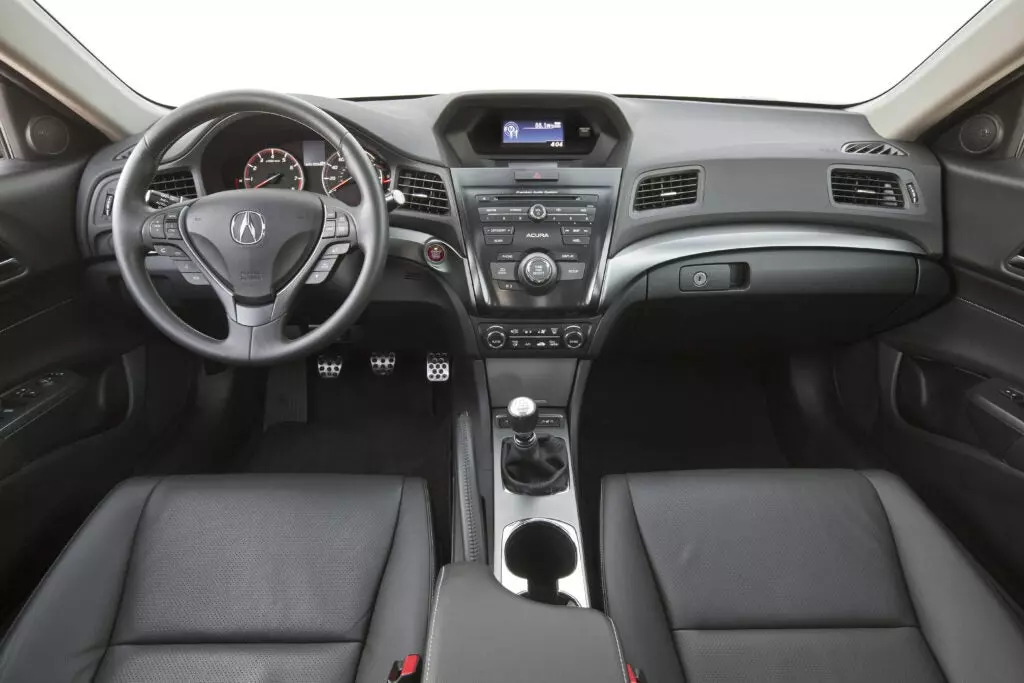 From my perspective, Acura seems like a weird car company. Most car enthusiasts will recognize the greats I just listed. But its hits are a bit, um, inconsistent.

The Legend and Integra of the 1990s were amazing, but the early TLs were not good. Honda's five-speed automatic, in particular, enjoys a reputation for being craptacularly fragile. Then third-generation TL was a masterpiece of design that still looks good today… followed by the fourth-gen that's universally regarded as hideous. Still, at least it could be had with a manual transmission and an impressive AWD system. The more recent TLX suffered from a bit of also-ran syndrome, feeling a bit bland against Euro cars, and now it seems that the new-new TLX Type S might be coming back on the upswing as a solid sport-luxury competitor. Yet, there's one car in that rollercoaster of hits and mediocrity that's an enthusiast's gem, but often overlooked: The ILX from the early 2010s. Specifically, the ILX 2.4 Premium six-speed.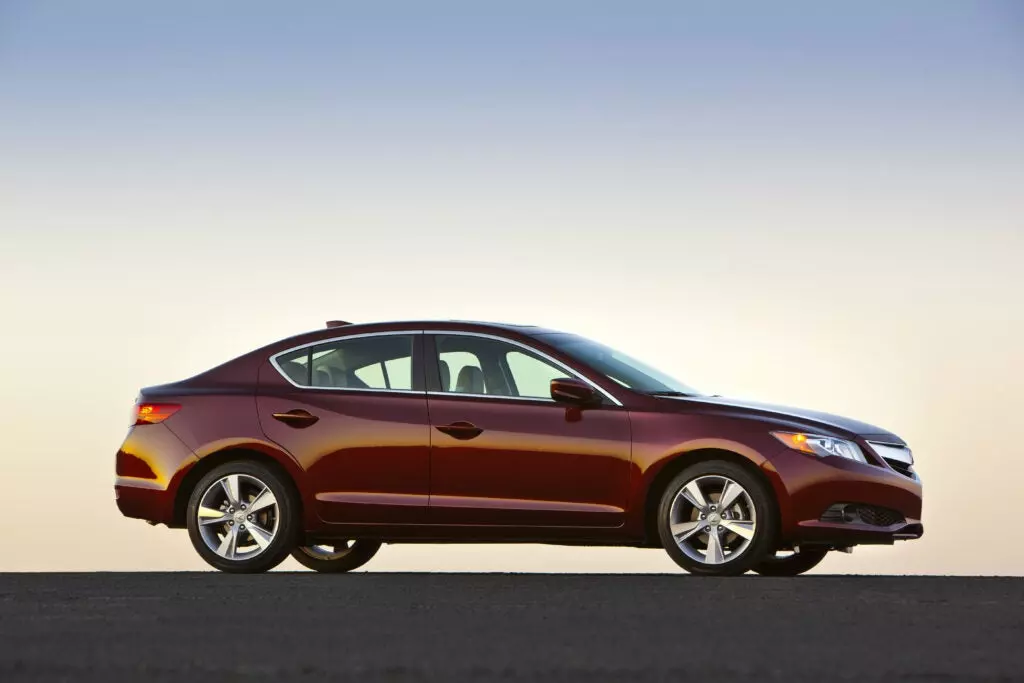 The ILX, at its heart, is just a nicely trimmed ninth-generation Honda Civic. After the death of the RSX coupe, Acura had a compact-car sized hole in its lineup, unless you lived in Canada. Canadians could buy an Acura CSX, which was a slightly restyled eighth-generation Civic sedan with a nicer interior and bigger engine.
Known Acuraphile Tyson Hugie, who has an entire garage set up like a '90s Acura dealership, rolled over 500,000 miles in his 1994 Acura Legend coupe some seven years ago. As a reward, the company gave him a six-speed ILX to share posts about. Since collecting the car, Hugie's put more than 230,000 on it and has even ferried up the Alaska highway! Here's what he had to say about owning it:
"Eight years later, it's been the most rewarding daily driver I could ever think of.  231k trouble-free miles, fun-to-drive dynamics, Civic-esque reliability with low cost of ownership, 30-32mpg, decent Acura luxo amenities/exclusivity, and voila," said Tyson Hugie, via an email. Tyson's getting older, and the ILX's 230,000 odometer is a bit high. Currently, he's looking to replace the car with something else, maybe a new TLX Type-S. "That's the gist of it.  I've actually loved the car more than I ever thought I would.  If I weren't drawn to the new TLX Type S so much, I'd probably keep dailying it, but I turn 40 this year and I need to experience a midlife crisis with a big automotive purchase of some sort."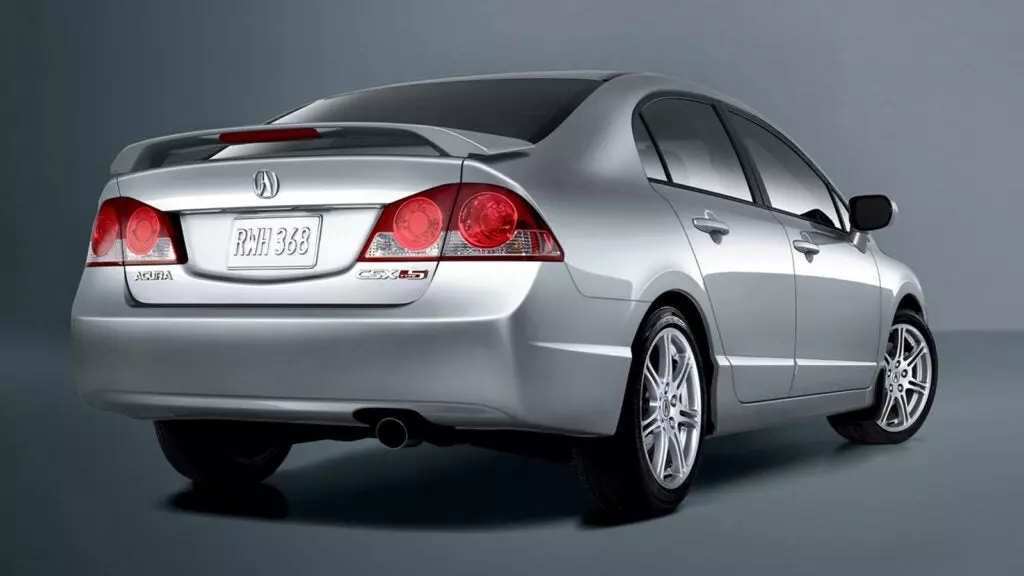 The CSX Type S shared the same engine and transmission as the Civic Si, packaged more sumptuously. Again, like the CSX, the ILX six-speed is really just a Civic Si with nicer accessories. The damn thing wasn't even marketed as the performance beast that it was; with exterior styling identical to the base 2.0-liter car. The only hint that it might be fun to drive is the stick shift protruding from the center console.
The ILX Premium's motion comes from Honda's great 2.4-liter K24 engine claiming 200ish horsepower. Pair that with three pedals, and come on, you've got a nice little compact sport sedan! Acura even took this car racing in 2013. The car looks a little bizarre with an enormous wing, but here's one of the two ILXs that Team Honda Research-West prepped and trotted out for the 25 Hours of Thunderhill almost a decade ago.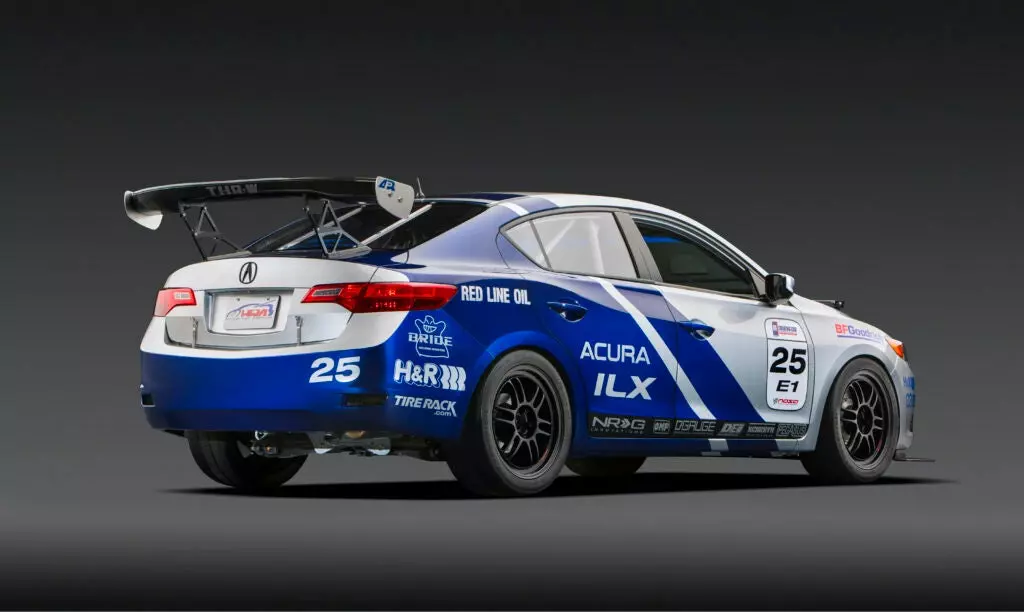 The ILX is a Civic with different clothing, finding aftermarket upgrades shouldn't be too hard. Most any parts that fit on a Civic Si, will fit on the ILX.
The civilian ILX 2.4 was not as quick a contemporary Civic Si, but it's quieter, nicer, and more comfortable; almost akin to a budget BMW 3-Series. Except the Acura is front-wheel-drive, of course.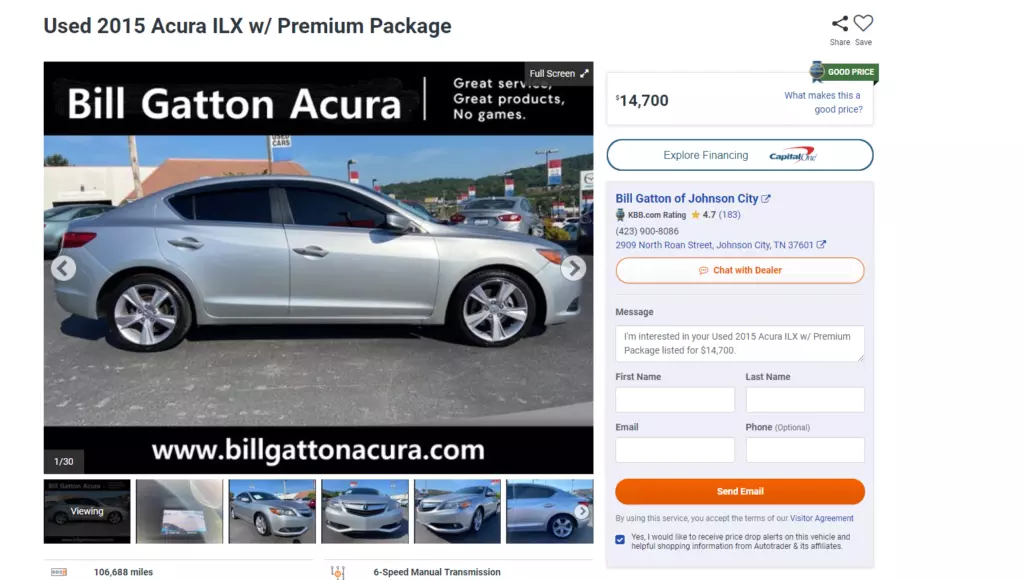 The small, luxury, sporty sedan with a manual transmission is dead now across the entire American car market. The last holdout, the Genesis G70, lost its manual transmission option with its latest facelift. All the new sedans you'll find at an Audi, BMW, or Mercedes dealer will be automatics. Minis are easily found with manuals, but a retro-styled hot hatch isn't the same experience as a classy, small sedan. Well… is the ILX that classy? Eh, maybe not, but it's a great way to get a Civic Si with a more mature vibe for relatively short money. In fact, on the used car market, the ILX tends to run slightly cheaper than a similar-vintage Civic Si. I'd wager that the grown-up association of an Acura means that an ILX six-speed is probably less abused, too. This 2013 ILX Premium can be had for a low price of $12,999. By comparison, this same year Honda Civic Si, with more miles, is selling for $18,000.
The real trouble of course will be finding one at all. A thread on the Acurazine forum tabulating ILX sales counts 2,786 6MT cars total produced with the stick. The ILX is still on sale today with a facelift, but stick-shift versions could only be bought new between the 2012 and 2015 calendar years.
The ILX is kind of a tepid car sans the Civic Si cloned powertrain, and I don't really reccomend them outside the 2.4 Preimum six-speed trim. If you can live with the baby Dodge Avenger-eqsue styling, save yourself the headache and the attention of a Civic Si, and find yourself an Acura ILX.