After months of speculation and a corporate lockdown that just almost, very nearly kept its appearance a secret, the 2020 Ford Mustang Mach-E all-electric SUV emerged today at a gala in Los Angeles ahead of this week's auto show. It's the first time Ford has put the Mustang badge on anything besides a two-door pony car since its debut in 1964. Set to go on sale in Fall 2020, the Mach-E will be offered with both rear- and all-wheel drive in several trims. A GT Performance variant that'll get from zero to 60 in the mid threes will arrive in Spring 2021.
Mach-E exterior designers took several cues from the traditional Mustang, including its shark-like nose, wide rear haunches, and "tri bar" tail lights, and applied them to what is, outwardly, a traditional compact crossover SUV. The so-called "implied grille" mimics the car's functional one in a nod to heritage, though like most EVs, the Mach-E doesn't have a front radiator.
In person, the Mach-E looks both smaller and longer than in pictures, with attractive side-panel shaping and ground clearance lower than a traditional crossover. Inside, an available full-length panoramic roof adds a greater sense of spaciousness to the cabin. Six footers will find the rear seating to be sufficiently noggin-accommodating, and there's a decent, if not best-in-class amount of cargo space: 29 cubic feet at the rear with the seats up, 59.6 cubic feet with the seats down, and 4.8 cubic feet in the "frunk," which also includes a drain plug if you want to fill it with ice and use it as a cooler.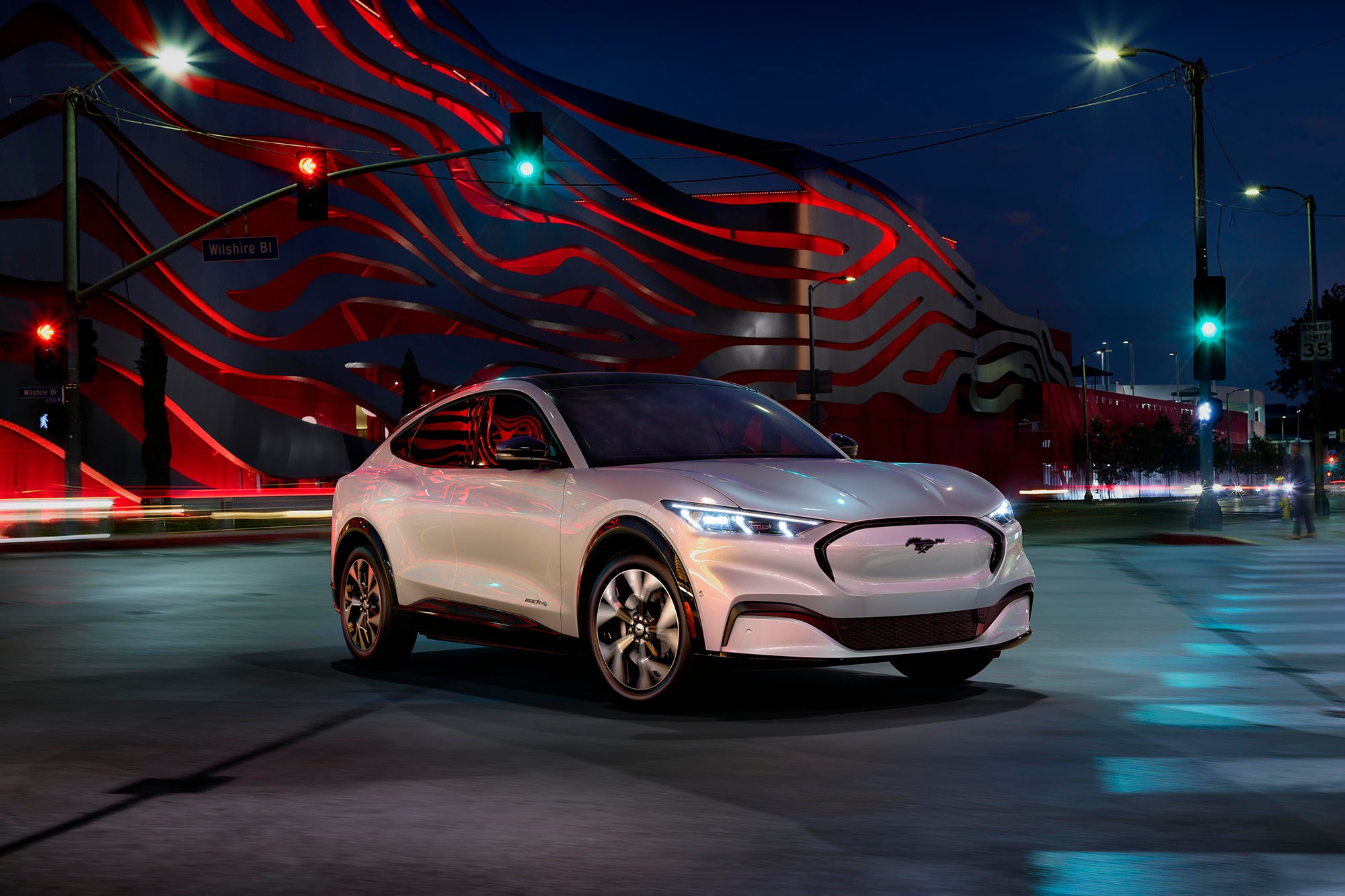 Ford
In its most efficient layout—a 93 kWh extended-range battery and rear-wheel drive—Ford expects the Mach-E to deliver an EPA-estimated range of "at least 300 miles," with AWD extended range pegged at 270 miles. That would give it the longest legs of any electric vehicle on sale today that's not a Tesla. Standard-range versions are projected to reach 230 miles on a charge for RWD and 210 miles for AWD.
It's important to note that the Mustang Mach-E does not share an architecture with the standard Mustang; it's a unique EV platform built around an underbody lithium-ion battery. The standard pack is rated at 75.7 kWh total—usable amount TBD—while the extended-range is 98.8 kWh total with around 93 kWh usable. Excepting the more-powerful GT models, AWD Mach-Es will get a primary 210 kW (282 hp) motor at the rear and a 50 kW (67 hp) motor at the front. Similar to the Tesla Model 3's setup, these are permanent-magnet motors delivering power through a single-gear transmission.
The various battery-drivetrain combinations are available across multiple trims, which we'll detail in a second. Power breakdowns are as follows:
Standard Range RWD: 255 hp | 306 lb-ft of torque
Standard Range AWD: 255 hp | 417 lb-ft
Extended Range RWD: 282 hp | 306 lb-ft
Extended Range AWD: 332 hp | 417 lb-ft
All-important zero to 60 mph times will vary from the mid-six-second mark for the extended range RWD setup to mid-fives for either AWD Mach-E. The real fireworks are reserved for the 459 hp/612 lb-ft GT Performance Edition, which will scoot to 60 mph in the mid-three-second range.
At launch, two Mach-E trims will be available: the higher-content Premium and a limited-run First Edition, with extended-range battery and all-wheel drive and an options package that includes red brake calipers, metallic pedal covers, contrasting seat stitching and a "First Edition" scuff plate. The standard-range-only base model named Select will be available in early 2021, along with a special, RWD-only, extended-range California Route 1 edition. Most trim levels will be capable of DC fast charging of up to 150kW except for the Select, which will capped at 115kW. All trim levels will get driver-assistance gear from Ford's Co-Pilot 360 suite. Tesla fans, let the snickering commence. 
Arriving in Spring 2021, the GT and GT Performance Edition will get functional aero, 20-inch wheels, and optional Brembo brakes. That slightly-quicker Performance Edition will also sport the MagneRide adaptive dampers available on the fuel-burning Mustang GT, plus some cosmetic extras like a "carbonized grey" grille insert.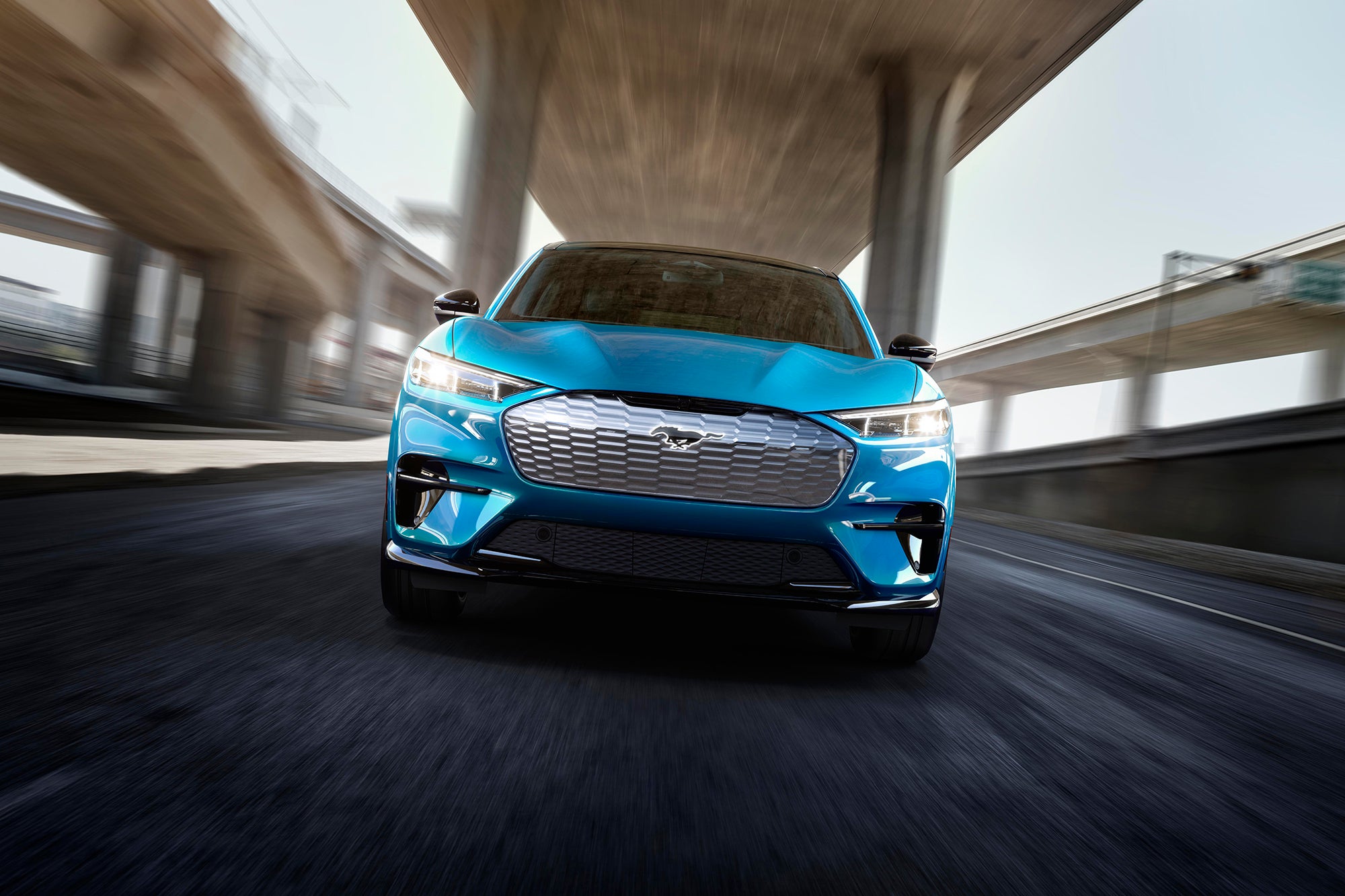 Ford Mustang Mach-E GT Performance Edition, Ford
All Mach-E variants will come with three driving modes—Whisper, Engage, and Unbridled that combine adjustments to controls—steering, acceleration, and regeneration—with changes in ambient lighting, sound design, and dash-cluster animations. Each mode applies different synthesized sounds, piped through the stereo speakers, to fill out the whine of the electric motor during acceleration. As The Drive found out during a short demo ride, it's a faint whoosh in Whisper and a throaty undertone in Unbridled.
Mach-E is also the launch platform for Ford's next-generation SYNC 4 infotainment system, which will now support over-the-air updates for maintenance, new features, and performance enhancements. A 15.5-inch, portrait-oriented screen with touch, swipe and pinch controls sits prominently in the center stack. Interface designers added a knurled metal volume knob below the screen in response to market-research feedback (Ford's also included a Model S-style digital dash binnacle behind the steering wheel). The new system takes advantage of the large screen's extra real estate with a clean, unadorned UI, and developers added machine learning to identify and aggregate drivers' preferences. Three wireless charging pads lie in the center console below the screen. In addition to its own SYNC apps, the system enables both Apple Car Play and Android Auto sans cables. An available premium audio package will include fabric-wrapped speakers developed for the Mach-E by Bang & Olufsen.
Part of an $11 billion investment in electrification, Ford's Mach-E launch will coincide with a new online purchase-reservation process and continued buildout of the FordPass charging network, by which Mach-E owners will gain access to DC fast chargers through Volkswagen-backed Electrify America, and a wider "network of networks" compiled by Shell-backed Greenlots. All told, Ford reps say the combined networks total more than 35,000 plugs at 12,000 charge points in the U.S. through a mobile app and in-car infotainment system.
The FordPass app will also let Mach-E owners set charging schedules, plan trips around available chargers, and warm or cool the cabin while charging to avoid power drain while driving (and have "Phone as a Key" capability to open the handleless doors). The service will likely be free for a period of time before a subscription fee will be charged, Ford reps say. The Mach-E will come with a mobile charger that Ford says can add around 22 miles per charging hour (extended-range, rear-wheel-drive configuration) on a 240V outlet, while a separate Ford Connected Charging station, offered with Amazon Home, will add around 32 miles of range per charging hour on a 240V outlet.
While using the Mustang brand to bootstrap a new electric vehicle, not to mention a crossover SUV, is a risky move, Ford's betting the strength of the name will elevate the Mach-E's profile in a cluttered marketplace. No doubt, the company can use the advantage as it goes head to head with EV leader Tesla. Indeed, the Mach-E is the first electric vehicle Ford's built as a core product, not merely a "compliance car" to meet 2012 California Air Resource Board (CARB) requirements that automakers build a zero-emissions car or forfeit the right to sell cars in the state. Ford's had previously developed the Focus EV for compliance purposes, which engineers say served as an R&D platform for the Mach-E's powertrain. Mach-E buyers will also benefit from a $7,500 Federal EV tax credit, as Ford is still under the phase-out threshold of 200,000 EVs sold per automaker. That'll help as you climb the pricing scale from the $43,895 Select to the $60,500 GT models.
The Mach-E is the most unorthodox marketing play from an automaker since Porsche introduced the Cayenne SUV, and Ford faces a similar risk of diluting the marque. But if stretching the Mustang brand into EVs can keep Mustang relevant to both aging pony-car fans and younger, tech-savvy buyers, Ford may be backing the right horse.