Is there anything more official than race seats? Even if there's nothing else racey about the car, the right set of seats will gather plenty of attention. Despite being an interior feature, they're some of the first things to grab folks' attention and will surely drum up some conversation.
OK, back to reality. The fact of the matter is that a proper set of seats is essential to any performance application. Additional support and safety measures are vital to your experience. Of course, weight savings are always a big plus as well. Some sanctioning bodies may even require that you have a proper racing seat to participate in an event.
So, where do you start your hunt for a racing seat? Obviously, many of the details are dependent on event guidelines, your application, and your build. That means we can't say for sure what seats are best for your exact situation. We can, however, talk about some of our favorites and give you some pointers that'll help you find the perfect racing seat.
The Best Racing Seats
Racing seats are an application-specific product, meaning it can be hard to call something the best when it simply won't work for many applications. This seat from Corbeau gets the award for Best Overall because of the fact that it checks off so many boxes for many car owners. For one, the thing looks killer, which is a big deal for any street-drive car. And yes, it does have a reclining function which means you can comfortably use it for daily driving. As far as racing goes, it has pass-throughs on multiple sections for your harness to make use of. It also offers plenty of support on account of the extra deep setting, so many street/race seats do away with. The cherry on top is the pricing. That dollar amount shown is for the pair, which is about the same as many single racing seats.
There's very little to dislike about this seat other than the fact that it will only accommodate up to a 38-inch waist. That is just right for the average American, but it can be too big or too small for a lot of folks looking for the absolute perfect fit.
Key Features
Reclining design

Street/race ready

Deep seating
Very stylish
Excellent support
Competitive price
May not be the proper fit for many drivers
As a rule of thumb, you should never skimp on racing seats. Sometimes, however, there's no need for a top-dollar model that meets and exceeds even the most scrupulous standards. This bucket seat from JEGs is a great way for builders to save a little money when they can. Despite being as basic as it can get, this seat is still designed with support in mind. Much to the surprise of many, there are reports that it is not all that uncomfortable. It can even be paired with a cover to make it a little more pleasant to sit in. The construction relies on high-density polyethylene, which makes for a rather sturdy but lightweight seat. It also includes all the pass-throughs you'll need to run a proper harness.
Being so affordable, there are some sacrifices made. Even if it's not as uncomfortable as it looks, costlier seats will outshine it in that department. Furthermore, it's not FIA certified, nor does it provide much support for your neck or shoulders. Still, it's a great option for many budget-oriented builds or platforms that don't offer much room for seating.
Key Features
Lightweight construction

High-density polyethylene construction

Supportive design
Specifications
Brand

Jegs

Model

70250

Weight

13 pounds
Cost-effective
Reasonably comfortable
Perfect for builds with limited room
Does not compare in comfort or support to costlier models
It's hard not to talk about Sparco when the topic of race seats comes up. It is easily one of the most iconic brands that many dream of featuring in their builds. Why? Quality. This seat from Sparco does a lot more than hold you securely in place. It features individual sections of padding that allow for proper ventilation. Those pads are also easy to remove, thanks to the use of Velcro. This is a fiberglass seat, but Sparco's QRT technology helps to provide 30 percent in weight savings over traditional materials. Of course, it's also more than strong enough for anyone and is designed to provide drivers with maximum support.
Sparco doesn't pull any punches when it comes to pricing. This is our premium pick for a reason, after all. Of course, you can justify the cost by saying it's a high-quality piece of race equipment, but that doesn't change the fact that you can get plenty of respectable seats for a much lower going price.
Key Features
Fixed-bucket design

Ultra-lightweight construction

Individual padding for ventilation
Excellent support
Lightweight
Ventilation keeps drivers cool
If you're going hard on the trail, chances are you're in for a beating. I'm not just talking about the rig, either. Your body's in for a real smash. Thankfully, a set of seats like these from Corbeau will mitigate the damage. These are suspension seats, which means the seat absorbs the energy rather than your bones. Sure, your factory seats might not be all that bad, but they won't give you the support of a racing seat. As you can see, the deep seating of this model will do that as well. And it even has a couple of pass-throughs to make sure you're not going anywhere in the case of an accident. Don't let that price shock you, either. That's actually the price for the pair.
As for the cons, there aren't many, especially considering it's pretty much perfect for some off-road events. That isn't to say it's perfect for all, though. For example, there isn't a whole lot of head or neck support featured on these seats. That does mean they won't create a blind spot, but more hardcore events do warrant a little more containment.
Key Features
Suspension seat

Deep seating design

Pair of two
Specifications
Brand

Corbeau

Model

68802B

Weight

NA
Competitive pricing
Suspension design reduces physical toll
Adequate pass throughs
Offers little support for head and neck
The Sportsman is a seat that needs little introduction. Even if you're unfamiliar with the name, chances are you've seen this exact seat, if not something identical. The purpose of this seat is to provide street-driven cars with something that's both comfortable for daily use but supportive enough for hard driving. It even has pass-throughs for shoulder harnesses, allowing owners to make use of their roll bar. That said, this is often described to be as comfortable as a racing seat can get. In fact, it looks to be a go-to choice for race-sim cockpit builds because of its affordable price and comfort.
As great as this seat is, it does leave a lot to be desired. There is very little hip, neck, or head support. While that might not be a bad thing for daily driving, it's less than ideal for real racing applications. That said, it's still a solid choice for a street/strip build or just a daily that needs something a little more support than normal.
Key Features
Reclining bucket design

Designed to be used on street or track
Specifications
Brand

ProCar by Scat

Model

80-1606-61L

Weight

NA
Very comfortable
Competitive pricing
Not as supportive as other models
I think many will agree that, when it comes to containment seats you can grab off the shelf, Kirkey is hard to beat. Starting with the obvious, a model like this one offers more than enough support to keep the driver firmly in place throughout the duration of most crashes. It's a super high-quality build and reflects that it should be a go-to brand for many racers. It is also reliant on aluminum construction, meaning it's exceptionally lightweight—something any racer will appreciate. But, however great the seat is, that's not what most love about it. Instead, it's the fact that it's attached to a relatively low price tag despite it being a serious piece of race equipment.
Of course, this isn't the seat for everyone. A full containment design does restrict movement and might not be necessary for many racing events. One can also argue that the aluminum construction and lack of FIA certification do hold this seat back. However, most racing events that call for a seat of this nature don't require FIA stickers, and a back brace will prevent the risk of bending.
Key Features
Full-containment design

Aluminum construction
Specifications
Brand

Kirkey Racing

Model

70150KIT

Weight

85 ounces
Competitive pricing
Maximum support
Lightweight
No FIA certification
Can bend without back brace
For those wondering where the halo seats are, that's what we're wrapping this list up with. Of course, it's a Sparco seat, too. So, what makes this a halo seat worth mentioning? We should start by mentioning that this is yet another model that Sparco uses its QRT technology for. So, even though it is fiberglass, it's about 30 percent lighter than comparable models. Those weight savings are no compromise to strength either. Those bolsters will keep your head on your shoulders through turns and in case of an accident. It is also HANS compatible, so you can rest assured knowing that whiplash won't be a problem.
Just like anything else with the Sparco name on it, this bad boy does drum up a premium price tag. Even if it is a halo seat, you can find plenty of worthy contenders at much lower prices. Speaking of halo, that feature does limit this model to a specific demographic, which may or may not make it a good choice for you.
Key Features
Fixed-bucket design with halo

Ultra-lightweight construction
Specifications
Brand

Sparco

Model

008019RNR

Weight

27.2 pounds
Superior support
Lightweight
Best Racing Seats Buying Guide
Before you make up your mind on what you want, you should know that there's a little more to it than tossing a slick set of seats in your race car and heading off to the races. Race seats are built to conform both to the driver's and event's demands. In other words, there are different features with different purposes and anything the seat includes must accommodate your physical stature.
To make a long story short, there's no one-size-fits-all formula when it comes to racing seats. After all, serious racers have custom seats made for a reason. That isn't to say you can't find a perfect fit from an off the shelf model. In fact, the purpose of this buying guide is to help you do exactly that.   
Why Do You Need Racing Seats?
First and foremost, you should ask yourself if you need a racing seat. And if you do, what features must it include. Don't worry. Either of those questions can be answered by reading through the rules and guidelines of any racing events you plan to participate in. What if there are no requirements for race seats? Should you skip them? Not exactly.
Racing seats do a lot of things better than traditional car seats. A lot of people address the fact that racing seats are designed to keep you from sliding around and little else. While that is an important detail, it's not the only problem they solve. By positioning your legs and back properly and offering better ergonomics, the potential harm of the forces your subject yourself to or the fatigue associated with hard driving are greatly reduced, if not eliminated entirely.
Furthermore, racing seats are built to accommodate other safety equipment required in motorsports and may even act as a safety device in themselves. At the very least, you can expect these seats to feature pass-throughs for harnesses and a little extra room for the driver to wear a
helmet
comfortably. More hardcore applications may require seats the feature full-containment designs that also welcome helmets and harnesses, but work to keep the driver positively locked in place to keep them safe in the case of an accident.   
Racing seats offer far better support to help keep the driver in the proper position while driving while reducing the physical toll of intense driving.

Racing seats are built to accommodate other safety equipment required for racing events.

Some models feature a full-containment design, which is in place to keep the driver safe in case of an accident. 
Types of Racing Seats
As you shop, you'll find that racing seats come in all different shapes and sizes and your search can generate hundreds, if not thousands of results. This can be a little overwhelming. You can relax, though. Keep in mind that different seats meet different demands and there are right and wrong choices. By understanding the differences in the types of racing seats, you can quickly narrow down the selection, making the results page far more manageable.  
Reclining
A dedicated racing seat does away with many features that make a car seat desirable for daily use. As we know, keeping you locked in place is a major function that they bring to the table. While that does work to alleviate fatigue in some ways, it can be less than desirable for a track vehicle that sees street use, which is why there are variants that feature reclining backs.
Race seats with reclining backs don't necessarily cut out the features that make a seat good for hard driving. For example, you can expect to find pass-throughs for your harness and bolstered sides to keep you from sliding around. Some variations even feature deeper seating to work even harder to keep you in place. That said, the reclining back does create a weak point in the seat structure, which is why dedicated track applications shouldn't include this feature. 
Fixed-Bucket
Fixed-bucket racing seats are those that don't feature a reclining function. Because of this, models in this category also often feature deeper seating than their counterparts and obviously have pass-throughs for harnesses. The main benefit of the fixed bucket is that there are no weak points to fail, causing the seat to snap in half in the case of a high-speed crash. Although some materials used are subject to bending, additional safety equipment will eliminate that risk.
As you can assume, many events require participants to use fixed-bucket designs in their cars because of the additional safety. That doesn't mean it's always the case, though. Some events may have guidelines that don't allow fixed-bucket seats in cars that are featured. This is why reading the rulebook is always a good idea.
Halo Seats
Halo seats are essentially a step up from a traditional, fixed-bucket seat. The most obvious difference is that they feature a design that extends the seat around the driver's helmet. This does hinder your side-to-side mobility and vision, but it's intended to keep your head upright at all times. Drivers in race events are subject to serious forces that will put a lot of strain on their neck, and in the case of an accident, this halo can be a lifesaver.
Because this feature does create a blind spot, drivers may be tempted to do without it. The risk of doing so really isn't worth it, though, especially if the vehicle is dedicated solely to track use. We also shouldn't leave out the fact that they may be required for the event you plan to participate in.
Full-Containment
In the spirit of taking a step up with each seat, it's time we talk about containment seats. While all racing seats are designed to keep the driver locked in place, none do it better than these bad boys. Much like a halo, these seats also offer superior head and neck protection but extended sides and even deeper seating are in there to ensure that the driver doesn't absorb the forces of an accident. Of course, they also work to keep the driver from sliding all over the place when behind the wheel of a total monster.
Naturally, event rules will make it clear whether this type of seat is required. However, you may consider them over other types of racing seats so long as they are allowed as they offer the best safety of all types.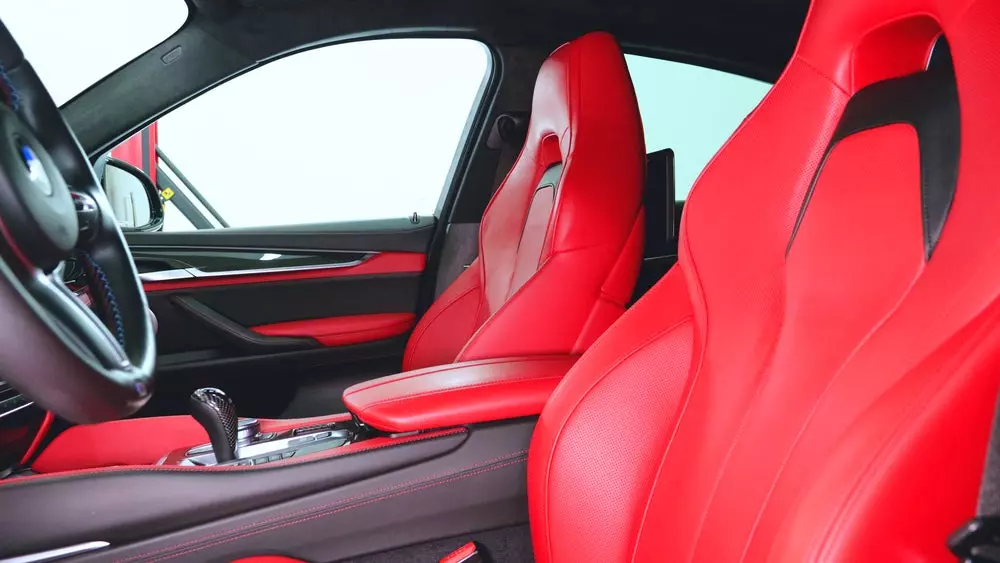 The Most Important Features of Racing Seats
As we said, there are thousands of different racing seats on the market right now. So far, we've covered some details that will help you narrow down your selection. Even so, it doesn't hone you in on the exact seat you'll need. The good news is that looking at the features of a seat and comparing them to your application will get you there. After this step, all that's left is to figure out what fits within your budget.
Event Compliance
Your hunt should start by understanding what seats aren't and aren't approved for the events you're participating in. The rules and guidelines will make it clear. If they don't, you can always look at what other drivers are using. It can be helpful to check out what seats were previously used, but rules are subject to change each season.
If FIA certifications are required, you'll want to make sure that the seats you're considering meet the demands and that the FIA rating is valid. Keep in mind that FIA certifications do expire, and whatever safety gear they are for will need to be replaced. It's also worth knowing that if the event requires you to wear a HANS (head and neck support) device, you should pick a HANS compatible seat.
Proper Fitment
Once you figure out what seats you are allowed to run, it's time to decide which actually fits you and your car. As for the vehicle, you'll want to make sure that the seat can not only mount in place but that it won't snag on the roll bars, doors, or anything else it may come in contact with. For this, you will need to compare the seat dimensions with the space you have to work with.
To make sure you fit into a seat, you'll need to take a few measurements. Measure your hip width when sitting as well as your shoulder height from your hips in this position. If you're looking for a halo seat or containment seat, you'll also need measurements of your abdominal as well as your helmet. Once you have these measurements, you will need to compare them to the dimensions of the seat, which the manufacturer should provide.
Comfort
If you find that you still have a few options left and can't decide which is best, you can let your preferences and comfort come into play. Remember, you're going to spend a good amount of time behind the wheel. So, it's wise to find a seat that you feel comfortable in, so long as you don't let that interfere with safety. 
Don't solely base your decision on how your back and neck feel in a seat, either. Your legs do a lot of the work while you're driving. So, find a seat that puts your legs in a position that will reduce fatigue and strain.
Care and Maintenance for Racing Seats
In many ways, caring for your racing seats is much like any other seat. You want to make sure you keep them clean, be careful not to rip the fabric, and make sure you remove them from time to time to deal with anything that's trapped beneath them.
Where things differ is making sure that they are safe for use. That starts by making sure that they have a valid FIA certification. You'll also need to be mindful of the seat's condition, especially after a crash. Taking the time to check for any cracks or damage that will compromise the seat after any incident is a must.
Last but not least is to keep your hardware in check. Vibrations and impacts that race cars are subject to can loosen up nuts and bolts. Before every race, it's a good idea to go around and make sure your hardware is tightened to spec. If you're ever standing around in the pit, it's good practice for you or a crew member to go around the car and make sure the safety gear, and everything else for that matter, has tight hardware.
Make sure your FIA certification is valid and replace the seat once expired

Inspect the seat after any incident to ensure there is no damage. If the car is in a severe accident, the seats should be replaced no matter what.

Before every race, make sure the mounting hardware is tight. Routinely inspect hardware on safety gear and other major components whenever possible. 
Best Racing Seats FAQ:
As you can see, there's plenty to think about when you're shopping for racing seats. And though we do our best to fill you in on the details, it's likely that you still have some questions. Unfortunately, we can't read your mind or have an open-ended conversation with you. We can, however, dive into some of the most common questions people ask about racing seats.
Q: Are racing seats good for daily driving?
Right away, it's important to know that some racing seats are not DOT approved and therefore are not legal for street use. Those that are may be a perfectly viable option for some drivers. While they aren't as comfortable as a regular car seat, the additional support may be something you favor. It ultimately depends on your preferences.
Q: How long are racing seats good for?
FIA certifications, which may or may not be required for your seats, are good for five years. The certification on the seat will provide you with the expiration date, and you'll want to check it whenever you pick up a new racing seat. Again, not all racing events require this certification for driver's seats, meaning this isn't a concern for all drivers.
Q: How can I make racing seats more comfortable?
Many racing seats are non-adjustable, but that doesn't mean you can't make some tweaks that will make it a little more comfortable. For example, if you feel a seat is awkward, you might want to make some adjustments to the mounting bracket. Doing so may allow you to mount the seat in a more comfortable position.
Our Top Pick
Picking the right set of racing seats is often easier said than done. Still, we can't ignore everything that the
Corbeau Sportline RRB Reclining Seats
bring to the table. It's a supportive design that offers the convenience of reclining, and it's a beautiful seat. As if that isn't enough, that price you see is for a pair of front seats. In our eyes, all of those details add up to make it a perfect choice for many car owners.
Final Thoughts
We do love the
Corbeau Sportline RRB Reclining Seats
, but there's no denying the value of that
JEGS Pro High Back II Race Seat
. However, those are just our top picks. As we said, there's a lot to consider, and these seats likely aren't the best seat for your application. That's why we want to hear what you have to say. Let us know what kind of car you have, what motorsports you partake in, and what seat you think is the best for it!
Sources:
Sport Seats – Wikipedia