If you've been wondering what ever happened to the Toyota Land Cruiser project we were working on over the winter, spring and summer, fear not. The truck now runs, drives and its brand new Chevrolet V8 roars with authority. Videos covering the rest of the project will air soon on The Build.
Now that we've cleared that up, I want to take this opportunity to explain the long radio silence. Quite simply, that shit was a ton of work for (mostly) one person to do, and there was no time to write updates. If you've been keeping up with the project, you likely saw images of a few flying sparks, some showering rust and lots of spilled oil. But I have to tell you, watching those videos is like sitting through "Full Metal Jacket" and thinking you have a complete understanding of what it means to be a U.S. Marine (not that The Build is that badass).
If you haven't walked on the yellow footprints – or, in our case, the oily black ones – you have no idea.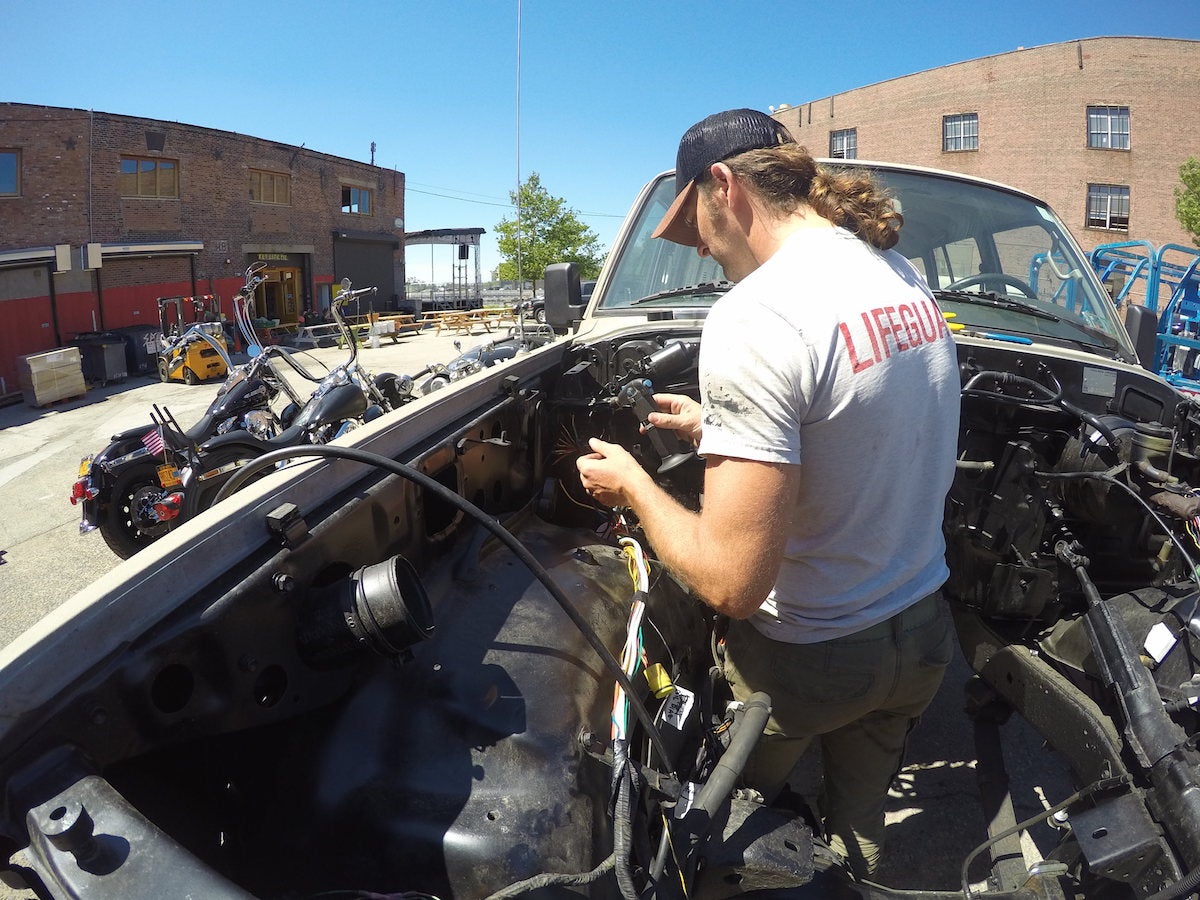 Benjamin Preston/TheDrive.com
What I can tell you is that I spent full days in the shop for six days a week, for weeks on end. My earlier assessment of our project truck as a total crapcan has been thoroughly confirmed. Everything I touched on it turned out to be utter shit, which translated into countless delays and weeks of bitter anguish. Luckily, I have the patience of a saint (which is to say I drink, swear and self-flagellate in private to alleviate my frustration rather than wearying my neighbors with such displays of sorrow), and was able to effect a sort of mechanical alchemy that resulted in a turd of a truck being transformed into treasure. No kidding, it's really nice now.
To give you a taste of what all was involved, I've taken the liberty of breaking the project down into individual tasks. Using my trusty 2002 edition Mitchell Labor Estimating Guide (which covers import vehicles from 1973-2001), I've found the approximate number of hours each job should take. As any mechanic knows, the times listed in the book aren't necessarily spot on. Sometimes, things go smoothly and you finish them in less than the time allotted. More often – and especially for a knob like me, and on a vehicle as dilapidated as was our 1988 Land Cruiser – these tasks become complicated by various demons, and take much, much longer to complete. By and large, this was my experience.
Benjamin Preston/TheDrive.com
Put your violins away, I ask for no pity. I only want you to understand how long a project like this can take. Here goes:
- Shock absorbers, all four corners: 1.8 hours
- Brake system - new front calipers, pads, hardware, rotors; rear drums, shoes, hardware, wheel cylinders: 8.6 hours
- Brake lines, flexible: 1.5 hours
- Brake lines, steel: 2 hours
- Brake proportioning valve: 2 hours
- Brake master cylinder: 1.4 hours
- Parking brake hardware: 2 hours
- Front axle - birfield joint refurbish, both sides plus axle flush and repaint: 8.7 hours
- Rear axle - New axle bearings and seals; oil change: 3 hours
- Steering system - all new tie rod ends, steering stabilizer, drag link: 4 hours
- Stabilizer bar bushing replacement, front and rear: 1.2 hours
- Power steering pump and hoses: 3.7 hours
- Fuel tank repair (some idiot drilled holes in the floor and punctured the tank, and the main fuel line was rusted through at the fuel pump housing): 2.8 hours (just to remove it)
- Engine removal, overhaul and replacement: 25.7 hours (ours took much longer, because it was a non-standard replacement – more like several weeks)
- Transmission replacement (includes transfer case overhaul): 24.8 hours (This could have been a lot more difficult than it was – and it was – but Advance Adapters' Chevy-to-Toyota conversion kit, mount package and headers smoothed things out quite a bit)
- New exhaust system, manifolds to mufflers: 2 hours
- Replace radiator and hoses, mount electric fan onto stock shroud: 5 hours (plus time for fabrication)
- Install external transmission cooler with auxiliary fan (dash switched): 3 hours
That's 97 hours and some change, but only for the jobs I could find in the book. A lot of it was fly-by-the-seat-of-your-pants fabrication, which involved the ever-important stare-blankly-at-problem-until-a-solution-presents-itself phase. That and going to the parts store. Often.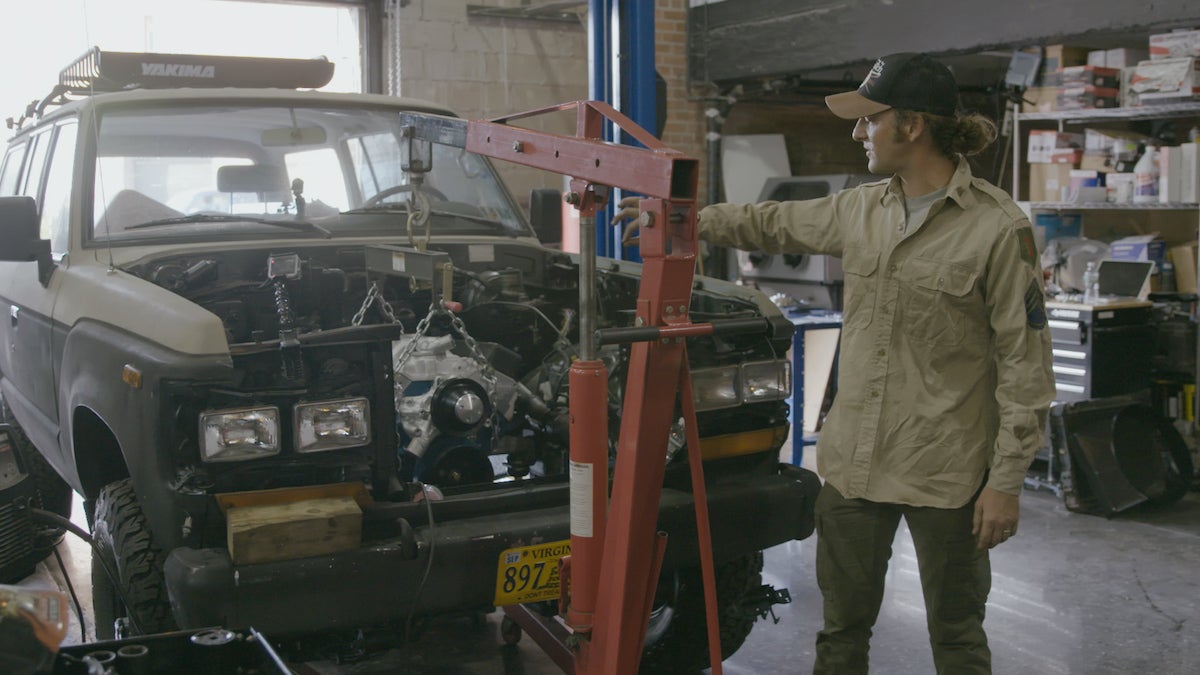 Benjamin Preston/TheDrive.com
Here's a list of non-standard jobs, and an approximation of how long each one took:
- Needle scale/repaint frame: 20 hours
- Prep/paint wheels; install/balance four new 31/10.50R15 BFGoodrich All-Terrains: 7 hours
- Clean/repaint engine bay: 6 hours (again, not a standard repair)
- Fabricate transmission crossmember and shift linkages for non-standard drivetrain install: 24 hours
- Fabricate custom fuel tank pickup (original part not available): 3 hours
- Fabricate right front steel brake line (original part not available): 1 hour
- Wire Chevrolet engine to Toyota electrical system; thin EFI wiring harness; install electric fans and transmission lockup: 40 hours (but only because I accidentally cut some wires I wasn't supposed to and had to unfuck a major fuckup)
- Diagnose (brand new) faulty distributor by going through various engine systems again and again: 40 hours
- Clean and re-install seats, carpet and interior parts: 8 hours (Fortunately, I was able to foist this one off on an unsuspecting intern on one of the hottest days of the summer)
- Install aftermarket Autometer speedometer/tach and combination gauges: 4 hours
- Aftermarket stereo install; speaker wiring: 2 hours (Not surprisingly, some former owner of the truck even managed to fuck up this most simple of things)
I'm sure I'm forgetting a few odds and ends, but this little list of "custom" jobs adds 131 hours into the mix for a grand total of 228 hours (not including parts store runs, blank staring, head scratching or screaming profanities at greasy, inanimate objects).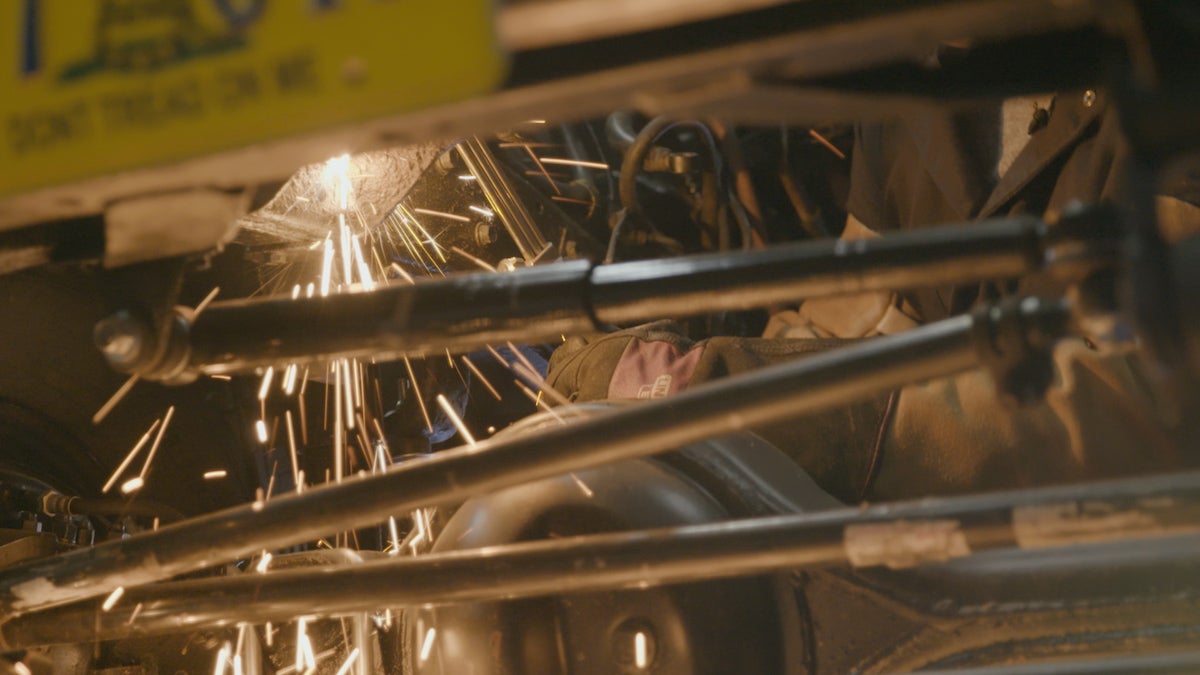 Benjamin Preston/TheDrive.com
If you were to hire a professional mechanic to do all this – especially here in New York City, where the going rate is about $100 per hour – you'd have to pay more than $20,000 for labor alone. That's to say nothing of the $15,000 or so Time Inc. shelled out for parts, and the $11,000 worth of product I was able to beg from companies like Edelbrock, Advance Adapters, Monster Transmission, Autometer, Flowmaster, MSD, BFGoodrich and Magnum Automotive. Then again, I could have picked a truck that was in better shape, and been a little faster behind a wrench, bringing down labor costs.
I asked Jonathan Ward, of Icon 4x4, how much his outfit would have charged for such a job. After pointing out the obvious – that he would never use a Pennsylvania hippie-redneck's rusting pile of used-up FJ62 as a starting point, and that he also wouldn't deign to outfit his creation with outdated contraptions like carburetors and first-generation Chevrolet V8s – his glib reply was as follows: "That's roughly $42,000 worth of work, our way." Parts included. Not bad.
So would I do a Land Cruiser V8 swap again? Maybe, but I'd be much quicker about it, and would start with a better truck (can I stress that enough?!). Either way, I can see why so many Land Cruiser owners opt to keep the original drivetrain intact.