—Spring Mountain Motorsports Ranch, Nevada
On this nerve-racking Election Day, another closely watched race is anything but a nailbiter: The Chevrolet Camaro continues to widen its performance lead over the Ford Mustang. I can actually set my watch by it. Cranking the 2017 Camaro SS 1LE around this Mojave Desert road course, playing gunslinger with its standard short-throw manual transmission, I steadily reel in a Mustang GT, blow holes in its doors and leave it for the undertaker. The 'Stang has taken to this track with a good 10-second head start, a skilled driver at its wheel. Yet it's taken me less than three laps of this 2.1-mile circuit to catch the Ford and say "sayonara"—or perhaps a bawdier, pissing-Calvin-style parting shot that a Chevy owner might favor.
Even equipped with its optional Performance Pack, the Mustang proves helpless against the Camaro's superior . . . well, everything. With a big edge in displacement, horsepower, and torque, the V8 Camaro accelerates faster, whether out of second-gear turns or bellowing down the straightaways. Its agile and engaging steering amplifies the Mustang's biggest performance flaw, a lazy steering ratio with a numb spot on-center. The Chevy gains more time through the corners thanks in part to gummy, upgraded 20-inch Goodyear Eagle F1 Supercar tires and a Camaro-unique rubber compound. Sinewy FE4 suspension tuning borrowed from the upcoming 640-horsepower Camaro ZL1, including adaptive magnetic dampers, further highlights the Mustang's relative softness and body loll. A sophisticated electronic limited-slip differential, similar to the Corvette's, helps the Camaro dive into corners and dig back out. Brembo brakes, including red, six-piston monobloc calipers up front, are up for long track days under a hot sun. And the dual-mode exhaust, even more aggressive than the standard SS's, lets the Chevy drown out the Ford's Coyote-engined puppy howl under a V8 barrage that's muscle personified.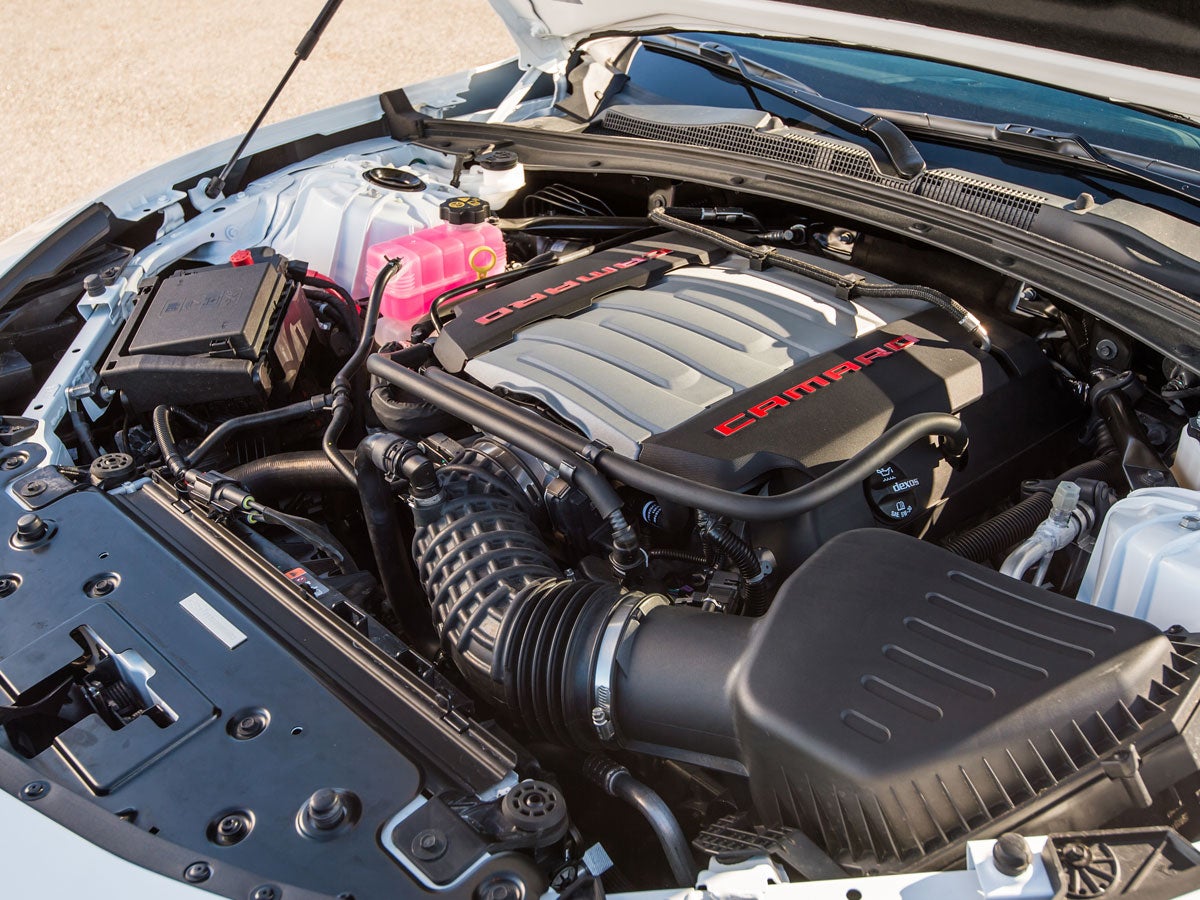 Is the Mustang prettier than the Camaro? To most eyes, definitely. But pretty don't win races, whether at the stoplight or on track.
The half-century battle between the standard Camaro SS and Mustang GT has recently grown one-sided, including the Camaro's technical inheritances from sugar daddies at Corvette and Cadillac. Now imagine what $6,500 of performance additions will do, or a $4,500 package for the 335-horsepower Camaro V6 1LE. Or don't imagine: Chevy says the 1LE shaves three full seconds from the standard SS's lap times on California's Big Willow circuit. It's one of several tracks that guided the models' development, from GM's torturous Milford Road Course to Germany's Nürburgring.
For those who wonder about the name, 1LE is one of those obscure, old-timey GM option codes, like the Corvette's better-known Z06 or ZR-1. The 1LE package was born in 1988, a helping hand for a Camaro that had been getting its butt kicked in showroom stock racing.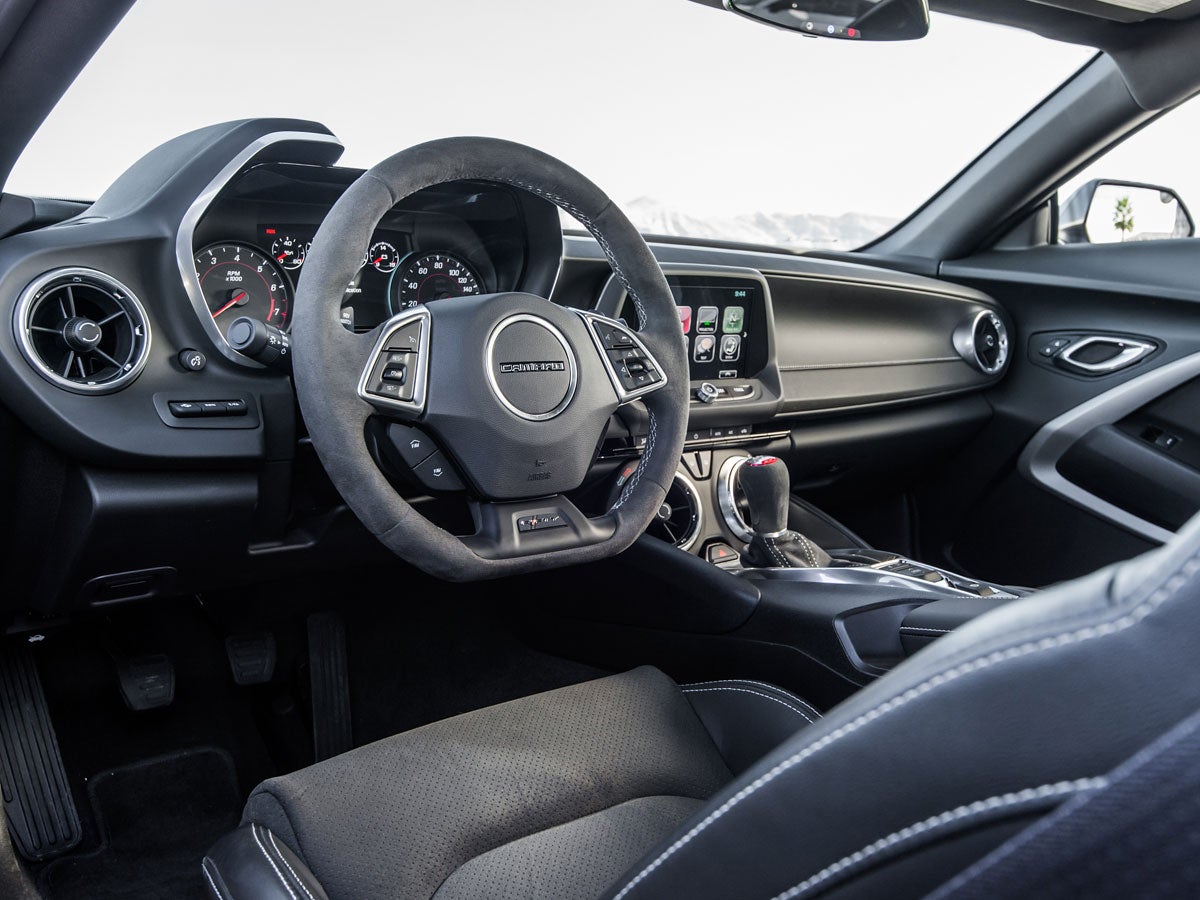 As we watch the Cubs wrap up an unforgettable World Series win on TV—including the presentation of a 50th anniversary Camaro to Series MVP Ben Zobrist—Camaro Chief Engineer Al Oppenheiser fills us in on more underdog history. According to Oppenheiser, when General Motors rushed the Camaro back into battle in 2009, following an eight-year hiatus, it ran out of time and money to birth a perfect pony. The fifth-gen Camaro's flaws included terminal, plodding understeer that left enthusiasts cold, especially in the V6 Camaro. Again, it was the 1LE to the rescue.
This time, Oppenheiser says, the sixth-generation Camaro was envisioned and engineered for every eventual iteration, from a four-cylinder starter model to the 640-horsepower ZL1. Rather than simply erasing flaws, the resulting 1LE takes something already good and makes it that much better.
For the SS, the "better" includes fat-bolstered Recaro seats, a taller 3.73:1 rear-end ratio, and a track cooling package. The V6 version brings its own decisive upgrades, including the sparkling FE3 suspension from the standard SS, 20-inch forged aluminum wheels and Eagle F1 tires, Brembo brakes, and a mechanical limited-slip diff. You're basically looking at SS handling with reduced weight, V6 horsepower, and less-thrilling sound, for a reasonable starting price of $32,895. (A 5.2-second scoot to 60 mph and 13.7-second quarter mile is nice consolation.) With its own $6,500 upcharge, the SS 1LE starts from $44,400.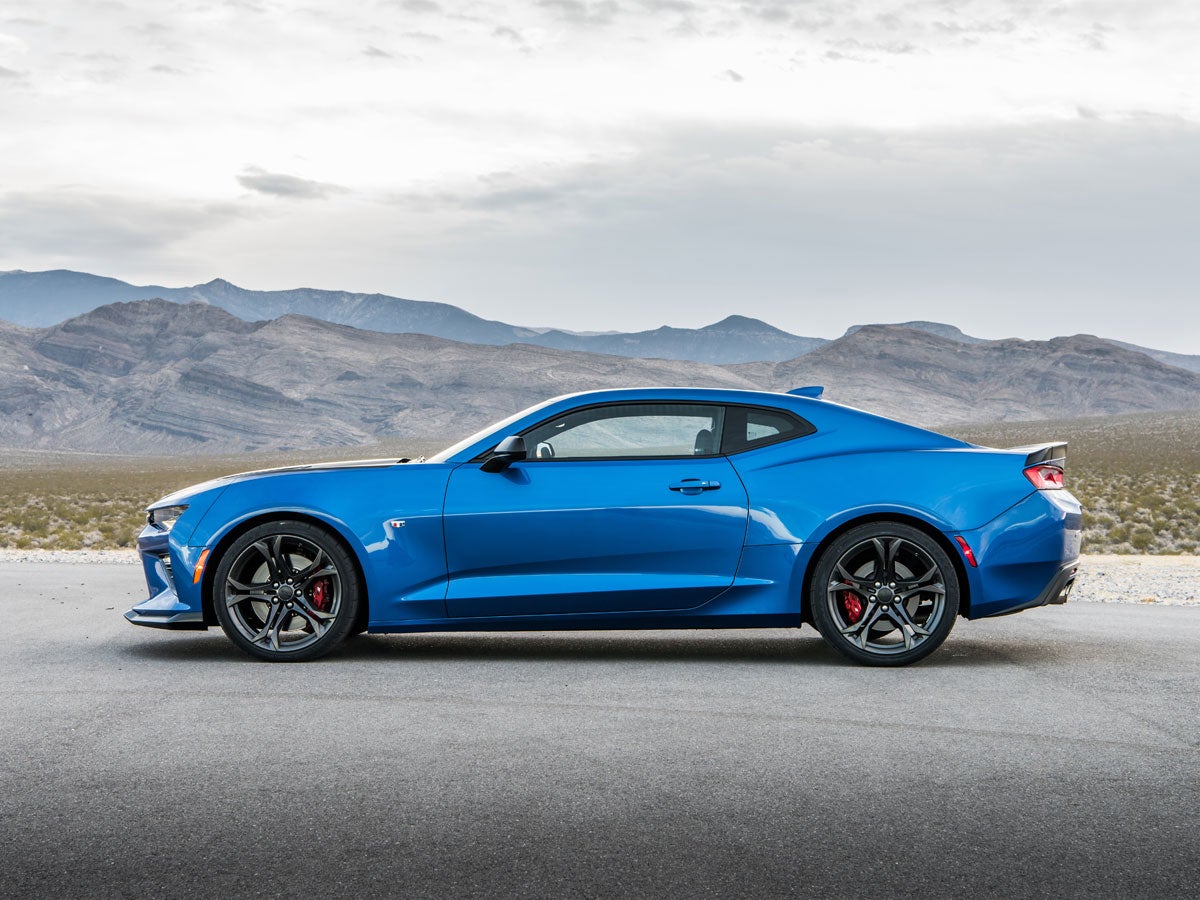 Both cars get signature black hoods for an outlaw touch, with the SS adopting a three-piece blade rear spoiler.
Neither car becomes decisively faster in a straight line; the SS 1LE sprints to 60 mph in 4.2 seconds. That's one-tenth quicker than a standard V8 Camaro—and the same one-tenth advantage over Ford's 526-horsepower Mustang Shelby GT350. But for all their might, these versions aren't about the straight-and-narrow. The SS 1LE can pull 1.02 g's of lateral acceleration, on par with some supercars, and even the V6 model manages .97 g's. Both models heighten the car's signature sensations, feeling more like European sport sedans than old-school, knuckle-dragging Detroiters.
Oh, and automatic drivers need not apply; this manual-only Camaro brings another welcome tactile upgrade, and not merely for the shifter's shorter throws. Reworked bushings provide a more-welcoming cushion for fast shifts, instead of the hard-knock stops of the standard SS.
I record a few laps for posterity with the latest version of Chevy's industry-first Performance Data Recorder. For $1,300, it's about the only available option on the SS 1LE, and it lets you record video and in-car audio of track laps (or street-racing souvenirs, should you so choose). As with the Corvette's PDR, Cosworth Toolbox software helps you analyze and improve your driving, including the ability to overlay multiple track laps to see where you're gaining or losing precious time.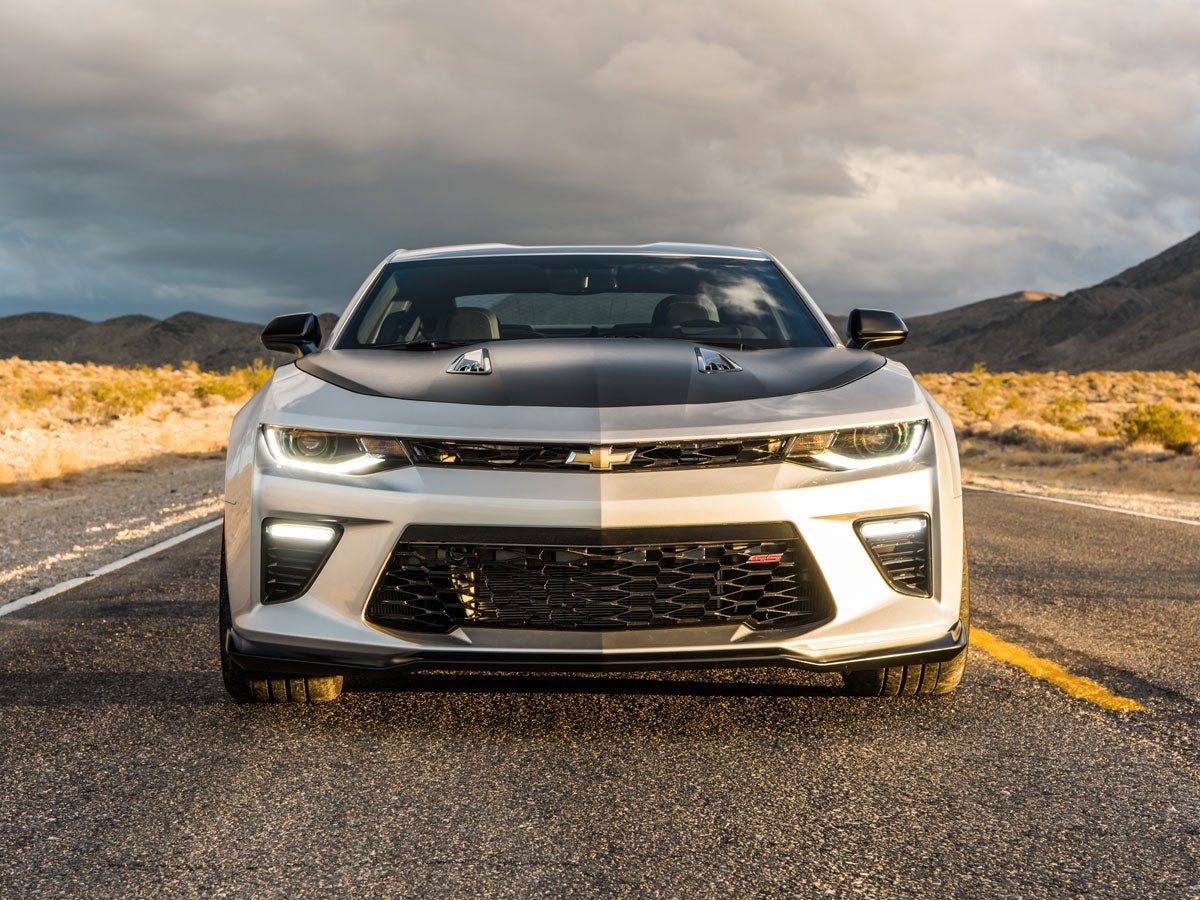 Setting my helmet and HANS device aside, I point an SS 1LE through the desolate backwater of Pahrump and on toward Death Valley. Ringed by multi-colored mountains, the Camaro jackrabbits toward the far horizon. Riding in the Camaro, with its miniscule glass area, still feels like being stuck in an Old West stagecoach. Yet the Chevy shows off its versatile side, including the comfier Touring setting of its adaptive shocks. Unlike the recent Camaro Z/28, it's not a single-purpose brute that turns any street drive into a beatdown. Track days bring out its best, but even street-fighting amateurs will appreciate the 1LE's refined muscle.
"The car still needs to be approachable," Oppenheiser says. "If you have to be a hot shoe to drive it, we're not doing our job."
Yes, $44,400 is a substantial price for any Camaro, a six-decade staple of blue collars and bowling leagues. In striving to win the performance battle, Chevy may be losing the sales war. The previous, fifth-generation Camaro outsold the Mustang for five straight years. But the Mustang took sales revenge in 2015, and continues to smoke this sixth-gen Chevy in 2016. Oppenheiser acknowledges that the Camaro's higher prices versus the Mustang—about $2,000 on average—haven't helped matters. (Chevy recently cut some Camaro prices, and finally stopped a 22-month Mustang sales winning streak in September and October).
Yet people who splurge on a 1LE won't be counting sales, but kills: The myriad Mustangs, Chargers, and Challengers that will go down in flames against this road-strafing Chevy. That includes the vaunted Hellcats, which the SS 1LE will flick aside at the first "Curves Ahead" sign.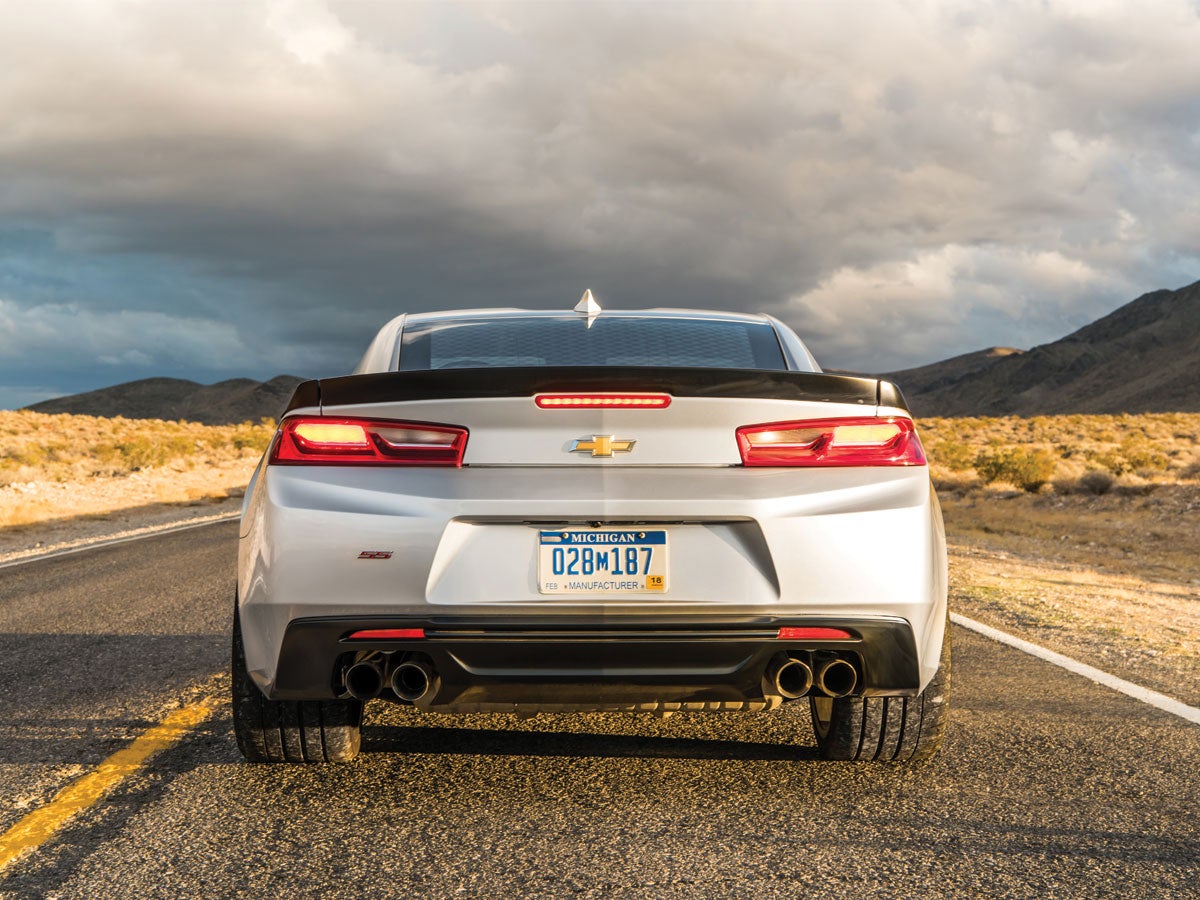 Consider the 1LE as the Corvette Grand Sports of the Camaro lineup. They're decisively higher performing than standard versions, yet they remain far more attainable than the $62,000 Camaro ZL-1 and $69,000 ZL-1 convertible. The SS 1LE also snuggles into a mid-$40,000 market niche that Ford has yet to exploit, with Mustang owners required to shoot all the way to $57,000 for their own serious track performer, the Shelby GT350.
That GT350 (and GT350R) is one glorious performance car. But it may soon take its own pummeling from a supercharged Camaro ZL-1 with 1 liter of extra displacement and 114 more horsepower. From four-cylinder to V6, from V8 to track editions, the Camaro appears to have the Mustang surrounded. And it's never been the type to take prisoners.
Lawrence Ulrich, The Drive's chief auto critic, is an award-winning auto journalist and former chief auto critic for The New York Times and Detroit Free Press. The Detroit native and Brooklyn gentrifier owns a troubled '93 Mazda RX-7 R1, but may want to give it a good home.