If you're looking for a dog bed with an automotive aesthetic, maybe what you need isn't a bed at all. You might just want to buy a small, cheap racing seat and plop it down somewhere that your dog likes to hang out.
I've had a pair of Corbeau Baja Low Back racing seats hanging around for months. A fellow member of a car club I'm in had bought them for a project, decided they didn't work for him, and offered them to me since he'd missed his return window.
My first plan was to put them in my 1975 IH Scout. Before I got around to it I decided that truck really needed benches, not buckets. The seats were fun to sit in though, so I kept them figuring I'd have another '70s project car (these would look weird in anything newer) eventually.
Ultimately I realized that the seats made great gaming chairs, so I assigned them in front of my TV for video game sessions.
Couldn't find any pictures of tiny baby Bramble in the seat, but she's probably about six months old in that shot with the Bimmer. Andrew P. Collins
About a year ago, Bramble the dog came into my life. Born on my father-in-law's farm, I was able to meet her when she was about the size of a guinea pig and was very quickly convinced that we should bring her home with us when she was ready to part ways with her mother.
I already forget when I first placed her fuzzy little body into one of these Corbeaus. But based on the pictures in this post, you can probably imagine what happened: My eyes got as big and watery as an anime character's and I ran to grab my wife so she too could appreciate the cuteness. She looks so cuddly curled up in the Corbeau!
Now, I can't claim I'm an expert on dog behavior, but two things I know for sure are that they love people and they like routine. It took no training whatsoever to keep Bramble coming back to the car seat—I just left it next to me and she'd come to curl up in it for hours on end while I typed away on blogs like this one.
Bramble's ready to game. Andrew P. Collins
She's more or less maxed out on size (about 40 pounds) now that she's over a year old, and she still fits perfectly in the deep buttock nest of the Corbeau Baja Low Back. The seat looks cool in my office, and a huge plus: The absence of a headrest lets it fit quite easily under my desk.
The Corbeau Baja Low Backs are not super cheap (listing at about $300 a piece right now) as far as dog furniture goes, but they are cheap for driving seats. If you're looking for a car seat as indoor decor and an adorable piece of furniture for your smallish-medium-sized dog to sit in, maybe grab one for your pet and use the other for video games. Corbeau's own site lets you customize the seats a little further.
I don't think I would have dropped three Ben Franklins on one of these just for dog photo ops. But now that I've got them, I've pretty much lost all interest in putting them into a car. And now that I know how well they work as a dog throne, I'm earnest in recommending them for this purpose. Bramble has already logged dozens of hours in these—she's easily spent the total time of a Baja 1000 nestled into a Corbeau already. Hmm, think she'll be ready to navigate an off-road race down the Mexican peninsula soon?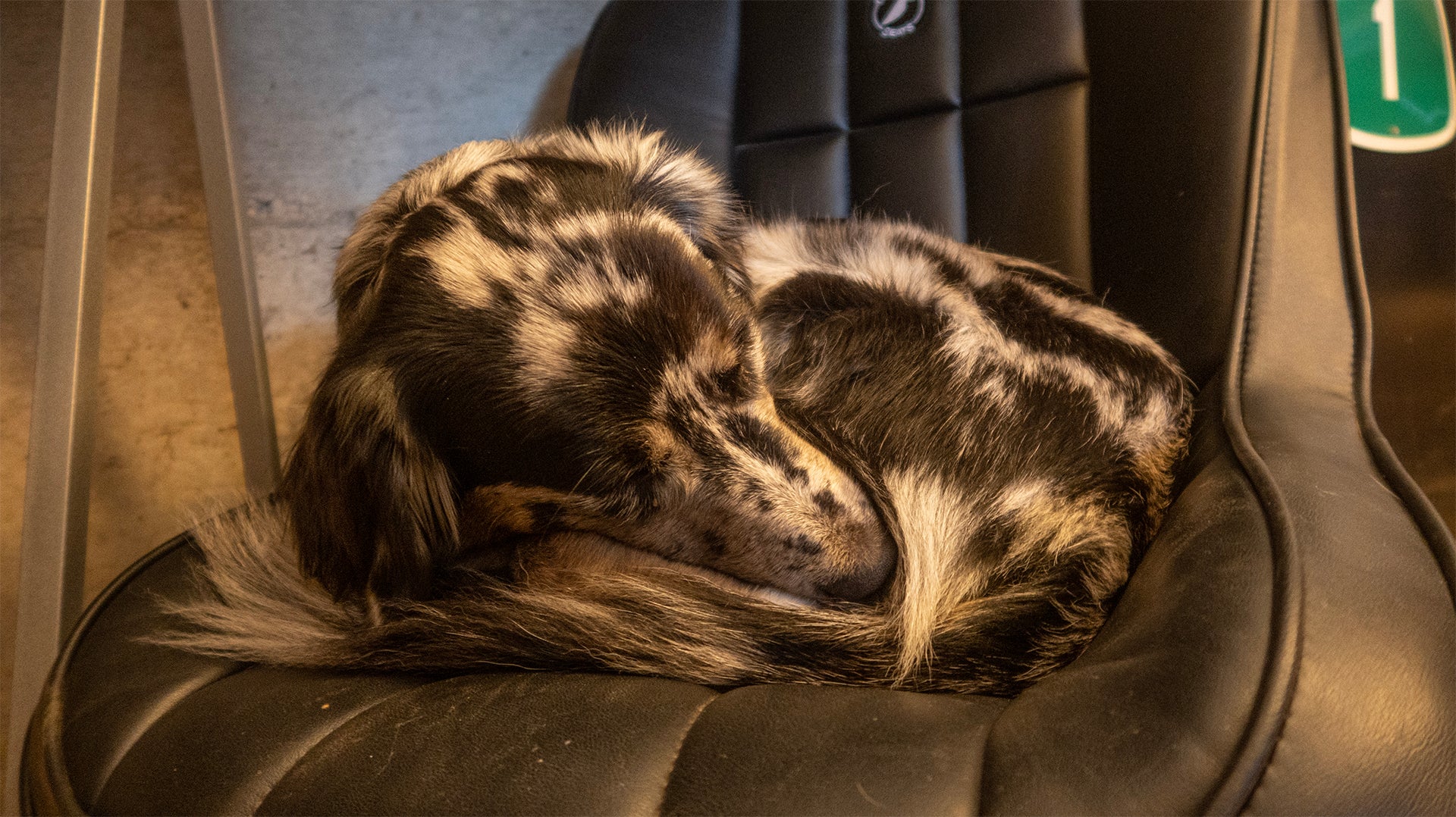 Rest up, pup! Andrew P. Collins
The Drive and its partners may earn a commission if you purchase a product through one of our links. Read more.
More Dog Content