With all respect to that Incredible Hulk, the Corvette Z06, you don't need 650 horsepower to have a good time. And yet, the standard-issue Stingray does raise a few questions on track.
The emphatic answer is the Corvette Grand Sport. This is the thinking man's Corvette, with the thick-hipped supercar body, suspension, and LeMans-bred aerodynamics of the Z06, but minus the supercharged overkill and the starting price of around $80,000. Instead, you're looking at $66,445 for the Grand Sport coupe, and an extra $4,000 for the convertible. The coupe costs just $5,000 more than a Stingray Z51, and $10,000 more than a base Stingray.
That, for a 6.2-liter, 460-horsepower Detroit enforcer that chews up laps and spits out lesser cars. A sports car so proudly American that it deserves its own Declaration, affirming the self-evident truths of a front-mounted, naturally aspirated V8 and optional manual transmission. The hot pursuit of happiness includes a 3.6-second romp to 60 mph and an 11.8-second quarter mile, both accomplished with the optional Z07 track package and eight-speed, paddle-shifted automatic. That's an accelerative gain of 0.4 and 0.2 seconds, respectively, over the standard Stingray coupe.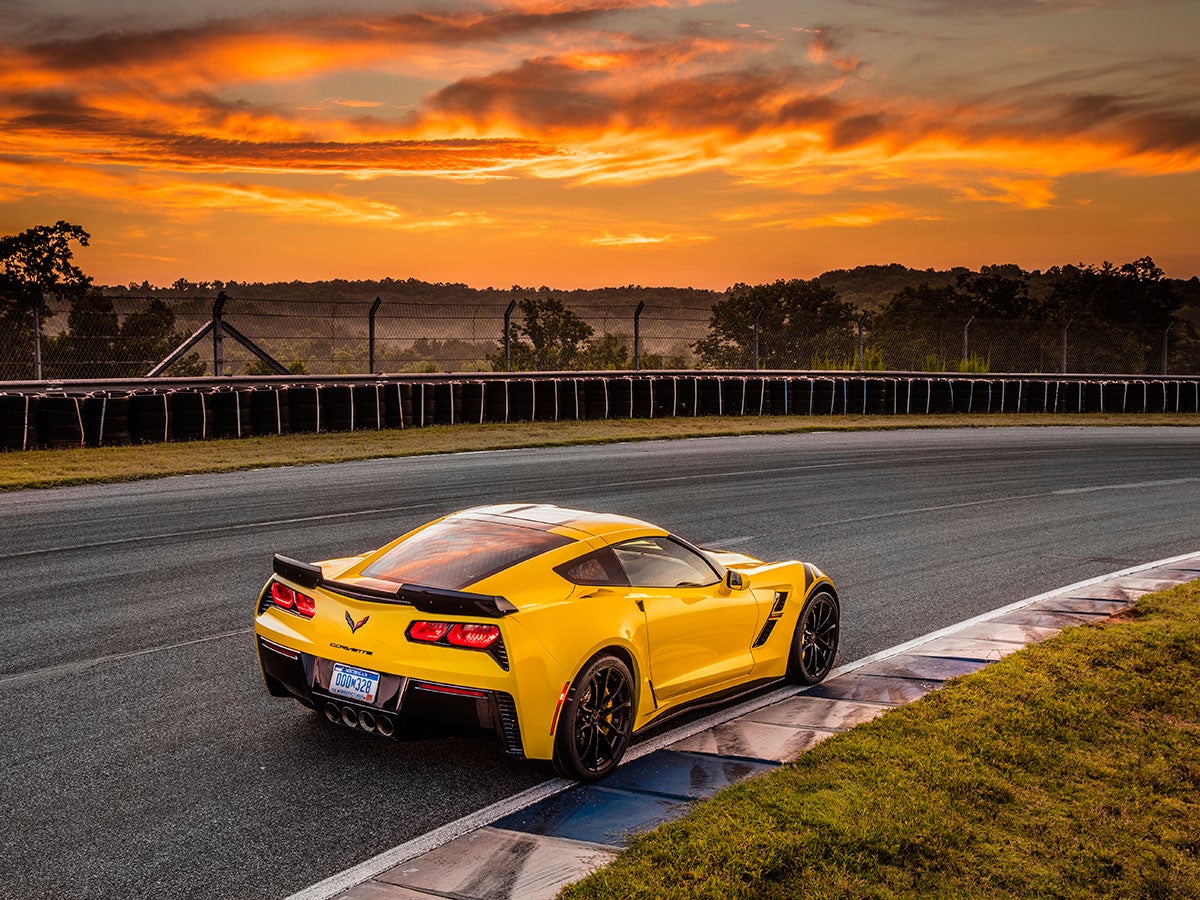 A.J. Mueller Photography
The Corvette's layout, of course, makes it a Siberian tiger among sports cars, critically endangered due to carmakers that are poaching easy power with turbochargers and mounting stick-shift cars in museums. Here in the pits at Atlanta Motorsports Park, Corvette Chief Engineer Tadge Juechter sums up the Chevy's roaring appeal.
"You can call it old-school, but for many purists, it's hard to beat the formula," Juechter says.
That seven-speed stick earns my right-handed salutes on Atlanta Motorsports' devilish assortment of blind crests and whoop-de-dos. The Grand Sport shrugs off 100-degree track temperatures and shows off its athletic prowess, including 1.2 g's worth of lateral stick from its optional Michelin Pilot Sport 2 Cup tires. Showing off extends to Oliver Gavin, the five-time LeMans class winner in Corvettes. Prior to our arrival, the British endurance racer logs benchmark laps on the Corvette's groundbreaking Performance Data Recorder, that combination training tool and real-life video game. They're laps that I can't dream of equaling—though not for lack of trying.
As the Corvette faithful will tell you, the Grand Sport name traces to 1963, when Corvette godfather Zora Arkus-Duntov secretly built five Ford Cobra-fighting Grand Sport racers for privateers' use (Arkus-Duntov originally planned to build 125 cars, but that dream was quashed by GM's corporate ban on racing.) Beginning in 2014, a sixth-generation Grand Sport quickly became the best-selling Corvette model, and its bang-for-the-buck philosophy now carries into this seventh-gen car.
Here in Georgia, we gaze upon a peachy, privately owned Grand Sport once driven by Jim Hall and Roger Penske. The lightweight, scaled-down 'Vette features a weathered Super 8 camera bolted to its windowsill—the GoPro of its day. That near-priceless racer is bookended by a new Collector's Edition that's among the hottest-looking versions here. It's limited to 1,000 copies for 2017, a glowering gray (or "Watkins Glen Gray Metallic") beast with black wheels, bright blue fender hash marks and a leather-and-suede interior. It's a vibrant-yet-understated choice in a range whose myriad options—including 10 exterior colors and six wheel finishes—can get a little gaudy. Here, a stone's throw from the home of retired Nascar racer Bill Elliott (remember Awesome Bill from Dawsonville?) the 'Vette's optional full-length center stripes look right at home. But choose your colors and accessories wrong, and the Grand Sport's flourishes can carry a cheesy whiff of old Indy Pace Cars and other "collectible" Corvettes.
No such worries inside, where the Grand Sport's shipshape cabin and striking displays—including useful Chevy MyLink infotainment and the brilliant Performance Data Recorder—nearly make up for three decades of gunky-plastic Corvette interiors. I start with a run through the North Georgia mountains in an eight-speed automatic Grand Sport, coaxing a mellow thrum from the LT4 V8's dual-mode exhaust.
Where some cars seem to shrink on public roads, the Corvette still seems to expand, especially with this Z06-mimicking body. Spreading 3.5 inches wider than a standard Stingray, the Grand Sport's bod is beautiful, but its girth can make a driver tentative on narrow, unfamiliar two-lanes. The standard Stingray hood is lower than the supercharged Z06's, but on these no-shoulder roads piloting the Grand Sport is like navigating an aircraft carrier through winding rapids. It's not a flickable car like a Porsche Cayman, but one that rewards a smooth, steady hand.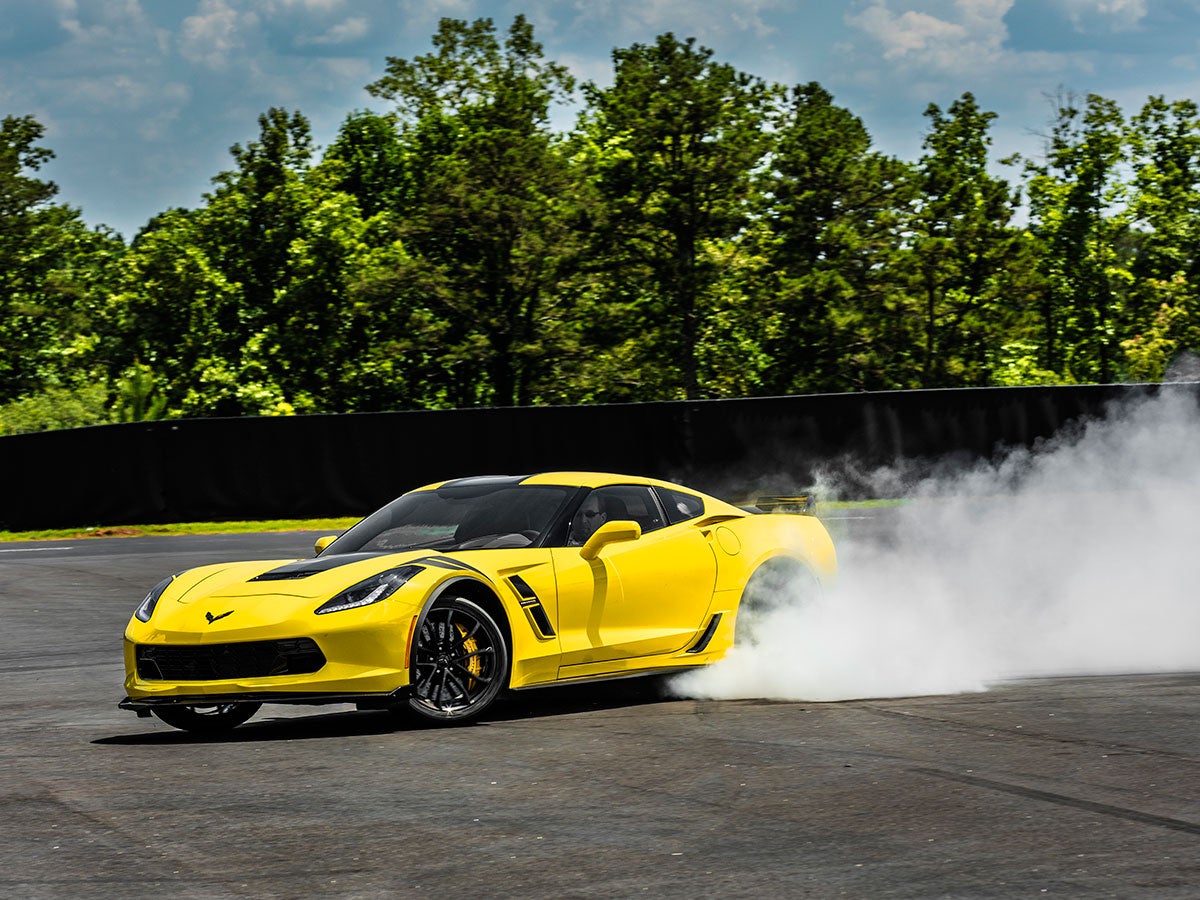 A.J. Mueller Photography
Yet the Grand Sport is also one comfy, capable vessel. Even with a firmed-up suspension that roughly splits the difference between a Z51 Stingray and a Z06, the Grand Sport's magnetic dampers, now set to Touring mode, spread digital butter over the road surface. The eight-speed still dithers a bit compared to some torque-converter rivals, including the Jaguar F-Type, but it gets the job done. Those job qualifications jump with the optional Z07 package that adds carbon-ceramic brakes and the aforementioned Cup 2 tires, an upgrade from the more weather-versatile and longer-lasting Michelin Pilot Super Sports.
Girded with carbon-ceramic stoppers, the Grand Sport can halt from 60 mph in less than 100 feet. It can stop from 25 mph in less than a single car length. Or amaze your friends with this fun fact: Chevy swears on a stack of Gutenbergs that the Grand Sport can lap its Milford Road Course gauntlet within one second of the sixth-gen ZR1, a supercharged demon with 638 horsepower. Even with the race-developed chassis and aero bits, the Grand Sport only adds 25 pounds to the Z51 coupe, at 3,252 pounds.
With the sun scorching the track pavement, it's time to test those bona fides. Set loose on the 1.8 miles and 16 turns of this country club track, the Grand Sport doesn't feel noticeably quicker than a plain 'ol Z51, and the electric steering seems equally well-tuned and weighted. What you do notice is the tire grip—boatloads of pure, mechanical grip that the standard electric limited-slip differential exploits to thrilling effect. The stiffened chassis pancakes the pavement with almost imperceptible body roll. Dialed up to Track mode, the dry-sump V8 generates a hearty, ass-kicking chorus, like a locker room of footballers shouting a fight song. It sounds incredible, this ballsy, au naturel V8 in a world of shrunken, politically correct turbos. Yet fuel economy remains reasonable, including an estimated 25 mpg on the highway.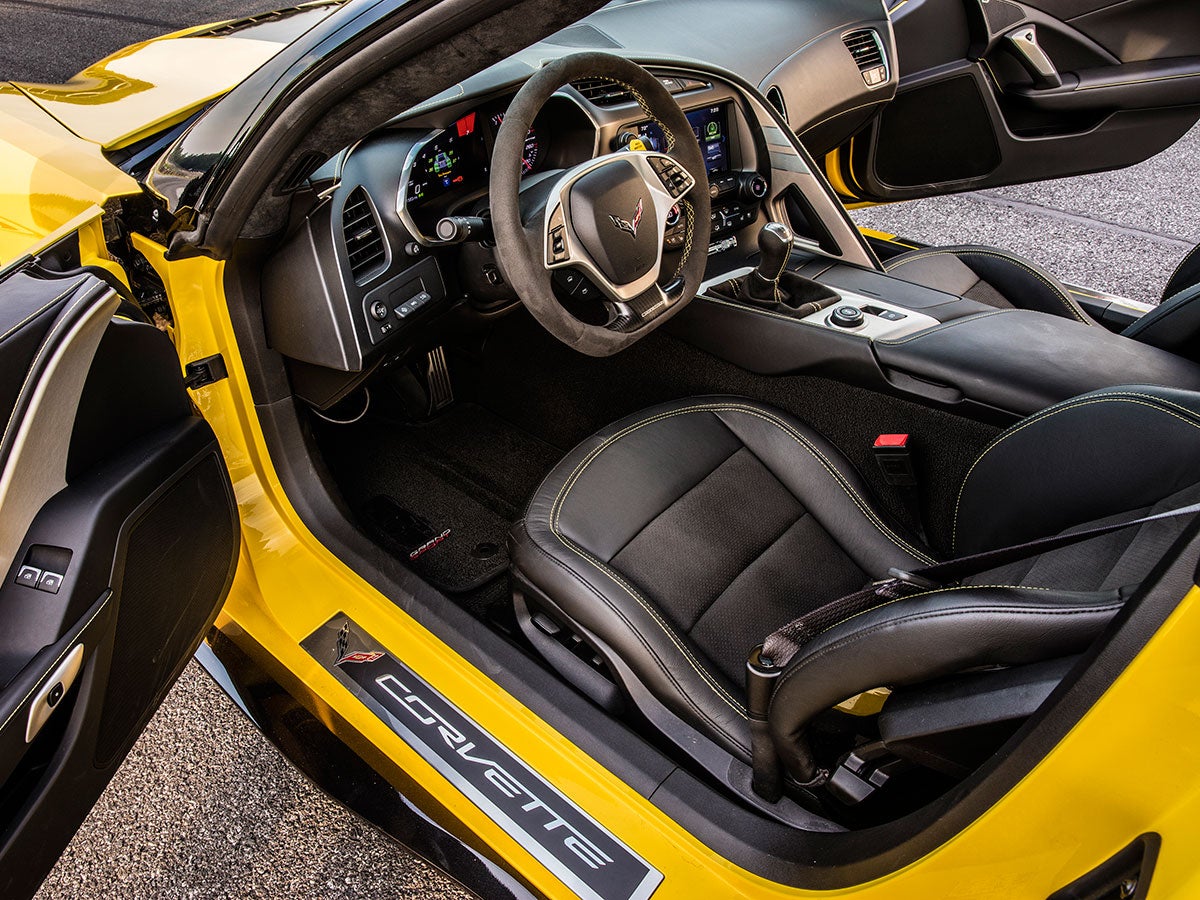 A.J. Mueller Photography
The seven-speed manual version gooses acceleration by adopting the shorter gears of the Z51 Stingray. Compared to, say, Porsche's manual, that Corvette stick requires a bit more TLC to slot into the right gear, especially under high-speed duress. Though I'm relishing the opportunity to practice heel-and-toe downshifts, the Corvette's excellent rev-matching feature eliminates that chore whenever you choose. Defeating rev-matching doesn't require shutting down stability control as well, which is a bit of weirdness you find in the manual-trans BMW M2.
I'm keeping video score with the onboard Performance Data Recorder (PDR), logging lap times and looking for more speed in several tricky sections. Upstairs in the clubhouse, drivers are overlaying video laps one atop another, analyzing where they might save time. I hit 131 mph at the end of the longest straight, and I'm feeling good until I see how Gavin, the LeMans maestro, breezed to 136 mph, going flat-out over a blind right-hand kink where I lack the nerve and talent to match him:
But the Corvette's amazing PDR just makes track driving even more fun and rewarding for me, if that was even possible. And, pro or amateur at the wheel, the Corvette gobbles this course, unfazed by the shimmering heat and non-stop abuse. It feels like a car that could go straight from your driveway to the 12 Hours of Sebring, and according to Juechter, that's no accident.
"Everyone's giving it their best shot, but the car is still relatively unstressed, even when pushed to the edge of its performance envelope," Juechter notes, a testament to the Grand Sport's over-engineered chassis and generously sized tires, including 330-section-width monsters out back. "You don't hear squealing tires, a ticking engine, or see things boiling over."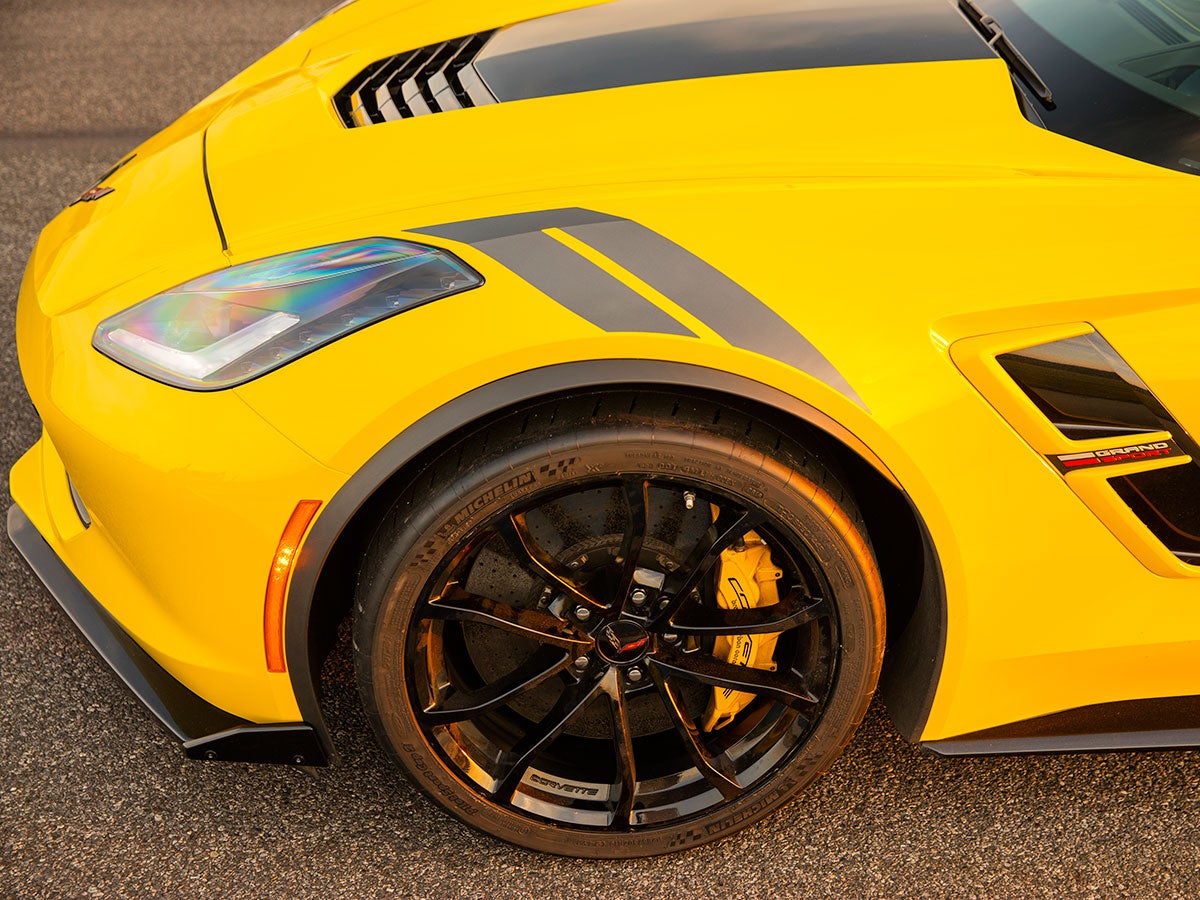 A.J. Mueller Photography
True to Chevy's word, the Grand Sport represents the sweet spot in the Corvette lineup, especially for fans seeking their own track adventures. Consider that the Grand Sport costs about $1,000 less than a new 718 Cayman S, a Porsche powered by a 2.5-liter, 350-hp four-cylinder. It's about $40,000 less than a rare two-seat competitor that also offers a front-engine V8 and manual transmission, the Aston Martin V8 Vantage. That's all heavy-metal music to a Corvette fan's ears, attuned as they are to velocity and value.
Lawrence Ulrich, The Drive's chief auto critic, is an award-winning auto journalist and former chief auto critic for The New York Times and Detroit Free Press. The Detroit native and Brooklyn gentrifier owns a troubled '93 Mazda RX-7 R1, but may want to give it a good home.