Truly driverless cars are coming—just maybe not to your driveway at first. On Tuesday evening, General Motors subsidiary Cruise unveiled the Origin, a fully-electric, self-driving vehicle with no steering wheel, no pedals, and no driver. It's not even calling it a car, which is fitting for a block on wheels whose intended purpose is building the rideshare fleet of the future. So, a bus?
Supposedly what the Cruise Origin promises can go far beyond today's public transit. Cruise says the driverless vehicle will be summoned via their app 24/7 and offer a safe, consistent, reliable, and environmentally friendly ride to anywhere in its service area. Just how big that area will be is unclear—the blog post announcing the Origin indicates service will begin in San Francisco, whose roads have served as an urban proving ground for Cruise over the last few years, but it also states the vehicle is capable of driving across the country "without incident."
It's a cube to maximize interior volume, and though specific numbers haven't been given, it's no bigger than a large crossover. The six seats inside face each other, and the low, wide openings through the biker-safe sliding doors are billed as a big selling point. We don't have specs on the powertrain like battery size, drive motor setup, or range.
Cruise CEO Dan Amman made sure to note that the Origin is a "fully-engineered" vehicle ready for mass production. The company claims it's also extremely durable with an expected life of over a million miles thanks to its modular construction. That could add up to big transportation savings on the order of $5,000 a year for the average "San Franciscan family." But again, it's not clear what math was used to arrive at that figure, or what an "average" family looks like in Cruise's estimation.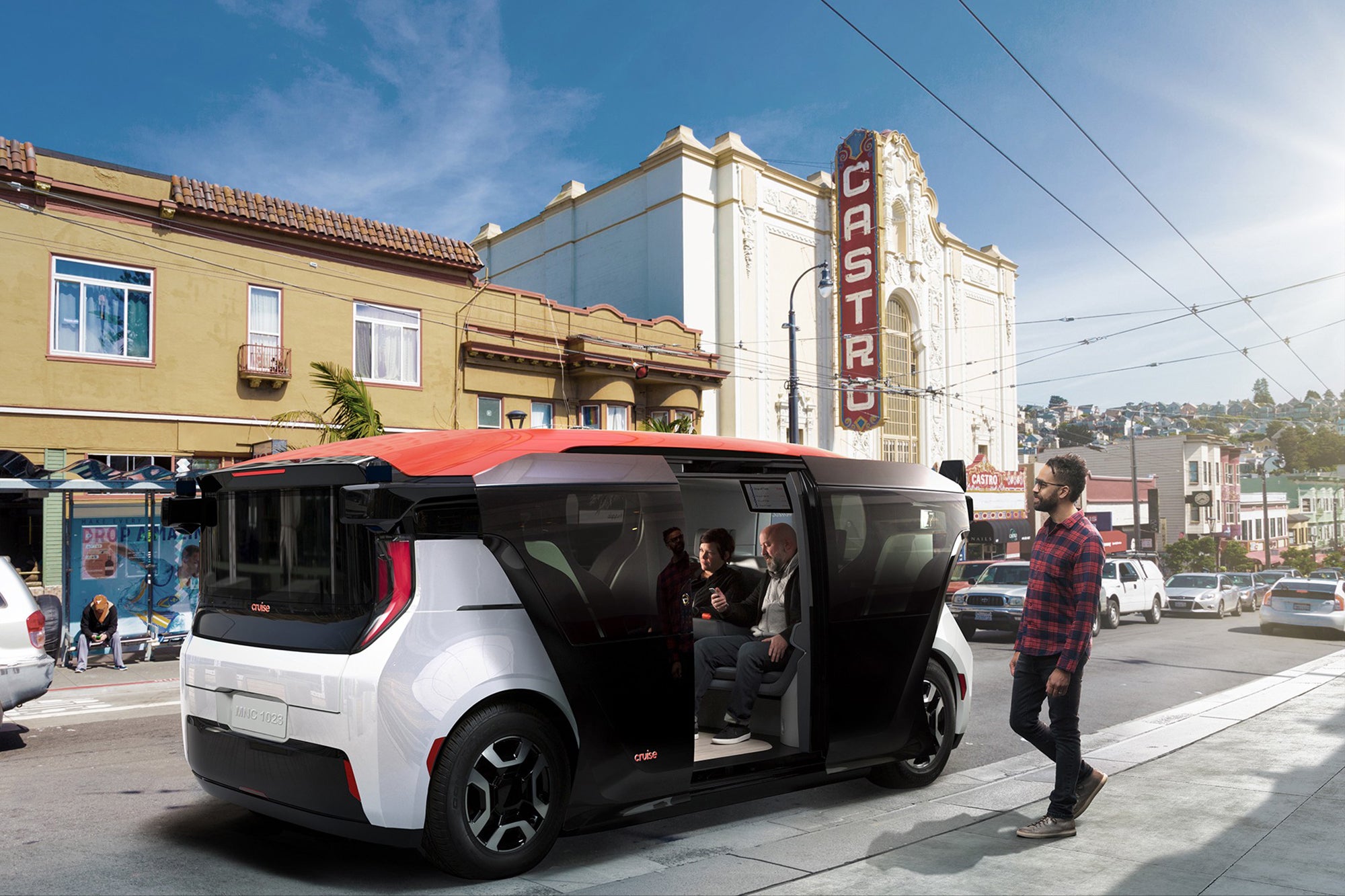 Cruise
Cruise has done extensive research using the Bolt as a technical guinea pig with over a million miles of real-world testing around the Bay Area. Few details have been given about its self-driving technology, though we know it uses cameras, articulating radars, LIDAR, and long/short range radars to build out a picture of what's happening around the vehicle. What's clear is there will be no backup driver remotely connected to the Origin. Instead, unspecified system redundancies are said to guard against failures, plus a live monitoring system in the company's fleet control room.
Given all that, the Cruise Origin will supposedly operate with SAE Level 4 autonomy—that's full computer control over the vehicle in most cases, contained only by guardrails like a speed limiter or geofence. Interestingly, the company also showed off an image of a potential cargo version, which admittedly would still need a fleshy human to load and unload the boxes until we get a robot for that too.
Though General Motors acquired Cruise back in 2016, the startup has garnered investments from other heavy hitters in the industry, like Honda and T. Rowe Price Associates. We don't have a solid timeline for the Origin's rollout, but the testing process and crossing of regulatory speedbumps is ongoing. Cruise currently can test vehicles in California only if they have a human safety driver on board, a step that competitors like Waymo have already taken.
Got a tip? Send us a note: [email protected]